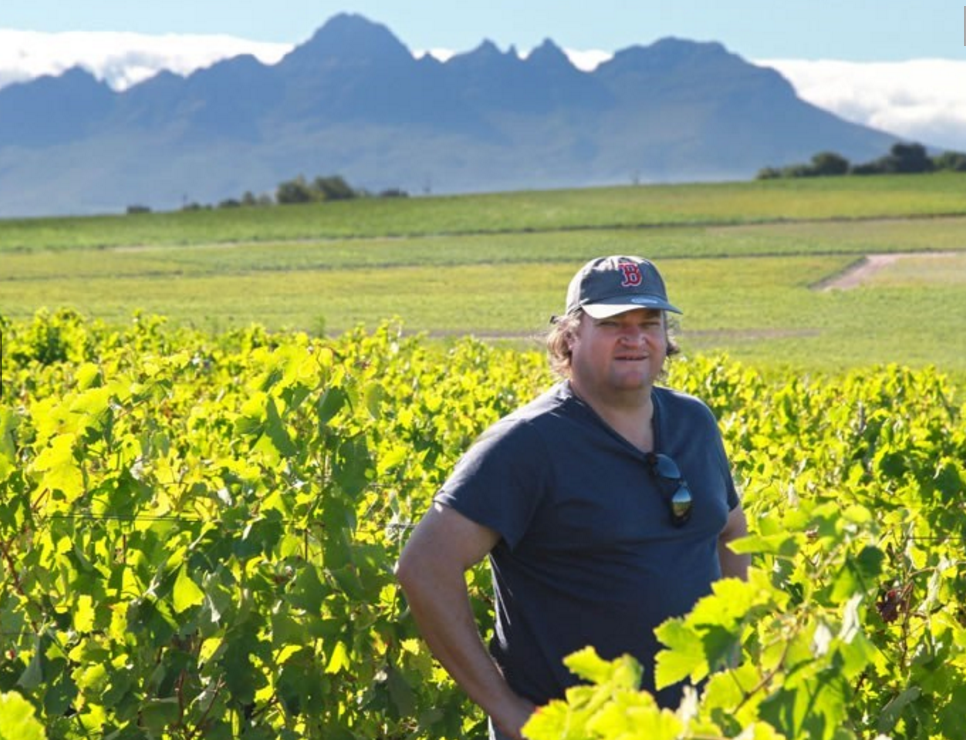 Chenin Blanc is a very versatile grape and can be made into many different styles of wines. Eric Asimov writing in the New York Times described Chenin Blanc as: "a grape able to make wines bone dry or unctuously sweet yet fresh, with an entire spectrum in between. It has the ability to transparently display its place of origin, to age for decades and to tantalize not just with complex aromas and flavors but with a seemingly paradoxical texture that can be thick yet delicate, rich yet light."
The most famous representations of Chenin Blanc are French, from Saumur and Savennières (very dry), & Anjou and Vouvray (off-dry), Coteaux du Layon and Quarts de Chaume (dessert), and Crémant de Loire (sparkling). However today South Africa is making a claim for Chenin Blanc. Ambitious South African winemakers are tracking down old bush vines and making terroir focused small production artisanal wines. The world is starting to pay attention. Wine writer Jancis Robinson recently penned an excellent article about this movement.
First brought over by Dutch settlers in the 1600s, Chenin Blanc has taken well to the climates of Southern Africa. Today South Africa has twice the amount of Chenin Blanc as France and is home to over half the total plantings in the world. South Africa is a country with a great degree of geographical diversity which allows Chenin Blanc the opportunity to develop unique terroir expressions.
While South African Chenin Blanc is gaining traction, particularly in European markets, it has still not achieved the popularity of New Zealand Sauvignon Blanc or Argentine Malbec. For consumers this is a good thing as the price to quality ratio of South African Chenin Blanc is exceptional. We talk to Bruwer Raats of Raats Family Wines about South Africa's love affair with Chenin Blanc.
The family works with old low-yielding vineyards located in Stellenbosch, Paarl, Durbanville Hills and the Paardeberg area of South Africa, with a focus on just two varietals, Chenin Blanc and Cabernet Franc.

Christopher Barnes: What is Stellenbosch like? How would you describe it to someone who has never been there?
Bruwer Raats: Stellenbosch has a similar relationship to what San Francisco has with Napa Valley, in that Cape Town and Stellenbosch are fairly close, within 35 miles of one another. Both are relatively close to the sea. We've got Table Bay, and on the other side Falls Bay. There is definitely a maritime influence. Stellenbosch basically consists of three major mountains: Simonsberg, Bottelary Hills and the other one is Helderberg, Stellenbosch Berg. It's divided up into nine different wards which are sub-regions, and each little region has a special terroir which is slightly different from the others. Although Stellenbosch is the most well-known in terms of having the most history in regards to quality wine production in South Africa, there are other regions now that are coming up. Stellenbosch has definitely been the mainstay of the South African wine industry in terms of quality wine production.
How did you decide that you wanted to make wine in Stellenbosch? How did you pick that area?
In my case, I specialized in Chenin Blanc and Cabernet Franc and the area that I picked was a little ward called Polkedraai. In that ward we are basically situated on the southern slope in the southern hemisphere. The southern slope is the cooler slope. The northern slope is our warmest slope. We are on decomposed dolomite granite which is extremely well-suited for the cooler conditions slightly higher up, and for Chenin Blanc and Cabernet Franc. For me the choice was very simple.
How did you decide to be a winemaker? You could have been a rugby star, or done a million things. Why wine?
I would have preferred you say cricket star.
Cricket star?
I like cricket a little bit more than rugby. After I finished school I wanted to backpack in Europe, and I had to wait for my friend. I ended up on a farm as a helper with the harvesting. It was very simple, I was driving the tractor, loading the baskets, and the owner of the farm, who was retired, came to me and said, "What do you want to do with your life?" I said, "Well, I'm not sure." I think at that stage I actually thought I wanted to become a chef. He said, "Well, that's not a bad idea, but the hours are really bad. I think the next load of grapes going to the cellar, you should hop on it, and go see what they do." Which I did. The next day he asked me, "What did you think?" I said, "Well, it's quite amazing. They take the grapes, they squeeze the juice out, they ferment it, and it ended up wine. There are three processes, and there's a direct correlation between what the wine tastes like and what the grapes taste like from in the vineyards that I was busy picking."
I said, "That's amazing." He said to me, "Become a winemaker one day." I said, "I don't want to be rude, sir, but I think you're crazy." I think in a way, winemaking found me, I didn't find winemaking. I must say I still enjoy cooking, I love tasting different flavors, exploring with it. In a way, I ended up doing that, but just in wine.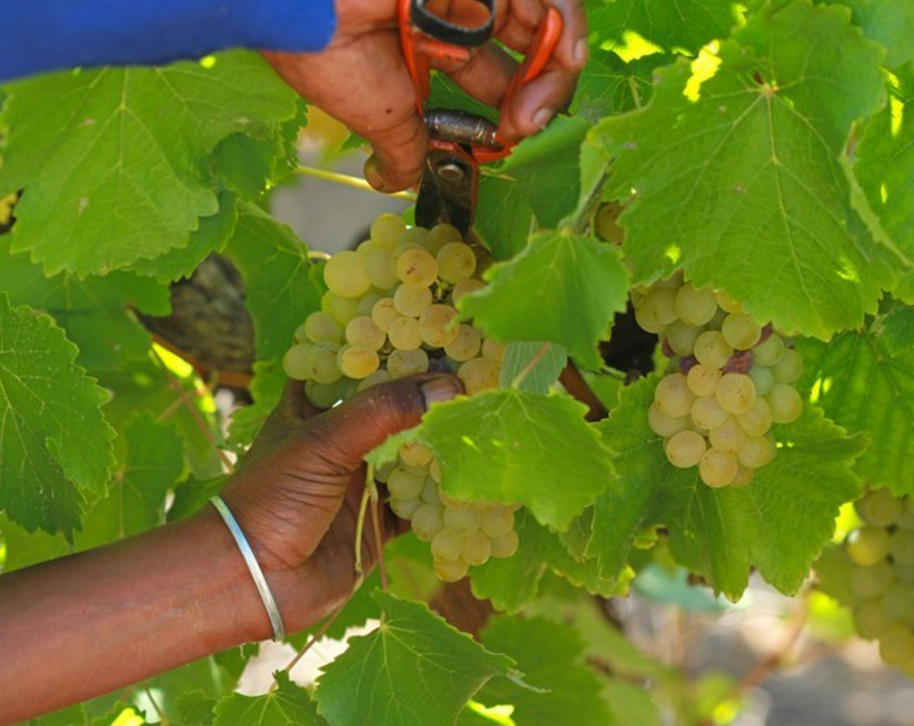 How did you pick Chenin Blanc and Cabernet Franc as the two wines that you were going to specialize in?
I really like the flavor profile of Chenin Blanc, and there's a little bit more history behind it. Currently in South Africa we have over 50% of the world's total plantings, and it was one of the first varieties planted in southern Africa. We've been growing it for over 350 years, yet nobody has stood up in the world and claimed Chenin Blanc like Argentina did with Malbec, or what New Zealand did with Sauvignon Blanc or Chile did with Carmenere. We've been growing Chenin Blanc for a long time and we knew it was suited to our conditions, and we knew we could consistently produce a very high quality wine with it. The motivation was that we could have gone out and set the benchmark of what Chenin Blanc tastes like in the world. Yes, we make fantastic Chardonnays, we make beautiful Sauvignon Blancs, but we'll always be third or fourth in the queue, because there are just so many people that have captured the market with those specific varieties. Yet we have the opportunity to say, "Here's Chenin Blanc, here's what it tastes like," and we could set our own benchmark on what people's perception of Chenin Blanc could be.
Is there a lot of diversity in the different styles that people make Chenin Blanc?
I think that answer goes to southern Africa. Diversity's just in our nature. If you look at our fauna and flora, where we're situated with the warm Mozambique current flowing up the west coast and the warm Mozambique on the east coast, and the amount of fauna and flora just on Table Mountain, it's more than the whole of the United Kingdom. On the western cape there's more fauna and flora than in the whole of Europe. South Africa has always been a place of diversity, but not just with nature and soil types, fauna and flora, but also with people. I think that reflects in our wines and the styles we make. We've got such diverse cultures. All the people that came to the southern tip of Africa have sort of melted and integrated with each other, and I think that diversity will always be part of what we have to offer to the rest of the world.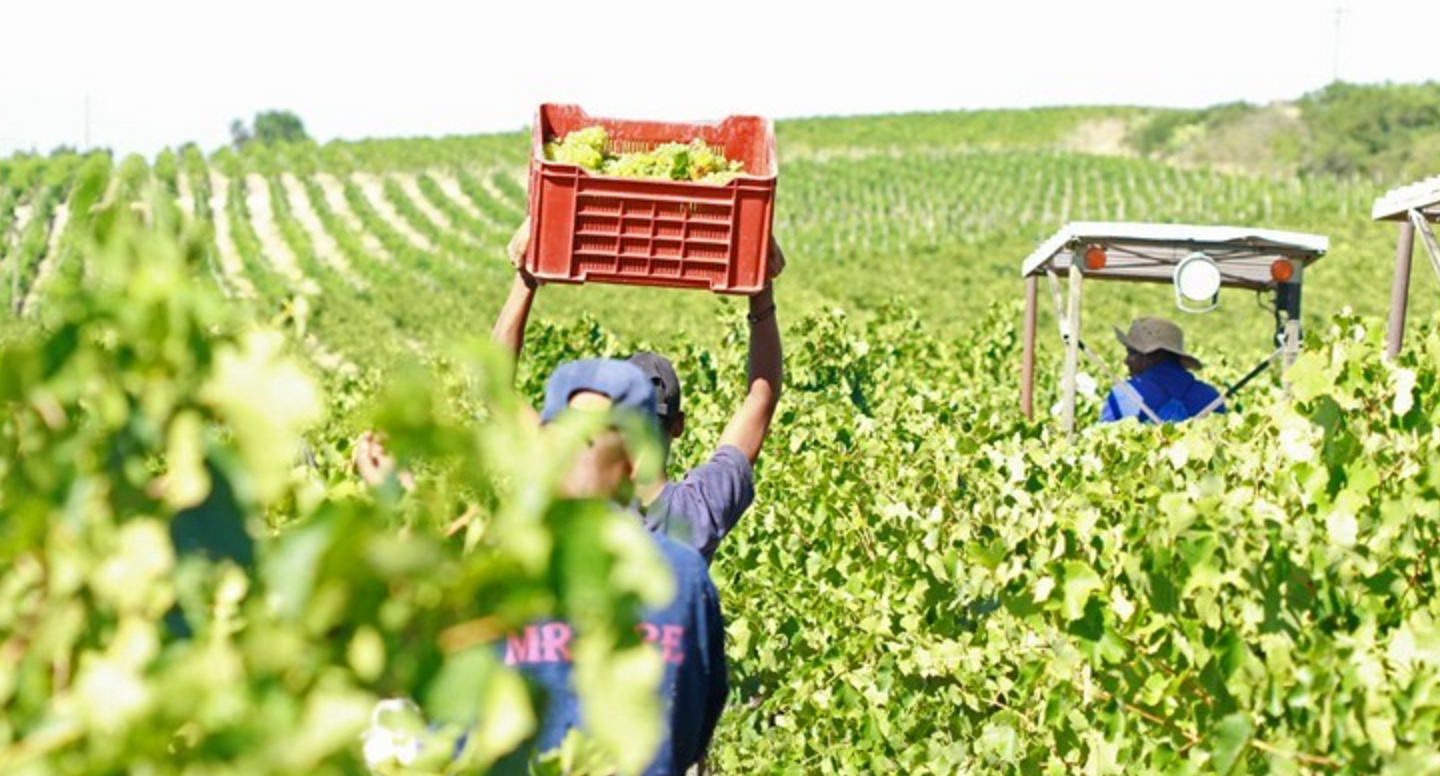 Is that also challenging in some way, in that when you're trying to get people in other countries excited about your wines, and there are all these different styles, to try to communicate that? When people think about Malbec, for example, they know what a Malbec is from Argentina.
When you talk about Chenin Blanc, I would say there's probably something that makes it a difficult varietal to sell. Even looking from where it comes from in the Loire, if you pick up a Vouvray you're never sure whether it's sweet or dry. In South Africa, 99.9% of your Chenin Blancs will be dry. They will be unwooded, region ripe, and fresh and fruity. Whether they'll be wooded or not, that depends on the producer. I think initially it will be difficult, but eventually people will realize that difference and how with a variety like Chenin Blanc there are different styles all from one country and there are different terroirs and different flavor profiles. In the long run I think that will make it very exciting, and it's much more sustainable, because we've seen with countries that produce a very mono-like style of a certain variety, people eventually get bored of it, and it loses traction and desirability in the marketplace. That is a difficult thing to establish and to market, but I think in the long run we will definitely see the benefit of not taking the easy route, but rather embracing the different soil types, our diversity in climate, our diversity in soil, and our diversity in people. We want to be true to ourselves, and produce something unique from South Africa.
Is Chenin Blanc the primary grape of South Africa now?
From a wine perspective, undoubtedly, Chenin Blanc is our mainstay, our flagship, and also a unique point of reference. Like I already said, what Malbec has become for Argentina, Chenin Blanc has become for South Africa. If you look at when I started in 2000, we probably had 50 producers producing Chenin Blanc. Today we've got over 160 producers producing Chenin Blanc. We've quadrupled over a period of 15 years, and I think, as the demand grows and people see the consistency in quality and variation in style that South Africa can offer in Chenin Blanc, the popularity is growing exponentially. Not just here in the US, but really across the world.
In terms of your growth as a winemaker, what have you changed over the years? How have you improved your wines since you started?
You know what they say about farmers, we learn the hard way and we forget very quickly. I think one of the most important things I learned about winemaking, and it's actually about wine growing more than winemaking, is that when you have special soil, when you have an old vineyard, when you have that unique special site, don't try to be a clever and know-it-all winemaker. The intrinsic quality eventually comes from the soil, it is transferred into the grapes, and you as a winemaker should just guide it through the process. Don't pick it too early, don't pick it too late, just keep the balance of that intrinsic quality that you had from that very special and high quality soil and grapes, and transfer it into the wine. Actually, the biggest lesson is when you have really good quality grapes, stand back, just guide it through the process. Don't try to be over-winemaking.
In terms of South Africa as a region, how has it evolved over time? Obviously you had a lot of challenges with apartheid and that era, in terms of becoming internationally known. Can you talk about the evolution of South Africa as a wine region?
I think I'm a very good person to speak about that because I started studying in 1993. In 1994 the first democratic government took over, and then I finished in 1995, so I started in the apartheid era and I finished in a new dispensation. It was very interesting. Because of isolation, at that stage we were making wines for ourselves. We were not really allowed to export. The styles that people produced were more for the local, small community. We fell behind in what was happening in the world, and in terms of wine production, in terms of style, and mostly in terms of marketing ourselves, South Africa. We've been growing grapes for over 350 years. We've got wonderful stories and history, we're so rich in all of that. Then to go out to the world and tell them all these stories, it has been a great challenge. We weren't used to it, we haven't had to do it before. I think, except for changing to the right varieties, getting rid of all the viruses that was there, building very new cellars that are clean and just as good as the rest of the world.
I think that the biggest leap we had to make was how to tell those stories in terms of our marketing, presenting South Africa on an international stage, where it makes sense to people, that they took notice of that, and that they were interested in trying and tasting what we had to offer. I think that probably was the biggest leap we had to take, and as you say, we're not there yet, but I think we are doing a hell of a lot better than we were 20 years ago. I think from a South African perspective, it's probably one of the most exciting places to make wine at the moment, because there are no limitations, the sky's the limit. We've got history behind us, we know we can produce world-class wines. Yet we're still an unknown entity for a lot of markets in the world, or a new entity, which is always exciting to go and tell people that have never heard your story or know very little about you or your country. I consider myself fortunate to be in South Africa and to be making wine.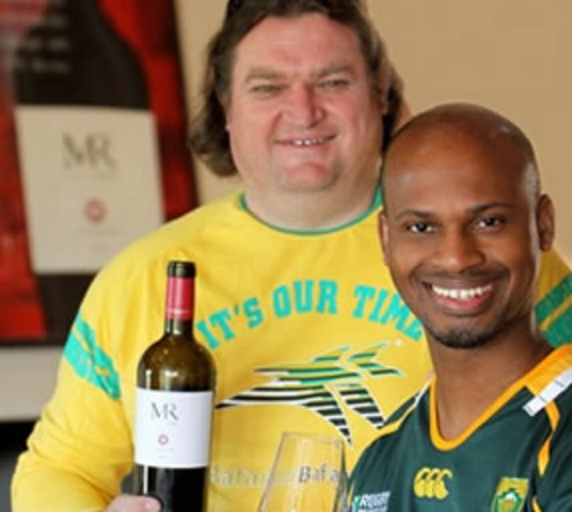 The MR D'Compostella. That's an interesting project.
That is a joint venture between myself and the first qualified black winemaker in Africa. He finished in 2002 and had to do his practical. He asked me if he could do it with me. I didn't know him from a bar of soap, so I met with him, and I liked him, so I said it would be fine. We became very good friends, and one night we were having a braai, which you refer to here in the States as a barbecue, but we don't do it with gas, we do it with wood, real wood. I asked him if he could rub the winemaking lantern, what would he wish for when the genie appears? He said, "Well, to make a consistent, world-class wine that's always consistent in quality, that's always just up there." I said, "Well if I had a wish, that would be mine as well. Let's start a company together and do it." We started MR, M stands for his surname, Mvemve. He's from the Zulu tribe, Zulu Natul. R is for Raats, my surname. We call the wine D'Compostella, which means D, Compo for compilation and stella for stars, the compilation of stars.
Within the demarcation of Stellenbosch, we get each variety from the area which is best suited to that particular variety. Our Cab and our Petit Verdot come from sandstone from Simonsberg, and our Merlot and our Cabernet Franc come from Bottelary Hills, which has the granite soils. Our Merlot comes from a little valley which has metamorphosized slate, and we make all these components from a whole lot of different vineyards. After a year in barrel we line all of the components on a table, taste them blind, separate from each other. Each gives the wine a score, and then each one gets an average score. Then we line them up from the highest average to the lowest average and everything under 90 we remove from the table, still completely blind so we don't actually know what's first and what we removed. When we open it up, whatever came first will be the leading variety in the wine, then second, third, and fourth. MR D'Compostella is not a style, because the varieties change all the time. It is not a variety-led plan, because that changes all the time. The only thing MR D'Compostella offers and guarantees from year to year is that the quality is consistent.
We've had nine vintages now, and of those nine vintages, MR D'Compostella has always been in the top-rated South African wines, not just only white, but all wines in fact. We're still very young, we've only had nine vintages that we have released. The paint is still wet, but at least we try to achieve that consistent world-class quality.
Chenin Blanc, I completely understand how you picked Chenin Blanc, it's the grape of South Africa. Why Cabernet Franc?
When I started Raats Family Wines in 2000 and I told all my classmates that I'm going to make my own winery, I'm going to make Chenin Blanc, they said, "Bruwer, we always knew you were a little bit weird, but we expected it from you, so we don't think you're going to make it if you just produce Chenin Blanc." The next year I came out and I said, "Guys, I've found a red wine variety, it's going to be Cabernet Franc, and they told me, "You're smoking designer drugs, how the hell do you come up with these ideas?" There are very few people anywhere in the world who just specialize in Cabernet Franc. It's still considered a very niche and unique variety to just produce, and to only make Cabernet Franc is a little bit weird. What I like about Cabernet Franc is, most varieties, if you look on the nose, it's got two dimensions. They've either got fruit and spice, or spice and audaciousness. What makes Cabernet Franc quite unique is that it actually covers three dimensions on the nose, it has fruit, which is usually red cherry, or red plum. It can be blackberry and black plum as well. It has this beautiful audaciousness, and when I refer to audaciousness, I'm looking for oregano and thyme and rosemary. The spices in Cabernet Franc are very different to those in Shiraz, where you get that white pepper and black pepper. The spiciness in Cabernet Franc is that cinnamon, clove, coriander, nutmeg, and anise spice. This is called a Chinese fire spice, probably not technically correct, but that sort of grouping of spicing. It has three dimensions on the nose, which is very unusual for a variety to have. On the palate it's got this beautiful linearity that runs from the mouth to your end palate. At the end you get those beautiful, silky-soft tannins, great precision and focus on how it delivers the fruit and the flavor with great acidity and freshness. In my book, if you can have three dimensions on the nose, linear structure, silky-soft tannins, deliver it with precision, with great minerality and freshness at the end, what more do you want from a red wine? That's why I make Cabernet Franc. I fell in love with Cabernet Franc. If I could I would marry it.
Last question. Which is a greater upset; Rocky Balboa beating Apollo Creed, or the Japanese beating the Springboks in rugby?
I think definitely the Springboks losing to the Japanese. The next day, I just ate Springbok nigiri for breakfast, I drank a lot of sake, and then we had to move on. It's very hard. Luckily we beat Samoa with almost 40 points, so the next day, or the next game, was actually quite good. On the other hand, I think for Japan it's very good, and seeing that they're going to host the next World Cup, it might just give them a good boost in confidence. Although it's really painful, but well done for Japan that they actually beat us.