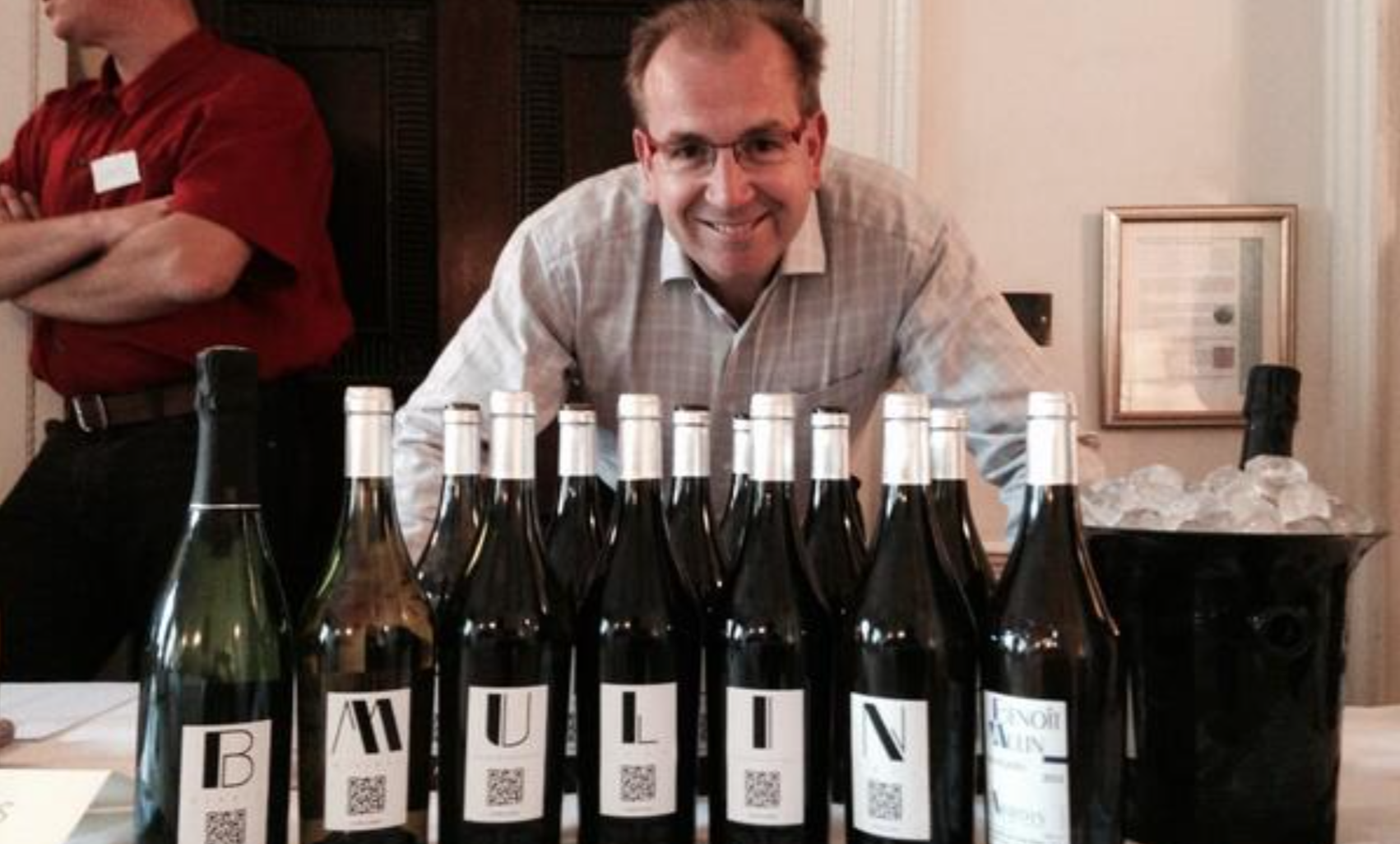 Benoît Mulin was working as a banker in Lyon when he met his future wife. Both were born and raised in the Jura, a part of the Franche-Comté region near the Swiss border, and were thinking about moving back.
Mme. Mulin's best friend is the wife of Stéphane Tissot, who was then a rising star winemaker (and now, a supernova) in the Jura.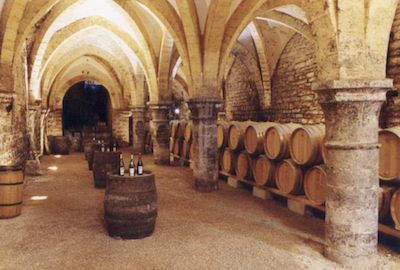 The Tissots had expanded the family winery and launched a négociant éleveur business in an historic cellar built in 1326. There they began making wine with grapes from 25 growers. Mulin complemented Tissot by bringing his finance and business acumen to this business, Le Cellier des Tiercelines, which he joined in 2009. Tissot and Mulin were joined by Jérôme Arnoux, the Tissot assistant winemaker, who became its winemaker.
More recently, Tissot decided to devote his efforts to his family winery and Mulin became head of Le Cellier des Tiercelines and a star himself. In 2013, Mulin also leased seven hectares in Villette-les-Arbois and two hectares in Montigny-les-Arsures adjacent to Tissot's vines where he is growing his own grapes.
JURA REGION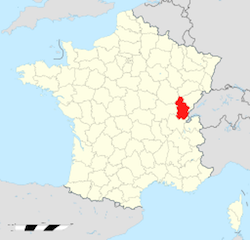 Not to be confused with the Island of Jura off the west coast of Scotland, the Jura region is an 80 km-long strip in Northeast France between Burgundy and Switzerland comprising approximately 100 towns and 200 vineyards.
It is the smallest wine region in France (2000 hectares) making less than 2% of all French wine. In the late 19th century, Jura vineyards aggregated 10 times more land and produced almost as much wine as Burgundy but they were devastated by the phylloxera infestation, mildew and World War I and II. The remaining vineyards are located at altitudes of 200 to 400 meters and have primarily southern or southwestern exposure which floods them with sunlight and protects them from harsh winds. Its climate is cool.
Although the Jura region is just 50 miles east of Burgundy in between the Bresse plains and the foothills of the Jura Mountains, its terroir is geologically very different than that in Burgundy. The subsoil is predominantly shale from the Triassic era (200-230 million years ago) and limestone rich shale beds from the Lower Jurassic period (175-200 million years ago) topped with limestone in the Middle Jurassic period. There is clay mixed with Jurassic limestone and marl at the lowest sites and iridescent marl, a mixture high in magnesium which produces glints of different colors, in the higher elevations.
JURA WINES
Wine has been made in the region for millennia. In the past decade, there has been a resurgence of interest in Jura wines in part because of the extensive use of organic and biodynamic practices.
The key Jura white wine grapes are Chardonnay, where it is sometimes called Melon d'Arbois or Gamay Blanc, and Savagnin Blanc, which is related to the Traminer grape, and the red ones, Poulsard (or Ploussard), Trousseau and Pinot Noir.
In 1936, Arbois was the first Jura region received certification as an Appellation d'Origine Contrôlée. Now there are six AOCs: Arbois, Château-Chalon, L'Étoile, Côtes du Jura, Macvin du Jura and Crémant du Jura.
There are six distinct styles of Jura wine:
Crémant du Jura - This sparkling wine made from Chardonnay in the traditional method and exhibits razor-sharp citrus and apple flavors and some yeasty notes. Sparkling wine constitutes about 25% of total Jura production.
Oxidative White Wine - The most famous oxidative Jura wine is Vin Jaune, so-called because of its yellow color. It is made with Savagnin grapes and aged in barrels for a minimum six years and then three months in squat 620 ml bottles called clavelins. While aging in barrels, Vin Jaune, like Sherry, is not topped off when wine evaporates. Then, a blanket of yeast forms on the surface which concentrates the wine and imparts nutty and herbal flavors. Unlike Sherry, however, Vin Jaune is not fortified. Vin Jaune may be aged for decades. The Vin Jaune from Château-Chalon are the most prized.
Other oxidative Jura wines are mainly made with Savagnin but also some are made with Chardonnay or a blend of both. They are made the same way as Vin Jaune (and are not fortified either) but not aged as long. These wines resemble certain other non-fortified, oxidative wines including certain white Rioja, Northern Italian wines from Radikon and Gravner and the Californian wine from Scholium Project.
Fresh, or Ouillé, White Wine - The oxidative style may be the most famous but the ouillé (meaning "topped up") wines made from Chardonnay, Savagnin or a blend of both deserve to be better known. These wines have the creaminess of Meursault but with more savory and mineral notes.
Red Wine - Jura reds are fruity with a light body (and often, light color) and fresh acidity. They may be made of Pinot Noir, Poulsard and Trousseau or a blend. The Trousseau is a bit more peppery than the Poulsard which has an earthy cranberry flavor. Red wines constitute about 25% of Jura production.
Vin de Paille - One of two sweet Jura wines, it is made by drying a blend of Savagnin, Chardonnay, Trousseau and Poulsard grapes after harvest. Historically, this was done by tying the grapes on the vines or laying the grapes on straw mats to dry in the sun, a technique that dates back to the 8th century. Now, the grapes frequently are hung from rafters or set out in wooden boxes to dry. Then they are pressed and fermented and then aged in oak for three years. Vin de Paille is amber in color and has honey, caramel, marmalade, candied fruit and spice notes.
Macvin du Jura - Since the 14th century, this unusual sweet wine has been made with all five Jura grapes. The grapes are pressed into grape juice and must which are then boiled to reduce the mixture in half before being fortified with Marc du Jura (a brandy). The winemaker then ages the wine in oak casks for six years. The taste is raisiny with herbal and menthol notes.
MULIN WINES
All of the grapes used in Mulin wines come from biodynamic vineyards. The winery produces a full range of Jura wines including sparkling, dry whites and reds, Vin Jaune and Vin de Paille from growers in and around Arbois.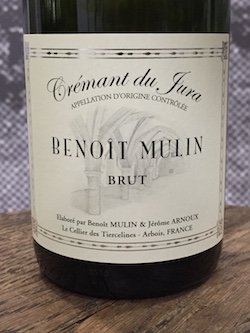 Crémant de Jura is made using Méthode Traditionelle from 50% Chardonnay from vineyards planted in clay-marl soil and 50% Pinot Noir from vineyards planted in limestone soil. The grapes are harvested manually into small bins with strict selection in the vineyard. Bottling is done after completion of primary fermentation and malolactic. The bottles are riddled during the 15-18 month bottle aging. The Crémant has a creamy nose, fine bubbles and fresh apple and brioche flavors. It is a dead ringer for Champagne at a fraction of the price. (NV Crémant du Jura at Grape Collective $26.99)
Chardonnay Vieilles Vignes is 100% Chardonnay from 40+ year-old vines in Arbois. After the manual harvest, the grapes undergo long and slow fermentation with indigenous yeast. Élevage takes place in barrels (25% new) for one year, then wine is moved to temperature controlled cuvées for another six months. The wine is lightly filtered before bottling. It is very lean with crisp citrus and melon flavors, a hint of oxidative quality and high acidity. (2011 Chardonnay at Grape Collective $27.99)
Savagnin is 100% Savagnin from vineyards grown on blue and gray clay-marl mixture in Arbois. After the manual harvest, the grapes undergo slow fermentation with indigenous yeast followed by élevage in 228 liter barrels for 30 to 36 months. The wine is then aged 30 months under veil of yeast. The wine has beautiful nutty and earthy straw notes and high acidity. (2011 Savagnin at Grape Collective $32.99)
Pinot Noir Vieilles Vignes is 100% Pinot Noir from 40+ year-old vines predominantly grown on limestone in Arbois. The wine is fermented and aged entirely in barrels (25% new) for one year. It is not filtered before bottling.
Trousseau is 100% Trousseau predominately grown on blue and gray clay-marl mixture in Arbois. Like the Pinot Noir, the Trousseau is fermented and aged entirely in barrels (25% new) for one year and is not filtered before bottling.
Mulin also makes the following wines that are not imported to the United States:
Crémant du Jura Rosé from 100% Pinot Noir
Arbois Blanc Tradition from 70% Chardonnay, 30% Savagnin
Arbois Rouge Tradition from Poulsard, Trousseau, Pinot Noir
Arbois "Les Rusards" from 100% Pinot Noir
Arbois Vin Jaune from Savagnin
Arbois Vin de Paille from Savagnin and Poulsard
FOOD PAIRINGS
The oxidative wines pair well with poultry, root vegetables, as well as cream and mushroom dishes, Indian food and of course, the local cheeses including its famous Comté.
The Poulsards complement poultry, fish, pork, charcuterie and salmon and other rich fish. Given their spiciness, the Trousseaus are well matched with game and poultry.
Vin de Paille goes particularly well with cheese, charcuterie, nuts and pâtés.
Macvin du Jura is best with Comté or similar cheese.