Sauternes is a village in southeast Bordeaux known for its sweet white wines, also called Sauternes. They are made by a unique process involving a particular kind of useful fungus which can affect grapes in the right weather conditions. Often referred to as "dessert wines," they are actually much more versatile — a well-crafted Sauternes has layers upon layers of dimensions, sweet, but also fresh and savory, never cloying with its racy acidity. They are an excellent match to many foods, everything from cheese to roast chicken to spicy asian cuisine and, yes, dessert too.
As the saying goes, "nothing great comes easy" and making this enticing wine is no easy feat. Just ask Berenice Lurton, proprietor of the historic Chateau Climens in the Barsac appellation of Sauternes. Every year she hopes for just the right balance of humidity and warm autumn breezes to ensure the proper development of the Botrytis Cinerea fungus, the "Noble Rot." Believe it or not, rotten grapes with just the right amount of "good" rot add unique and tantalizing flavors to this type of wine. But the shriveled up grapes have to be picked at just the right time before gray rot (the "bad" kind) sets in. This means multiple passes over several days in the vineyards to pick the grapes. Afterwards comes the painstaking process of separating the wine into dozens of barrels and tasting each one many times before blending and bottling. After all that, it's finally time to sell the wine. Nothing easy about that!
Grape Collective recently delved into the challenges and joys of making and marketing this exquisite wine with Berenice. As a passionate proponent of farming biodynamically—one of the few in Sauternes-Barsac—Berenice is looking to the future. By adopting long-term changes in the vineyards at Chateau Climens, she's building healthy soils and better vines, creating wines of greater freshness and purity.
Lisa Denning: I understand you're from a family of many generations of winemaking. When you were growing up, did you always think you would be in the wine business? And how did you get started yourself?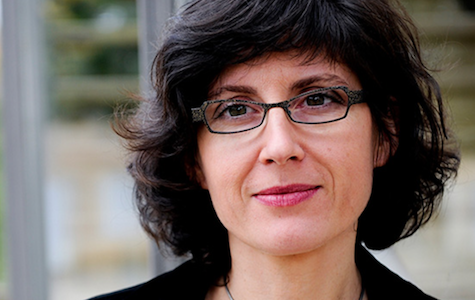 Berenice Lurton: In fact, I didn't think about it really. I was living in it, it was like a universe, which I thought that I would make my own path. When I was quite young still my father did give us the estates and so I said why not? It should be really wonderful, so I started when I was 22.
You said your father gave you the estates, can you tell me a little bit about your dad and what he did in the wine business?
Actually my dad inherited Brane Cantenac, second class Margaux, in the '50s and then in the '60s and '70s, he bought other estates here and there in the Bordeaux area, mainly in the Medoc but in other appellations too. He bought Chateau Climens in 1971 and in '92 he decided to retire. He was still quite young but he wanted his children to be independent and do their own job.
Oh, great. You've been managing Chateau Climens since 1992. Tell me a little bit about your winemaking philosophy, and how has it evolved over the years?
I would say that the philosophy of managing Chateau Climens has stayed the same because it is just respect and adaptation to the terroir. The idea is just to express this exceptional terroir the best way possible. There are many, many interventions for that, for the philosophy has stayed the same.
And I understand you went completely biodynamic in 2010. How is that going?
Well, I think we're the only estate to have converted the whole estate, 30 hectares, in just in one year, which is quite unusual, but when I think we found the right thing to do, well I just go to it. We were fortunately very supported by our consultant whose been making biodynamic wine for many years.
And do you find a difference with the wine since you switched over to biodynamics?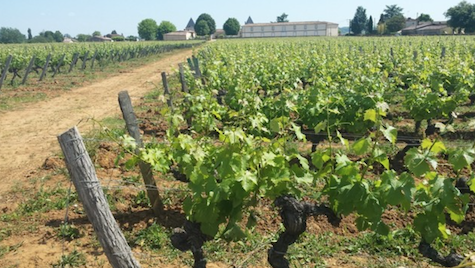 It's quite difficult to say biodynamic has already changed the wines, I'm sure it has, but these wines are so complex, it's quite difficult to say is this due to biodynamic or whatever. We see is a big change in the vineyard. We see that the wines are more alive, more healthy, and that's really great.
That must be very satisfying.
It is.
Let's talk a little bit about the terroir. Tell us a little bit about the region. I think a lot of people know Sauternes, but can you tell us about the whole region and then specifically about Barsac, because I'm not sure if people are as familiar with Barsac? That's it's its own appellation within the larger appellation.

That's right. In fact, Barsac is the only one of the five villages of Sauternes that has its own appellation. When you're a Barsac, you're a Sauternes. The difference is due to the fact that there's a very different terroir in terms of geology, Sauternes roughly is a continuation of the gravely terraces of the left bank, of the Garonne. And in Barsac, the local river, the Ciron, a long time ago has taken away all the sediment. So we came back directly to the limestone bedrock and Climens is on top of the highest point of the Barsac appellation and the wines are generally more lively, have more minerality, and freshness.
One thing I understand, also, is that you don't blend. You only use Semillon, so you are a single varietal winery. That's a little unique for your part of the world of winemaking.
Absolutely. People always talk about Bordeaux blend. And so it's totally unique to have an estate with just one grape variety, which is Semillon. But also inside Sauternes, it is very unusual because generally, they add Sauvignon to bring freshness. But under Climens' terroir, which is so special, Semillon gets really very vibrant, very fresh, with great lift. So we don't need Sauvignon. So we blend not grape varieties, but we blend days of harvest that are monitored separately in different barrel batches.
Can you explain a little bit about the process of botrytis and how it affects each vintage? Occasionally, I understand, you don't even make a wine because of what happens or doesn't happen in the vineyards.

Botrytis cinerea can be "noble rot," or "gray rot" which is terrible. It's the same fungus and the way it develops is different according to the terroir, the grape variety, and of course the microclimate. In Sauternes, we have a very special microclimate with morning fogs and sunny afternoons. But sometimes we've got rain. We're in Bordeaux, it's very oceanic weather, so then noble rot turns to gray rot.
Or if it's too dry, we don't get botrytis. But most commonly we would have problems with too much humidity. So then we have to get rid of parts of the crop or sometimes we have even to declassify our wines and that what happened to me in '92 and '93. Two years in a row. You have to make these sacrifices if you want to get the level of excellence of your wine. Our yields in Sauternes are very low compared to other appellations of Bordeaux and, of course, in the world. But they are also very uneven. And in Climens they are particularly low. We've got about ten hectoliters per hectare which is very, very few.
What's your total production each year, approximately, average?
The average production at Climens is around twenty thousand bottles but it can be from zero. The minimum being around fifteen and the maximum being around seventy thousand which is really high for us.
Right, that is a big range.
Yes, big, big range.
What are your thoughts about this year considering just a couple weeks ago there was a bad frost? How were your vineyards affected?
We were very, very hit in Climens. We have been touch hundred percent. Everything was brown. So all the grapes were finished. So now we hope that the second buds are going to make a few grapes so that we can make a little wine in 2017. You know, it's something very natural, making wine. You have to know who's the boss, it's nature. And you have to cope with it and sometimes it's hard.
Was the whole area of Sauternes affected or as much?
Barsac was really more affected than Sauternes.
What do you think it was, are you a higher elevation than a lot of places in Sauternes, or it's just was chance that that happened?
No, in fact the higher places in Sauternes escaped from that. It was the lower places, and Barsac is quite, quite low.
So can you tell me a little bit about Sauternes wine in general? Are there different styles of wine? Or are they pretty similar?
They're all sweet wines made from noble rot in Sauternes. But you can have different styles according, of course, to the terroir, to the soil, and also to the personality of the grower. And so you can have wines that are more or less sweet, more or less fresh. And generally in Barsac the wines are more lively, especially in Climens for example, it's a wine which is quite different from other kind of Sauternes. It's always very elegant, very well-balanced, with a very fresh finish, a great lift. Your mouth keeps very fresh and you just have all the perfumes staying in your mouth.
Is there a difference in alcohol between different producers, like some like a lot fruitier than others? For example, you have modern producers and traditional producers. And the modern producers tend to make denser, fruitier wine and the traditional producers tend to be more acid-driven. I mean, does that distinction exist in Sauternes?
Well the distinction of style between the producers, I would say in Sauternes, depends generally more on the terroir, the type of soil. Because actually it is not at all a technical wine. It's a wine which is mainly made through the vines and with the picking. So the difference would be in the way you would run your estate, pick the grapes. But the terroir really makes the difference also. I wouldn't say that there is a more modern way of making Sauternes, but I think there's an evolution because people like less sweet wines. And so, now most of the estates are trying to make wines which are more balanced.
Some of the wineries, some of the estates in Sauternes make a dry wine as well, which I know can't be classified as Sauternes. It has to be called Bordeaux Blanc. Is that something you would be interested in doing? Or not because you only have the Semillon?
Not only because I have only Semillon, but in fact, Climens is an estate which is very homogenous in terms of quality of terroir. And it's a terroir which is so incredible to make great sweet wines that I don't find it interesting to make a dry white. Which would be certainly less impressive. And anyhow, in Climens the noble rot comes so fast that you wouldn't have even the time to make a dry white most of the time. So we stick to making sweet wines every year. And I think that on most estates they would make the dry white on the plots which are less good for making great noble rotted wines.
Let's talk about vintage variation. So each year you produce different amounts of wine. And how does the weather impact the taste of the wine?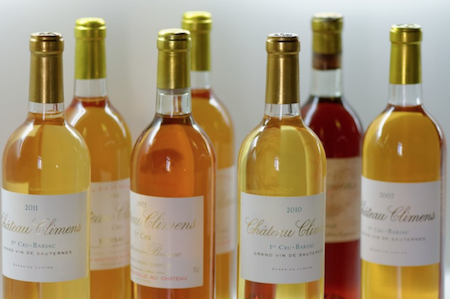 Well, in fact, it's a very interesting question because the vintages are all different. And I always compare it to siblings in a family. They look alike, but they can be so very different in terms of character and even physically. So we have wines which are more luscious, others which are fresher but they are all very complex, so it's difference in terms of aromas, that is quite important. So even if there are elements that you find almost in all the vintages, they can be so very different.
And is it similar to dry wines, where when you have an extremely warm vintage, the wines tend to be more round and lush? It follows that same thread?
For sure. The wines then tend to be richer, especially if we had a hot summer. And when we've had quite a fresh summer, the wines will be more lively. So, yes. The weather and the heat do make a real difference in the vintages, but then also you have a difference in the aging of the wine. All these wines live very long. Some of them will be approachable younger. Maybe they're a little less complex, but they are so lively that you can drink them when very young.
What is the ideal age to drink your wines, would you say?
What's wonderful with these wines is that you can drink them when young and when more mature, when very old. And it's a question of what you prefer, what you like. It's a question of what you're going to match with it. So everything is possible.
From a marketing standpoint, what does Sauternes need to do to become a greater part of the wine conversation today?
Well, Sauternes is well known everywhere in the world. It's the most well-known sweet wine in the world. But the image is certainly too classical. People think it's generally too sweet. They believe it's dessert wine. And I think we have to open windows and doors saying these wines are not only dessert wines. And they're elegant wines. They are perfume wines. And they are not old-fashioned wines. And you can pair them with many different kinds of food and you can have them as an aperitif or with or without tapas. Just a glass like that when you come from work in the evening or after dinner, during dinner. Everything is possible. And what is important to know also, very practical. A bottle of Sauternes, you can open it just for one glass, which is total luxury.
Because it does keep very well when opened. You just put the cork back, put it in the fridge and then you can come back to it after one day, two days, several weeks, even. It's fantastic! So I think everybody should have a nice bottle of Sauternes in their fridge.
I read somewhere that you came up with the slogan, "Free Sauternes." Is that true? And what does that mean exactly?
Well, that's true. At that time, I was president of the Classified Growths of Sauternes and I felt that Sauternes was stuck on a fois gras match in France and cold dessert wines in other places and there was a link only to enjoying them at Christmas. You know, very narrow elements. So that's why I thought you have to free the Sauternes from all these very narrow-minded ideas.
And how do you think you can achieve this? And reach the younger generation, even?
I think the younger generation doesn't have as many preconceived ideas about Sauternes. So now it's time for us to show them that these wines can be drunk very easily. Of course, with simple food or on their own. Also with sophisticated cuisine, gastronomy. And especially, maybe, with spicy food, Asian food. That is the thing that people have to know because it's a way to discover or rediscover these wines which is absolutely exciting. So I say, have fun with these wines. Don't be timid and wondering when and where, with whom, and with what you're going to drink them. Just open a bottle and enjoy it.
Can you explain the history of Chateau Climens?

Well, the history of Climens is very interesting because it is well known for the excellence of its wine and the consistency is due to the terroir, but also to the stability of its history. The domain was established between the second half of 16th century and 17th century. So it's quite an old estate. And it's has remained the same, which is quite unique in Bordeaux since then. And all the owners have stayed very long and really taken great care of that estate, always trying to express the great energy of this terroir. And even when the owners would change, the managers would stay. So there's really a transmission of the savoir-faire, and the knowledge of the estate and of noble rot. And that is very, very important.
Could you explain to us exactly what noble rot is? And what it does to the grapes and therefore the end product?
Well, noble rot is a fungus. It has the ability not only to concentrate the grapes when you have the right climatic conditions, but also to enhance and multiply the aromas in the grapes. So to get noble rot, you have to have slight humidity. Then the fungus comes on the surface of the grapes. And then, when you have sun and dry conditions, it's going to go inside the grape and digest the skin.
So you're going to have a phenomenon of concentration due to the sun and to the wind. But it's much more than mere concentration because by attacking the grape, the fungus creates a reaction of difference. And this is very fascinating because the grape is going to create molecules in order to defend itself. And these molecules tend to be precursors of aromas. That means that during fermentation, the action of noble rot provides the wines with many aromatic elements.