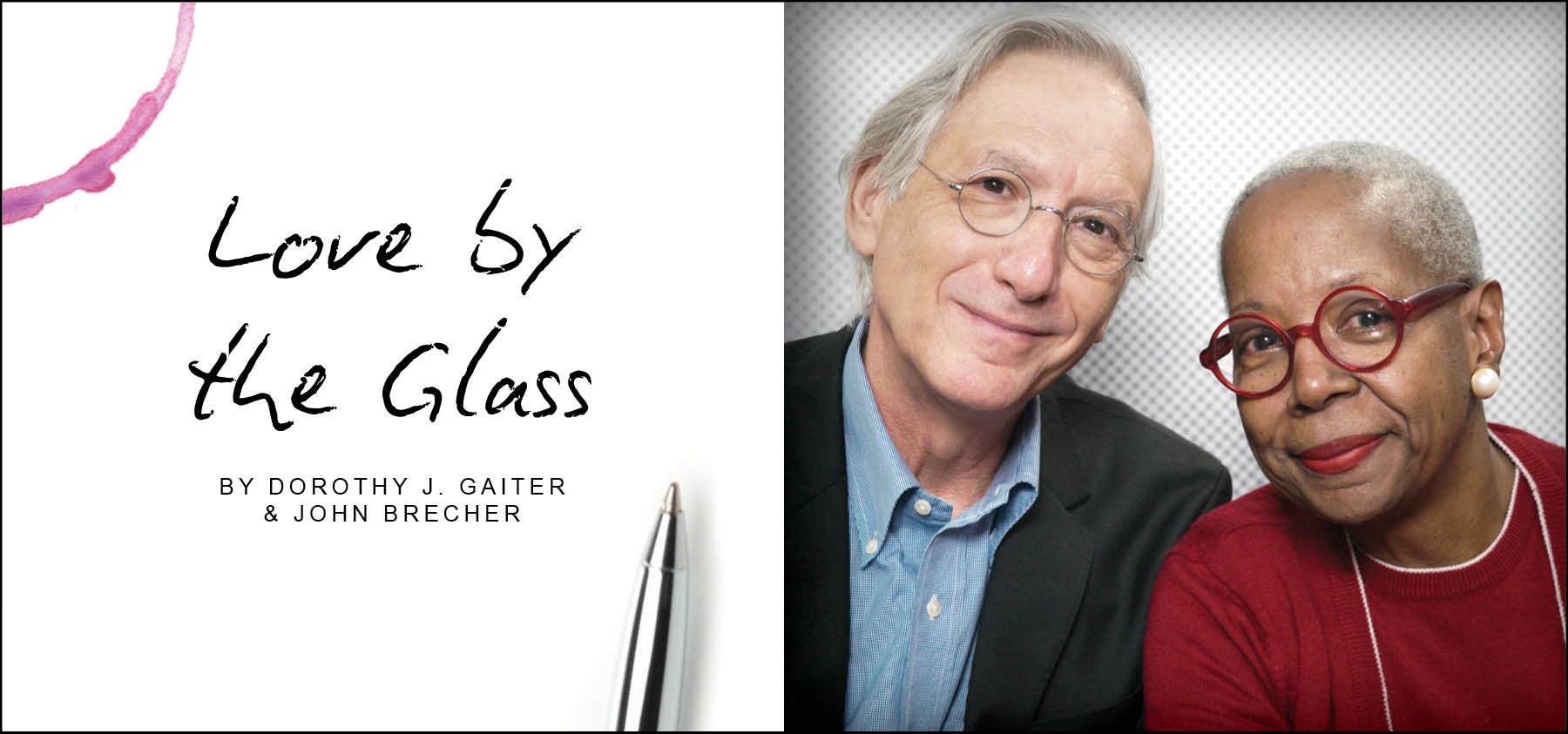 Kerith Overstreet was ready for her sales trip – almost a dozen cities in five states, where she would discuss the new releases of her wines with distributors, consumers, retail stores and restaurants. It was mid-March. "I had a complex spider web of airline flights that I'd booked out for that entire Spring for sales," she said. For many small wineries, like her Bruliam Wines of Sonoma, these intense trips are lifeblood.
Just as the trip was supposed to start, California shut down winery tasting rooms and then issued a shelter-in-place order because of COVID. The trip was off. Then restaurants, where most Bruliam wines are sold, began to shutter. One early casualty was New York's Gotham Bar and Grill, which had offered Bruliam on its prestigious list for years.
"It was awfully scary and shocking," Overstreet, 47, told us.
Over the past several months, one question we're often asked is: How will small wineries, all over the world, survive the pandemic? Overstreet's story might offer some clues.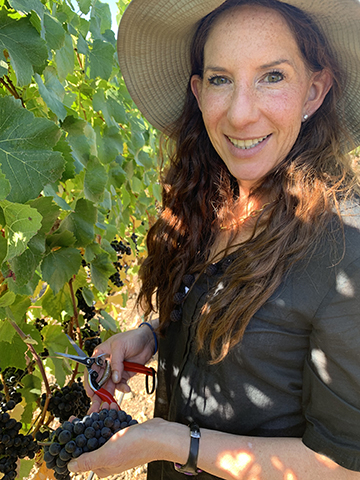 Many small wineries were built on passion and dreams. Even among that group, Overstreet's journey is unusual. She studied medicine and became a surgical pathologist, "a microscope doctor who gives your doctor the answers" from, say, a biopsy. She always had an interest in wine and had a tasting group with other medical interns. In 2003, she and her husband, Brian, who works in health-care data, were quoted in our Open That Bottle Night story in The Wall Street Journal, when they drank a 1991 Silver Oak Cabernet Sauvignon with polenta-crusted seared ahi tuna with Port and Rioja reduction sauce (six cups of wine with honey and sugar reduced to a half-cup and emulsified with olive oil).
Also in 2003, she read one of our columns about Pinot Noir. Our best of tasting was Miner Family from Garys' Vineyard in the Santa Lucia Highlands, known as SLH. She and Brian found a bottle and loved it. In fact, she never got over it.
After having three children in two years – Bruno is now 16 and the twins, Lily and Amelia, are 14 – Overstreet began making a little bit of wine at a custom-crush facility. Her first vintage – 25 cases -- was 2008. It was a Pinot Noir, of course, from SLH. "That's what was in the article and that's what I wanted to do," Overstreet told us.
Soon, Overstreet left medicine and jumped into wine full-time. She received an online oenology certificate from the University of California at Davis. And then she cold-called vineyard manager Mark Pisoni, whose family co-owns Garys' Vineyard along with the family of Gary Franscioni. Mark's father is Gary Pisoni.
"I said, 'You know, John and Dottie' – as if I knew you, right? – 'wrote about this vineyard called Garys' and I was wondering if I could get some fruit.' I had a ton of moxie and I didn't understand about allocated vineyards and Mark Pisoni couldn't have been more kind or more gracious and he politely explained that there wasn't any Garys' fruit because every row was accounted for but he had this new vineyard called Soberanes and the first crop would be in 2010 and that I could drive down and meet him and if we were simpatico he would consider selling me some fruit. And that's how it began."
She came up with the name Bruliam from the first letters of her children's names. The BU on the label is a fictional chemical element, an homage to Overstreet's background, and the three dots represent her children. By last year, using a cooperative facility in Windsor, she had grown to 1,200 cases, mostly Pinot Noir – she makes four, with about 200 cases from Soberanes, which is Garys' neighboring vineyard – and also some Zinfandel, Chardonnay, Rosé of Pinot Noir, and a little late-harvest Sauvignon Blanc. Her wines are from Sonoma vineyards except for the Soberanes.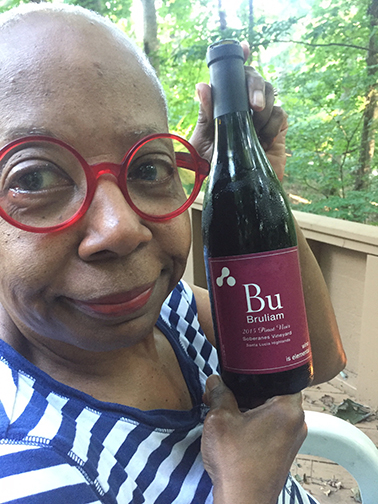 We first tasted the Soberanes at Napa's famed Mustards Grill in 2019, before we knew anything about Bruliam, and were very impressed. We just tasted the 2015, 2016 and 2017 Soberanes ($55), which Overstreet sent to us, and remain impressed. These are serious Pinots, with a great deal of earth and some edginess. Many Pinots are pleasant, fruity and easy; these are far more intellectual and demanding of attention and respect. Overstreet said her wines have "integrity, personality and spunk" and we'd agree with that. They also take some time to knit together, which is why Overstreet is just releasing the 2017 Soberanes.
And then the pandemic hit. Everything stopped. Restaurant sales withered and Bruliam is sold at so few retail stores that Overstreet can name many of them.
"You scramble and you read as many trade publications as you can about what are good ways to pivot and pick up the pieces," Overstreet said. Bruliam had never offered Zoom events, but Overstreet began doing one a week for people on their mailing list. "People don't necessarily want to hear you talk about a wine that they cannot taste," she told us. "So I knew that we had to bring more to the table than a traditional tasting. So one of the Zooms I did was about Santa Lucia Highlands. And we said, 'If you have a Pinot from Santa Lucia Highlands, open it. If you're drinking craft beer, open it. Just come join us.' I did one where I baked biscotti."
Before COVID, Overstreet sold wine only three times a year and first to people on Bruliam's allocation list. Now Bruliam wines are available at all times, still first to people on its mailing list. "It takes two clicks to register for that," she told us. "People can email me and I'll get back to them."
And Overstreet saw a silver lining:
"This is our time to shine on the dinner table. People are eating at home. This is our big moment, our big wine and food moment. Every night people are home cooking dinner. This is our chance to be on your table every single night and I think that's true for all wines. Every night is Open That Bottle Night and it doesn't have to be fancy …
"And I know people are drinking their cellars because we are the lucky recipients of awesome emails with pictures of scrumptious homemade meals alongside a glass of my wine. Nothing makes me prouder."
Bruliam dug out. In the first seven months of the year, wholesale sales – that includes restaurants and retail -- dropped 36 percent. But direct-to-consumer sales soared 72 percent. "Dollar for dollar we're close to offsetting what we've lost," Overstreet said, "but there's so much uncertainly ahead."
Indeed, with COVID as dangerous as ever, now Overstreet has to figure out how to harvest grapes and make wine safely. She buys most of her grapes from trusted growers and has a small vineyard of her own, Torrey Hill, with some of the oldest Pinot Noir vines in Sonoma. Her home and the vineyard were spared in the 2019 fires, although the family was displaced for five weeks. The most recent fires are farther away, she told us, adding that she's grateful to the CalFire department for its efforts.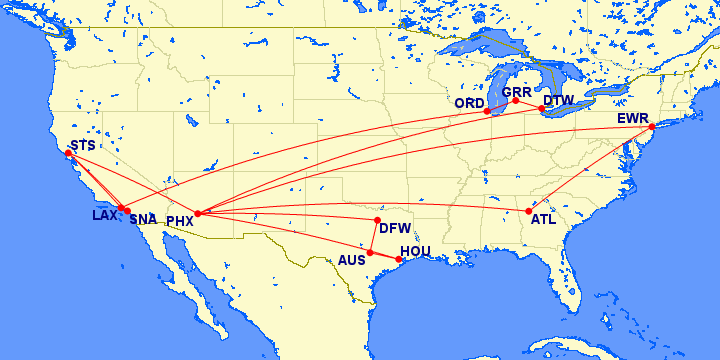 (Kerith Overstreet's planned -- and canceled -- Spring sales itinerary)
We asked her, as a doctor – she remains licensed, though she does not practice – how it's possible to harvest and make wine safely this year. First, she pointed us to the wine industry's harvest protocol workbook. "A lot of it can boil down to common sense," she added. "Wash your hands. Give people the space they need. Be patient because things are going to be moving a lot more slowly. And don't come to work if you're sick."
In terms of winemaking, "a winery has a lot of space so people can distance. A lot of what we do happens outside. And a lot of the production winery work is a one-person job. It only takes one person to shovel out a tank…
"We're not going to have eight people sorting fruit. Maybe now we'll have three people, wearing masks. It's just going to go more slowly. That's just the nature of the beast…
"People have to be patient and have to be kind."
She pointed out that wineries have always had rigorous sanitation protocols. "I joke that harvest interns do not learn how to make wine – they learn how to keep things clean."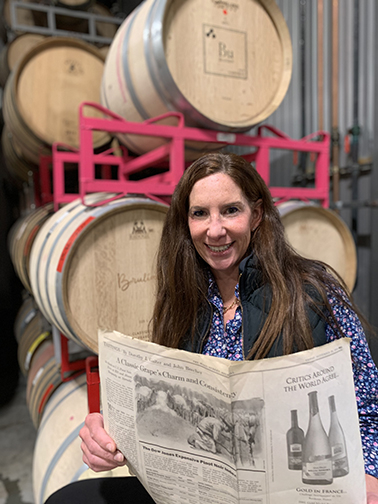 Tastings will change, too, of course. She wrote to her mailing list what will be the same and what will be different. "Your wine is 'self-serve,'" she wrote. "You'll find four wines pre-poured into four, individual, single-serve decanters, positioned on a disposable tasting mat. Only you will touch the wine that enters your glass or passes your lips. This is to keep you safe. You'll find your pours waiting on your table when you arrive. Here's what else you'll find on your table: water, water glasses, freshly sanitized, laminated tasting sheets, a disposable order form, and a sanitized pen (for you to keep!). Masked-Kerith is lurking nearby if you want to chat wine or chat life."
We asked, long-term, how her business model will change. She said she has learned a great deal about long-distance one-on-one relationships.
(Overstreet with our Wall Street Journal Pinot Noir column. Photo credit: Amelia Overstreet.)
"Why would you lose an avenue where you can connect and talk to the people who are kind enough to buy your wine? One of the things I'm good at as a winemaker is that I'm pretty good at explaining science stuff from my background but I still shovel tanks, too, so I have this dual perspective," she said. "I hadn't really thought about bringing it directly to the consumer….
"For me to be able to have a virtual event where I can connect with people is a gift. One thing small wineries can do really well is have our niche based in relationships. We can look at COVID and ask how can we connect with people and remind them about our story and remind them about the place my wines have in their life."
After our interview, we sent Overstreet an email thanking her for her time and asking, simply, if Bruliam will survive. Her response: "YES! Bruliam will survive this. I am super gritty, and I am lucky to be supported by amazingly dedicated, passionate wine lovers who enjoy my wines. I have faith they will continue to make room for Bruliam on their dinner table and share their finds with friends and family. And we will continue to deliver joy through wine."
Dorothy J. Gaiter and John Brecher conceived and wrote The Wall Street Journal's wine column, "Tastings," from 1998 to 2010. Dorothy and John have been tasting and studying wine since 1973. In 2020, the University of California at Davis added their papers to the Warren Winiarski Wine Writers Collection in its library, which also includes the work of Hugh Johnson and Jancis Robinson. Dottie has had a distinguished career in journalism as a reporter, editor, columnist and editorial writer at The Miami Herald, The New York Times, and at The Journal. John was Page One Editor of The Journal, City Editor of The Miami Herald and a senior editor at Bloomberg News. They are well-known from their books and many television appearances, especially on Martha Stewart's show, and as the creators of the annual, international "Open That Bottle Night" celebration of wine and friendship. The first bottle they shared was André Cold Duck. They have two daughters.

Banner art by Piers Parlett