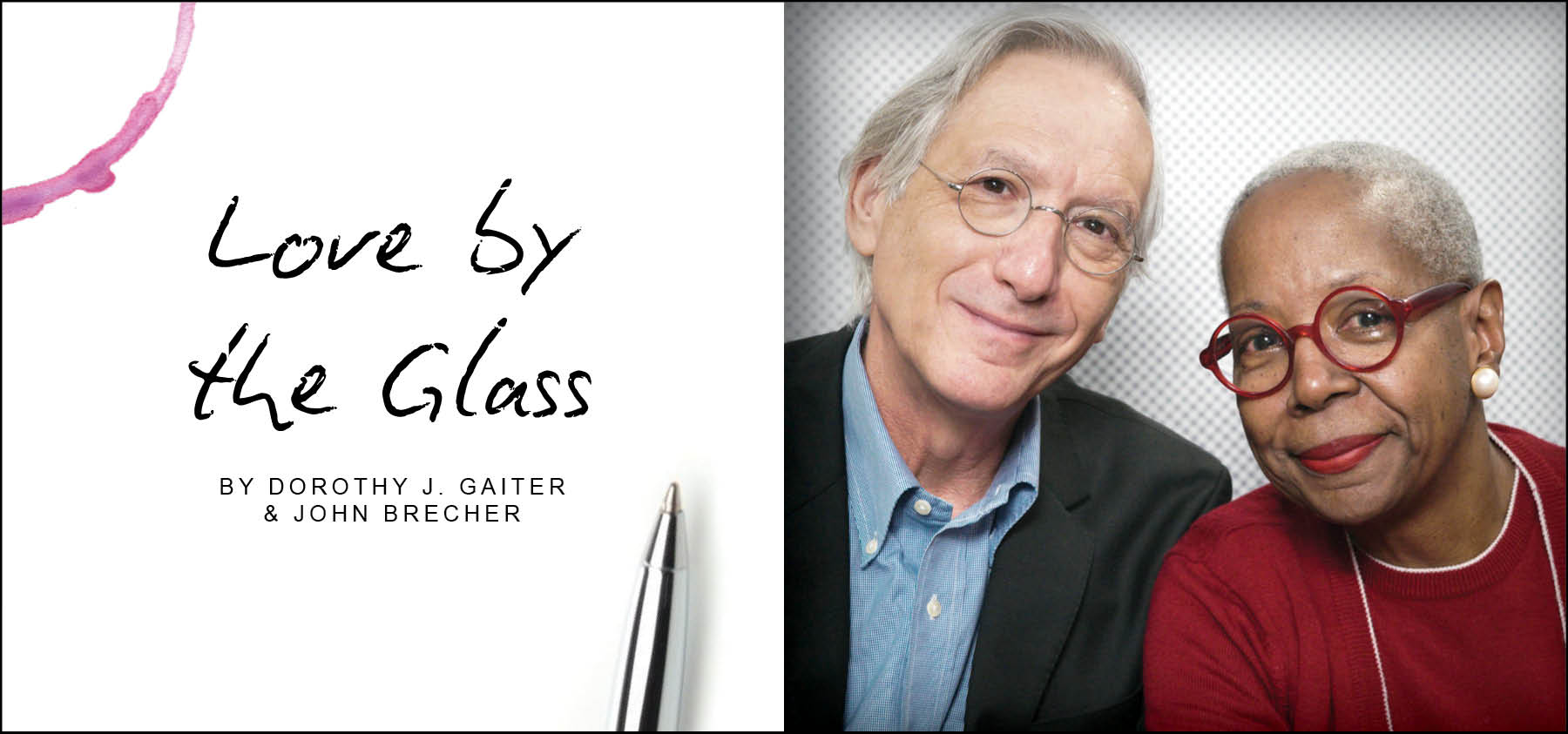 When it comes to blending in Napa, Phillip Corallo-Titus was saying, "Malbec is the new Merlot."
We stopped tasting and stared at each other. Really? Then he went on: And Petit Verdot is suddenly about as trendy as a classic old grape can be.
We decided to get to the bottom of this. Our journey, unexpectedly, took us from Napa to the coast of Tuscany and on to a vineyard outside of Jerusalem.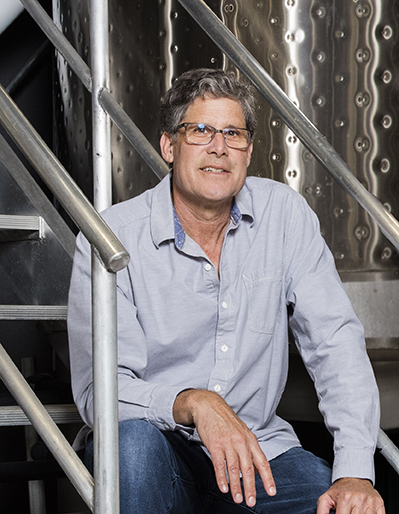 Corallo-Titus (photo left) knows what he's talking about. Now 62, he grew up in Napa, has been involved in vineyards and wineries since he was 12 and has been head winemaker for Chappellet Winery on prized Pritchard Hill for more than 28 years. And Chappellet, still family-owned and led by Cyril Chappellet, the son of the founders, has been a classy winery for a long time. We were at a tasting of Chappellet wines going back 50 years and there it was, in its witty and progressive pamphlet: In 1992, its top red was 95 percent Cabernet Sauvignon and 5 percent Merlot. By 2016, the blend was 87 percent Cabernet, 10 percent Petit Verdot and 3 percent Malbec. No Merlot. And, Corallo-Titus was saying, it's not just Chappellet – it's happening all over Napa Valley.

Now, for wine geeks like us, a big change like this in the blending of some of America's finest wines is fascinating stuff. But even if you're not a wine geek, it's fun to know what kind of grapes are in your wine and why. And it's yet another indication that the wine world is ever-changing, which is one reason we've found it so interesting for so long.
When we were young, American wineries generally avoided varietal designations, instead going with familiar, though thoroughly misleading, names like "Chablis" and "Burgundy." Then, a small band of writers, like Frank Schoonmaker, and winemakers, like Martin Ray, argued that American wines should have varietal designations so consumers would know what they were drinking. That slowly began to happen, but then the pendulum swung too far and some consumers began to believe that a wine needed to be 100 percent of a variety to be genuine, as if, say, 5 percent Merlot was used as filler. (For a long time, a wine could be called by a varietal name if it was just 51 percent of that grape; it's now 75 percent.)
When we began writing our wine column for The Wall Street Journal in the late 1990s, we were surprised how many letters we received from readers who felt they'd been duped because their Cabernet Sauvignon was less than pure. We told them that even the great red wines of Bordeaux are generally blends. The six permitted red grape varieties are Cabernet Sauvignon, Merlot, Cabernet Franc, Malbec, Petit Verdot, and Carménère, which is rarely used.
We called Corallo-Titus later to ask: What's up? Is it just fashion? Consumer preference? He explained that it's something much more basic – really basic: Until fairly recently, Napa just didn't have very much good Malbec or Petit Verdot. As the grapes have improved, wondrous things have happened.
For years, he said, Napa winemakers used Merlot for blending because that's what they had and it was perfectly fine. Then, in the 1990s, they began importing Malbec clones from France and then Argentina and the grape prospered. Crush statistics show that, between 2007 and 2017, the amount of Merlot crushed in Napa has slumped (for various reasons, of course) while the amount of both Malbec and Petit Verdot has doubled, albeit from small bases. The Napa Valley Vintners organization lists 65 Napa wineries that use Malbec and 89 that use Petit Verdot.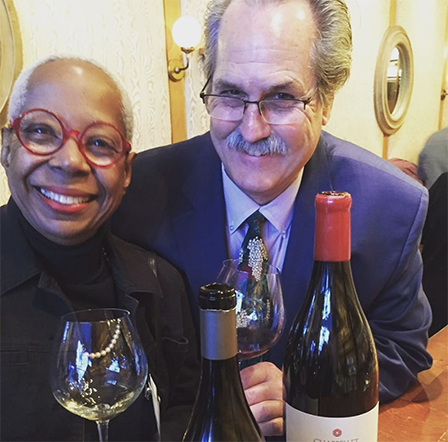 (Dorothy J. Gaiter with Cyril Chappellet)

Malbec "is just such an excellent blender," Corallo-Titus told us. "It's got about the same level of tannin as Merlot but it's got almost twice the color and twice the level of fruit intensity, so what's not to like?" He said Chappellet doesn't plan to use Merlot in its blends in the future – he said it can actually be a "diluter."
"Once you see the benefits of having all of these wines in a diversity, you pretty much look at it and say there's no one perfect varietal," he said. "We want a dominant varietal, but it's just so rare that a wine isn't better by doing some blending." As he put it, "it's a team of players that all fit together."
That includes Petit Verdot, which is most definitely having its day in the sun right now and that's a good thing because it really likes good weather, Corallo-Titus said. In the old days, he said, there was little Petit Verdot in the valley. "There was just one clone that was really floating around back then and it was Clone 2 and it's a very, very rugged, rustic clone," he said. "You could only use a tiny bit of the old Clone 2 because it was like motor oil – it was dark and heavy and no fun at all."
With new clones, though, there's much to work with – although Petit Verdot continues to be a strong, aggressive and tannic grape that needs constant attention in the vineyard and the winery. "It's deep and concentrated and it kind of lays in the blend and it just fills in all the cracks," he said.
"My criteria for the best Petit Verdot is that when you taste it blind and you think that's the best Cabernet Sauvignon I've ever tasted." However, he added, "One thing we've learned is you have to make Petit Verdot a balanced wine. It's very easily extracted, so that's just something you know. If you miss your mark, there's a good chance that you're going to miss it by a lot, and there's no way to come back from that.
"If you let it get over-extracted, it doesn't taste like great Cabernet – it tastes like your worst nightmare."
He said Petit Verdot will offer blackberry-blueberry-cassis flavors, while Malbec will add cherry-black cherry notes, and that certainly squares with our tasting experience.
We've noticed that Petit Verdot is increasingly available as a varietal wine from all over. Herzog Wine Cellars in Oxnard, Calif., recently released its first Petit Verdot, made from Napa fruit. And we just tasted a delicious Petit Verdot from Casadei in Tuscany. Even at $49, this is a wine to look for. It walks the line beautifully between a big, gutsy wine and one that is good with food and ultimately light on its feet at the finish, which is quite a neat trick. "Deft hand," we wrote in our notes.
And then there's this. By total happenstance, while we were working on this column we received a nice note about our work from Eli-Gilbert Ben-Zaken, the owner of well-regarded Domaine du Castel in Israel. We noticed he uses Petit Verdot in his blends and asked him about the grape. Here's his response, which we never could have expected: "I started as a small hobby winery, which some would call a garage winery but in fact was a stable winery as it was using old horse stables next to the chicken shed. By the mid '90's I transformed the shed and stables into the Castel winery and planted extensively. My interest in Petit Verdot started at that time. Petit Verdot was not available in Israel. December 1996 I visited Château Margaux and was shown around by Paul Pontallier RIP. We discussed and tasted the '96 vintage from the barrels, but mainly PV. He told me something that stuck to my memory: 'Here in Bordeaux when PV is good the whole vintage is good!'
"We in Israel have no weather problems at the end of ripeness (still PV always closes the harvest). I thought that this should be an ideal grape for us. It would add color depth that our Cabernet Sauvignon lacks and of course its higher acidity would be very welcome. Perfect addition to my Bordeaux blend. This is when I went about my quest for PV, which was not an easy enterprise. It is not easy to import vegetative material to Israel and the protection bureaucracy is very tough. But in the end I convinced them to allow me to import shoots on condition to plant them in a secluded plot. Which I did by the '97 summer. Today it is in almost all the Israeli Bordeaux blends and even some wineries make pure PV."
Now, about 16 of his 111 acres are Petit Verdot and he uses it not only in his Grand Vin, but "in our Petit Castel and our entry level La Vie. The amount in the Grand Vin depends on the vintage and varies between 8 and 15 percent."
If you've never had a varietal Petit Verdot, search for one and have it with a substantial dish, like a roast. It will be quite an experience and we think you'll enjoy it. And next time you have a wine that impresses you, pay attention to the blend. It might be on the label. If not, usually if you just Google the name of the wine and something like "tech sheet," it will show up. Blending is high art for caring winemakers and it's fun to peek inside their brains. It also happens to be a great reminder of the importance of diversity.
Dorothy J. Gaiter and John Brecher conceived and wrote The Wall Street Journal's wine column, "Tastings," from 1998 to 2010. Dorothy and John have been tasting and studying wine since 1973. Dottie has had a distinguished career in journalism as a reporter, editor, columnist and editorial writer at The Miami Herald and The New York Times as well as at The Journal. John was Page One Editor of The Journal, City Editor of The Miami Herald and a senior editor at Bloomberg News. They are well-known from their books and many television appearances, especially on Martha Stewart's show, and as the creators of the annual, international "Open That Bottle Night" celebration of wine and friendship. The first bottle they shared was André Cold Duck. They have two daughters.
Read more from Dorothy J. Gaiter and John Brecher on Grape Collective