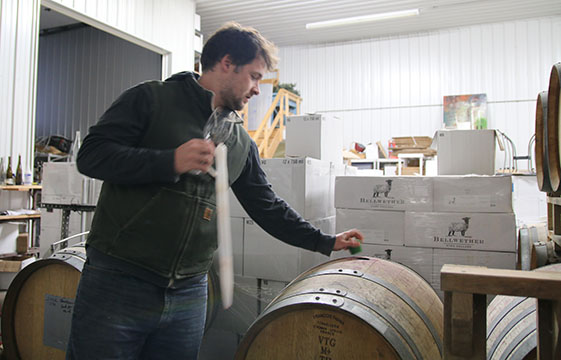 "Unlike most Finger Lakes winemakers, Matthewson was born and raised in the heart of the region, in the village of Hammondsport, and got his first winemaking job at 19. This gives him a long view on developments here, as well as a close understanding of the lakes' specific topographies, soils, and microclimates. He's had nearly two decades to evaluate varieties, techniques, the wines of other producers, and to puzzle out which fit best with his own mindset." Valerie Kathawala
For a much more detailed look at Bellwether Wine Cellars check out Valarie Kathawala's interview with Kris Matthewson here. Our more recent allowed us to film Matthewson at his winery and his leased vineyards.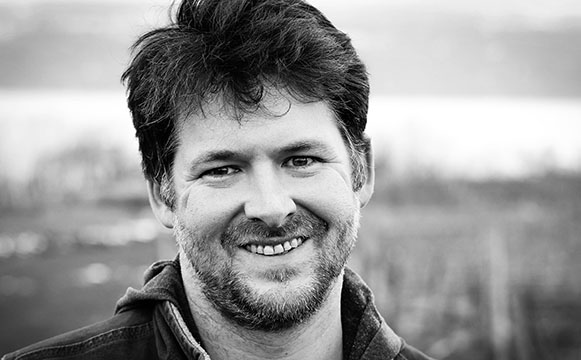 Christopher Barnes: Talk a little bit about your background as a winemaker.

Kris Matthewson: My background as a winemaker started when I was right out of high school. I was 19. I kind of fell into it early. I had no intention of being in the wine industry but I grew up around it. So when I graduated high school I just went to a local winery and asked if I could have a job working the tasting room and within a couple weeks I was out of the tasting room and working in the wine cellar. From there I was trained for five or six years in that wine cellar before I went on to another winery and another winery and another winery.

What is your philosophy of winemaking?

My philosophy of winemaking developed in different wineries that I worked at. And I think each winery that I worked at I picked up something different from that winemaker. Maybe one idea or two ideas and then when I got a little bit older I was tasting and learning a lot and I was very independent but my philosophy really was the things I was seeing and reading didn't conjoin very well, so I wanted there to be a connection with what I was reading about how wines were made in Germany or Austria and the way that I was making wines in the Finger Lakes. And so I wanted to take some of those techniques that I was reading about in Germany from the 1970s, '60s, '30s and bring those into what I was doing in the Finger Lakes and try to make those two kind of ideas merge a little bit stronger than I was seeing here. We had a very like New World French-focused winemaking idea in the Finger Lakes that was very technical and what I was reading about in Germany was much different. It was much more dramatic in the way that they were making wines and I wanted to take that philosophy and overlay that to the region that I was working in.

Talk a little bit about Bellwether.

Bellwether Wine Cellars started in 2011 kind of out of nowhere. My wife and I had just been married, and I was working in another winery. And grapes from a vineyard that I was interested in working with became available at 11:00 in the morning and within one phone call we had decided to purchase grapes and started Bellwether Wine Cellars, which was kind of a secondary offshoot of my in-laws' cider business. Because we had a winery license we were able to start doing our own wines. With the first year we made one ton of Pinot Noir and the next year we started really focusing on Riesling. And Riesling being what I felt was gonna be our thing. So we focused on making Riesling and doing low intervention, long aging in the cellar, long fermentations, and we've been more successful than I could have ever thought. And I just wanna keep exploring what we can do with the Rieslings here.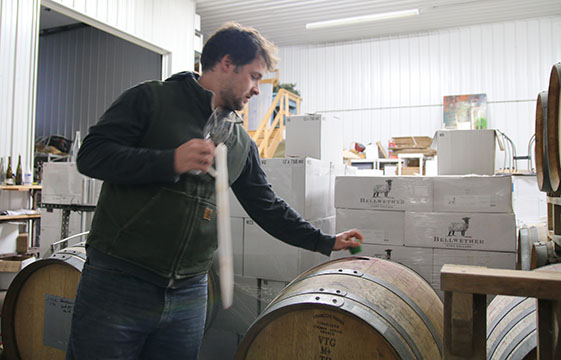 Talk a little bit about low intervention winemaking. What does that mean for the Finger Lakes in particular because there's a lot of challenges as a winemaker making low intervention wines in the Finger Lakes.

Low intervention wines in the Finger Lakes is something that is kind of a new idea. I think with this generation of winemakers that you're seeing kind of take the reigns of the wineries now. They're stepping back a little bit from technical winemaking and trying to let the site speak a little bit more. Less manipulation in the cellar, so we're doing less fining, less additions. All of my wines essentially have no additions.

So when the grapes come in, I want those grapes to represent what they are in the wine. I don't want to be manipulating them by adding sugar or taking away acid or giving the wines acid. So I tend to want to pick at the right point. That has been a big difference. I want to pick when the grapes are ready to pick and not manipulate the fruit when I bring it into the cellar. From there on I feel like the wine is made essentially, and I want the techniques that we do use whether that be using lees aging or barrel aging or stainless steel or skin contact pre-fermentation to kind of emphasize what that site is about. So if the site's more lean and less topsoil and more reductive then I want the wines to kind of be more lean and less fruity and more reduction to the wines. And if they develop more fruit and develop more phenolic ripeness and are very flashy, I want the grapes to show that when we pick those as well. And the wines to show that as they fermented into what the site would show.

What other grapes are you excited about in the Finger Lakes?

I think for whites, I think Chardonnay is actually something that would do really great here. And in reds I think Cabernet Franc. The other thing I think we don't talk about enough in the Finger Lakes is sparkling wines. Historically that's what we have done in the Finger Lakes. And I think making that a real important aspect of our wines here and of our winemaking and our culture here is something that could really benefit the region. I think we have the right climate. We have the right soils. We already have a tradition of making sparkling wine in the region pre-prohibition and I wanna see more people kind of take hold of that and see how far we can go with it basically.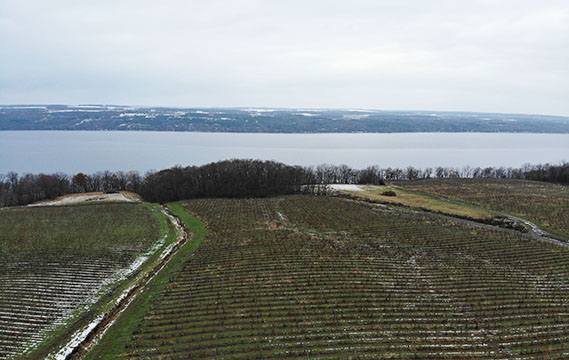 You don't own your own vineyards but you have these long-term contracts with growers. Talk a little bit about that relationship.

We have contracts with the growers that we work with or we work on kind of a try-out period. So we'll get a new vineyard and see if the relationships works. Not just if the grapes are appropriate but if I as a winemaker and they as a grape grower have a good relationship. But the people that we do work with on these longer contracts, they typically are people that I've worked with in the past at different wineries. I want to just continue that relationship and have it so that we're established in those vineyards for as long as I can get them to agree to establish with us and have contracts with us and work with us on the grape growing essentially.

What are some of the challenges as a winemaker? Because I imagine there are pluses and minuses of not having your own vineyards. I guess you don't have all your eggs in one basket in one respect but then you don't have as much control as you'd like.

Yes. So the positives for not having your own vineyard is I can explore what wines would be like if they were grown on the east side of Keuka Lake or the west side of Keuka Lake or the top of Seneca Lake or the bottom of Seneca Lake or Keuka Lake or Cayuga. So I can really kind of examine what's going on within the whole of the Finger Lakes, not just one site that I've tied myself to and see how those different sites represent themselves differently. The Finger Lakes is a huge viticultural area and traditionally we were just blending all the fruit that we were picking from each site. We weren't really isolating one site. And by having vineyards in different sites, I can isolate those sites and see what those wines are gonna turn into and it allows me to work with different people and see how different growers are approaching how they're producing in the Finger Lakes.

In other ways it is detrimental in that I don't have complete control of my site. I think every winemaker, their intention is eventually to have a vineyard where they can have complete control. I think if you're a good winemaker you're kind of a control freak. You want everything to be the way that it should be in your head and when you give some of that control away you're giving trust to the people that are growing the grapes for you, and I trust the people that I've signed contracts with and I want to work with for decades and hopefully develop relationships that last a long time. Even if I have my own vineyard, I still want to continue working with those people as well.

You're seeing Finger Lakes wines now in some of the best restaurants in the United States. How has the region evolved over time?

It's funny because I've been making wine in the Finger Lakes part of the industry for almost 20 years now. When I started it was next to impossible to have a serious restaurant in New York City or San Francisco or LA even think about taking your wines. And for me it's been a different story where those were the restaurants or people I was trying to approach initially, and we've seen steps over the past two decades of different producers coming in and really showing how good the wines are and how good the wines suit food in high-end preparations.
Take a 360-degree virtual reality tour of Bellwether Wine Cellars. This experience only works in certain browsers including Google Chrome. You can also experience the VR tour directly on Youtube.
The grape growing in the viticulture and the winemaking has just increased every year. I feel like we improve everything that we're doing here, and I think we still have a long way to go. But I think in the past five to 10 years we've seen a real emphasis on producing quality wines and producing wines that we can be very proud of when we take them and pour them next to counterparts from other countries whether that be Old World or New World.

For me, we're in a unique position in that the Finger Lakes is essentially a transition from the Old World to the New World. We have a cool climate. We have acidity. We have soils that are very present in our wines. We don't have flashy wines. We have really delicate, unique wines, I would say. And I think our wines kind of show that transition from maybe New World techniques and maybe New World winemaking and grape growing to a more classic environment. We are a cool climate winemaking region. We have acid. We have long seasons for growing which allow us to have some depth to our wines as well.

Talk a little bit about the terroir in the Finger Lakes.

The Finger Lakes is essentially all marine deposit subsoils, so we have essentially old Devonian and post-glacial subsoils where we had a sea bed and as the marine life deposited and fossilized that's what our subsoils became and it allows us to have very hard subsoils. So what you would see we have shales which is kind of our equivalent to slates essentially, a very hard brittle subsoil with not a lot of nutrient uptake. And then because of the glaciation we have topsoils that vary across the whole region.
Everyone here always says that it's kind of like a flannel pattern essentially like every couple feet there's gonna be a change because you're gonna have different exposures to subsoils and different topsoils with that. And that's gonna be both north and south on the lake and east and west essentially as well. Because of that we have low nutrients and it allows us to have a little bit more stress on the vines which allows them to produce a little bit more ... just to have to thrive a little bit more. Have a little bit of resistance against them so that they're growing some strength and the need to develop in that way so we can really express these strong subsoils that produce these wines that have a little resistance into them and so we have these reductive styles because of that as well.
Read Valarie Kathawala's in-depth interview with Kris Matthewson here.