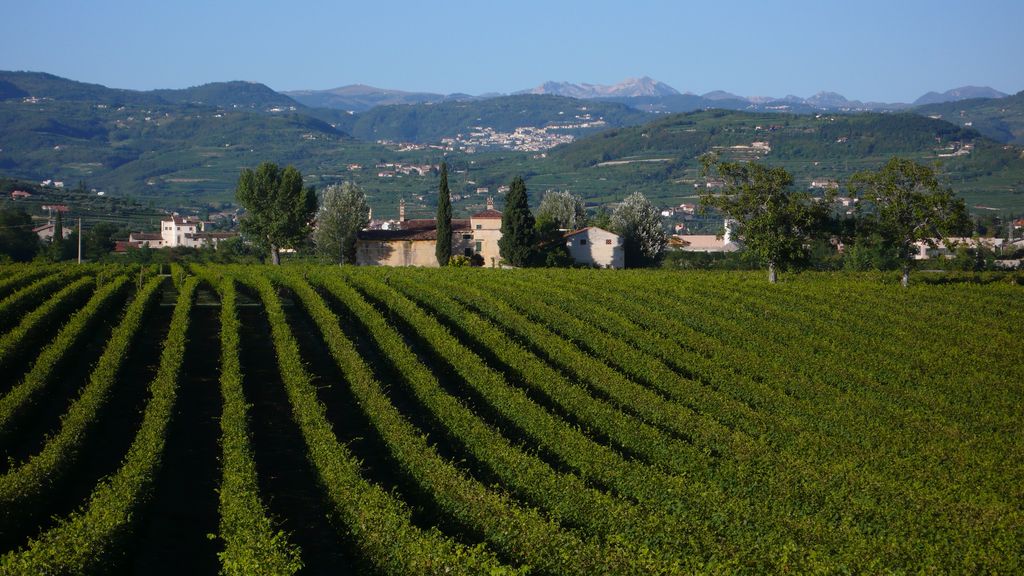 Allegrini winery is one of the most renowned family-run estates in the Valpolicella region of northeastern Italy. The Allegrinis have farmed the land in this hilly area at the foothills of the Lessini mountains since the 16th century and are now considered the benchmark producer of Amarone, the famous red wine made from partially dried grapes. It was in the 1960s and 70s that Giovanni Allegrini, the 5th generation, took the winery to the next level of quality production. His pioneering work with planting and vinification techniques led the way for modern winemaking in the Valpolicella area where he was also one of the first to make "cru" wines from local grapes grown on a single plot of land. Today, the winery is run by the sixth generation, Marilisa Allegrini, the marketing director, and her brother Franco, the winemaker. In 2001, looking to broaden their horizons, they expanded the company's wine production to Tuscany — first in Bolgheri and then Montalcino.
Grape Collective caught up with Marilisa to learn more about how she and her brother continue to combine tradition with innovation, inspired by their father's vision for the winery.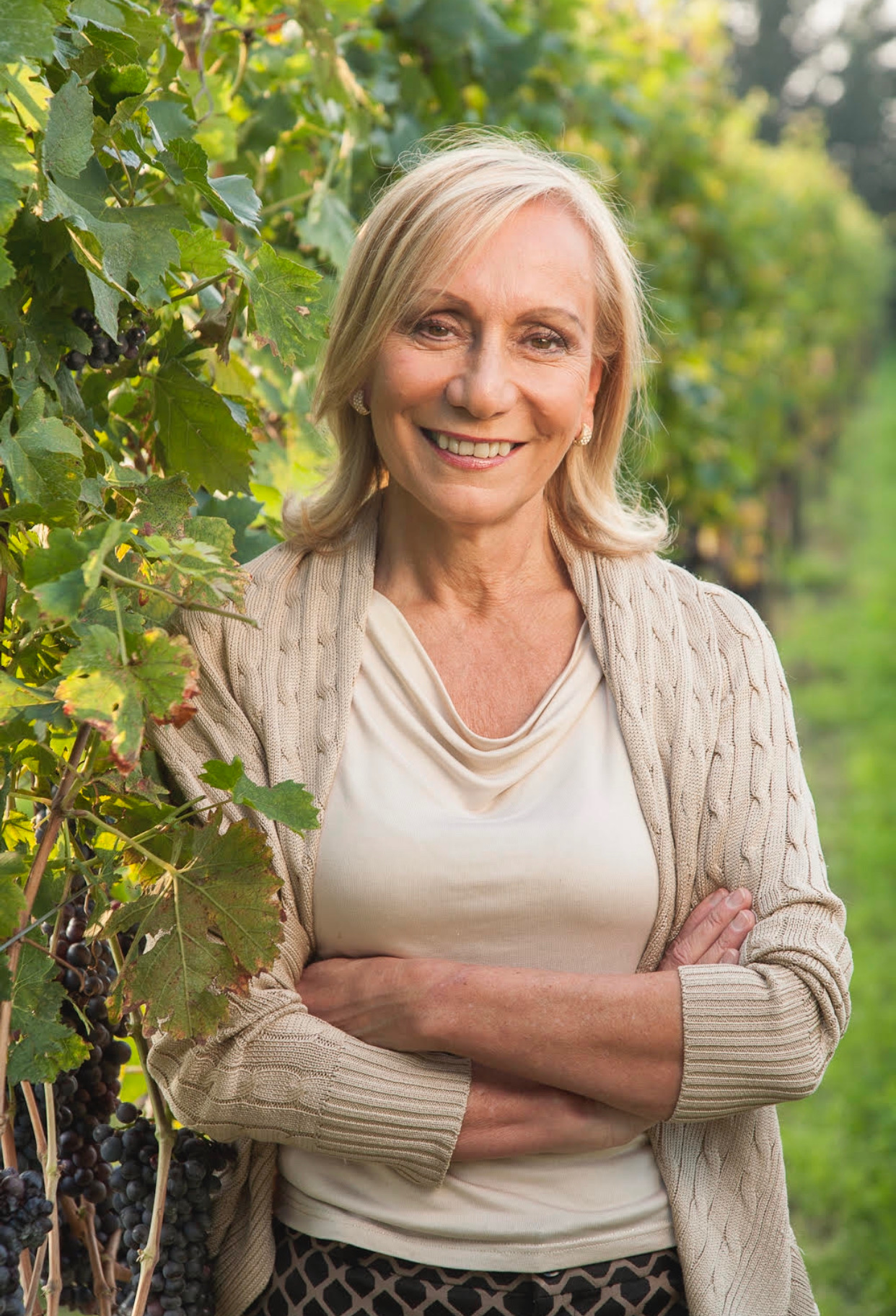 Did you always think you would go into the family business?
No. When I was a teenager, especially in my time, the culture of the family was in the hands of men, not women. When I was a teenager I told my dad don't count on me, you have your two sons. I felt that they were the guarantee that the company would go on and so I did something else. I studied as a physical therapist because I wanted to be in the medical field. Then I worked for five years in a hospital and then finally my father insisted that I come back and so I came back. It was important because unfortunately my father passed away 2 years later. I had the opportunity to work with him for 2 years so, for a person like me, without the formal training in the study of agronomy and winemaking technology, it was very important to work with him for a while.
Can you tell us a little bit about your family's history in Valpolicella.
Allegrini, my family, has owned land and been making wine in Valpolicella for many, many years and I'm the 6th generation in the wine business. Thanks to this very long heritage we have some of the best single vineyards in all of the Valpolicella Classico area. My father is considered to be the founding father because, in addition to what was the family tradition, he introduced a lot of winemaking innovations to the area. He bought many additional vineyards and he was wholeheartedly into the Valpolicella area and I'm also very proud to belong to this land. The way the company is today is due to the vision my father had. He introduced new training systems, he purchased land, and he introduced the single vineyard concept for the company. Now we produce DOC wines according to the rules — Valpolicella, Amarone, Recioto — but we also produce very interesting single vineyard wines that reflect the personality of the land from which they come from.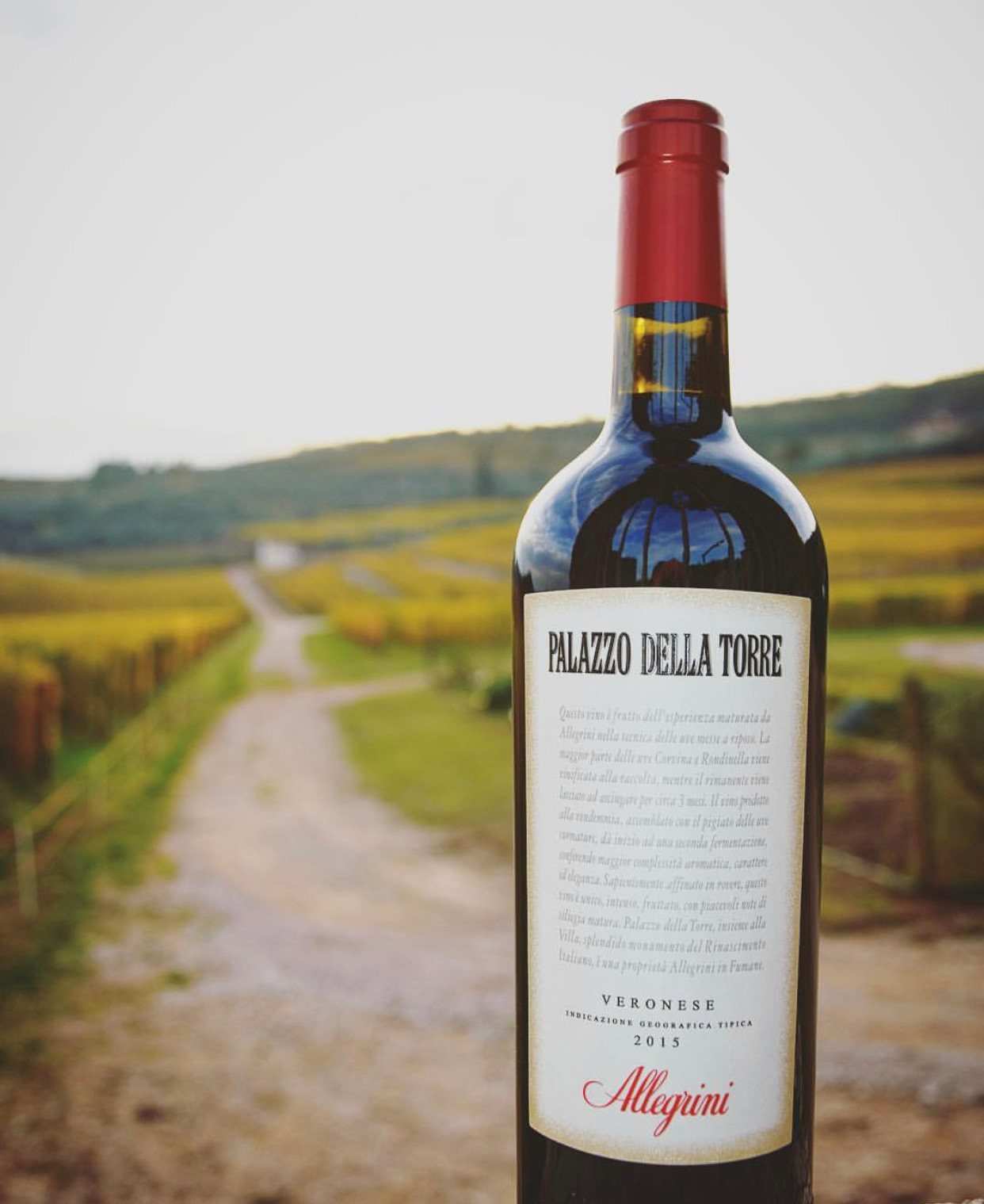 What are the names of some of your single vineyard wines?

The most famous single vineyard wine of ours in the United States is called Palazzo della Torre, because for six years it was on the Wine Spectator Top 100 list, but also because it's located in the center of a beautiful renaissance villa, a historical place which is considered to be one of the most important monuments of the Italian Renaissance. We have a lot of visitors there and people can experience the food, the wine, the history and the art and it makes this product very interesting. In addition to that wine, we have La Grola, and we have La Poja and then we are just launching our Riserva Fieramonte.
Can you tell me about the Fieramonte amarone and what makes it a riserva?
For riserva amarone you need to age the wine one year longer than the basic amarone. But in our case the concept is single-vineyard. Fieramonte, which means proud mountain, is a single vineyard that is located high in the mountain, facing east, overlooking the alluvial plain and the three parallel valleys of the Valpolicella. My father used to say that the vineyards that are facing east are the ones that have the most beneficial influence from the morning sun, that it allows the grapes to ripen in the best way.
Are your brothers working with you now?
Only one brother, because unfortunately the other brother passed away.
I'm very sorry to hear that.
Our name, Allegrini, comes from Allegro which in Italian means happy. I think this is a very good name for a wine producer and we are happy, but we also have had some tragedy in the family. This is something that many families have.
What is your philosophy of winemaking?
My philosophy is to be connected with the traditions but also to be open to new experiences. My brothers and I changed the quality of the wine that we produce through innovations in the vineyards and in the vinification process. We've also gone outside our comfort zone of Valpolicella by starting a new company in 2001 in Bolgheri. It was, of course, a big challenge because, why, if you are very successful in one area, do you move to another one?
And what is the answer?
I don't have the answer. Maybe just curiosity, and to try and learn more. We invested in this beautiful property that is Poggio al Tesoro in Bolgheri and then a few years later we purchased another company in Montalcino called San Polo. For me, it was not only an investment to make money. I'm not just an investor. I want to take personal care of the things that I do. My motivation was to try and do something with different grape varieties other than Corvina. I must say, now that it's been 17 years in Bolgheri and 11 years in Montalcino, that the knowledge I gained in Valpolicella was very important to develop these two other companies. And the additional knowledge that I achieved in Tuscany, dealing with different grape varieties and different training systems, has helped us to move forward in Valpolicella also.
You're very hands on?
Yes, I go to Bolgheri often and tomorrow, when I land, I will go immediately to Montalcino. It's very demanding and the day is made of 24 hours and there is no miracle that we can expand the day to 48 hours.
So it goes both ways. It helped you in all areas of production.
Yes, exactly. And the most important thing is the excitement that you have when you deal with different wine-producing regions. You open your mind. I love Valpolicella but I don't look at it anymore as the only area where you can produce great wines, so you're closer to the consumers too. The consumers have the possibility to taste many different wines so you can discuss with them in a more openly way.
I went to a Brunello tasting recently and it was the first time I tasted the San Polo Brunello. I didn't know the story behind them, that they were your wines, they were fantastic.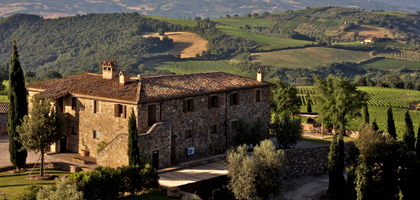 Thank you very much. It's an amazing story. The reason I decided to buy this property (photo at right) is because of its location which is in the best part of Montalcino. Montalcino is one of the largest comune municipalities in Italy, apart from the big cities of course. From the top of Montalcino and going downthere is a big variation in terms of microclimate, so down in the valley you have alluvial soils which is not good for sangiovese and you can have frost there. In the southern part you can have too high temperatures. We are located at 450 meters, close to the historical properties that made Montalcino famous, and we have 360 degree views so you can imagine the beauty.
It sounds incredible. What changes have you seen in the Italian wine industry since you've been working in it?
There are dramatic changes, yes. If I go back 35 years ago when I started in the Italian wine industry, it wasn't as it is today because the quality was not the same. There were some very high-end producers but the base of the production was lower in terms of price and especially in terms of quality. I think that the challenge for many producers was to make better wine and to believe in the territory by investing in their vineyards and replacing the old vines with new planting systems. In the end, I think that the Italians are very, very proud of their native land and they want to make the best. Also, new technology has helped a lot to make great wines. I think now all the high-end consumers know that the Italian wine production is not second to anything else anymore.
How would you say your amarone wine stands out from others?
I think that Allegrini Amarone has a specific style because of our focus in the vinification process. We don't rely only on the drying process to give concentration to the wine. We want to have complexity that also come also from viticulture. We want the wines to be a combination of structure that comes from the vineyard management and from the drying process. We control the residual sugar and we don't want to have the port-like flavor that many amarones have. We want to have an amarone that matches well with food. I think that through the research and innovation that we introduced in the drying process we were able to achieve this particular style of amarone.
What are some of the best food pairings with your amarone?
There are plenty of them. I like to be experimental in terms of food so, for example, one of my favorite matches is Peking duck. I enjoy cooking and my signature dish is anatra all'orancia which means duck cooked with orange juice. It takes a long time to make it but it's not difficult; you just need the time for it to cook. I make it two to three times a year and it's very good. There's another dish which I like to make which goes well with amarone: beef cooked with curry and coconut milk. It's very good because you have spiciness, sweetness and complex flavors that combine extremely well with the spiciness and complexity of amarone.
Let's talk about sustainable agriculture because I know that's important to you. Do you farm organically?
Yes we do. All the new vineyards we've started are organic. It's very difficult to turn the conventional viticulture into organic but if you start from the beginning it's very easy. Now, with the product and the science available to us it's easier to be organic. I like to talk about sustainability because it's a concept that's much wider than just organic. It's not only how you deal with the vine but it's also how you deal with your employees, etc., and we are in the forefront of this sustainable process.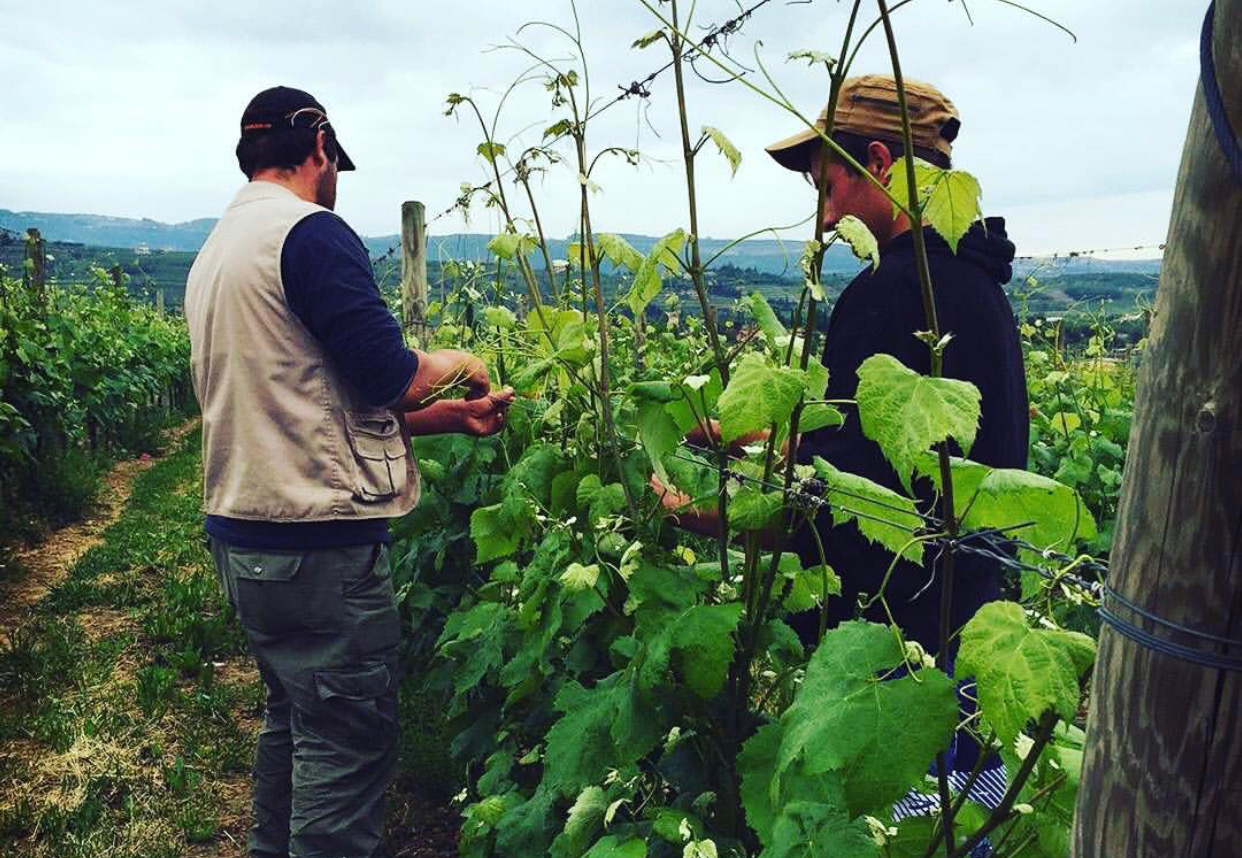 And are the vineyards in Bolgheri and Montalcino organically farmed?
Montalcino is 100% organically certified because we started the process five years ago. In Bolgheri we started just two years ago and moving from conventional to organic takes four or five years to get certification. It's not only a trend that's fashionable it's something that we want to do to respect the environment and we want the people that go into the vineyard to not be breathing poison.
You're looking ahead for the future generations.
Yes, and this year we published a beautiful book. A photographer took pictures of the animals that are repopulating our vineyards since we've been using organic methods. A lot of birds,bees and wild rabbits have come back.The only one we don't want are the wild boars because they eat everything and they have very good taste. They eat the grapes when they are ripened so all the efforts we do in one year comes to nothing. To protect the vineyards we have to put electric wires to keep them out. They are big and they are new for Valpolicella. Some hunters took the wild boars to our region from Tuscany and now they are very prolific and so we have a lot of them.
What's the greatest challenge you've faced in your career?
I like to look at challenges as opportunities. The company has been in the family for many, many years and the big challenge is the transition to the next generation. When a company grows you have more and more people working there and we want all of them to get along well together.
You have two daughters. Do you think they will be following in your footsteps?
Carlotta my oldest daughter is doing what I wanted to do. She's a medical doctor but she feels the passion of the family and I think she will choose some field of the medical industry where she can also work in the family company, at least as an ambassador of the family. And Caterina, my youngest daughter, is very smart and she's studying philosophy and doing a PhD. She's very interested in marketing but especially in strategic marketing. The success of a company is to have a very clear idea of what the strategic marketing is for your company — knowing where you want to be in 10 years, so she can help with that.
My next question goes back to the food. If it was your last meal on earth what would you choose to drink and what would you have to eat with it?
Are we talking about my wines or any wines?
Whatever you want — it's your last day! What would your ultimate meal be?
I would love to be at a beach and I would love to have some very nice seafood with a glass of beautiful white wine.
Maybe your vermentino from Bolgheri?
If I want to remain loyal to my production I think that the Solosole Vermentino is a fantastic combination with seafood that I always really like.
And when you're not drinking your own wines what do you like to have?
I like to have white wines from Burgundy. These are my favorite and I think they were my inspiration to make the Solosole as I have. Even though we are at a completely different latitude and we don't have the same freshness as Burgundy wines, we have some of the same characteristics: great minerality and petrol notes that characterize some of the best white wine; a great expression of the complexity as well as a wine that can age extremely well.
Read more from Lisa Denning at Grape Collective and The Wine Chef.