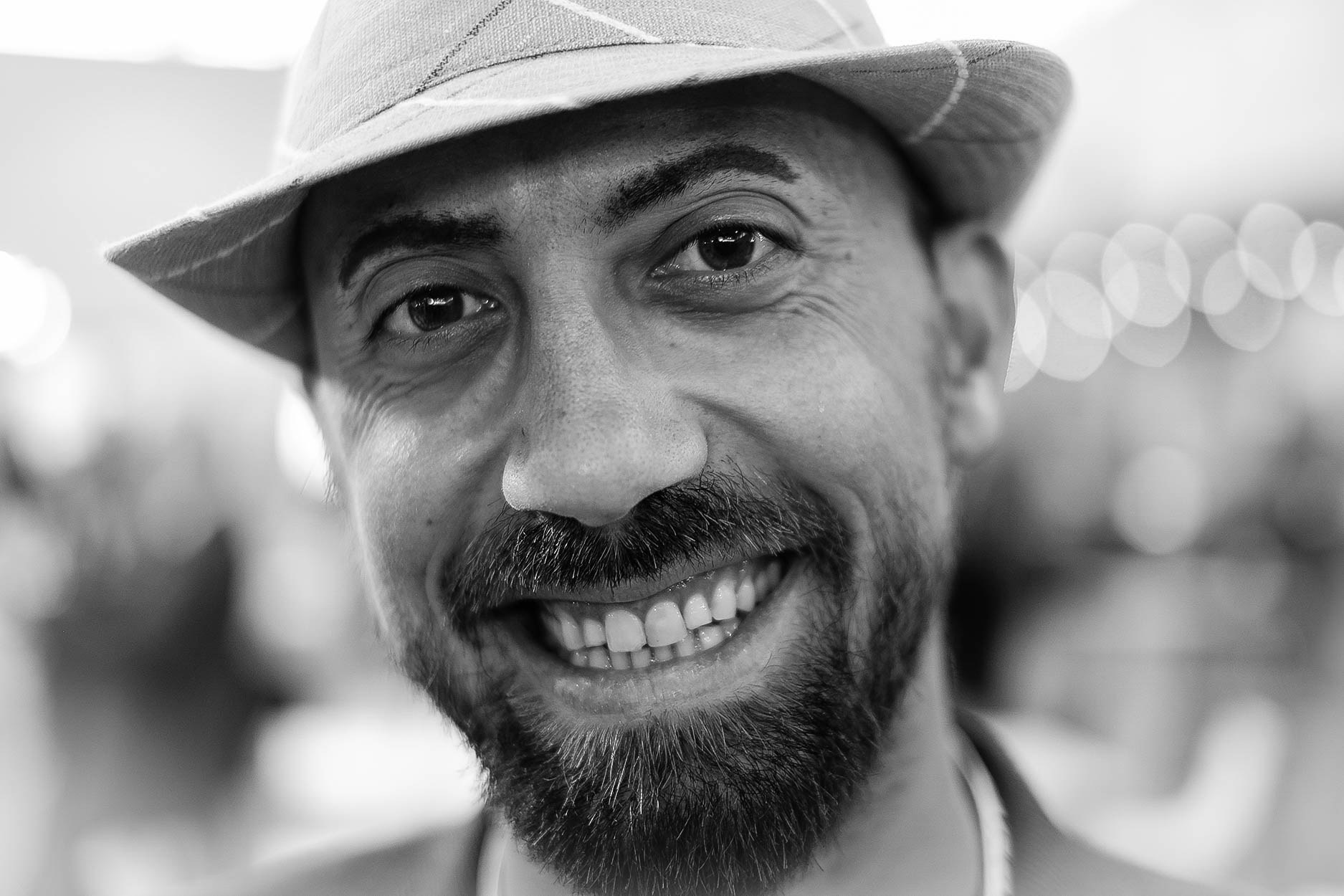 In 2005 The New York Times asked the question: Is Le Marche the Next Tuscany? "This is what Tuscany must have felt like 10 or 20 years ago, before it was discovered by tour groups and their omnipresent buses - carrying thousands upon thousands of travelers who flock there each year to try to recreate the pleasures of "Under the Tuscan Sun." The answer is clearly no. Le Marche remains as much of an insider's travel, food and wine secret as it was 14 years ago.
Le Marche still boasts an unspoiled, authentic, rustic beauty with gorgeous coastlines, wild mountains and picturesque hilltop towns. It is the only region with a plural name in Italy, attributable to the many differences between people and ideas. Le Marche is situated between the Adriatic Sea and the Apennine Mountains and is home to two national and four regional parks, the setting of villages of great natural beauty. Hilltop cities like Offida, and Montalto delle Marche show off traditional ancient architecture, sensational views and a unique food and wine culture.
As a wine region it is most well known for being the home of Verdicchio considered by many as Italy's great white wine grape which is found in the northern part of Le Marche. However southern Marche offers some truly authentic delicious and mostly undiscovered wines. The region is dominated by small family wineries dedicated to organic viticulture working with native grapes and working with traditional winemaking techniques passed down through generations.
Grape Collective talks with Rocco Vallorani, one of southern Marche wine's rising stars about the evolution of his region. His winery is located between the Sibillini national park (central Appennines) and the Adriatic Sea in the town of Colli del Tronto.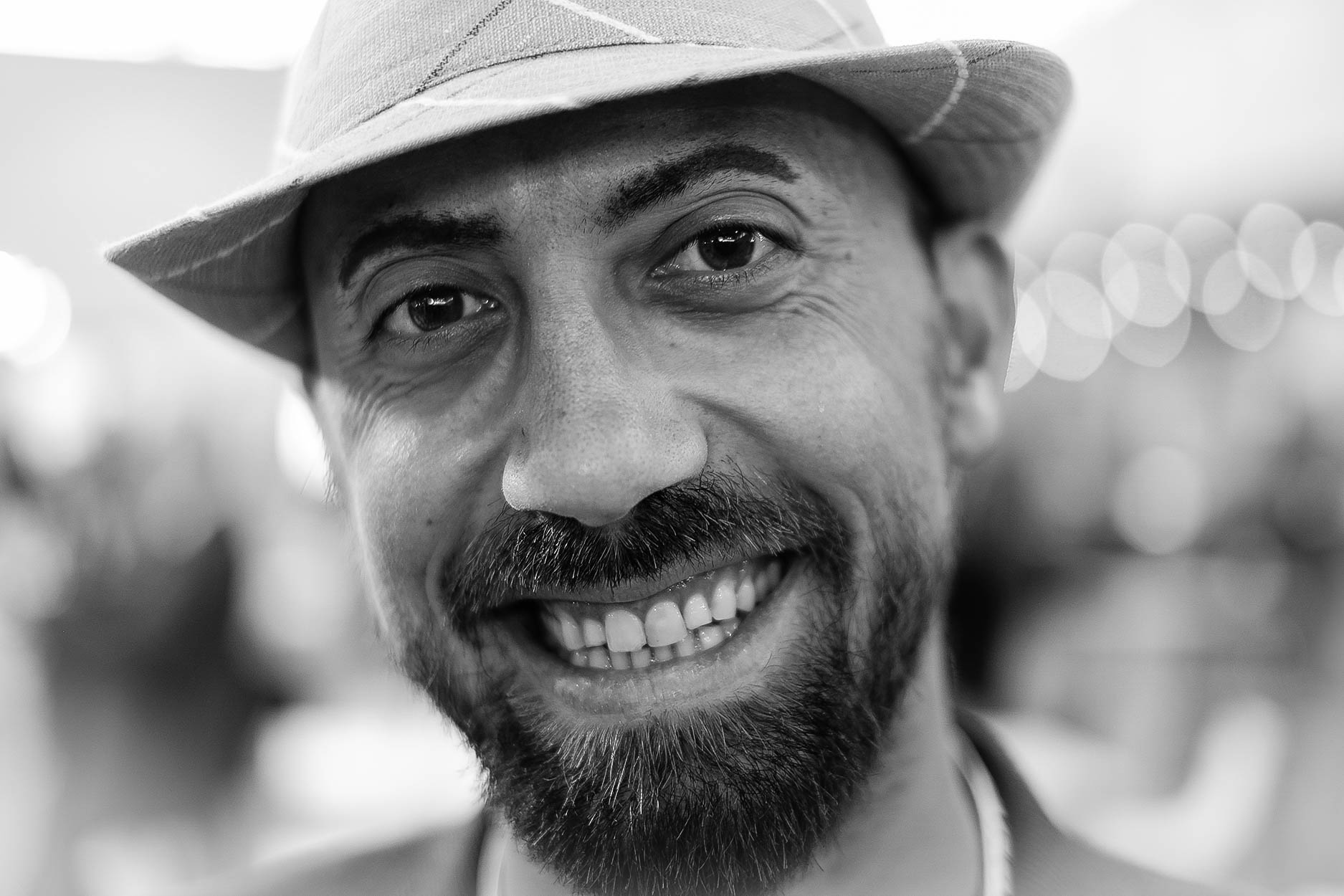 Christopher Barnes: Rocco, tell us about Vigneti Vallorani.
Rocco Vallorani: So it is our family estate. We started 100 years ago from my great-grandfather, who moved here to work as a farmer for the land owner. He was a contract of mezzadria which is a sharecropping.

So the whole family of my great-grandfather was working on the land and sharing the crop with the owner unfairly, of course.

And so after that, after the Second World War, my grandfather could buy the property, getting some money from the bank, and he started to make wine and olive oil for his own. And so it had been this way until like 2008, and my father took his place in the '90s. But the production was mostly focused on bulk wine which they used to sell all around the area, so locally. People used to come over with the five-liter bottle, fill it up and go home.

Now things are changing. The vines are getting old. So the quality of the grapes is going up, but it will not be sustainable to sell bulk wine.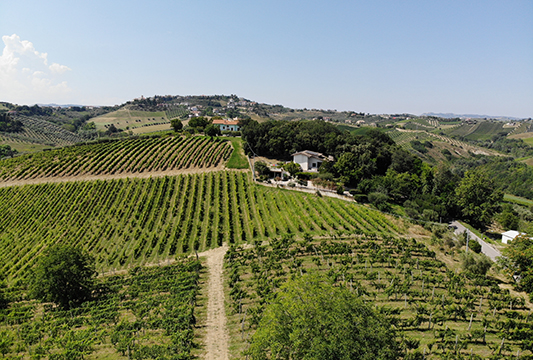 So a few years ago I used to work in the wine business for other companies in Italy, but also in other countries like New Zealand, and the U.S. The farm was not sustainable anymore making bulk wine. So my brother and I, we decided to come back and take it over from my father.

So we started about 10 years ago, now we are up to 25,000 bottles, and the aim is to grow up to 50,000.

We only grow native varieties, because we really believe there is a great potential. And so for white: Pecorino, Passerina, Trebbiano, and Malvasia. Sangiovese and Montepulciano for reds.

We grow it organically, but this was up to my father. He started in 2004 and now we're keeping it this way, because we live here, we want to respect the environment, and we think that a good balance in the vineyards helps the vines, so the grapes get better.

Why did your your family decide to embrace organic viticulture?

The decision was due to the fact that they actually were the first drinkers of our wine, and they used to live in between the vineyards, so they were the first to breathe what was in the air. And also my father realized that all the products that were not organic were too aggressive to the vines, especially to the environment. So there were no butterflies and other stuff, for example. We couldn't see this insect any longer.

So he started to want to do something more sustainable to respect nature and the environment.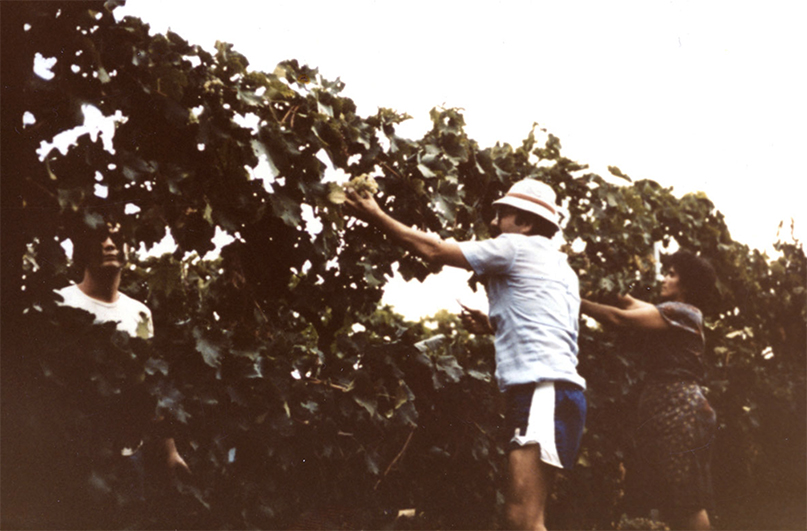 And Rocco, talk a little bit about the terroir in southern Marche.

Terroir in southern Marche is something I think has a really great potential, because we are really close to the mountains, but also to the sea. So this land in the past was covered by the sea, but it gets the influence from both the mountains and the sea. So some sides of the hills can be really sunny, some others can be really fresh, so you can get really different expressions of the same terroir.

And what people used to do here is to grow different varieties in different areas and blend them up to get some balanced wine. Because it was really common here to drink wine. So all farmers made their own wine. All families actually, not all farmers, just everybody used to make their own wine. So they kept their own secret and their own recipe, let's call them recipes.

We have mostly clay soil. So really rich clay about like 25-30% which makes wine richer as far as aroma, and quite elegant on the tannins. It's very hard to work, so the farmer has to be good because of the erosion of the soil, so I think that's one of the reasons why Le Marche is the first region in Italy to be organic, so we don't work the soil. We keep it with the grass all year around.

So there are many different expressions of this terroir, because as I said there are a lot of small producers, and also a lot of spots which have a different influence on the wine.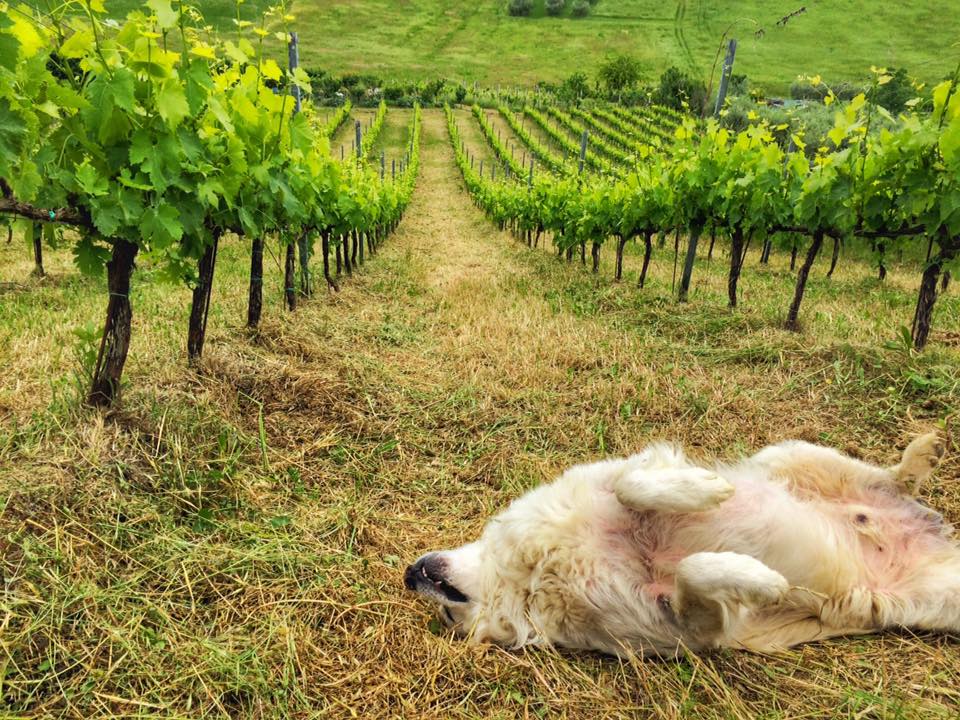 What are the difference between southern Marche and northern Marche in terms of the wines that are made, and the soils and the climate?

The soils here in the south have more clay. They haven't much in the north, and also it's much warmer. Our climate is similar to the one in Abruzzo, so a warmer climate. That's why I think the south can make some great white wines, but also like the reds they come out with more intensity due to a better ripening because of the sun.

In northern Le Marche they've got more cold weather, so the wines can show more freshness and minerality. That's why the most common variety in the north is Verdicchio.

The south of Le Marche has always been the biggest wine area in Le Marche, Even if Le Marche is now known as the Verdicchio area. And we actually have the potential to make really great and rich wines, red wines as I said. And that's probably the main difference.

Also they have a bigger gap between day and night in the north, which we don't have. Or just in some areas, some spots, some little spots.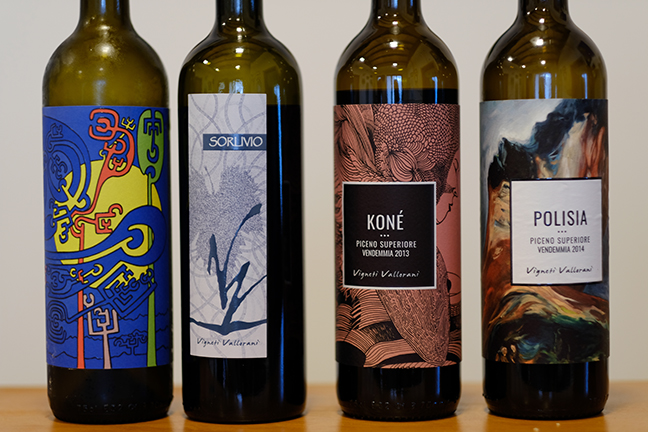 What kind of native varietals do you work with in southern Marche?

We have Pecorino, which is a variety that comes from the mountains and has a particularly short season. So it's the first one that we pick, and it's got some really great minerality and acidity, and shows some great fresh aromas, like great grapefruit, cinnamon, these kinds of aromas.

And then we have Passerina, which in the past was really common in the area because it's able to produce a lot of grapes per hectare. And now obviously the crops are smaller. And it is a really delicate white with not really intense acidity. It's really well-balanced, and you know, like an easy drinking wine.

The Trebbiano is one of the same varieties grown in Abruzzo and in Tuscany, which is the white, most common in the center of Italy. And the wine that comes out from Trebbiano is really linked to the winemaker's hand. You can make really different kinds of wine. Usually it's easy to get a really well-structured white from this variety.

And as for Malvasia, everybody used to have a little Malvasia around because it's really aromatic, has got a great aroma. They used to add it to like Trebbiano and Passerina to make them more intense. And it's hard to grow here because it's really sensitive to all the diseases. But when you can do it, even just a little percentage of this Malvasia can give you a really big influence on the aroma.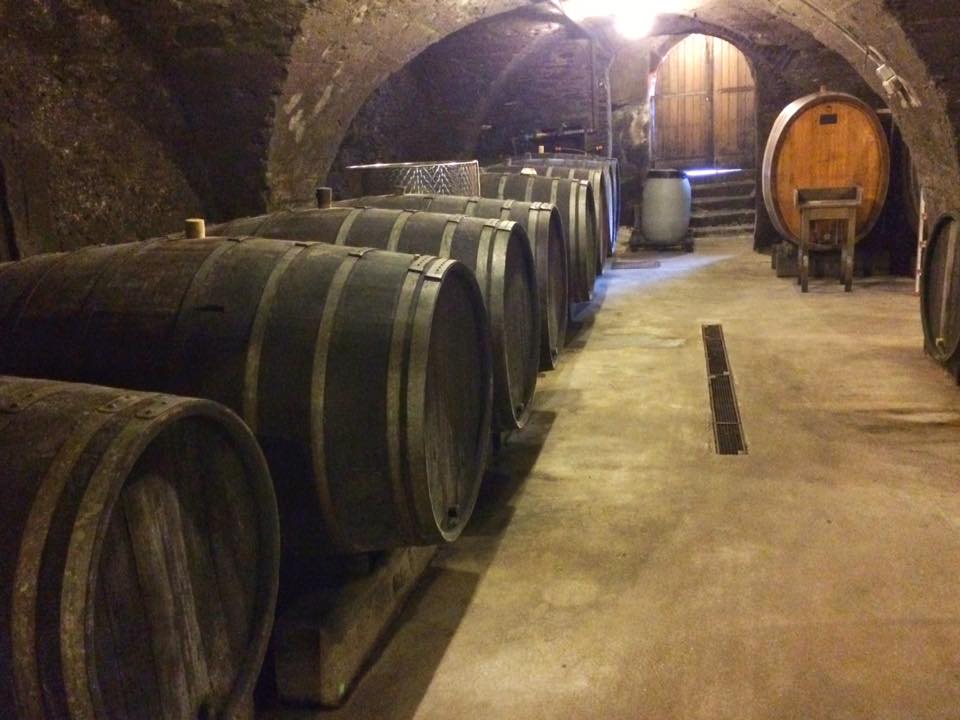 And talk a little bit about some of the red varietals that you work with.

The red varietals most common in the market was Sangiovese, which is the same that they use in Tuscany. In the past, like with Passerina, they used Sangiovese because it was easy to get high crops with that. And because also the wine had a different purpose in their life. Like if the farmers didn't have much to drink. They used to eat like bread and vegetables. and wine was really important for feeding them.

So everybody who worked in the vineyards or in the field used to drink wine since morning. Not getting drunk, but you know, to get energy to work.

So a Sangiovese makes this kind of wine with great acidity, not rough tannins, but really smooth. So easy drinking.

To give it some more color, they used to grow also Montepulciano, which was used in a smaller percentage, which is a really rustic variety with thicker tannins, darker color and quite aggressive taste.

The Sangiovese is more delicate like small red fruits, or flowers. Montepulciano has got more like cherry and this kind of intense smell.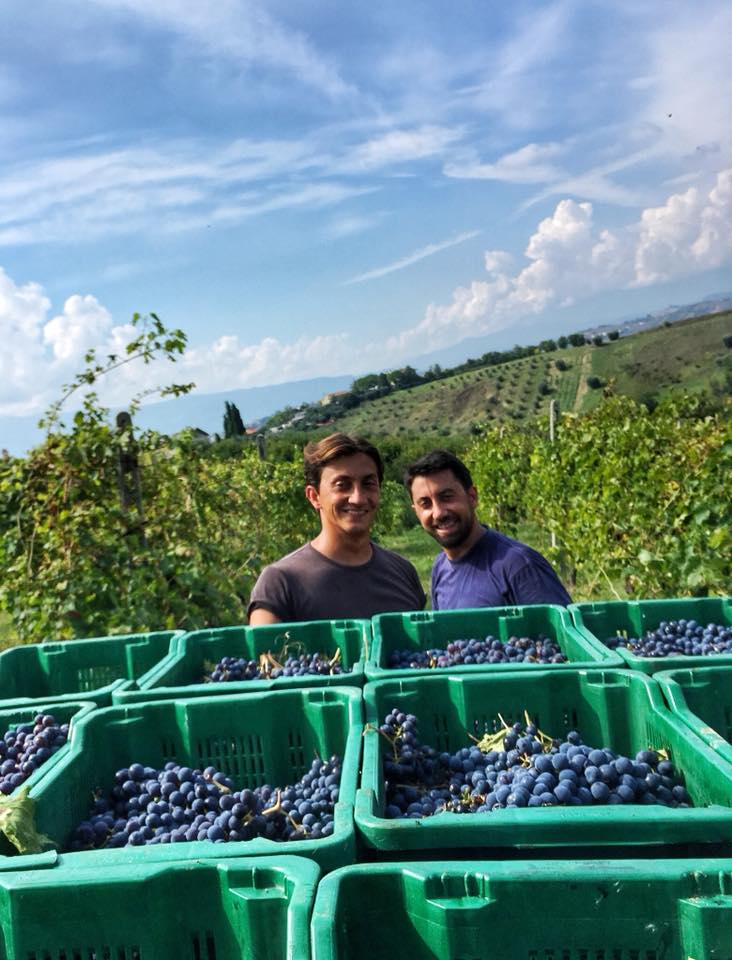 Talk a little bit about the cuisine in southern Marche.

The cuisine is rural, because this is a rural area. So we have a lot of poor recipes made with like vegetables, like soup with vegetables or something like with maybe a little meat just to get flavor.

But also everybody had cows, sheep, pork, so we also use meat. In the past it was not common. It was not possible to eat them really often, but now we can. And also there is the sea, which is really close.

So the cuisine here, there are a lots of traditional recipes. The first one which is the most known around is the olives all'ascolana, which is ascolana olive, which is a variety of olive that we only grow in Le Marche which is bigger, and thicker than a normal olive. We fill them up with seven different kinds of meat, and then on the side we put bread powder with eggs and we deep fry them. That's really the traditional recipe.

Then we have timballo which is a kind of lasagna, so made with the fresh pasta made with eggs and cheese and meat. And also it's common here to eat lamb, like roasted lamb, and also like chicken, or rabbits as well.


Take a 360-degree virtual reality tour of Vigneti Vallorani. This experience only works in certain browsers including Google Chrome. You can also experience the VR tour directly on Youtube.
What is your philosophy of winemaking?
What made me come back here is because I think there is a really great potential that we need to show. We are showing just a bit of it. We are really lucky to be in this region because it's so green. So still really a countryside, bucolic I will say. And it allows us to work in balance with the nature.

What we're trying to do is trying to respect the environment. So not using any chemicals, not in the vineyards, not even in the winery. And we're trying to make the vineyards balance themselves with the environment. So we keep the grass. Every year we keep all the trees around it, because it gives complexity to the system.

There is for example, a butterfly which bites the branches in September, and then the Botrytis gets in, and all the branches get bad. In the past we had to spray against it. It has been five years that we don't have to spray against it because there are ladybugs and other little spider that eat it. So they're not around anymore. I mean just a little is not a big deal for us. So that's what we want to do. We want to restore the balance that there was in the past. And wines which are expression of this terroir.

So Le Marche is the only region with a plural name in Italy, and it's because there are many differences between people and ideas. Now everywhere is a five minute car drive, but like a few hundred years ago it wasn't that close. So every community developed on their own. So that's why there are so many differences. And that's what we want to express in our wines. The differences and that they can go well together.