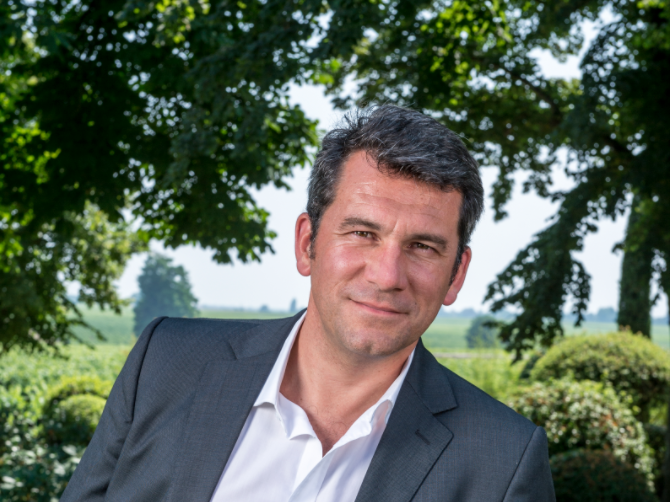 At a recent dinner and vertical tasting of the famous Bordeaux Second Growth Château Pichon Longueville Comtesse de Lalande, thirty guests had the pleasure of tasting sixteen vintages spanning 42 years. On hand to guide the tasting was the estate's general manager and winemaker, Nicolas Glumineau, who had travelled from Bordeaux to Washington, D.C. to speak about the estate and the wines.
Situated on the left bank of Bordeaux in the Pauillac appellation, Château Pichon Comtesse has a long history dating back to the 17th century with only two families responsible for its outstanding reputation over three centuries. More recently, in 2007, the owners of Roederer Champagne (one of the few remaining family-run Champagne houses) took over the estate and a major renovation of both the vineyards and the winery has been taking place. With an extensive replanting program in place and a new state-of-the-art cellar — one of the most modern in Bordeaux — Pichon Comtesse continues looking to its future. Glumineau, appointed General Manager of the estate in 2012 at the young age of 38 (the previous 6 years he was in charge of another Second Growth, Château Montrose), believes he has already received the "gift of a career" with the outstanding 2016 vintage.
While Nicolas is everything you'd expect from someone at the helm of an historic Bordeaux estate — a dashing, well-dressed gentleman — there's also a quiet humbleness about him, a man dedicated to his work, but one who doesn't take himself too seriously.
He spoke passionately and emotionally about the wines of Pichon Comtesse. "When you're talking about the wine you've made, it's a part of you," he said with pride and joy. It was as if he were talking about his children or a good friend. "They seem gentle at first but they're strong-willed and tenacious, like an iron fist in a velvet glove". In a recent twitter post, he engages with the 2017 wines shown in barrels with the caption, "Starting its ageing in barrel. Have a safe trip buddy"!
Grape Collective caught up with Nicolas to talk about where he's leading this historic estate. The following interview was done in person and by email.
Lisa Denning: Tell us about your journey to winemaking. Did you always think you would end up in this business?
Nicoloas Glumineau: Actually, I started studying music and opera singing when I was a student in genetics at Bordeaux Biology University. That means that I followed two study cycles at the same time and I must say that was fascinating to discover two different worlds at the same time. They were long working days studying genes and Verdi, but it was great! During this time I could have started a career as a baritone but I met my wife. A lyric artist's schedule is not well adapted to a family life and I wanted to have a family. Today I'm very happy with my choice. It's great to make wine and I can still sing sometimes ... in the shower!
My history with wine is simple. Back in my childhood, it was all about the bottle that my father used to open for Sunday lunch, like so many people. It was always a game for me to try to guess the kind of aromas I could smell and taste when I had just a glass with my father. The funniest thing is that my son does the same thing with me and I don't try to compel him to do it. He says, "Thats blackberry, black currant, apple, peach" like I used to do with my father.
As for winemaking, the road was not that straight but I was able to apply the study of genetics to enology. During my master's program I worked at Denis Dubourdieu's lab where I was breeding yeasts to get some hybrids dedicated to Sauvignon Blanc's fermentation. It was just enough time for me to understand I was not made for research. A few years later I went back to school, in Montpellier, to become an engineer in agronomics and winemaking. A few training periods at Haut-Brion (2005) and Margaux (2006), then I became the winemaker of Château Montrose, in Saint-Estèphe (2007-2012). And in November 2012, Frédéric Rouzaud, the owner of Pichon Comtesse (Pauillac) and Pez (Saint-Estèphe), hired me to become the General Manager and Winemaker of his vineyards.
How does it feel to have landed at one of the most historic and highly regarded Chateaux in Bordeaux?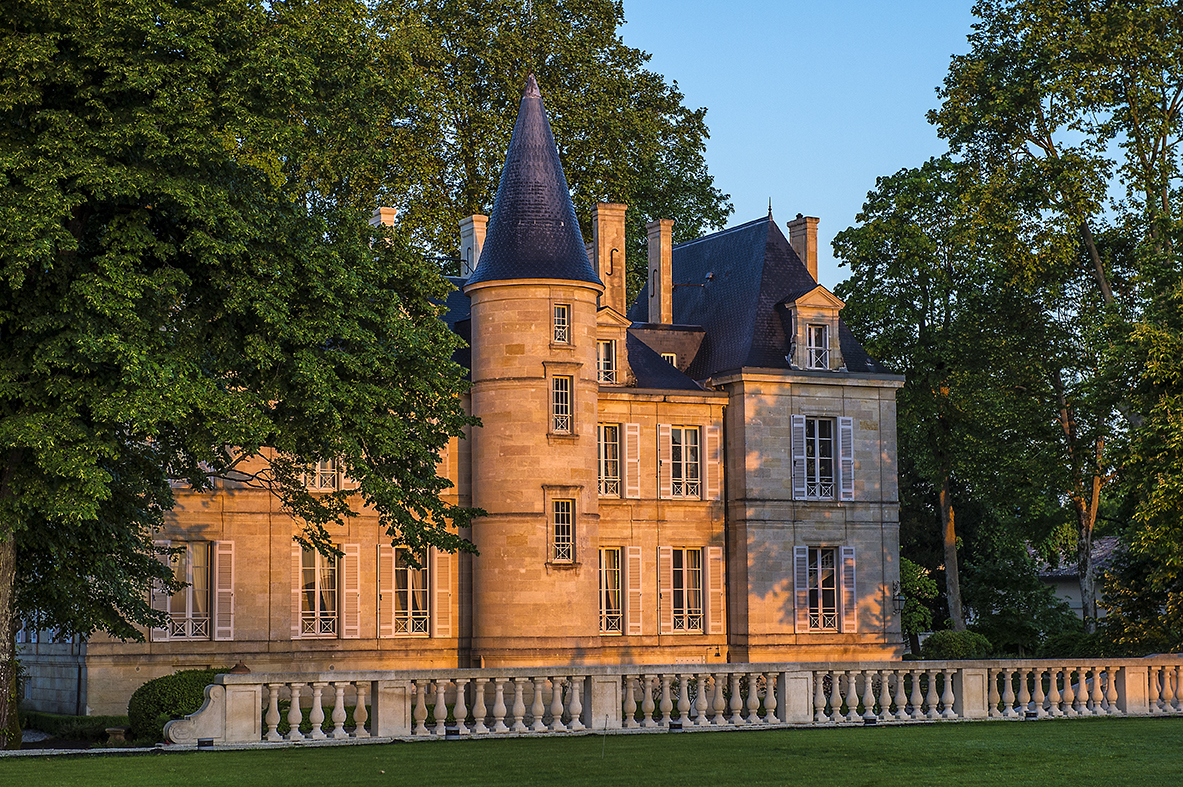 I feel very amazed to be here. It's now been twelve years that I've been in this business and I'm still in it!! Pichon Comtesse, can you imagine?! But I'm originally from a region called Vendée in the south of Brittany that is a lot about farming and the relationship to nature is very important. So it certainly has helped me to figure out that our job is very dependent on nature, weather and our situation in a global system.
Chateau Pichon Longueville Comtesse de Lalande is an iconic Grand Cru Classé of the Medoc — one of only 14 Second Growth wines — with a rich history dating back to the late 17th Century. In 2007 it was purchased by the family-run Champagne House Louis Roederer. What changes have been made since the new ownership?
The first thing Frederic Rouzaud, the new owner, asked for was a soil map in order to match it with the proportions of each grape. Two obvious conclusions were made: pieces of terroir were smaller than each planted plot and some Merlot plots should be replanted with Cabernet Sauvignon. Having a look in the ancient cellar, it was obviously time to renew it and Frederic decided to tear it down and rebuild a new one. Everything has been thought out around the winemaking process. It's a working place: efficient, enlightened, modern and clean. We are very happy with it. We're also almost finished with another huge renovation project redoing our offices and also the park. We wish to introduce the new Comtesse for 2019 Vinexpo in Bordeaux!
You have been the Managing Director for five years now. Describe the kind of wine you like to make, your philosophy of winemaking and the direction you are taking this renowned Chateau?
Despite what people say about our wines (that they are more feminine with more Merlot, more like Saint-Julien wines, etc), my opinion is that great Comtesse wines are first very Pauillac even if we are different from our friends next door. I really believe that we can increase the amount of Cabernet Sauvignon in our wines and vinify this grape with a lot of subtlety and finesse.
My ambition is to make a wine that has the precision and sharpness of a precise tannic structure in balance with the flesh, the sensuality and the creamy touch of a wine which is very appealing. Power and elegance. Strength and refinement. Seriousness and sensuality. All in balance — an iron hand in a velvet glove.
That means a lot of work in the vineyard. Don't forget that great wines are first made in the vineyard. We're talking about farming. Luxury agriculture, certainly, but agriculture nonetheless with a lot of hard work! We need to pick each plot when it's exactly ripe; neither too early nor too ripe. Just when the tannins from the seeds (the pips) are savory, when they stop tasting bitter and dry, then our winemaking process is based on a very gentle and smooth extraction program.
So picking at the perfect moment is one of your goals?
This is the kind of thing i'm very very obsessed by. I just can't get the idea of picking 90 hectares in 2 weeks which many wineries do. You need 3, 4, 5 or 6 weeks to pick each plot at the perfect moment. And it's my responsibility as a winemaker and a money maker to say, ok we can wait and I tell them I prefer that we lose 2 - 5% to rot but the 95% we pick are exactly ripe. This is what I have to carry on my shoulders. When you are the newcomer, you can see your guys looking at you, thinking, "why do you want to wait"?? My answer is, "for the cab to be ripe"! It's 65 - 70% of the crop. It's a question of company culture and so after a few years they know they can trust me, I hope. I ask them to be very careful with this point. Day after day you have to wait. This is the secret for great cabs. What I'm looking for is the right balance because once the tannins are ripe, the grapes are ripe, the winemaking process is easier, you don't have to overextract, you just have to respect the fruit, and then your extraction is very gentle, sweet and balanced at the end of the day. I don't want to add more tannins or vanilla or other aromas to the wine; it's great juice to begin with! I always say, "balance, balance and more balance"!!!
How often do you taste the wines while they're resting in the cellar?
Every day, every half day. This is the best way to know your plot, to know your wines and to figure out how they are evolving. In the last days of the maceration, you have to be in touch with the type of extraction you want to have. It's both a physical sensation and it's kind of an emotional feeling with the wine.
Bordeaux has faced some marketing challenges in recent years. Wines from other wine regions are getting a lot of the attention that used to be directed to Bordeaux. How is Bordeaux, and in particular the higher end Classified Growths, dealing with these business challenges and how do you engage with a new generation of consumers?
The world of fine wines is changing. Very quickly! Our market is the whole world now. That's why we travel around the world to promote our wines, and that's good. It's fascinating for me to meet new people and cultures, and to share. Wine is all about sharing. It's always good to take time to talk about wine to people who want to learn about our all-day work. We have a market of loyal and potential customers so it's not an effort, but a pleasure to go and share.
The ratio of demand and offer has never been that unbalanced and we've produced a long series of good, very good and outstanding vintages. Consequently, prices have increased. But we're listening to the market. The five last En Primeurs release campaigns have been true successes for us and it has to continue. Pichon Comtesse is famous because both wine amateurs and connoisseurs drink our bottles. That means that they've bought them because they can afford them. A good bottle is empty and you need to replace it!
Tell us about your impressions of the 2016 vintage. While I was in Bordeaux for the En Primeurs tastings of the 2016, there was a lot of talk about it being the vintage of a lifetime.
2016 — it's a gift in a career. I can remember someone at Montrose saying, "you know, in a career you have only one". So after the 2010 I kept this conversation in my mind, and I can now figure out that 2016 is my #1. The wine tastes opulent and perfectly balanced.
What would be your perfect food pairing with an older Comtesse de Lalande, say 1982, versus one of the younger vintages, like 2014?
1982 with cheese, but not too strong (Comté, Saint Nectaire). Also with poultry and creamy mushrooms (cèpes). 2014 with lamb and herbs, grilled beef, sweetbreads, cow cheeses, chocolate.
What other winemaking regions around the world impress you with their wines?
Well, many of them! Burgundy, of course. Loire Valley and its Chenin grapes, German and Austrian whites. Oregon Pinot. I've really enjoy some Cabs from Washington State that I discovered a few years ago thanks to my Canadian friend Brad Greatrix (Nyetimber's winemaker, in England). Actually, tasting a wine is always a kind of new adventure. When a wine is well made, it's always very interesting to learn from the others.
Let's talk about how making wine is partly an art and partly scientific. What would you say is the percentage of each that goes into winemaking?
This is something very pleasant in the job — the balance between the scientific knowledge and the observation, the artistry and the creative part of it. When you have 60 different blends and many pressed wines and then you have to create something. At the end of the day, you have to press the button and you just hope that you made good choices. That's the best you can do. We used to say that great wines are first made in the vineyard and it's true for 80% of the job and out of that 80%, I think that 75% is about being there in the vineyard, opening the eyes and feeling things. And so that means that science is 30 - 40%. I think it's more art and agriculture and farming. And your place considering the moon cycle, and considering the environment, the weather, all those things that you don't manage at all. There are things that you can't explain but that work.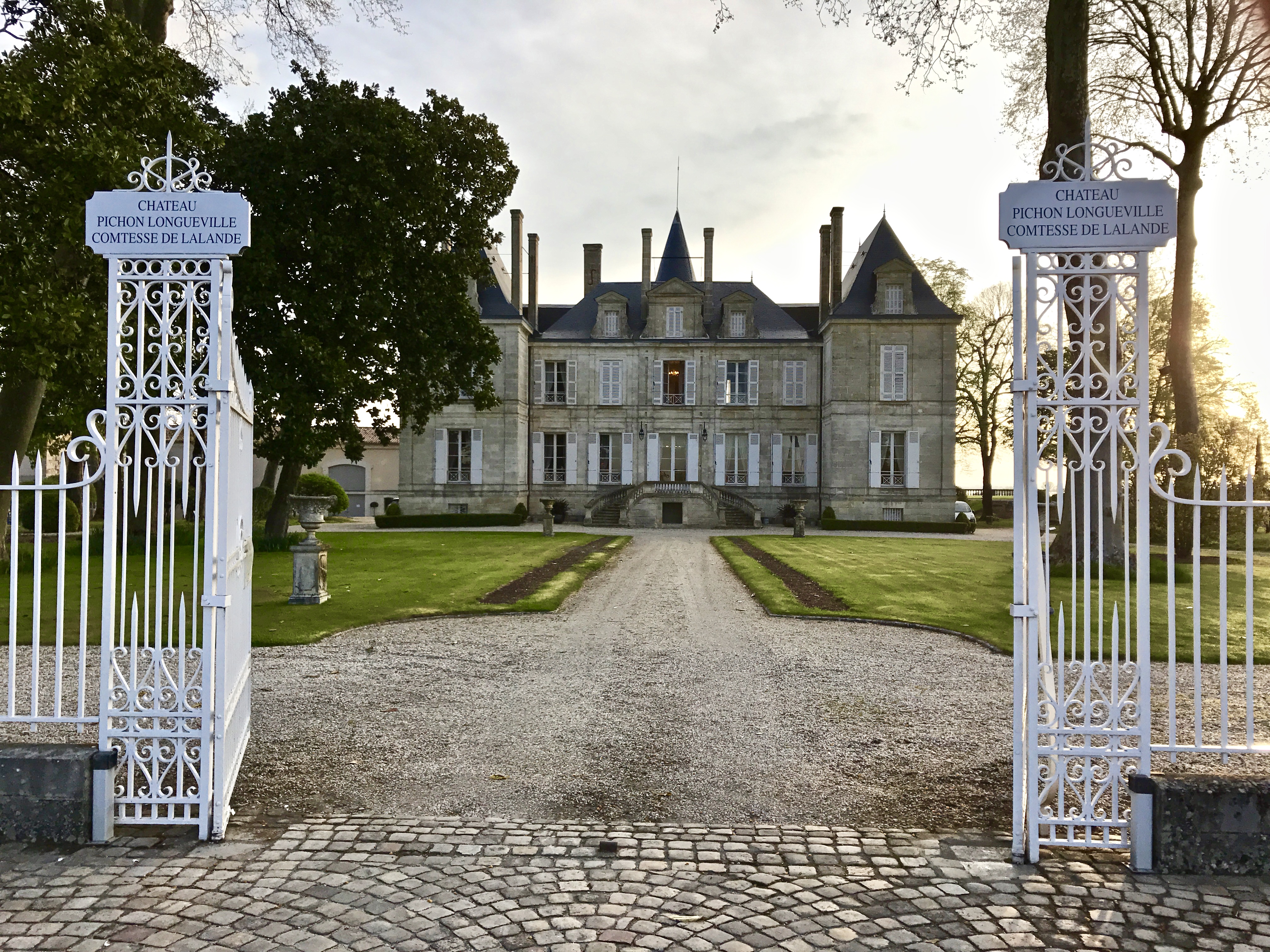 Which leads us to organic and biodynamic farming. Is that something people are doing these days in Bordeaux?
Yes. For me, the powerful concept is biodynamic more than organic. With both, you can use copper and sulphur but with biodynamics you also use some specific preparations considering the moon cycle and so on. At Pichon Comtesse we now have 74 hectares of planted total vineyards and 18 are planted biodynamically. It was a trial but now with 18 hectares planted, it's not a trial anymore. It has become very serious.
What have you found in the vineyards that are farmed biodynamically? Do you see a difference?
Yes. You see a difference considering the vine. I had a huge reflection about biodynamics 3 to 4 years ago and the question was, should we convert major vines from sustainable to biodynamics or are there any other options? I think there's another option and what we now do is to pull out 3 hectares of vines each year and turn the plot into a fallow plot. Then we replant it three years later under biodynamic conditions. So it takes time, step by step.
And then we enlarged a trial 3 hectares x 3 hectares year after year. For us, it's the best way to invest time after time and to convince the technical team and help them to manage and to understand what biodynamics is. The trap is to try and explain everything scientifically about why it works. Biodynamics is not 1 + 1 = 2. Don't ask me why it works I just know that it works. So more than ever it's the mix between your scientific education and the fact that we are farmers. In the middle of your vineyard, you have a look at everything you're positioned between: fields, the sky, the moon and so on. We consider the soil, the vine and now the next step is to ask, what about the wine and the quality of the wine.
There is nothing official about biodynamics at Pichon and so I am very careful in my communications. It's a trial but 17 hectares is very large and yes, we are noticing a difference and to me, it was not that expected so I'm very nervous, surprised, anxious and so we'll see. I don't need to add something on the label in order to sell it. It's just something I'm curious about.
Do you notice any difference with the wines that have been made biodynamically?
Yes. In 2016 we had one plot in which we have distinguished sustainable and biodynamics. 100% of the people tasting wine from the two preferred the biodynamic. And yes, we are noticing a difference and to me, it was not that expected so I'm very nervous. From what I've tasted at Pichon, there's something more about the purity of the fruit, with horizontal and vertical tastings, we'll see in the future. As of now, it's difficult to have a conclusion.
Yes, because 2016 is so young and especially with wines from Bordeaux that change so much over the years it's hard to know what will happen in the future.
Yes, exactly.
It's great that you're experimenting. That's what life is all about, moving forward and trying new things. And that's how you find out if it works or not, but at least you tried.
Yes, trying new things. Cheers to that!