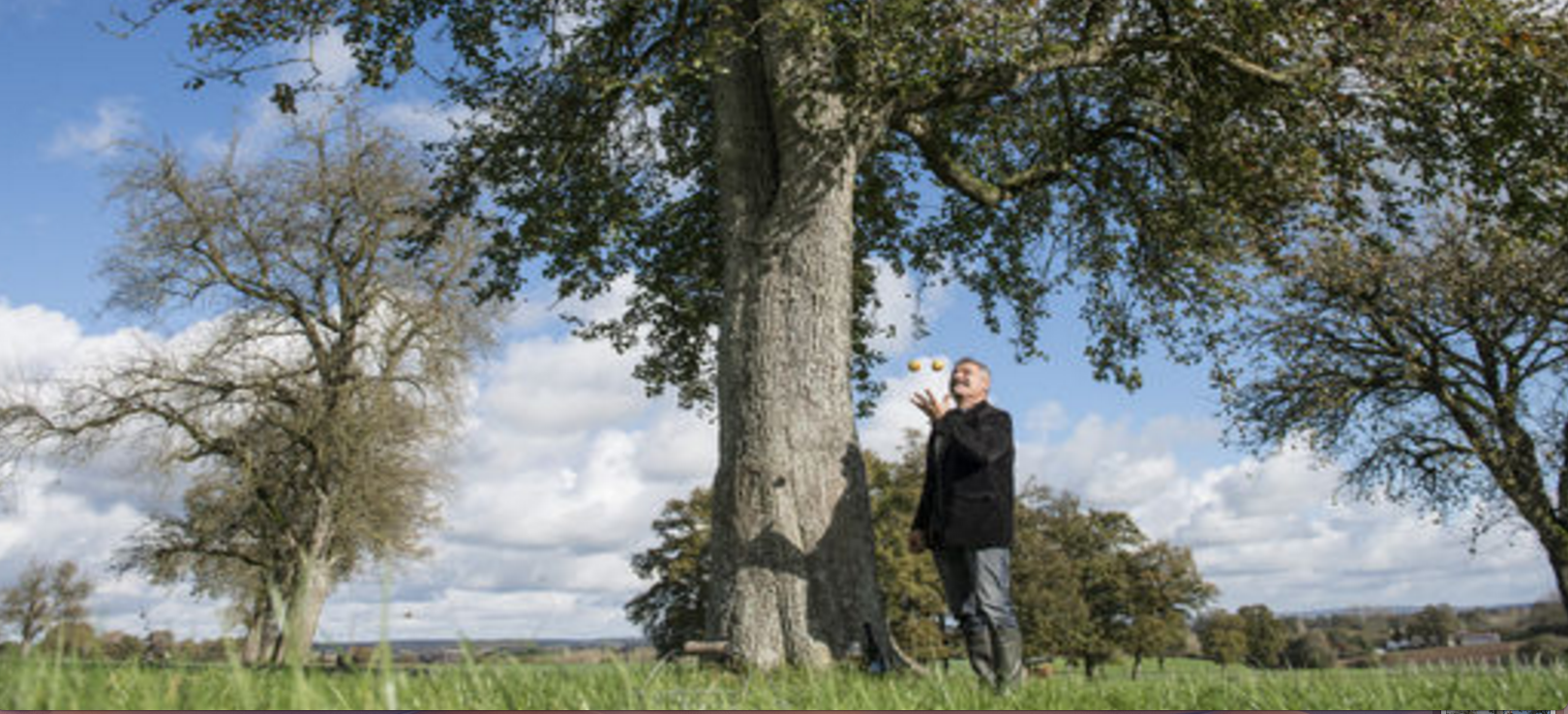 For centuries, people drank more hard cider than any other beverage. Until Prohibition, it was the most popular beverage in the US. Post-Prohibition, beer supplanted cider in the US in large part due to the influences of European immigrants. Other countries continued throughout to make and enjoy a wide variety of ciders but also experienced declines in production.
Over the past 15 to 20 years, however, cider production has surged. Like craft beers, artisanal ciders first became hipster favorites and then their popularity widened. To fulfill greater US demand, cider imports have also increased, particularly from France (cidre), Spain (sidra), England and Canada.
WHAT IS CIDER?
Unlike the rest of the world where "cider" connotes a mildly alcoholic beverage, Americans call fresh, unprocessed apple juice "cider" and its fermented cousin, "hard cider." US regulations define hard cider as "a beverage made from fermented apples of less than 7% alcohol." An apple beverage with 8% to 12% is technically "apple wine" but the term cider is nevertheless commonly used for the more alcoholic ones. Typically though, ciders range from 2% to 8% alcohol. The styles of domestic and international ciders range from sour to earthy to elegant.
Cider also may be made from pears. This fermented pear beverage is called either perry or pear cider.
Cider and perry were first made in Normandy. The Normans subsequently brought them to England and they have been popular there since. The French continue to be major producers harvesting over 300,000 tons of cider apples annually in Normandy.
CIDER PRODUCTION
French ciders are made in Normandy and Brittany where Calvados, a dry apple brandy akin to American applejack, is made. Cider production there dates back to the Middle Ages. French cider is typically sweeter and more elegant than Spanish or British cider as a result of slowing fermentation with enzymes.
Like French wine, cider production is governed by an AOC which controls varieties, yields, weights, fermentation methods and alcohol and pressure levels. The AOC requires that at least 70% of the apple varieties be bitter and no more than 15%, acidic; moreover, no individual type may constitute more than 60%. The harvest stretches from October to late December. Most cider is mass produced and harvested mechanically but some producers pick fruit by hand.
The harvested apples are crushed and then macerated on their skins. Typically, the cider is fermented in vats before bottling; it then undergoes a second fermentation in the bottle.
The fruit used in cider and perry is usually tannic and acidic and not suitable for eating. Pears, however, have more sugar than most of cider apples and therefore, perries are slightly sweet.
ERIC BORDELET
Eric Bordelet makes some of the finest French ciders and perries but he eschews the AOC designation. Most French ciders are rustic but Bordelet's have great complexity and finesse.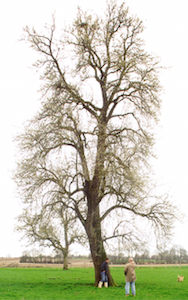 His family made Calvados on its estate, Château de Hauteville, but Bordelet was more intrigued by wine. Bordelet became a prominent sommelier at the three-Michelin star Parisian restaurant, L'Arpège. While there, Bordelet met the celebrated Loire winemaker, Didier Dagueneau, who persuaded him to make artisanal cider using biodynamic practices.
In 1992, Bordelet took over the family farm in Charchigné in the Pays de Loire just south of Normandy on the Armorican Massif, extending from Domfrontais to the outermost borders of the Mayenne and the Orne. Bordelet renewed his family's ancestral orchards and set out to make terroir-driven, elegant ciders.
The 15-hectare farm comprises newly planted apple trees together with very old apple and pear trees. Dating back to the Precambrian Era, the terroir includes red schist, granite and red schist and pure granite soils which imbue the fruit with minerality and texture. Bordelet uses about 22 different types of apple, 85% of which from heirloom varieties grown on antique trees and 15 types of pear. All of the trees are pure varietals, no hybrids or cross-bred types.
The newer trees are very densely planted and trellised whereas the older ones are more widely spaced. Bordelet lashes some of the tree branches to inhibit sap development which results in smaller, more intensely flavored fruit. Bordelet minimizes yields low by not irrigating.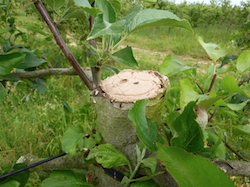 He cultivates the orchards using biodynamic methods. In 2005, the property was certified organic. Bordelet also buys some fruit from neighboring organic growers.
Unlike fruit for most commercial ciders, Bordelet's fruit is manually harvested in wooden crates to prevent bruising or inclusion of leaves and then manually sorted in the orchard. After the harvest, the fruit is left to dehydrate for several weeks. Then, the fruit is blended, crushed and gently pressed. The must is racked multiple times and then the juice is filtered lightly. Bordelet uses only natural yeast and bottles the cider during fermentation with no additional sugar or disgorging or chapitalization, a process called la méthode ancestrale.
Bordelet uses about 40% sweet apples for flesh, 40% sour ones for aromatic character and 20% bitter ones for structure for his ciders. Bordelet makes five different styles of cider, some of which he makes vintage dated, and two of perry, or poiré. All are pétillant (gently sparkling) to emphasize the character of the fruit. Bordelet poirés are refreshing and elegant given their high acidity and the sidres, more full-bodied but also elegant. Bordelet produces approximately 85,000 bottles of cider and perry per year.
The Calvados sold under Bordelet's name is a selection made from Damelot and Fréquin Rouge varietals that was distilled by his neighbor, Henri Beudin, 18 years ago. Stay tuned for Bordelet's own Calvados which is currently aging.

Sidre Nouvelle Vague - Sold in 5 liter kegs, it is amber in color and aromatic of honey and baked apples with small bubbles. Perfect for a picnic or barbeque. 6% alcohol
Sydre Brut - It is refreshing, made in the traditional dry cider style. 7% alcohol
Sidre Tendre also called Sidre Doux) - Bottled after one month, it is full-bodied and slightly sweet with musty apple and floral flavors with balance of sugar, acid and tannin. 4% alcohol
Sidre Brut Tendre - Bottled after two months, it is an off dry version of the Sidre Tendre. 5% alcohol
Sydre Argelette - It is made from 19 apple varieties and is macerated on the skins for three to five days for extra extraction of flavor and then bottled after four months. The cider is refreshing, off dry and complex with intense apple, apricot, caramel and spice flavors, tiny bubbles and a beautiful balance. 5% alcohol
Poiré Authentique - Perry is paler in color than the apple ciders with light and elegant pear flavors and fine bubbles. It has more sugar than the apple ciders but because pears are higher in acidity, the result is off dry. It has lovely minerality and pretty fresh herb and pear notes and a clean finish. 4% alcohol ($16.99 at Grape Collective)
Poiré Granit - The fruit of this poiré comes from 300-year old, 60' tall trees that grow in granite soil. It has a delicate bead and more complex flavors than the Authentique. 4% alcohol
Bordelet's ciders can be aged for five to seven years, and Argelette and Granit cuvées for up to 10 years.
FOOD PAIRINGS
Ciders go well with a wide variety of foods. Given their effervescence, like sparkling wine, ciders are refreshing and balance the richness of food. They are excellent with roast chicken, cassoulet, foie gras, cheese, charcuterie, cream sauces, nuts and spicy food. More delicate ciders, like the Bordelet Poiré Authentique, can also work with sautéed scallops and shrimp or cream desserts.