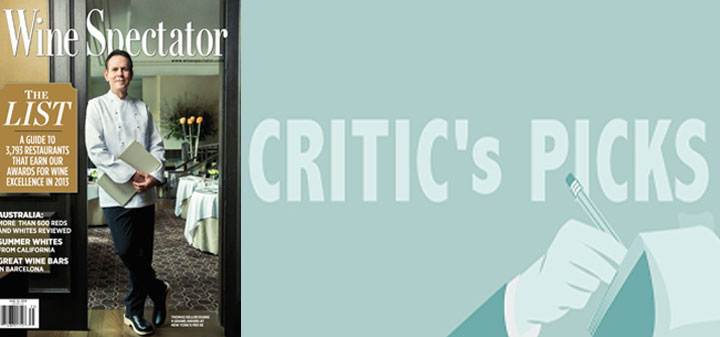 California Chardonnay has enjoyed an undulating curve of popularity, first with the buttery, oaked profile madly popular in the 1980's and 1990's giving way to a widespread ABC campaign—Anything But Chardonnay—and now, trending back to lesser-oaked Chardonnays, more in the vein of Old World design.
A column, by New York Times wine writer Eric Asimov cites the recalibration of the ubiquitous varietal, distancing itself from "the stereotype of an almost sweet oak-rimmed butter bomb with its cornucopia of tropical fruit flavors" to "something much finer, leaner and more energetic." Calling out specifically the Santa Barbara region, Asimov highlights producers who are bottling wines that are "leaner, with more structure and a tighter texture, earthy rather than flamboyantly fruity, with favorites [having] a sense of energy, thrust and vibrancy."

In the Wall Street Journal, Lettie Teague likewise considers the "chameleon nature" of this "most malleable grape" agreeing with Asimov's basic premise that the winds are changing at many leading wineries in the Sonoma and Central Coast as winemakers look to stainless-steel fermentation. By lessening the wine's exposure to oak (or eliminating it altogether), California Chardonnay is shedding its fat and appealing to a new generation of wine drinkers, but Teague offers a cautionary note, explaining that "oak or its absence alone doesn't make a wine good. When the wines that we tasted were in balance, the quality of the fruit shone through. But when the fruit wasn't great or the winemaking less than perfect, the wines came off as insipid and dilute." Signing off with "California Chardonnay is back—yet again" she references the value of these graceful bottles. A comparison to white Burgundy demonstrates the affordability of this refocus: "Best of all, perhaps, were the prices. Since there was little to no expensive new oak used, the wines were affordably priced." Comparable to white Burgundy at a fraction of the price—what's not to like?

While quite a few wine cognoscenti discuss terroir regarding the expressions of Burgundy superstars, Pinot Noir and Chardonnay, none do more so than sommelier Rajat Parr (of the Michael Mina restaurant group) and Jasmine Hirsch (marketing director for Hirsch Vineyards), the creators of In Pursuit of Balance, a group of California winemakers is devoted to promoting a more elegant approach to these classic varietals of wine through a series of roving events and tastings. The two are quick to explain that the issue rests not with the grape itself, but with "the philosophy of how California Chardonnay was being made. The noble Chardonnay wines from France remained unmoved while California Chardonnay was working through its identity crisis." Will the ABC way of ordering a glass of white wine with dinner soon be a distant memory?