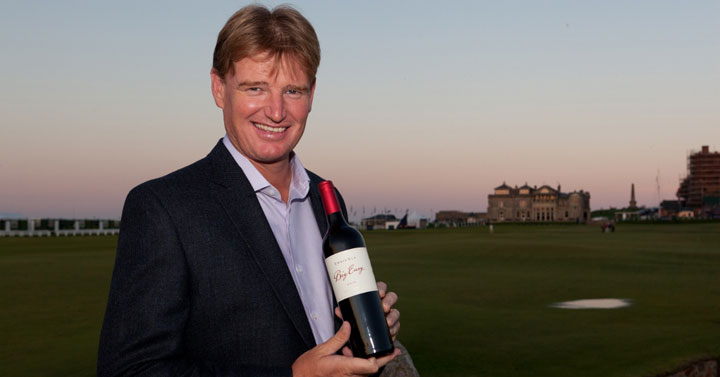 At one point, it seemed like every professional golfer approaching the end of his career had an overdeveloped interest in local politics. Arnold Palmer, it was once thought, could become President of the United States. Then a few years later, golf legends were spending their downtime as designers, laying out eponymous courses in exotic locales.
Apparently pro-athletes need hobbies too, and the latest to take the golfing set by storm is wine.
Wine has become so important that many current and former stars regard their glasses and their golf clubs with equal affection. The interest goes beyond just drinking and collecting; some have entered the actual production process, setting up labels and buying vineyard plots. "This is one of the few jobs where I can drink and do business," Arnold Palmer said.
They're almost all at it: Jack Nicklaus and Luke Donald. Sir Nick Faldo and David Frost. Ernie Els and Greg Norman. Fred Couples, Mike Weir, and, of course, Palmer. In 2009 Annika Sorenstam, once the best female golfer in the world, became the first woman player to launch a vintage, soon followed by Christie Kerr, another star on the ladies' tour in the United States.
James Molesworth of Wine Spectator once explained why golf and wine made such a natural partnership. "It's a lifestyle of pleasure and leisure, in terms of enjoying a round of golf and then coming in for a nice meal and a bottle of wine," he said. "These guys also have their images to deal with. It makes sense to branch out into other things beyond designing golf courses."
For Ernie Els, the marriage between grape and green is even simpler: "In both endeavours nature has the last ruling."
Els quickly turned his hobby into its own business venture. Els and Jean Engelbrecht formed Engelbrecht Els Vineyards in 1999 and launched a line of Bordeaux blends in conjunction with Stellenbosch's Rust En Vrede Estate. Sir Nick Faldo endorses red and white wines that are grown in southern Australia. Mike Weir, the Canadian golfer who won the 2003 Masters, donates the proceeds of wine from the Mike Weir Estate Winery to children's charities.
Arnold Palmer is the oldest of these golfers-turned-wine-makers, but his success in this new field proves that he has lost none of his business acumen. Sensing an opportunity to make money, he worked with Napa Valley's Luna Vineyards to produce two California wines, a Chardonnay and a Cabernet Sauvignon. ""It's a whole different ballgame for me," Palmer said. "I'm an amateur when it comes to making wine, but I know when I like the taste."
Nicklaus, perhaps the greatest golfer of the 20th century, has a large commercial portfolio that includes Golden Bear Lemonade as well as his own wine label. "Wine is part of the lifestyle that surrounds golf," Nicklaus said. "Since my wife Barbara and I at one time collected wines, we contemplated introducing our own for many years." Now they have done so and Nicklaus reports that his wines are doing well. "All our wines recently medalled in a national competition" he said with satisfaction. "That says a lot."
David Frost, who was born in South Africa and grew up on a vineyard just outside Stellenbosch, now has his own 300-acre vineyard outside Paarl. Frost, who is credited with starting the movement, grows more than seven red varietals, and exports about 4,000 cases to the United States each year.
What was started by Frost was continued, with typical vigour, by Greg Norman. In 1998 Norman partnered with Beringer Blass to produce a line of wine from Australia. His first release was a Cabernet Merlot from the Limestone Coast, a distinctive red wine that received 91 points from Wine Spectator, which included it in its 1999 list of 100 Best Wines. At that time Australian wine accounted for only eight percent of the total sales of wine imported to the US. Within six years, Oz wine sales in the US had tripled.
With such sport-wide dedication, it's no surprise that the best golf clubs also have the best wine cellars. Augusta National, where the Masters takes place each April, has 30,000 bottles neatly stored beneath the Trophy Room, some of which date back as far as the early 20th century. (Members and some lucky guests can get post-dinner tours.)
It gives a whole new meaning to the phrase: "see you at the 19th."
From 1993 to 2010, John Hopkins was The London Times's golf correspondent writing for the newspaper and, latterly, for its internet version where his on line writing resulted in his being named "Sports Internet Reporter 2008" by the Sports Journalists' Association. He is also the recipient of the 2013 PGA Lifetime Achievement Award in Journalism.
Below are some examples of wines from professional golfers. John Hopkins doesn't endorse any of the wines, although he mentioned Ernie Els sent him a case of wine for his wedding and it was very good.