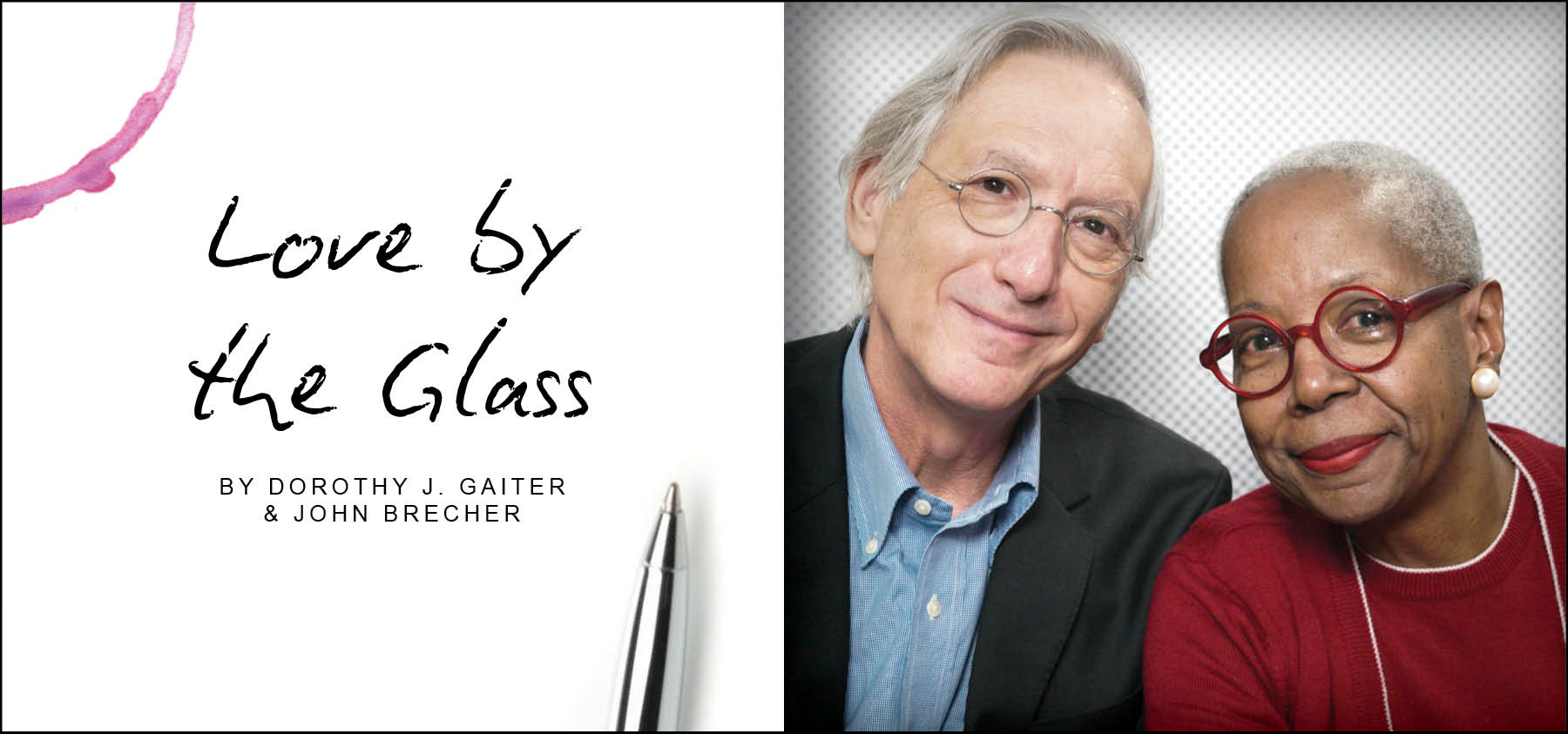 Why do some wines have the stuff to go the distance?
That was the subject of a seminar Dottie conducted with the talented Mary-Frances Heck, the senior food editor of Food & Wine magazine, and six fascinating wines. All this was part of the 2019 Symposium for Professional Wine Writers at Meadowood Napa Valley, where we were also the keynote speakers.
While preparing for the talk and tasting, Dottie interviewed several winemakers known for their long-lived wines, both white and red. What's the secret? The vintners agreed on a few things, disagreed on more than a few and left us charmed, once again, at the way wine is a gumbo of art, science, nature and personality.
Most wines these days are meant to drink right away, when they are young and fresh and lively. There's a joyfulness to well-made drink-right-this-minute wines that we love.
At the same time, we've always had a soft spot for wines with some age. We think they're like older people, that they possess a certain grace. They're like elegant dowagers who quietly command your attention. Or a dapper old gent, a noble presence to whom you must lean in because he's beyond particularly caring to please you. They just are. We feel more this way, of course, as we've gotten older.
We also enjoy older wines because we feel that if you pay attention, you'll notice that they're more likely to change dramatically in the glass as you drink them. And it's not just us. Terry Theise, the great importer of and expert on German wines, writes this in his new book "What Makes a Wine Worth Drinking" about a 1966 Riesling he had not long ago: "As always with old Riesling, it did its Benjamin Button act, getting fresher and springier in the glass until finally it was almost limpid, calmly breathing its vetiver and wet straw over us."
Sigh.
Everybody assumes that fine Napa Valley Cabernet Sauvignon and first-growth Bordeaux age a long time, but there's a whole world of ageable wines out there. As Theise points out, older fine Rieslings are often weep-worthy. We've had some aged California Chardonnays that were wonderfully complex and engaging. Although most of us think of Muscadet, from the Loire Valley of France, as an inexpensive treat to drink young with oysters, good bottles develop beautifully for a long time. And we have a special fondness for older dry Gewürztraminer.
What does it take? Naturally, there is no unanimity on this. Mike Chelini, the long-tenured winemaker at iconic Stony Hill Winery in Napa, made famously cellar-worthy, cool-climate Chardonnay in a style perfected by Fred and Eleanor McCrea, the winery's founders. Part of the secret, Chelini says, is no ML, malolactic fermentation. But Kalin Cellars, which is also famous for its ageable Chardonnays, notes on its website: "Due to the high natural acids present in cool climate fruit, all red and white wines are able to undergo complete malolactic fermentation."
So here are some of the tips from well-known winemakers about how they make long-lived wines and how you might decide which young wines you want to lay down. To begin with, a young wine with aging potential should be harmonious from the get-go. Sure, its tannins might need to soften in time and, sure, it will become more integrated. But a wine that's not balanced will not become balanced with age. A wine that's green and underripe will not develop ripe fruit with age.
There's quite a bit of consensus — and, as always, some disagreement -- that there are three, some say four, traits that age-worthy unfortified wines should have. They're high acidity, a balanced alcohol level (likely not above 14 percent or so), a well-regulated tannin structure, and, in some wines, residual sugar. Here's how some of the winemakers themselves put it when Dottie contacted them. Note that, overall, they talk about what happens in the vineyard more than what happens in the winery.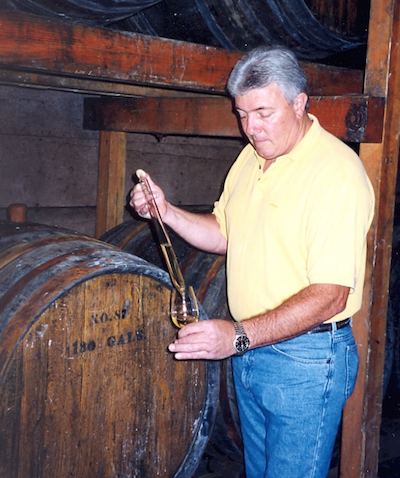 Mike Chelini, Stony Hill Vineyard. "We look for balance more than anything else. When vines look tired, the pH is going. We let the vines tell us. And when they tell us they are shutting down, the grapes start to lose their natural balance. We don't care if the alcohol is high but we shoot to be under 14% alcohol. So we have a big wine with balance. We like the natural acidity, but no ML. These are not built for instant gratification. They're almost Chablis-like, built for time. Natural acidity enables it to age. ML drops acidity dramatically and makes it creamer."
(Photo: Mike Chelini)
Michael Silacci, Opus One. "We look for balance when we plant the vines, we inspect the stick and the roots…the way you plant the vine and the way you train and work with the vines. At each point you want to make sure when the guys are pruning they are always seeking to keep things in balance…
"Think of peaches. You have fresh peach, ripe peach like peach jam, and too ripe, like prunes and raisins. If we perceive that fresh fruit increases in intensity, if we pass the window, they will diminish and move to ripe. It's like trying to catch waves, like surfing. You have to catch that wave. We're looking to pick as much fresh fruit as we can with its bright acidity, really fresh fruit flavors and aroma, and ripe fruit with its more concentrated fruit flavors. My target would be 30-40 percent fresh fruit and ripe fruit, or 25-75…
"The big key in the wine will be the balance between acid and tannins. Tannins should be present but not harsh or too rough. There should be some roundness, smoothness, fine grain tannins, not too polished. And you've got to have acid for the wine to age.
"And the length of the finish. There's a dark chocolate at the finish and over time, that dark chocolate bitterness melts, diminishes and starts to extend the length of the finish. To me, the finish should be like the church bells at the Vatican when the bells stop ringing -- the resonance of the bells. That's the length I'm looking for."
Christopher Carpenter, who makes La Jota, Cardinale, Lokoya, and Mt. Brave for Jackson Family Wines. "Age ability is a combination of the concentration of the flavor compounds, the acidity and the tannins. With mountain wines we have incredible concentration of flavors and tannins, and acids rarely drop out.
"This makes for a wine that maintains its fruit expression for many years. Tannins particularly are great preservatives of fruit character. When evaluating a wine and its aging potential I am looking at the balance points among the three and judging, based on experience, how many years out these wines may carry."
(Photo: Christopher Carpenter with Dorothy Gaiter)
And how many years is that? That's a version of the question we have been asked about, oh, a million times over the years: When will this wine be at its best?
The honest answer is: Nobody knows. It depends on that particular bottle, on storage conditions and a whole lot of factors far beyond the vineyards.
We have tasted tens of thousands of wines over the years (tasted, not drunk, OK?). We pretty much enjoy well-made, thoughtful wines at all stages of development. But there have been times – not many, but a few – when we were absolutely sure we were drinking a fine wine at its peak. It is nothing short of thrilling. To this moment, we can taste the 1978 Diamond Creek Vineyards "Red Rock Terrace" Cabernet Sauvignon from Napa that we opened in 1998. Our notes take up a full page and are filled with capital letters and exclamation points and then end with this: "It's simply perfect. Perfect." We were sure the wine was not better the day before and would not have been better the next. (And, yes, the fact that we'd paid only $14.19 for this wine, years earlier, might have helped.) We so enthused about this wine in a column once that the late Al Brounstein, who founded Diamond Creek with his wife, Adelle, who is known as Boots, wrote us the sweetest note.
The six wines we tasted at the seminar at the Culinary Institute of America at Greystone, all donated by the Napa vintners, were instructive. We started with a 2008 Stony Hill Chardonnay, with minerals and focused grapefruit-like acidity that made it stunningly fresh, nodding to age only with a whisper of almonds. Drinking it seemed a privilege. The 1999 Trefethen "Oak Knoll" Cabernet Sauvignon was still rich, with plenty of verve and great fruit, and was fully ready to drink. (Dottie had talked to John Trefethen a couple years ago about the ageability of Chardonnays and the 1997 Trefethen Chardonnay in a large format bottle poured at the opening reception at Meadowood was, again, fresh, an amazing affirmation.)
We tried the 2008 LaJota Cabernet against the 2015 LaJota and we could taste the complexity, breeding and promise in the younger wine that was showing a bit more fully in the older wine, a fine continuum with a long runway. And two wines from Pott Wines – a 2016 red blend and a 2017 Cabernet Franc barrel sample – were lovely now, with the stuff to keep them beautiful for some time to come.
Interesting postscript: When the seminar was over, we noticed separately that the wine everyone seemed to enjoy as a last sip as they got up to leave was the Chardonnay from the recently sold Stony Hill. We shared that observation later with Sarah McCrea, the founders' granddaughter, at an event during Premiere Napa Valley, the annual gathering of collectors and merchants who taste barrel samples and make purchases based on their evaluations.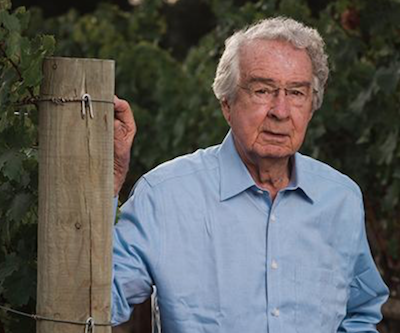 So when is the perfect time to drink a wine? At dinner our last night in Napa, the famous winemaker Warren Winiarski of Stag's Leap Wine Cellars talked about that a little. We asked him to expand on the subject later. This is what he wrote:
(Photo: Warren Winiarksi)
"For a wine that can improve with time, there might be a number of peaks. As the wine ages there are things that it is gaining over time. For example -- integration of its parts and thus complexity or apparent harmony. But there are things it is losing. For example -- exuberance, freshness, and the beauty of its fruitiness.
"What does the taster like? Which of those different aspects does the taster prefer? That will be part of the answer to the peak for them. Somewhat subjective. If a more objective standard is sought for the peak of the wine perhaps it is to be found at the time when the wine expresses completeness. You as a human taster are an incomplete being, but you seek completeness.
"So it is not really only about the wine. It is also about you."
And that, folks, is the kind of wisdom that has the stuff to go the distance.
Dorothy J. Gaiter and John Brecher conceived and wrote The Wall Street Journal's wine column, "Tastings," from 1998 to 2010. Dorothy and John have been tasting and studying wine since 1973. Dottie has had a distinguished career in journalism as a reporter, editor, columnist and editorial writer at The Miami Herald and The New York Times as well as at The Journal. John was Page One Editor of The Journal, City Editor of The Miami Herald and a senior editor at Bloomberg News. They are well-known from their books and many television appearances, especially on Martha Stewart's show, and as the creators of the annual, international "Open That Bottle Night" celebration of wine and friendship. The first bottle they shared was André Cold Duck. They have two daughters.
Read more from Dorothy J. Gaiter and John Brecher on Grape Collective