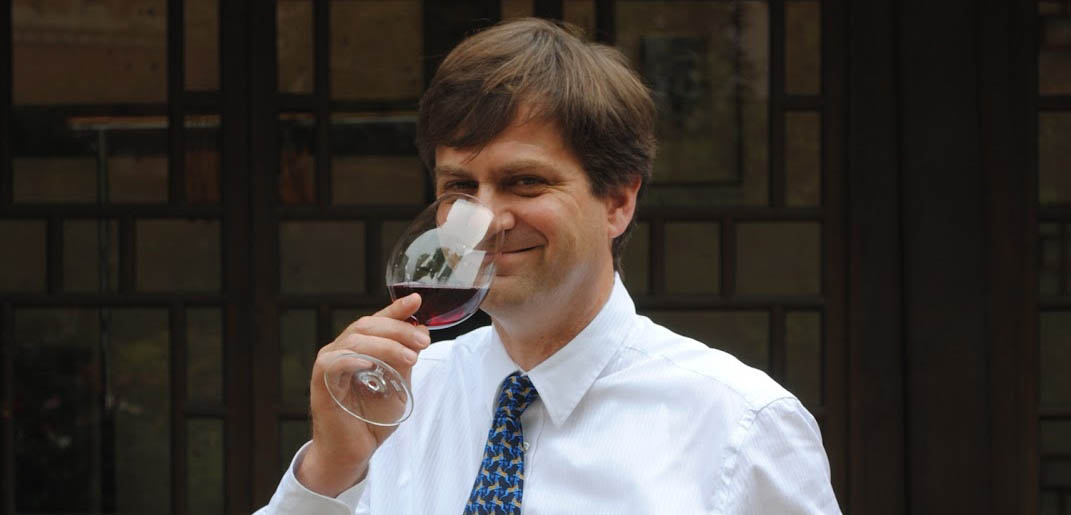 Domaine de la Mordorée is located in the town of Tavel, in the Southern Rhône Valley. The Domaine de la Mordorée estate was founded in 1986. The vineyard consists of 55 hectares (135 acres), on 38 different parcels, which provide a rich, wide range of soils and climates.
We speak to Fabrice Delorme about organic farming, making wine in the Southern Rhône, and the uniqueness of Tavel rosé.
Christopher Barnes: Fabrice, tell us how you got into the wine business.
Fabrice Delorme: The estate started in 1986. My father, being a businessman, had this land. It was producing bulk wine and he then decided to go to bottle. That is when the name of Mordorée, Domaine la Mordorée started. That was in '86 and he did that with my brother. I joined the company in '99. My goal was to develop the sales to individuals, so we created a small cellar where we welcome people, and they come and they taste, and hopefully from time to time they buy. My job is also to be outside of France and sell the wine in other countries, for example, here in the States.
The name of Mordorée is related to the woodcock, the bird living in the forest. Everything in the company, in the Domaine, is related to the woodcock. So you have the name, Mordorée, and that is a nickname for the woodcock. A Reine Des Bois (Queen of the Woods) is the name of one cuvee, and is also the nickname for the woodcock. We also have the name La Dame Rousse (Red Haired Lady), which is also a nickname for the woodcock. So everything more or less is related to that. You see woodcocks on the labels everywhere, and if you come to see us, you will see everywhere on the walls are woodcocks.
How much of the wine are you selling in France versus the rest of the world?
More or less, it's fifty-fifty. It's 50% in France, 50% outside of France, with the USA being the biggest customer outside of France, for sure.
Fabrice, tell us about your farming. You farm organically and you've done so for a number of years now. What made you make the decision to go organic?
I think it's more philosophic than anything else. We have always been very concerned about the footprint we will leave and the quality of the soil we leave for the future generations. And, in fact, our idea was to have the lowest impact we could on nature and then step by step, we have been moving toward the organic roles, because it's easier for a customer to identify labels saying, "Okay, that's Green People." It's much easier.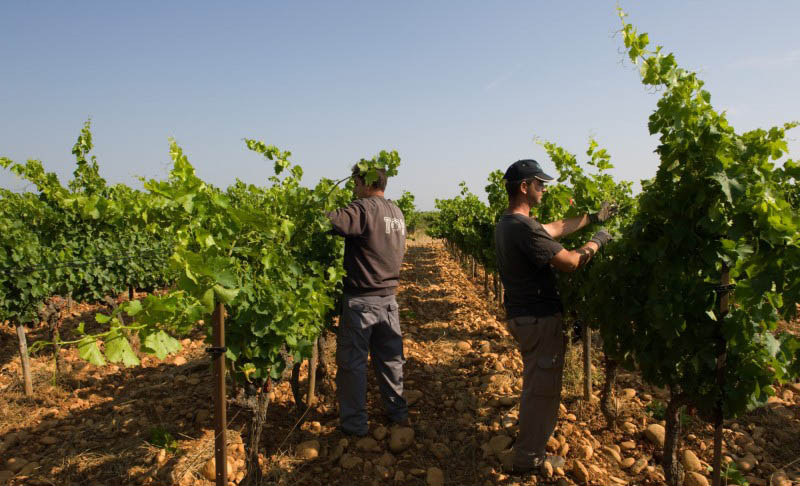 Do you find that being organic has changed the wines at all?
We were very close so it has not been changing a lot, but the wine has still been improving. I think that when you go organic, you see the difference between the wine the vineyard was producing before organic and after organic. You see much more complexity in the wine than if you go to something which will have a lot of chemicals, you know? The expression is much more complex, much more precise, much more clean, also, than with chemicals. So that's my point of view. That's why we have been doing that.
You're based in Tavel. Tell us a little bit about Tavel and the other areas where you make your wines.
We are based in Tavel and we make the wine in Tavel. Tavel is one of the few, let's say appellations or villages, making just rosé. We don't make any red. We don't make any white. And we have been doing that for a very long time. We were one of the first appellations in France with Châteauneuf, we were the first two in fact, with two other people. And that was in 1936. Before that, Tavel was very well-known around the world because we had been shipping wine, for example, to Russia, and other places in the world. Tavel was also at the court, at the time of Louis the XIV, the king soleil, or the sun king. It was already very well-known, so we are based in Tavel and then we have vineyards in other places.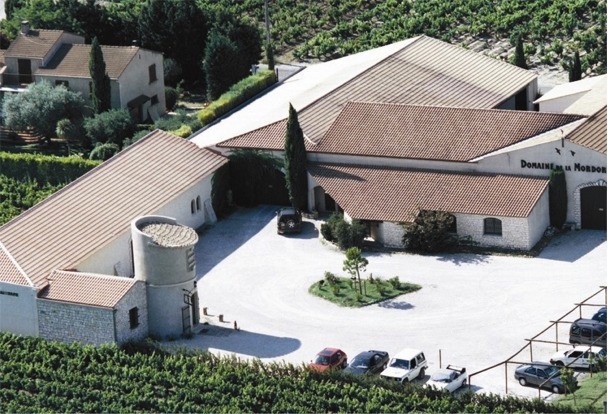 How are Tavel rosés different from other rosés? How do you determine what is a quality rosé and what is not? And what are the characteristics of Tavel?
What makes Tavel different is the fact that, first of all, it's a different color. It's much darker than other rosés, and the way of making it is maceration with a press. So the color is darker because it's more or less like a light red in some ways, and it also ages very well. It's a very good pairing wine. You can do very nice pairings with a lot of different types of food and cuisine from all over the world. It can be Mediterranean, Chinese, Japanese, or Middle Eastern food, or Mexican, Caribbean, or whatever. It's really a wine with great, let's say, gastronomical suppleness. You can pair it with a lot of different types of food. You can even pair it with cheeses. We did a pairing recently with a group of people in Winchester with cheese from the Virginia called Meadowcreek. It's cow cheese made with a rind and the rind is washed. It's a type of cheese which really smells strong, you know? It's a strong cheese, and Tavel is pairing well with that. So it's very funny to see all the matches you can make with this wine and say, "Okay, let's try that, let's try that, let's try that, let's try that," and then have good results, you know? The pairing is good. It's a wine for people who wants to have different experiences.
And how is the terroir?
The terroir has big round stones we call galets roulés with layers of sand and everything. That's one of the main terroirs. The other terroir is one hundred million years old, and we had a coral reef around. And this coral reef is limestone. And this limestone is like sliced by the ice in small pieces going inside the valley, and this valley here is named Le Vestide. And this valley is where you can get some wine with aging potential. They have fruit tastes and flint tastes, so very, very mineral.
Making wine in Châteauneuf-du-Pape, how have the wines changed over the years?
Châteauneuf is a really nice appellation. A lot of people know about Châteauneuf all over the world, and the wines we make in Châteauneuf are quite unique in that you can taste them and enjoy them young, but you can also taste and enjoy them later- ten years later. So if you see the tasting notes from people like Jeb Dunnuck for example, who has been tasting our wines ten years later, fifteen years later, you will see that he was rating them, for example, 2007 was rated 93 or 97, and then the rating was exactly the same ten years later. So that shows that the wine is aging very well. You know?
Our local wine critic in New York, Eric Asimov, he did a piece on Châteauneuf, and he was sort of complaining a little bit that the alcohol level seemed to be creeping up.
Rising yes.
And that you're getting these sort of big monster wines that are out of balance. I mean, are you seeing that in Châteauneuf?
More or less, depending on the vintage, but one of our goals when we make the wine, is to always have one which is well-balanced, even the alcohol is here, I cannot hide that. I'm sure we have an alcohol level which is somehow a little bit high. But anyway, if the wine is well-made, you don't feel the alcohol. It's very well-integrated, very well-balanced, and you don't feel it. The only thing you have to keep in mind is that it's not wine you can drink many glasses of, because it's high in alcohol, for sure. That's for sure.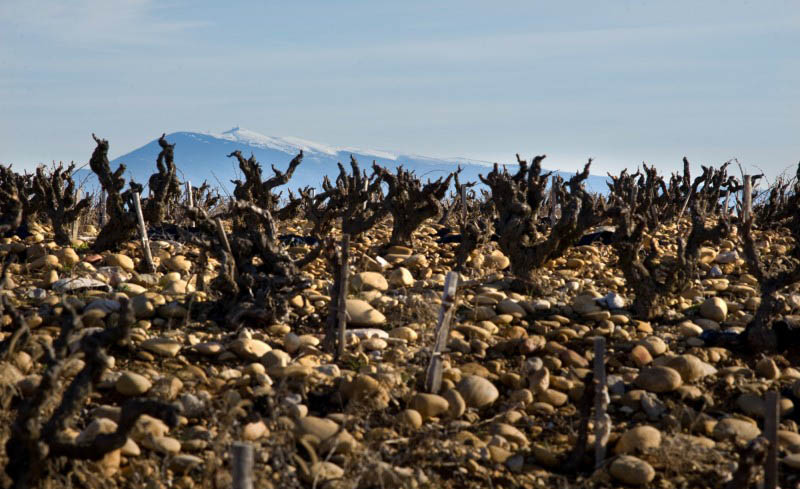 Is it a question of global warming, that the area has gotten hotter?
It could be that. You have two main reasons. One reason is certainly that it's getting hotter. The weather is getting hotter. Is it man-made, is it not man-made? We don't know. But at the end of the day, what causes the rise in the alcohol level is certainly the weather, and that people are more looking for more ripeness. That results in a higher content in alcohol because of a higher content in sugar.
And is that because the critics are rewarding wines that are fuller, bigger wines, and people are trying to chase scores?
I think that, frankly, if you make wine to get a high score, well, I've nothing to say about that, but we are not making wine to get a score. We are making the wine we love, that we like to drink. The wines we drink all the time are wines with, let's say, a nice body. For me, Châteauneuf is not supposed to be a light wine. If it is a light wine, okay, that's something else. I expect Châteauneuf to have nice body, nice complexity, and fruit. I would say that is a good definition.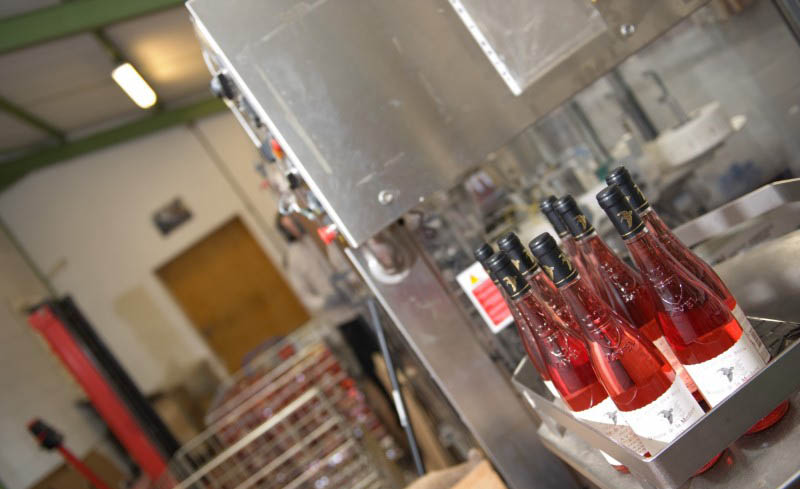 Tell us a little bit about Lirac. What is unique about Lirac?
Lirac is an appellation which is not very well-known but it's going to change, because more and more people are investing in Lirac now. Lirac is a very nice terroir with very nice grapes and a nice climate. It's almost the same climate in this area as in Châteauneuf, Tavel and Lirac. They have very similar climates. The fact that it's not a very well-known region is going to change because more and more people are making very good wines out of Lirac. The difference between Châteauneuf and Lirac, I think you have maybe a more feminine side with Lirac than with Châteauneuf because you have more Syrah. That makes the wine a little bit different.
Can you tell us about your different ways of winemaking?
I think at one point, we have been pioneers. Being humble, we have been the first to do the de-stemming, for example. We were doing it in the late 80's. We have been one of the first to put the vines on wires. We have been the first to put grass or to seed the grass, you know, inside the vineyard. Yeah, we have been building new ways of doing wine. A little bit.