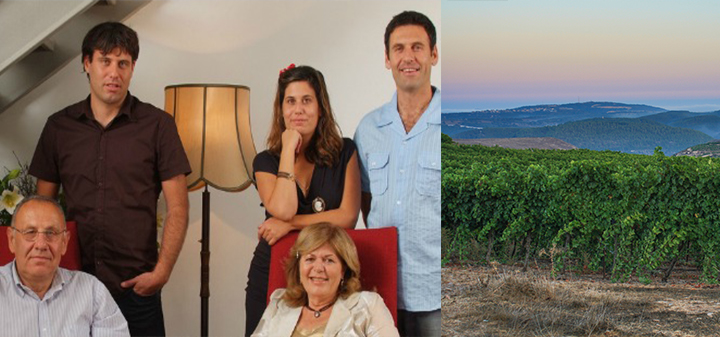 Flam Winery is one of Israel's best. It's part of the trifecta (with Saslove and Tulip) of near-cult Israeli boutique producers that became kosher starting with the 2010 vintage.
Founded in 1998 by the Flam brothers, Golan and Gilad, the winery is housed in a quaint facility in a picturesque area just outside Beit Shemesh, in the Judean Hills. It's family-owned, and everyone pitches in. Golan Flam was educated in Israel and Italy and apprenticed in wineries in both Tuscany and Australia; he now serves as the winemaker. Having worked in the vineyards alongside his father since he was a child, Gilad Flam now handles business development and strategy. Their mother, Kami, manages operations, and their sister, Gefen, is in charge of customer relations and marketing.
Although Israel is loaded with commercial wineries of all sizes, there is something to be said for a winery where each member is truly invested in maintaining and improving the family's honor, legacy, and heritage. But the love of wine coursing through this family's veins is also undoubtedly driven by the passion and vinographic history of the winery's ace in the hole, patriarch Yisrael Flam.
Within the Israeli wine industry, Yisrael Flam needs no introduction; having spent more than 40 years working to improve the industry as a whole, he's regarded as one of—if not the—principal wine figures in Israel.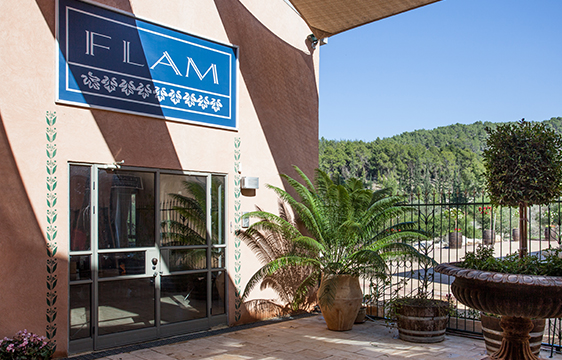 His family had moved to Israel from Russia in the aftermath of World War II, and he joined the fledging Israel Wine Institute after serving his time in the army. Pioneering what is now de rigueur for any aspiring Israeli winemaker, Yisrael received training at UC Davis's program in Oenology and Viticulture before returning to work at the Carmel Winery south of Tel Aviv. In 1995 he became their chief winemaker, a position he held for a decade before retiring to join his family's endeavor as a consultant. At Flam winery, he now consults, advises, helps out, and kibitzes.
Care and precision are two mainstays for the Flam brothers and, as with all good wines, the work starts in the meticulously cultivated vineyards. These include plots in the acclaimed Upper Galilee vineyards of Dishon and Ben-Zimra, as well as Mata in the Judean Hills. The family spent substantial effort sourcing these sites (which are all under long-term leases), meticulously choosing the best they could find. Golan spends an inordinate amount of time among the vines, pruning, thinning, and otherwise caring for them, ensuring that the resulting grapes will truly honor the well-respected and hard-earned Flam name.
Prior to the kosher 2010 vintage, the winery produced six wines under three different labels. The entry-level wines included Rosé (predominantly and sometimes entirely made from Cabernet Franc), Blanc (a blend of Chardonnay and Sauvignon Blanc), and Classico, the winery's entry-level Bordeaux blend. Classico is primarily Merlot and Cabernet Sauvignon, but in some vintages includes small quantities of Petit Verdot or Cabernet Franc. Despite its entry-level positioning, Classico is far superior to most other entry-level wines in quality, and its price reflects this.
Flam's next tier was the Superiore, a Syrah-based blend, followed by the Reserve line which included three varietal wines: Syrah, Merlot, and Cabernet Sauvignon. Along with the transfer to kosher, the 2010 vintage was also the end of the Superiore label. Per Golan, the vineyards had matured to such a level that they were bearing fruit worthy of the winery's Reserve line. I have to agree: Recently, I found the Reserve Cabernet Sauvignon to be the best of the released wines I tasted and quite possibly one of Israel's best Cabernet Sauvignons.
More recently, Flam finally added a flagship wine to its portfolio, Noble, whose name was inspired by Tuscany's famous Vino Nobile di Montepulciano. But unlike the Sangiovese-centric Tuscan wine, Flam's Noble is a Bordeaux blend made from their very best grapes. The wine spends nearly two years in oak, the first in new French as separate components and the second as the final blend. It then enjoys two more years of bottle age before release. The inaugural (but non-kosher) version was the 2008 vintage, and the 2010 kosher vintage of Noble should be released in mid-2014.
I find it indicative of the family's humility and quiet pride that it was ten years before they felt they understood their vineyards, grapes, and winemaking process sufficiently to produce a worthy flagship. Golan and Gilad's passion for their profession mixes with a rare and refreshing humility. They love what they do, do it at an extremely high level, and don't allow their egos to balloon to epic proportions.
The winery's current annual production sits comfortably around 100,000 bottles (8,300 cs.), the magic number an Israeli winery needs to obtain kosher certification and remain financially viable. Unlike many other top Israeli wineries, they've withstood the trend toward planting Mediterranean varieties like Carignan and Grenache. While I am a huge advocate of this trend, believing that Israel's terroir is more suited to such varieties, Flam clearly knows what they are doing with Bordeaux grapes.
Each wine in Flam's lineup has a clear and distinctive style that comfortably blends old-world European winemaking with new-world winemaking techniques. The results offer rich, deep, and powerful wines that convey subtle elegance, a nice sense of place, good potential for longevity, and a hint of mystery.
Flam Rosé 2012: The third vintage of this light- to medium-bodied wine. Like prior vintages, it's made from 100% Cabernet Franc from the Judean Hills, which gives it welcome bite. The nose is blessed with strawberry, melon, citrus peel, lavender, and a touch of bell pepper and floral notes. It has fresh and refreshing flavors of strawberries, white stone fruit, and pink grapefruit, with great acidity and a hint of salinity and minerals. A terrific everyday wine and perfect for summer.
Flam Blanc 2012: As with prior vintages, the wine is a Sauvignon Blanc (55%) and Chardonnay (45%) from the Judean Hills. The 2012 is fruitier and less acidic, likely appealing to a wider crowd. A rich nose of tropical fruit, tart apples, citrus peel, and stony minerals leads into a medium-bodied palate of more tropical notes, cantaloupe, a pleasing bitter streak of minerals, and a hint of citrus. The biting bitterness continues on the lingering finish, rounding-out this highly pleasurable and refreshing wine.
Flam Syrah Reserve 2010: The first Reserve release for Flam and a wine that was well worth waiting for. Made from Syrah grapes grown in two acclaimed vineyards: Dishon, which provides floral notes, and Kerem Ben-Zimra, which has a blacker fruit profile. As with Flam's other Reserve wines, this Syrah spent 12 months in oak and an additional 10 months in the bottle prior to release. A rich nose of bright red and blue fruits, roasted meat, dark chocolate, smoke, and freshly cracked black pepper. Medium- to full-bodied on the palate with a tantalizing complexity, there are added notes of roasted coffee, spice, and licorice. A luxurious finish rounds out this treat. As with every other Flam wine, the fruit and oak are very much in balance, with the oak providing strong support without overpowering.
Flam Merlot Reserve 2010: This wine competes for Israel's best Merlot, with a rich, deep and complex personality. Blended with 10% Cabernet Sauvignon and 5% Cabernet Franc from the Dishon vineyard, the wine presents rich, extracted aromas of black cherries, blackberries, cassis, blueberries, brambles, and warm woodsy spices that evolve in your glass. A full-bodied palate offers the same fruit and spice, with wet earthy forest notes, graphite, and cigar box. Its mouth-coating tannins are already on their way to integrating and will provide support for this wine for years to come. Drink now through 2017.
Flam Cabernet Sauvignon Reserve 2010: This Cabernet Sauvignon competes for the best in Israel. It's a rich, opulent, and powerful wine that provides layers of complexity while maintaining poise and elegance. It's 85% Cabernet Sauvignon (split 60/40 between the Dishon and Kerem Ben-Zimra vineyards) blended with 6% Merlot, 6% Cabernet Franc, and 3% Petit Verdot. It spent 16 months in French oak as components before being blended in stainless steel and then bottle-aged for an additional ten months. The nose is rich and opulent with ripe red and black berries, Mediterranean herbs, rich dark chocolate, notes of cedar, and a nice overlay of spice, and its full-bodied palate adds rich fruits like plum, cassis, and blueberries along with spice, tobacco, and anise. The caressing tannins are still tight but bode well for the future. Hold for another 12 months, after which the wine will continue to cellar well.
Watch video interviews by Yossie Horwitz and Christopher Barnes with nine Israeli winemakers, including Gilad Flam.