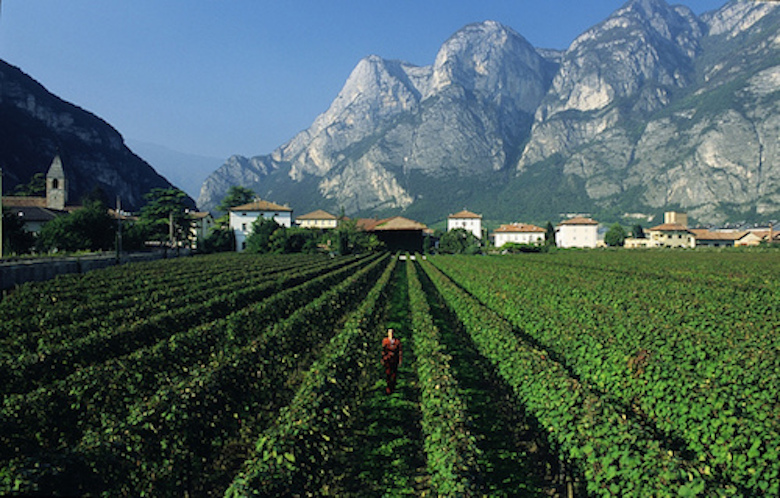 Trentino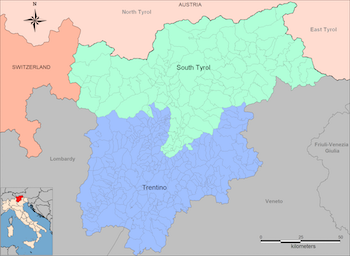 In the valley of the Dolomite Mountains near the Austrian border lies Trentino (named for Trento, its capital) which has been inhabited since the Stone Age. For over 800 years, it was ruled by the Austrians. After World War I, Italy annexed Trentino and after World War II, Trentino became an autonomous province.
Campo Rotaliano is a flat plain created by a glacier in northern Trentino high up in the foothills of the Dolomites between Mezzocorona and Mezzolombardo. Beginning in the Roman era, the region was a major commercial hub along the trade route between Italy and the rest of Europe.
Despite its mountainous nature, Trentino is a major agricultural area, most notable for its apple orchards. It is also well-suited for vineyards because of its alluvial soil rich in limestone, granite and porphyryitic sandstone and quartz as well as its excellent drainage. Its climate is warm but the mountains moderate the summer heat and winter cold and breezes from the Adige River and Lake Garda keep it temperate. This fertile land was extremely susceptible to flooding until the mid-19th century when the Hapsburg emperors diverted the Noce River from S. Michele to Zambana Nuova.
Teroldego, a red grape related to Syrah which dates back to the 14th century, is indigenous to the region. (Teroldego is also sometimes used as a blending grape in Sicily and Tuscany). It may have originated as Teroldica, an indigenous grape of the Veneto. Other red wine grapes grown in the Trentino DOC include Pinot Nero and Marzemino which make lighter, less complex wines than does Teroldego.
Until after World War I, wines from Trentino were primarily exported Germany, Switzerland and the Hapsburg Empire where they were highly regarded for their richness and complexity. After World War II, agriculture changed in the area with the establishment of big cooperative wineries. The farmers were paid for yield and hence the quality of the grapes declined.
Foradori
The Foradori winery comprises 28 hectares of high altitude vineyards in Campo Rotaliano and Fontanasanta in the calcareous clay hills of Cognola about 30 minutes away. Approximately 75% of the vineyards are devoted to Teroldego, 15% to Manzoni Bianco, 5% to Nosiola and 5% Pinot Grigio.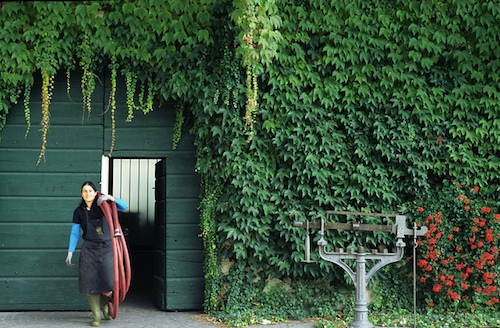 In 1985, Elisabetta Foradori became the winemaker at 19 when her father died. The winery, founded in 1901, was acquired by her grandfather in 1939. She is credited with reviving the quality of Teroldego wines which, though prized by the ancients, had deteriorated in quality and reputation.
To improve the quality of the fruit, Foradori replanted the pergola-trained vines in the guyot style to reduce yields and concentrate the fruit. She pruned extensively and converted to organic farming which enriched the soil and plants. Foradori extended the care she brought to the vineyards to the harvest itself such that all grapes are hand picked and then hand selected in the winery.
She also began to make single vineyard wines from Teroldego.
By the late 1990s, she began to convert to farming biodynamically and by 2009, Foradori was certified both organic and biodynamic.
Her efforts in the vineyards resulted in more elegant Teroldego wines. She also began to make white wine from Manzoni Bianco, a hybrid of Riesling and Pinot Bianco, Nosiola, an ancient indigenous grape, and more recently, from Pinot Grigio.
In the mid-2000s, she visited COS in southern Sicily and was impressed particularly by its wines made in amphorae. She experimented with amphora winemaking to great success. Foradori uses clay tinajas made in southern Spain. Unlike the Georgian and Greek amphorae, the tinajas, which hold 420-480 liters, are shaped differently and are not lined with beeswax. The single-vineyard Teroldegos and her Nosiola are aged in tinajas with long skin contact.
The Wines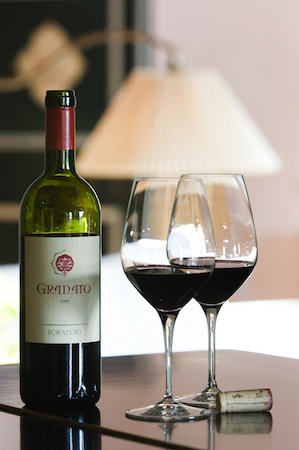 Foradori produces approximately 160,000 bottles per year - four red wines: roughly 55% Teroldego, 12% Granato, 6% Sgarzon, 6% Morei and three whites: 12% Fontanasanta Manzoni Bianco, 5% Fontanasanta Nosiola and 4% Pinot Grigio Fuoripista.
IGT Teroldego Vigneti delle Dolomiti - Foradori ferments the grapes with indigenous yeast in open stainless steel. The wine is then aged for 15 months in wood and stainless steel. It is beautifully balanced with silky tannins, juicy black fruit, mint and spice notes, good minerality, excellent length, and fresh acidity.
I.G.T Teroldego Vigneti delle Dolomiti "Sgarzon" - Sgarzo means "vine shoot" in local dialect. The vineyard benefits from the cooler climate which enriches the character of the Teroldego. The grapes are macerated for eight months in tinaja and then, aged for three months in oak casks. It shows its black cherry and pomegranate flavors with spicy, smoky, herbal and mineral notes.
I.G.T Teroldego Vigneti delle Dolomiti "Morei" - Morei means "dark" in the dialect and is made exactly like the Sgarzon but it is more savory and deep than the Sgarzon. The Morei is an elegant, full-bodied wine with layers of dark fruit, spice and minerality.
I.G.T Teroldego Vigneti delle Dolomiti "Granato" comes from the rockiest soil of Foradori's vineyards and is fermented in large, open oak barrels and then aged 15 months in barrel. t is denser and richer than the other Teroldegos with velvety cherry and pomegranate fruit. It is beautifully balanced and has a long finish. ($61.99 for the 2010 at Grape Collective)
I.G.T Vigneti delle Dolomiti "Fontanasanta Nosiola" spends eight months in amphora and then is aged for two months in acacia and oak casks. It is fresh with wildflower, herbal and nut aromas and pear, peach and citrus flavors. It is full-bodied with layers of flavor and good minerality. ($47.99 for the 2012 at Grape Collective)
I.G.T Vigneti delle Dolomiti "Fontanasanta Manzoni Bianco" is macerated for one week in cement tanks and then aged for one year in acacia casks. Foradori adds up to 10% of amphora-fermented Nosiola to the blend. The Manzoni has Alpine minerality and bright acidity. It has citrus and floral aromas andnutty and smoky notes.
I.G.T Vigneti delle Dolomiti Pinot Grigio Fuoripista - The newest of Foradori's wines, it is macerated for eight months giving it a salmon hue.
Food Pairings
The acidity, rich fruit and smoky depth of any of Foradori's Teroldegos make them an excellent match for braised meat, game or charcuterie (such as speck, a dry cured, smoked ham made in the region), mushroom dishes and moderately spicy food.
The Manzoni Bianco would pair well with a rich fish like salmon, tuna or swordfish or light meat as well as risotto or cream-based dishes.
The Nosiola goes nicely with freshwater fish, zucchini, poultry, unsmoked ham or rich pasta.
The Pinot Grigio complements roasted almonds, prosciutto, goat cheese, foie gras, any seafood, sushi, ight fish, chicken and light pasta.
But with or without food, the Foradori wines have such purity, verve, balance and overall deliciousness that they consistently outperform.