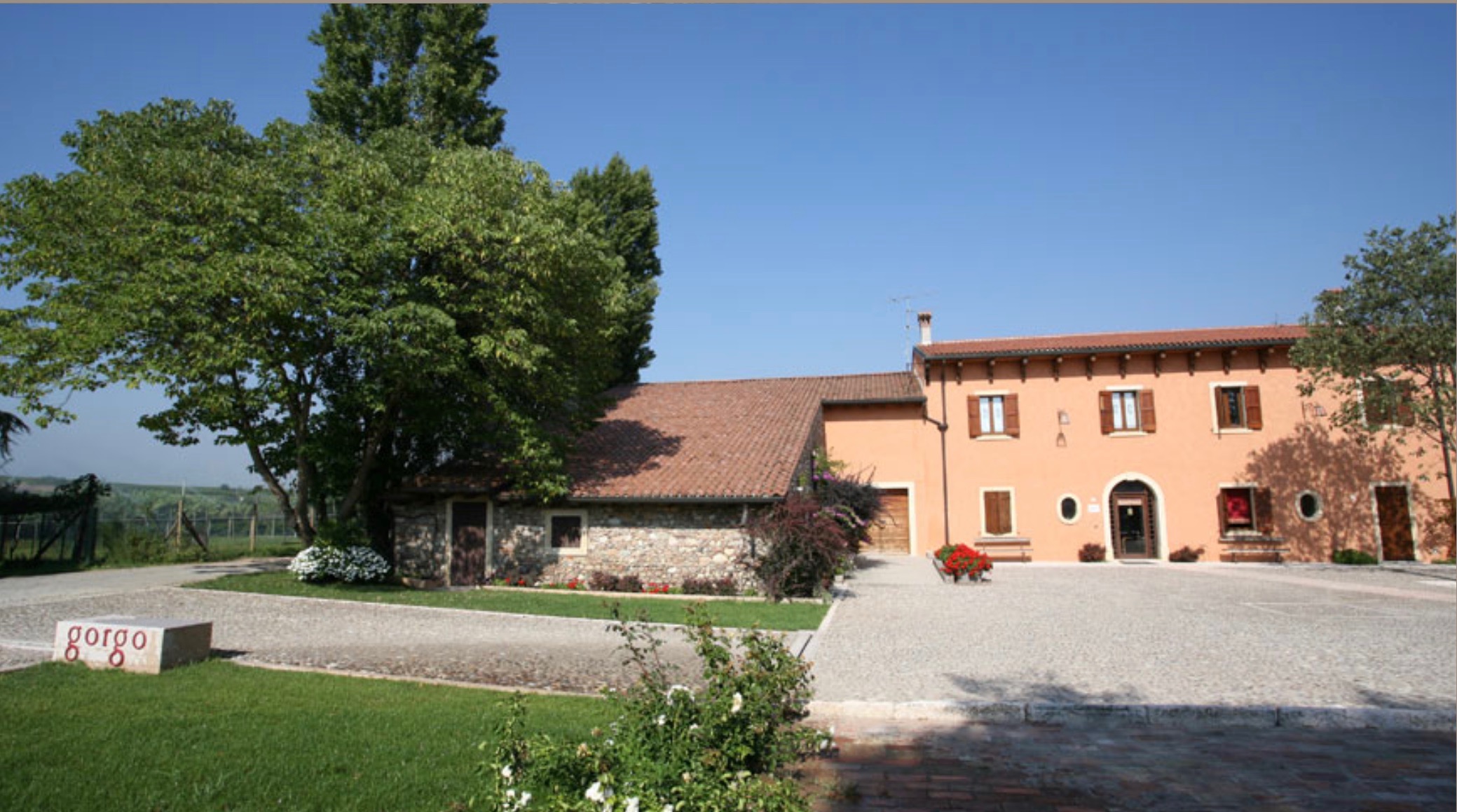 Gorgo Winery was established in 1973 by Roberto Bricolo in the Custoza DOC, southeast of Lake Garda, within the province of Verona. Roberto hails from a long line of prominent Veronese doctors, and his family expected him to follow the same path. But he had his own ideas. Passionate about nature since childhood, Roberto left his medical studies for a career that would satisfy his longing for the outdoors. With the help of his wife Alberta, he started the winery with 22 hectares of land, which has since grown to 53 organically-farmed hectares, mostly in the Custoza, Bardolino, and Chiaretto DOC production zones.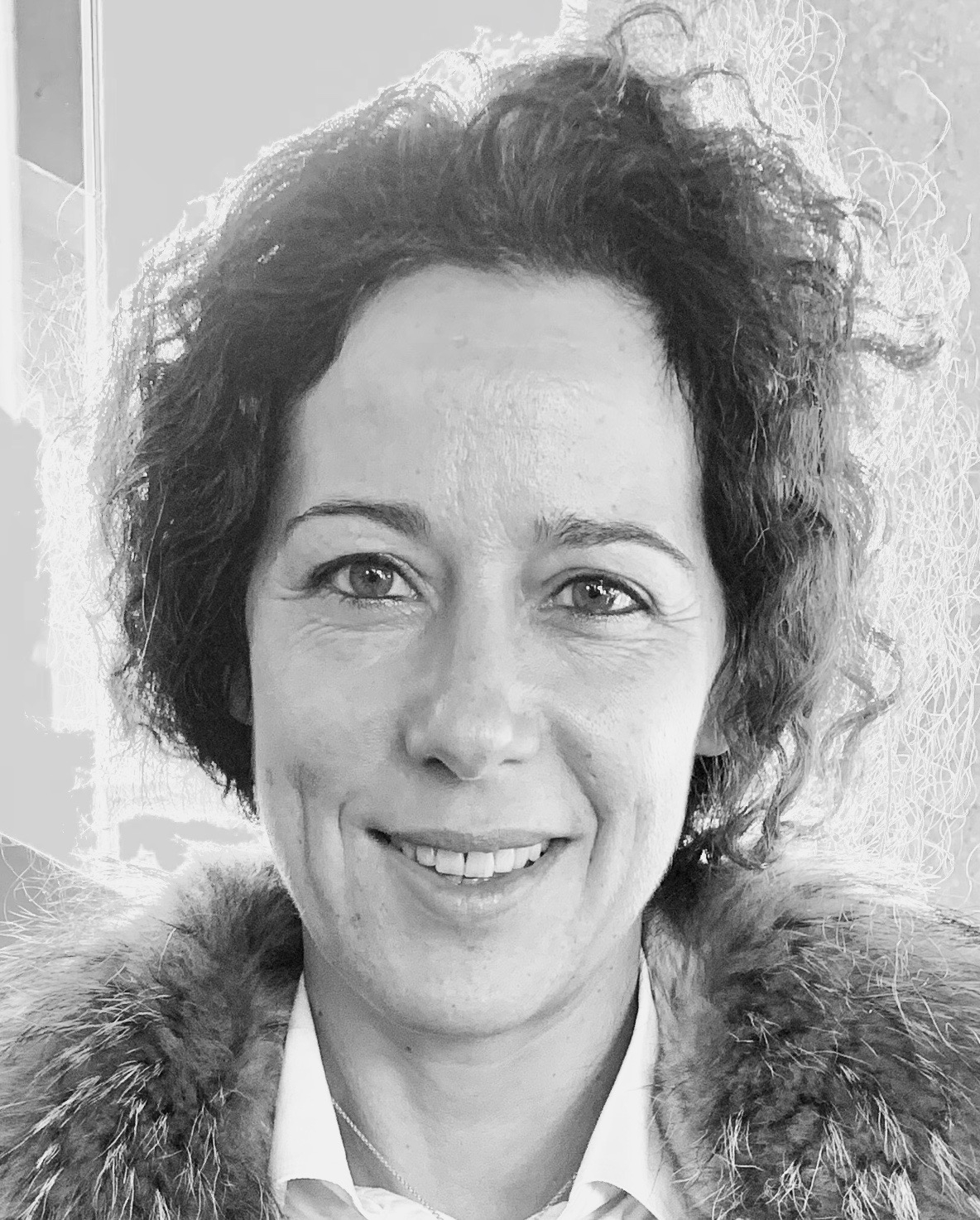 Roberto now runs the estate with his daughter Roberta who returned home after several years practicing law in Bologna. It was Roberta who insisted that the vineyards be converted to organic, a process that took a huge financial investment and was completed in 2018.
(Photo: Roberta Bricolo, taken by Lisa Denning)
On a recent trip to Lake Garda sponsored by the consortium for Chiaretto and Bardolino, Grape Collective's Lisa Denning was hosted by Roberta Bricolo for a tasting and lunch inside the winery's cozy tavern. The following interview was conducted by email following the trip.
Lisa Denning: Your parents were pioneers of the Custoza DOC, beginning in 1975. Why did they decide to start a winery and what were they doing before winemaking?
Roberta Bricolo: Their story still represents an ideal of life for me and has always inspired me. They were a beautiful and courageous couple in life and work, and their choice to begin the work of winemaking together is as romantic as it is crazy.
My mother, excellent at school, graduated from university in literature and philosophy and was set to work alongside her father in the family fuel business. On the contrary, my father, the youngest son of a family of renowned doctors, never graduated from medical school because of his wild, unbridled love for the countryside. He never imagined himself closed in a hospital and was always passionate about outdoor life, asking only to be left free to take care of the paternal land by cultivating peaches and vines.
Just married, my father inspired my mother in this same passion and, against their respective families' requests, ventured into the world of wine. They invested everything they had to buy the winery machinery, and in 1975 the first Custoza DOC and Bardolino DOC wines were born. They were pioneers like a few other families who began in those same years and who are now, with us, colleagues who pursue quality and love for our land.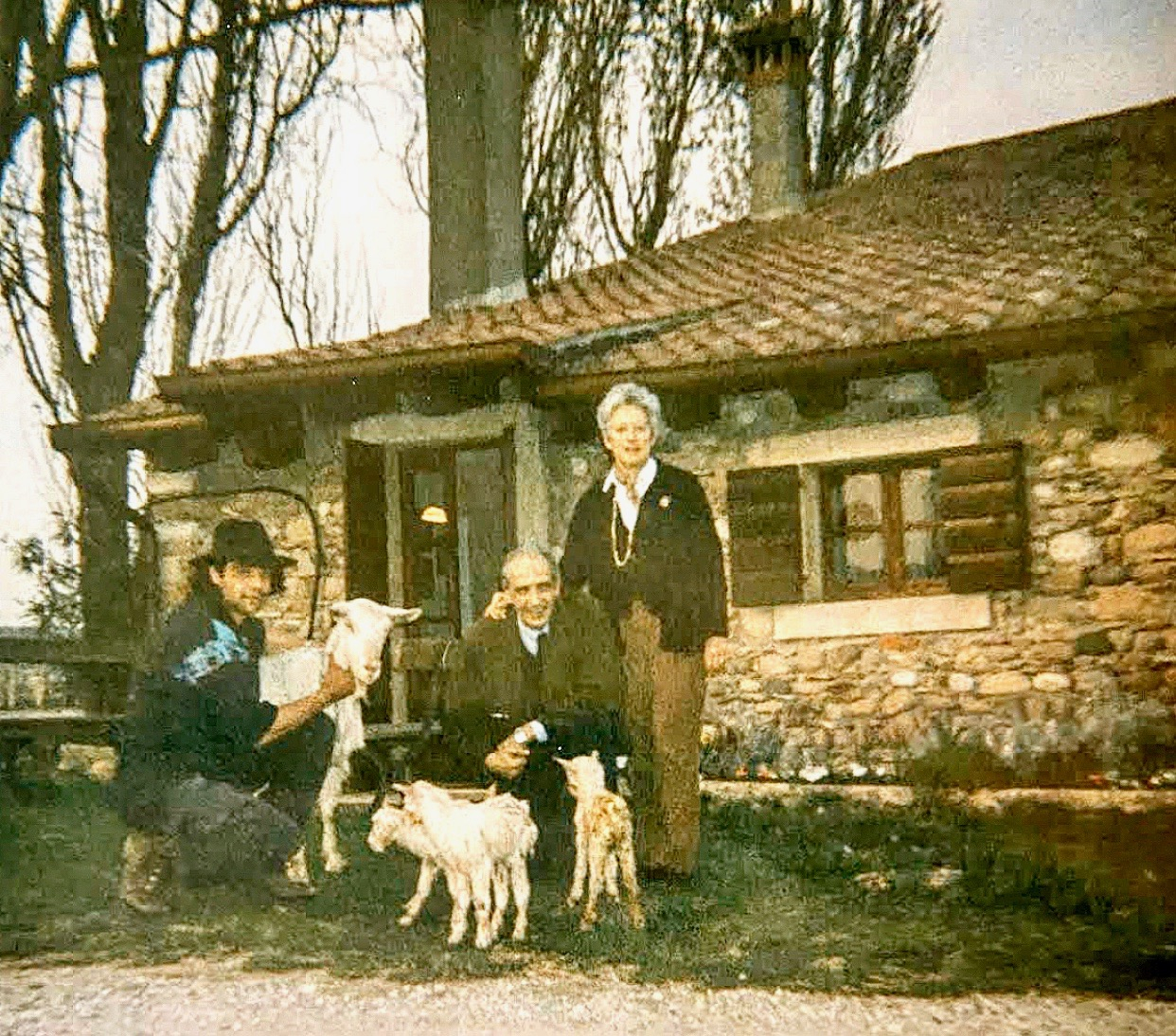 My parents started with a few hectares of land, which has grown significantly over time with major investments to make their dream come true. I still remember their life when I was very young, the harvest with the songs of the women, the sandwiches and sitting in the vineyard for lunch and the memorable dinners with friends and customers in the tavern which is now our tasting room. I remember the men at work until late, the first orders we received from abroad and the work to apply by hand the first back labels for the US market, but above all I remember so much joy of life.
(Photo: Roberto and Alberta Gorgo in 2002 with, at left, the shepherd who watched over the sheep in the vineyards.)
Where does the name of your winery, Gorgo, come from?
My parents chose to give the name Gorgo to our company, rather than using their surname or a fancy name, for their love for this place. Gorgo is a geographical name that indicates the land where our property sits. It is the name of the road that leads to us, and in English it means the whirlpool. This was a lucky name because it indicates that water was found here in the past, a very precious element for the crops that flourished generously.

You were working as a lawyer in Bologna for years. Why did you return home to work at the family winery?
Almost involuntarily, following the strange story of my parents, I needed to grow on my own before I could understand and fully appreciate the wonder of this world and my land. My parents understood me and left me free, and for this I will always be grateful because the love that was born in me for this job and company could never have been born by remaining close.
This is why when I was 19 I moved to another city to study law at the university. I graduated and passed the official state exam to practice as a lawyer. I worked in a law firm and I became passionate about the profession but at the same time I used to accompany my mother abroad whenever she had to attend wine fairs. Then at the age of 28 I realized I was experiencing a strange melancholy even though the affection of my friends surrounded me. I started to feel a little uneasy about life in the city and, in certain contexts, for the ideals that were not mine.When I thought of where I wanted to find myself to live and have children and what kind of life I wanted to have, I was thinking only of my land and my parents' way of life.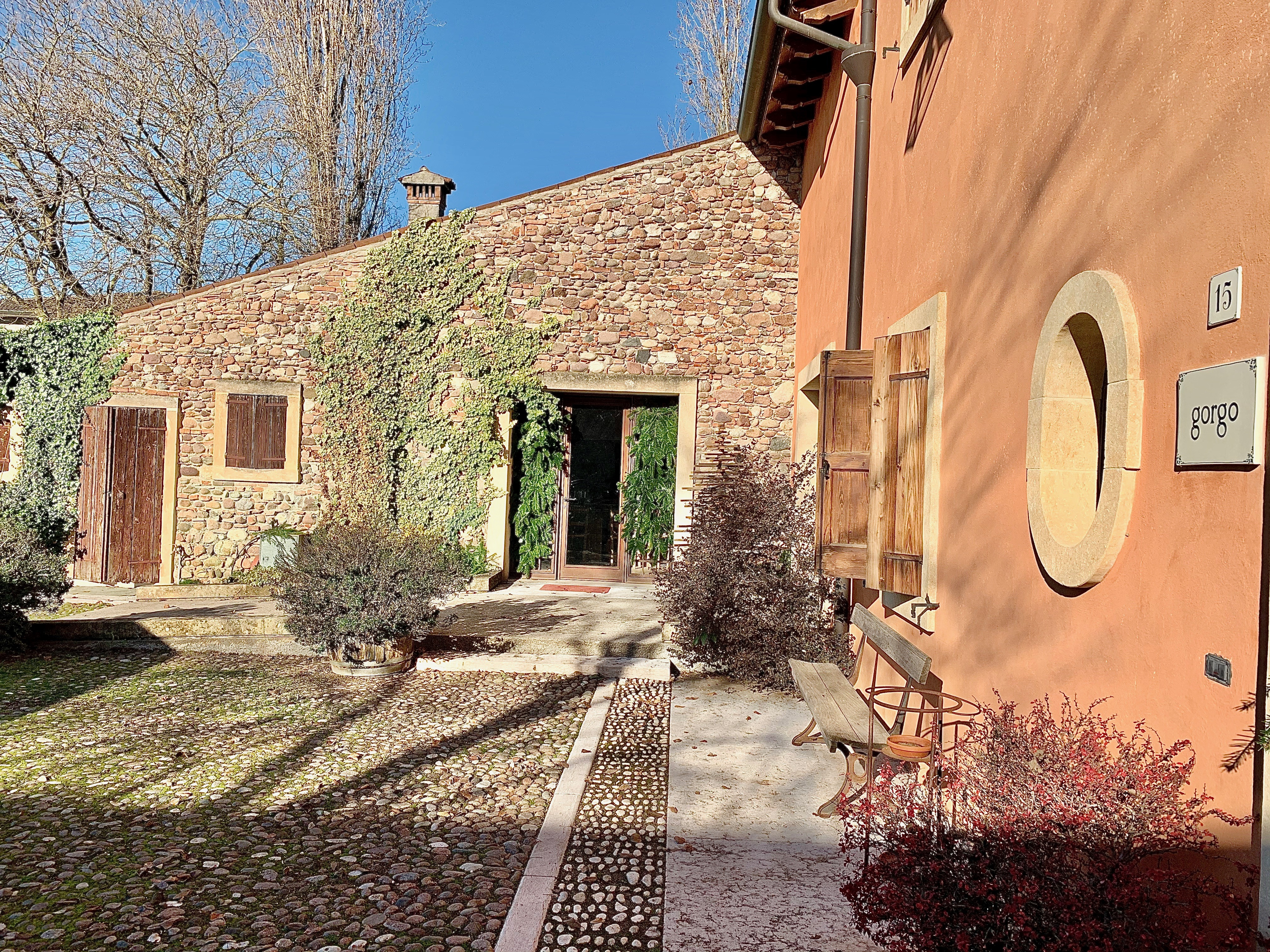 And so it was that one fine day, I suddenly went to my boss and told him that I had to leave the job as a lawyer to follow my only true passion, the world of wine. The astonishment of all — friends (and boyfriend!), relatives and colleagues — was enormous, but my parents immediately understood me and helped me to enter in the family company, starting from the bottom by studying and learning again.
Life is mysterious. My choice had been free and turned out to be the best I could do, but the incredible thing was that thanks to this turn, I could spend time close to my mother during the last 10 months of her life because she suddenly became ill and passed away. The rest is my story, more than 12 years have already passed and wine is my job and my passion, and still with my father's advice, I carry on our family's dreams.

You own 53 hectares of organically certified vineyards and 2018 was the first year it could be labeled as organic. Why was it important for you to farm in this way and to become certified?
The choice for organic farming was obvious to me. It was the only way to fully realize my ideals, the only way to produce my wine. Everybody knows at least 3 reasons to choose organic products: better for your health, for the environment, for the animals, and the community. Each of us can choose the most important reason, but for me the concept was to apply to my company the health choices that I already followed for the life and nutrition of my family, and thinking about the future we want to leave to our children.
We have too much knowledge to be able to ignore this path. In truth, there were many logical reasons to be afraid of facing this step from an economic point of view. Though it might not be obvious for everybody, organic farming requires a lot of manual labor, and every year it presents new challenges. Our costs in the countryside have increased by 50% since we started the conversion 5 years ago. No herbicides mean hoeing everything by hand and investing in specialized machines.
At the opposite, pesticides that eliminate the presence of harmful organisms but poison the plant, or herbicides that prevent the formation of weeds, reduce the work and therefore the cost of production, as they replace the function that is instead carried out, in the case of organic, daily by the workers' labor force. And for the management of the canopy, hand work must be carried out continuously because we don't want to use systemic insecticides and fungicides, which penetrate the plant's lymphatic system and poison it. In addition, natural fertilizers are more costly than synthetic ones. Relatively inexpensive chemical fertilizers should be replaced with cultural practices like organic or green manure which is much more expensive. In the cellar, a few allowed organic wine products have a higher cost than what is allowed for the vinification of conventional wines. Next is the cost of certification and processes related to biological control and labeling. So there are many higher costs that you can't apply to final consumers during the conversion or when you are certified. It's just my cost, the cost of my choice. But I'm proud of it. I don't give up.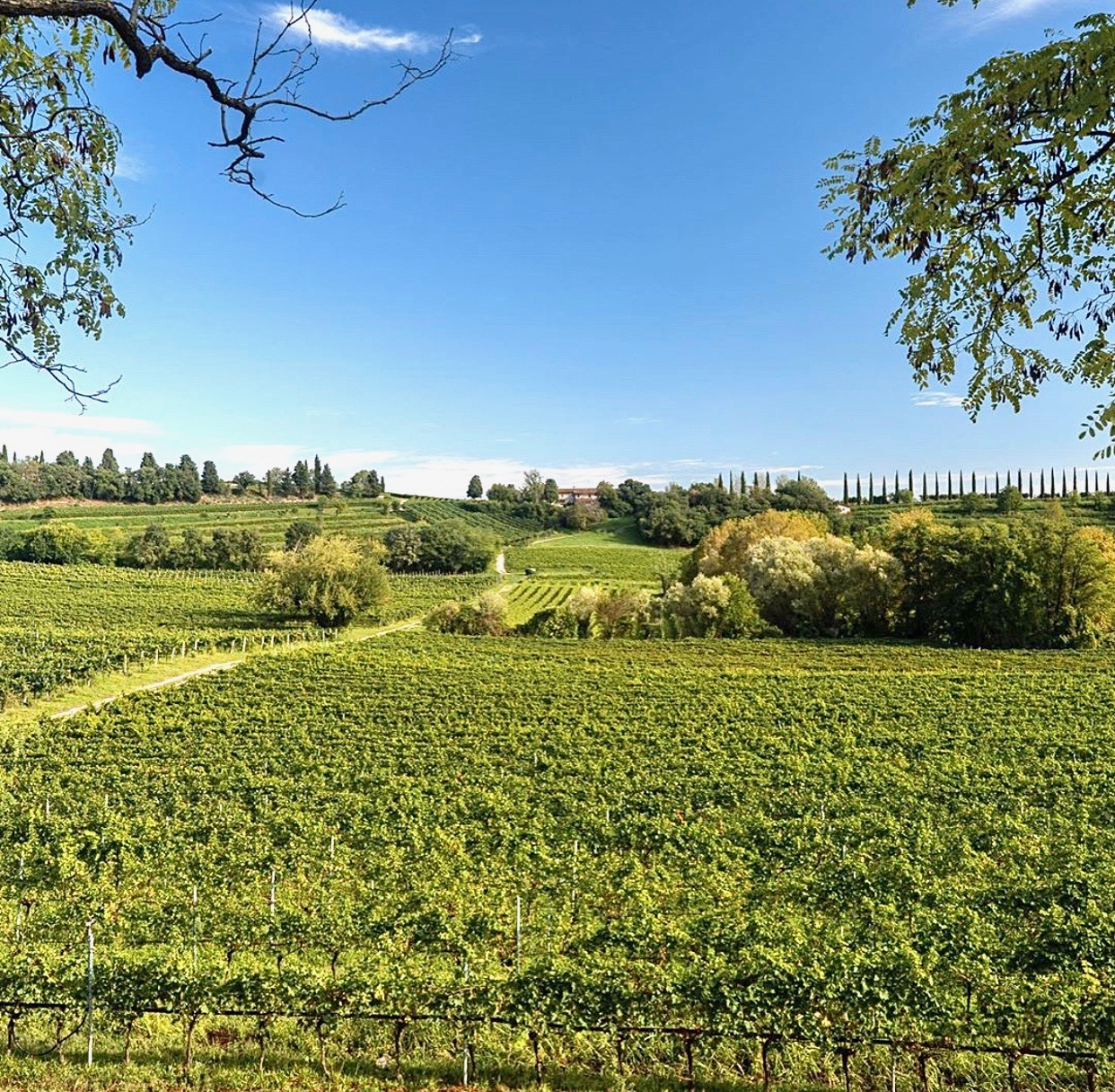 Tell us about the terroir and grape varieties of your vineyards.
Our winery is located on the moraine hills between the city of Verona and Lake Garda. In the Quaternary period of the glaciations, glaciers existed in these places and when they withdrew they left mainly gravelly-sandy soils, with clay and rock fragments. This kind of soil has a decisive influence on the characteristics of our wines because the rocky debris that constitutes it, being rich in minerals, particularly carbonates, gives the wine a typical saline note much appreciated by wine enthusiasts.
The second factor that most characterizes the Custoza terroir, however, is the climate. The currents coming from the lake mitigate the temperatures and create an atypical Mediterranean microclimate for an area of northern Italy. Thanks to these climatic characteristics, the Garda area becomes particularly suitable for the cultivation of wine grapes and olives. The grape varieties we cultivate are the native ones of the Verona area, in particular, I mention the white varieties used to produce the Custoza DOC wine which are Garganega, Fernanda, and Trebbiano, and the red ones, blended for the red wines of Bardolino DOC or rosé wines of Chiaretto DOC, are Corvina, Rondinella and Molinara grapes.

What is your philosophy of winemaking?
My philosophy is making a wine with a sense of place. Healthy, unique, typical. Human intervention must be minimal in the cellar, in order to maximize the product of each harvest.

The Custoza, Bardolino and Chiaretto wines are not very well known in the US. What do you think it will take to get the word out?
I think we just need some beautiful ambassadors like you!!! Anyways, I can say that in Europe, Chiaretto and Bardolino wines are well known and that Scandinavian monopolies arrange specific tenders for these 2 DOCs. Our consortium brings together all the winemakers of these appellations and we are working hard to promote them in US too. We often attend big wine fairs and events planned by the most important Italian wines guides (Slow Wine, Gambero Rosso), and organize specific master classes on the Bardolino and Chiaretto DOCs. We invite not only buyers but, above all, journalists, influencers, experts, and teachers to spread the knowledge of these wines.
We have all worked very seriously in terms of quality and we are ready to be appreciated abroad. We are very competitive in terms of prices and we just need to have the opportunity to let buyers and final consumers taste the wines... and it's done!!! In my experience they always appreciate the wines!

You're a small winery in a small DOC in Veneto, yet one of your white wines is served in-flight in American Airlines' business class, and another on Lufthansa. How did that come about?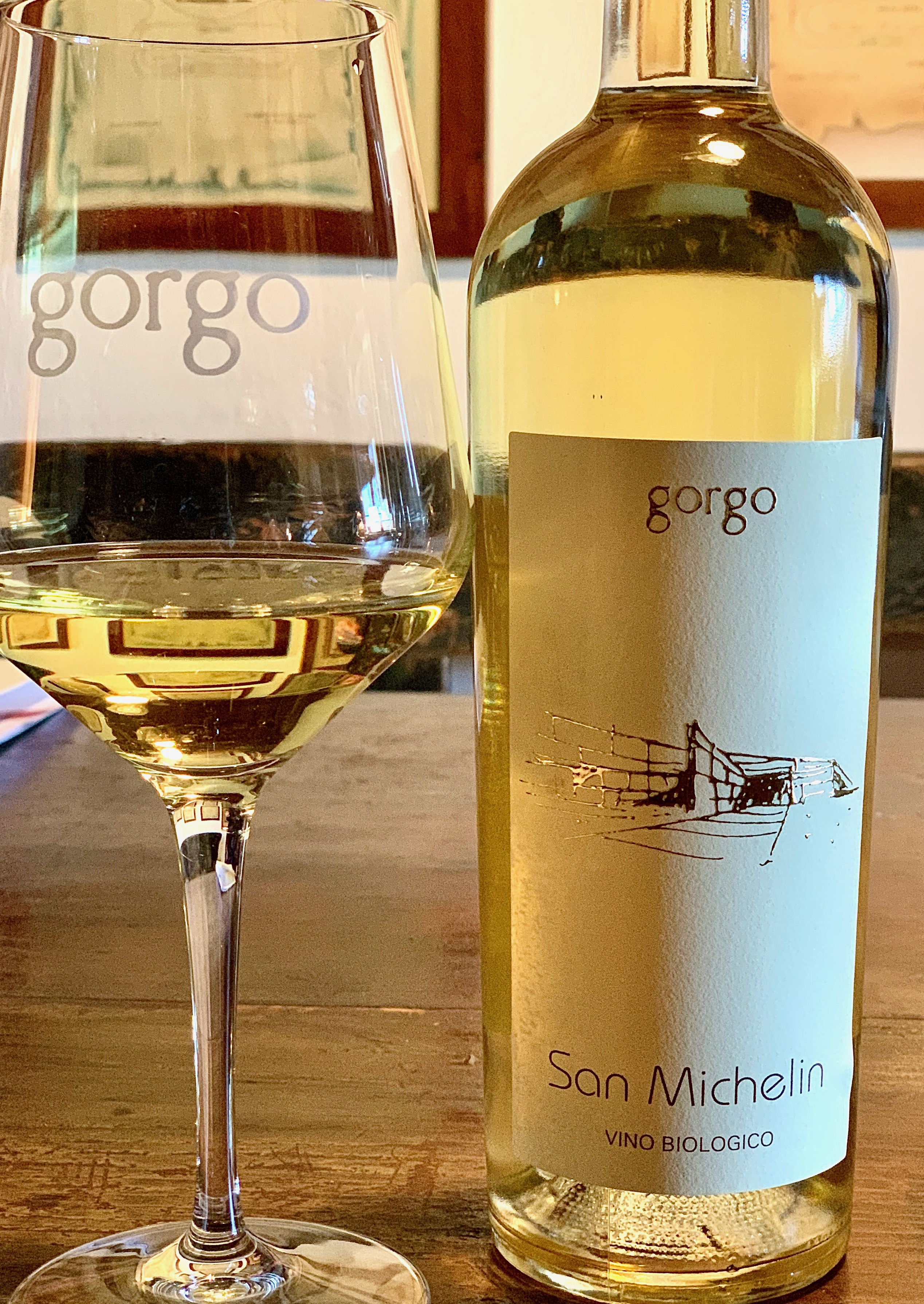 This is the most beautiful side of the job, when you receive satisfactions that erase every effort and fear. This has been possible thanks to the palate of honest tasters during blind tastings in which anonymous samples from all over the world end up on the table and are chosen according to meritocracy criteria. Of course I have to thank my importers who believed in my wines and chose them to compete. The wine, Custoza DOC 2015 San Michelin, chosen by American Airlines. is a wine made from native Verona grapes — fruity, but dry and mineral, soft, drinkable, inviting but sophisticated.
This is the wonderful side of history, although the denomination is not well known, the grace of the wine, the easy combination with food and the mineral content made it preferable to the others. I can guarantee that, with my staff, we pampered every single bottle before sending them and it was an immense joy! Lufthansa has even recently chosen us for the second time. And so, after next summer 2020 people flying in business will find our Custoza DOC Organic on board to make the trip much more interesting and pleasant than usual!

The big French tire manufacturer, Michelin, sued you over the name of that wine, San Michelin, which was named after a small chapel in Sommacampagna, a municipality in Custoza where your family comes from. After a ten year battle, what was the final outcome?
Justice and Saint Michael who protects our land have allowed us to win this terrible legal battle. The multinational giant Michelin, with tires and guide, thought that with their strength they would crush us and that we would give up. But our reasons were well documented and our trademark registered for wine because San Michelin is the geographical name of the road that leads to our vineyard where there is the beautiful church devoted to San Michelin (the name Michelin is the dialectal diminutive form of the Italian name Michele). The second degree sentence, at their expense, that confirmed our reasons was published in the most important Italian national newspapers and the press has spoken about it for years. In addition, this legal case is reported in oenology books used by Italian students. At the end, Michelin brought us great notoriety!

What is the best part about being a winemaker for you?
A winemaker plays with nature, protects and takes care of this as best as possible, accompanying its fruits to transform into another creature, interfering as little as possible, but, as a parent, giving something of itself. There is something magical in this work. Nature is alive, strong and courageous, pure and delicate, and offers us its fruits. It takes love and gratitude.
In my opinion each wine expresses the territory and the personality of the winemaker, and making wine implies sharing with others our work, creating occasions of pleasure and joy for others. I imagine each of my bottles ending up on a table of friends, couples, family members, or strangers, helping to create a special connection and a moment of serenity. Wine is an extraordinary source of pleasure. Wine must be loved not because our life depends on it, but because it makes it more pleasant, more intense, more interesting. The wine also communicates in some way with those who taste it, transmits everything it has to tell about itself through our sensory experiences when we taste it.

What are some local dishes that you enjoy with your wines?
I would like to recommend you, when you come to visit me again, to try the Custoza DOC white wine with handmade tortellini from Valeggio sul Mincio, a place that is very close to us. Valeggio is a picturesque town on the shores of the Mincio river with medieval fortifications, a ruined castle, and one of the most beautiful parks in Italy, the expansive Parco Giardino Sigurta.
You know those cute little pasta wraps stuffed with morsels of tasty fillings – anything from meat, like prosciutto, to porcini mushrooms, spinach and ricotta. Tortellini pasta were born there in the 13th century and since then people have been flocking to the place to indulge in them. Locally called 'Nodo d'Amore' (Love Knot), the local legend tells of the undying love between a beautiful nymph and her human lover and is credited as the inspiration for creating the tortellini.
In addition, I can suggest seafood risotto paired with our Chiaretto (made with fish from our lake) and pasta "alla Carbonara di lago." Many know that Carbonara is made with eggs and bacon. Well, instead of this we use smoked salmierino fish (from Garda Lake) cut in small cubes.

What kind of experience should visitors expect when visiting your winery and do they need to make an appointment beforehand?
Welcoming visitors is a pleasure for us and we freely make available all the spaces of our company and vineyard so that they can live the experience that best suits their needs and sensitivities. In any case, getting to our wine shop without a reservation for a taste of three types of our wines with one of my collaborators available to provide advice or direction is possible. It is also possible to book a guided tasting with me, to choose, even according to the season, whether to do it in the large garden with swimming pool exclusively reserved for this event or in the historic tavern with a lit fireplace and a very warm and intimate atmosphere. Small bites of cheeses and cold cuts typical of our area accompany each tasting. In addition to this, we would like to recommend a walk through our vineyards or a stop with us during a bike ride. For this reason, we tell people to contact us for suggestions of the routes that start from the lake to get here and how to rent electric bikes.
Read more about Bardolino on Grape Collective: "The Charm of Bardolino and the Benazzoli Sisters," by Christopher Barnes, and on The Wine Chef: "In and Around Bardolino, Lake Garda's Best Spots to Drink, Dine, and Stay," by Lisa Denning.