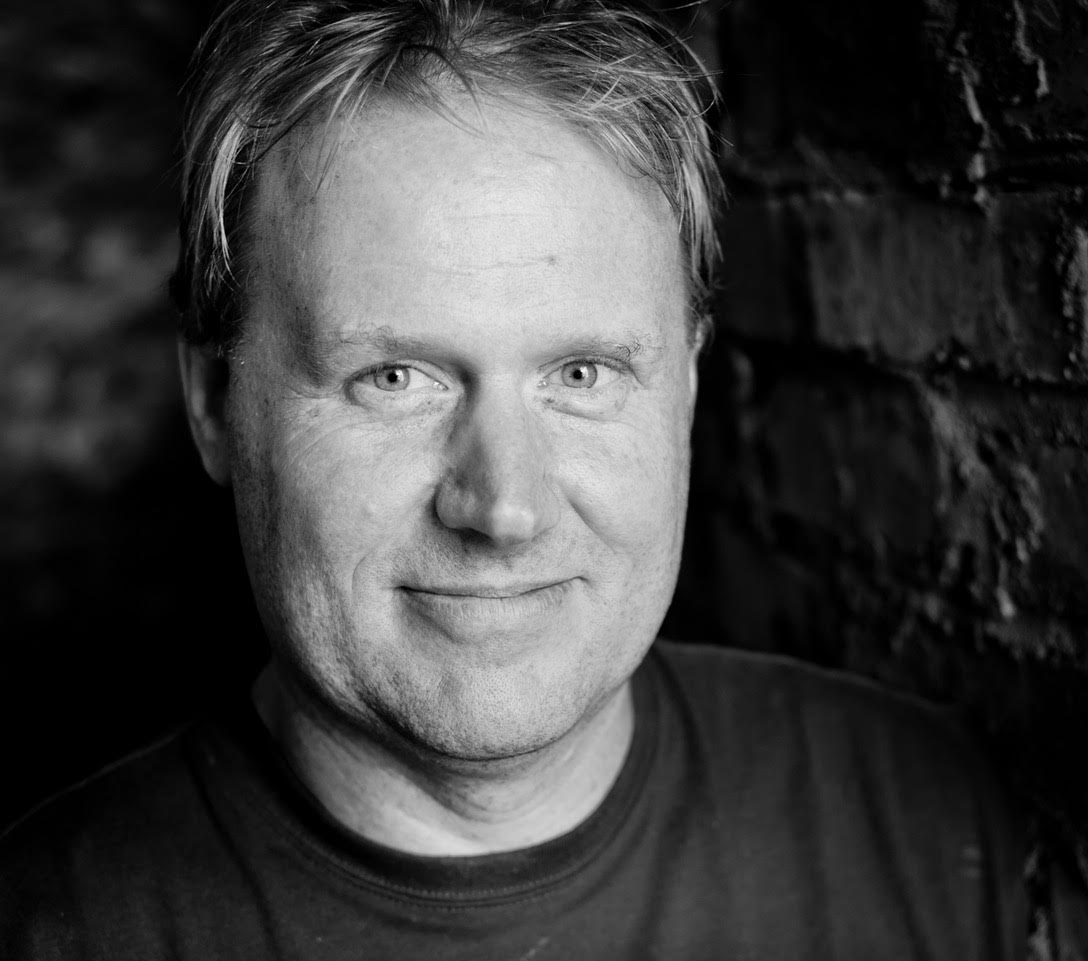 Born in Sheffield, England but based in South Africa, Richard Kershaw combines the academic side of wine having achieved the prestigious Master of Wine qualification as well as the practical skills garnered from owning a boutique winery. Kershaw is one of only 10 Masters of Wine to make their own wines. He launched Richard Kershaw Wines in 2012 to create clonally selected, site-specific, cool-climate wines in the Elgin Valley, about 45 miles southeast of Cape Town. While Elgin is primarily known for apples, (it produces 60% of all apples in South Africa) a small group of ambitious winemakers have shown its great potential for cool-climate varietals. Kershaw has brought international recognition to South Africa's coolest climate wine region with his exceptional site-specific Chardonnay.
Grape Collective talks to Kershaw about Elgin's potential to make world-class Chardonnay, and how he ended up becoming a winemaker instead of an astronaut.

Christopher Barnes: Richard, how did you get involved in becoming a winemaker?

Richard Kershaw: Well, it's a long process. Originally when I started making wine, it was actually more through the fact that I was a chef. And when I started being a chef I became interested in food. And in wine later as a sort of sommelier. And from that I got involved with the courses that are offered by the WSET. And through those courses decided I needed to try my hand at wine selling, which as I come from England, originally, it was the only sort of job on the market. And then from that I became fascinated to sort of tie my ability to use my hands in food to actually make wine with them. And that's where I started my wine journey.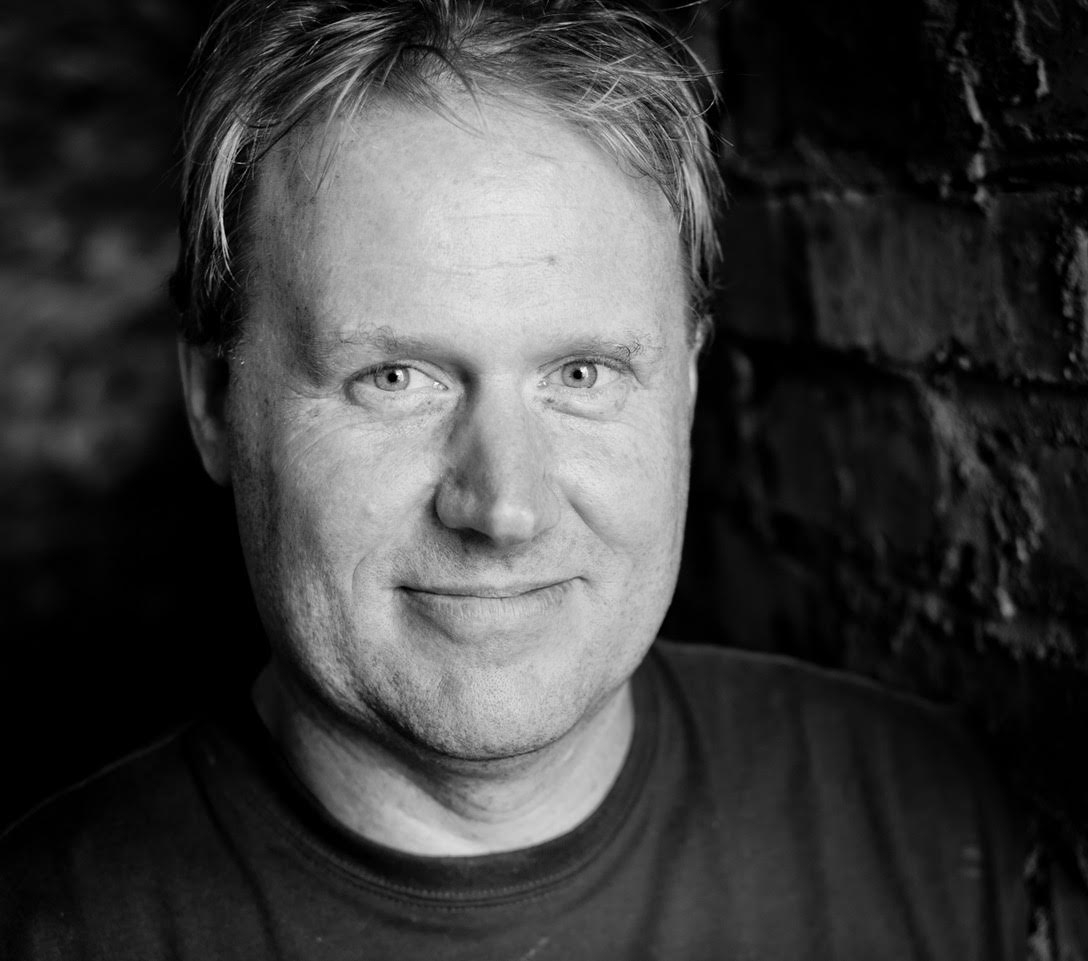 (Photo of Richard Kershaw by Monty Waldin)
You grew up in England, and now you live in South Africa. That is an interesting life journey.

Well it was a sort of seven part process, but it was effectively from having sold wine, I was keen just to make wine. But my first vacation I decided to head to California and I managed to get a winemaking job during which I met a South African guy who said, "You must come to South Africa." But then I met a New Zealand guy, and he said, "No, no, no, you want to go to Chile, not to Africa." And so I ended up thinking, well I think I'll head to Chile, but I'll go to South Africa for four weeks. And I headed here for four weeks. I went to Argentina four weeks, and then I ended up making wine in Chile. But my foray here actually was when I met Marriette, who is my wife who I first met in South Africa during that four weeks of sort of southern romance and whatever. And it was then when I met up with her after my Chile excursion. And in fact then when I traveled further into France and Germany and Hungary, that we spent that little bit of time in Europe before she had to return to South Africa. And I followed suit.
And when did you move to South Africa?

I came in December '98 and I started my first job on the 2nd of January '99. And I've been here for 22 years now.

And talk a little bit about Elgin, where you're making wine right now.

So during my first foray into winemaking, in terms of South Africa, I was very much involved in making wine in Stellenbosch, a little bit in Paarl as well. Elgin has always excited me because it is the coolest region in South Africa, in terms of any of the South African regions. We have 1,502 degree days (using the Amerine-Winkler scale). We are substantially cooler than the next coolest, which is Hemel-en-Aarde, and Elim. They have 1,666, 1,670 degree days. And interestingly, a region two which is what we are, would be something like Mornington Peninsula, Burgundy, places like that. But Elgin was fascinating because not only was it a cooler climate in terms of temperature, but it was also a much higher cloud cover, which has a big effect on UV light, and the ability for grape sugar to ripen. And it has also quite a high rainfall. So you had that slightly more nourishment for vines.

And in that sense, Chardonnay for me was an absolute go-to for Elgin, and that was why the only way to do that would be to A) move here and B) buy grapes for Chardonnay here.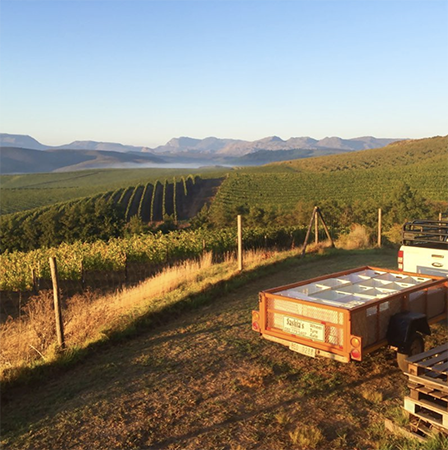 (Photo of crates loaded with clone 95 Chardonnay)
Talk about your Chardonnay.

So, 2017 Chardonnay, is the combination of what is 11 different parcels dotted around Elgin. And these grapes are from parcels which have particular clones. I only use Dijon clones rather than the New World clones. I won't get into too much detail, but they're 76, 96, 95, and 548. These clones are really, really high quality. They're clones that are used for some of the best wines in the world. And importantly, that's what I was keen on because they have that slight mineral, savory, restrained character, which I love and take and amplified through the voice, or through the climate of Elgin itself.

So on the back of the bottle, I actually have all these different blocks represented and those blocks themselves contain possibly one, two, or three clones depending. And the blocks will all have different soil types. Most of the soils I'm using are shales. But more importantly on these blocks, you will find say more than one clone, but we would micro-vinify each clone on each soil type. So even though you might have 11 blocks, we would end up with something like 21 batches and each batch is identified as a clone on a soil. So it could be, let's pretend a 95 on a shale soil, or it could be a 76 on a decomposed granite, or sandstone soil.

Those soil types have an important bearing because they will have a different way that they will be matured, or rather fermented and matured. What I tend to do is take each clone and each soil type and use an algorithm that I've developed over the years to put them with certain barrels. Now if you have, let's pretend a 95 clone, which is broader and has a richness and lovely fruit, in particular stone fruit and a more lifted, or not so much lifted, but a more attractive nose in its youth. It also has a good acidity but it's sitting on shale soils. Shale soils would give you the grunt and power and it will give them also a little bit more definition.
South African vineyards from the air

Then what we do is, we taste the wines once we've finished, for the ferment. And they are all fermented in as natural a way as possible. We don't add any yeast, we don't add any enzyme or acid, or anything that would change, or alter the course of that wine's journey. It is purely what it is. To sort of understand the terroir, it's the only way we can do it. And through that medium we only then start looking at it more interestingly once it's finished ferment and it's started maturation.

So usually around the end of March we start the tasting process and now given they are naturally fermented wines, they not always have finished by then, but by tasting them, we have an opportunity every six weeks to taste these wines. Each one is tasted and each one has an assessment, a note plus a score. Now that's very important because we can track them on various pivot tables and we can word cloud the words that we use on the tasting notes as well. And we can start to make an impression of what we need to do with those.

But importantly we can also gauge what needs to happen next. Now when a lot of winemakers talk, they say, "Oh, we do a battonage or a racking or whatever." We will individually battonage a wine barrel that needs battonage and not another one. So in that group, that little batch, and I mentioned there's 21 of them, this gets a battonage, that gets battonage, that gets a nothing, that gets a nothing, that gets racked, that needs more sulfur, that needs topping up. And that's your lot and each of them will change. And next six weeks we'll have a different set. That means that we can keep a tally on how that one evolved. And with a score we can even keep how the score evolves because importantly different barrels evolve at different rates. You will find, for example, a Chassagne, which is becoming ever more... increasingly more common in Burgundy really doesn't show to start with. It's really quite sort of gritty and quite sort of oaky almost and its apparent feel gracefully goes and softens up over age.

Whereas other barrels, François Frères often is quite showy to start with, but tends to change as it gets on. It can be too grunty and take a little bit too much of the wine and alter it. But with the high quality wines, we don't want that. So that's what takes place.

In terms of the grapes that you work with, you work with Chardonnay, Pinot Noir, Syrah, these aren't grapes typically people think of with South African wine. Why did you select these grapes?

So I think interestingly that you're right. We tend to think of the sort of Cabernet, Shiraz or bigger wines that South Africa has, or indeed Chenin and Pinotage. In a way, the main premise being Elgin is so different from everywhere else. You just don't have the same climatics that you have in say Stellenbosch, which although is only what, a 50, 60 minute away drive, it is still vastly different. It's as different as Bordeaux is to Burgundy. So Elgin really relies on the sort of more elegant, lighter grapes such as Chardonnay and Pinot, which is what I'm mainly producing nowadays. Although Syrah tends to be in a different style because it's a light area, so it's not making a big bold Shiraz or a stem inclusion Shiraz like you would find in Swartland. It's a very different style.

But the main premise being I felt this was a region that could benefit. And although we're in an apple region per se, those few grapes that are planted are very much grapes like Chardonnay and Pinot that can excel here.
Take a 360-degree virtual reality tour of South African wine regions. This experience only works in certain browsers including Google Chrome. You can best experience the VR tour directly via the Youtube app on your smart phone.

If you were to compare the Chardonnay and the Pinot Noir to other regions that people are familiar with as a reference point, how would you compare?

So in terms of Chardonnay, I think it's a good question because the challenge is we don't tend to get the bright, what I call stone fruit, that pop, as you would in say the Casablanca Valley in Chile, as you would in the Adelaide Hills, or even in the Mornington area. Although you do get the minerally style that you get and the lovely acidity that they get in Mornington, Elgin is different again from that. It tends to have a little bit more flesh on the bones, a little bit more plumpness that kind of gives you that impression that you see really in Burgundy.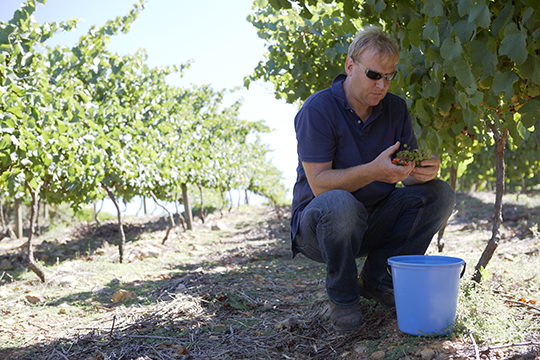 When we do our blind tastings, more often than not, in fact more often than anything is that the wines tend to show as what people would see as a Burgundy. In terms of other areas of the world, I think that New Zealand is a different style. They tend to be a more sort of, I call it sort of a string vest type. They don't always have lots of flesh in the middle, but they can be very delicious. And particularly if they're used in a reductive style.

In North America, I think the closest style would be somewhere, Santa Maria possibly, but certainly not on those dolomitic soils, which you tend to find in that area, just south of there. And definitely has less richness than say, certainly obviously Carneros and the main part of Sonoma, perhaps there's a little bit more of that elegance you see in the Sonoma Coast, like they've got at Hirsch and Flowers, but not necessarily any of those things, to be honest. I think they are, in a way, different entirely. They have their own sort of pedigree in a way, where you can see traits of Burgundy.

So the Pinot Noir, in referencing to the rest of the world from an Elgin standpoint, I would say that in terms of South Africa, Elgin has a little bit more elegance. It tends to sit more upright. It's more linear with a lovely blade of tannin and tends to be more savory in its fruit profile than say the more opulent style that we see say in Hemel-en-Aarde, which has a bit more flesh, a little bit more fruit. That style I think is more akin to what we associate with international Pinot Noir, outside of say Burgundy, where you see that to an extent in parts of Australia, parts of New Zealand. Central Otago is a bit deeper and bigger, but certainly that style you see in California where you've got that little bit more oak and more polish, but generally looking for a little bit more of that fruit derivative style and not necessarily for much tannin.

I think Elgin tends to have the tannin. If anything, it has more similarity with say somewhere like Willamette Valley, where you've got a little bit more intrigue and savoriness going on, that's not the same as you would find in other parts. So that would be my closest association. And then clearly, you know, parts of Burgundy, which we love and know, which have similar tannin profile. And I think that is important. It doesn't have this massive weight to it. It's quite light in color, but is deceptive in its power.

When I try your Pinot Noir, I taste notes of tobacco.

Yes, that's what I'm smoking at the time. No.
I think is a little tobacco savory. And interestingly I think that part of it is, your sort of tobacco smoke almost comes from a little bit to the west of Elgin, which is a little more richer with, it's got sandstone derivative soils with granite as well, decomposed granite. And it tends to have an iron oxide layer. And it's interesting because that part of the region has a much higher rainfall. It gets more sort of 1,240 mils, pretty high rainfall there, and it oxidizes the soil and that oxidation through iron oxide tends to give us that smoky character, which we don't get more from the center. So I'm not sure if that may be the tobacco.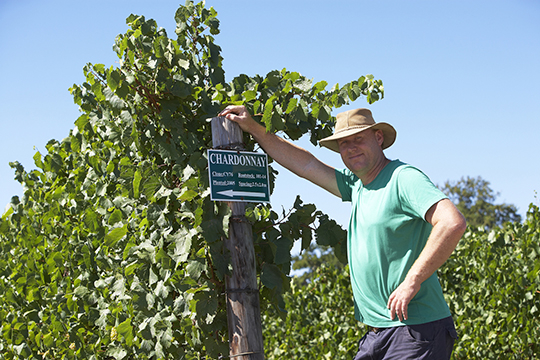 Talk a little bit about Elgin from a terroir perspective.

So Elgin as a region is almost a bowl shape, or a saucer, like a shallow saucer. It's surrounded by mountains, so the only really deliminated topography or geography for an appellation, which is important because so many appellations are derived from roads and railways and not necessarily by geography. To this region you have to come through a pass, there's no other way in. And there are four of them.

The region tends to, because it's cylindrical, tends to have a lot more table mountain sandstone on the side with going towards shells in the middle and to further in, and then you get more of your gravels and then finally your loam. As an area it is close to the sea. We are not more than 11 kilometers as we stand here. That is having an effect on bringing in supplemental water through vapor, so our vapor pressure deficits are lower and so we have higher relative humidity.

It also has an ameliorating factor on the peak of day temperatures as well as the fact that we also have this interesting bowl shape, which gives you that cloud cover. So for example we generally get a prevailing southeasterly. That southeasterly that blasts through, doing all sorts of stuff down on the other side of the mountain towards the west of us, here we are totally under cloud cover. And that has a big effect because UV light is restricted, especially UVA during the hours of 10 and 2, to get into your grapevine canopy and start to use what's called acetic acid to push grape sugars to your berries, that sort of cessation of that means we are fortunate we don't have necessarily high alcohols. We do tend to get lower alcohols despite the fact we are much later at picking because of our generic temperature reduction.

So Elgin is quite a unique place because of that. There's also a little altitude that plays, we are mostly at 300 to 550 meters above sea level. Most of the vineyards I take from are between 300 and 420 meters. And that is also creating an effect of reducing your day and nighttime temperatures. So that altogether gives you that sort of interesting Elgin terroir.

Richard, you work with growers, talk about how you manage your relationship with your growers.

So we worked with a number of growers in the Elgin region. I'd like to just mention, we also take from outside Elgin for a different range called GPS. But within the Elgin climate we actually work with a number of growers and we work really by renting, not so much renting land, but usually we have agreements that we're to keep every year to buy the grapes and they have various basic premises.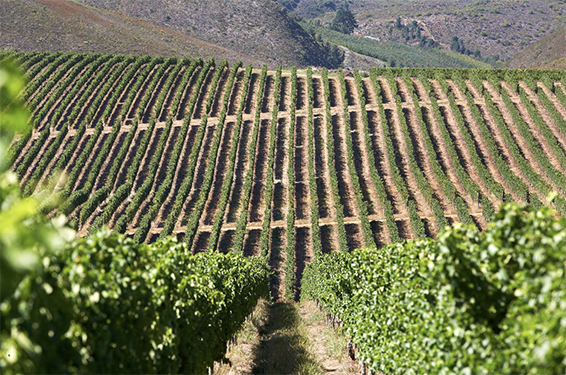 We try to work as sustainably as possible. Unfortunately, sometimes it's harder than others because our rainfall is high and therefore that is augmenting the pressure of disease especially during March and April. And that's generally when we pick. At the same time, by working with the growers, we have a system where they manage the vineyards, but also we have a supplementary consultant and myself as well, who will go through the vines just to make sure that the things that should have been done have been done. And in that way we can actually keep the whole thing going quite nicely.

Do you have a philosophy of winemaking?

I don't have a massive sort of philosophy thing, but I think that our main philosophy is we try to achieve terroir specifity to the wine. So my overarching issue was when I first started the project, the wines need mustn't be interfered with. So if you were going to try and do terroir-related wines, if we're going to just show the terroir of this region, we have to be as true to it as possible.

So the first thing would be to avoid intervention to it. So clearly adding acidity, enzymes, which would change support or adding anything that would push the wine too far. Making them as natural as possible, in terms of avoiding any influence, so we don't add any yeast, for example. And in fact, we have gotten to a point we don't have anything, apart from a bit of sulfites, so they're not necessarily natural wines, but they are certainly wines that are on the cusp of being natural. And that to me is important because by the interplay of doing nothing, you can start to find what different plots and areas within the Elgin region can start to do.

And when we, in '15, launched our single vineyard wines, that was very much what we were trying to offer. It was an intellectual assessment of what is possible in the Elgin region. And clearly this is a young wine region, so we're going to have to do that for another two centuries probably.

How has your career as a Master of Wine influenced you as a winemaker?

I think the most important influence for the Master of Wine was when I first started and enrolled in the course, I was trying very clearly to obviously pass an exam, which is incredibly difficult. But through the exam and through the discipline of being able to taste, being able to write, it gives you what is perspective. And I think for many people when they are looking at the Master of Wine as an option, it's not necessarily a learning curve in terms of learning about a new wine region or a grape variety, but it's learning about how to perspectivize wine regions against each other. Why does Cabernet in Napa taste different to Cabernet in Australia or in Bordeaux? What influences are present? So for me that was the most important aspect and being able to taste in a consistent way, in a way that is sucking up all the knowledge.

This is A) critical, but B) it also enables you to taste it in a different way. What we fail sometimes to understand is that when journalists taste, they are tasting in a way which can hopefully sell copy to people who are buying it. So they talk in prose that involves lots of fruit and in imaginative flavors that sound fantastically delicious.

A winemaker will taste in a more technical way, where he's trying to look, or he or she is trying to look towards, you know, a pinch of acid here, a pinch of sulfur there, a bit of a tannin finding because it's too hard or phenolic. To me the Master of Wine is kind of cutting through the middle where there's a structural element. The wine has a great structure, a great ability to do well with age. It gives you also perspective in the sense that wines I don't necessarily enjoy as much, and I'm going to give a terrible example, but Retsina, say, which is always a challenging one, I think we all know it's not the easiest one to try. It's no good just to say I don't like it, but if you've got eight wines in front of you, or 12 wines when we take the exam, we have to perspectivize, which is the better quality?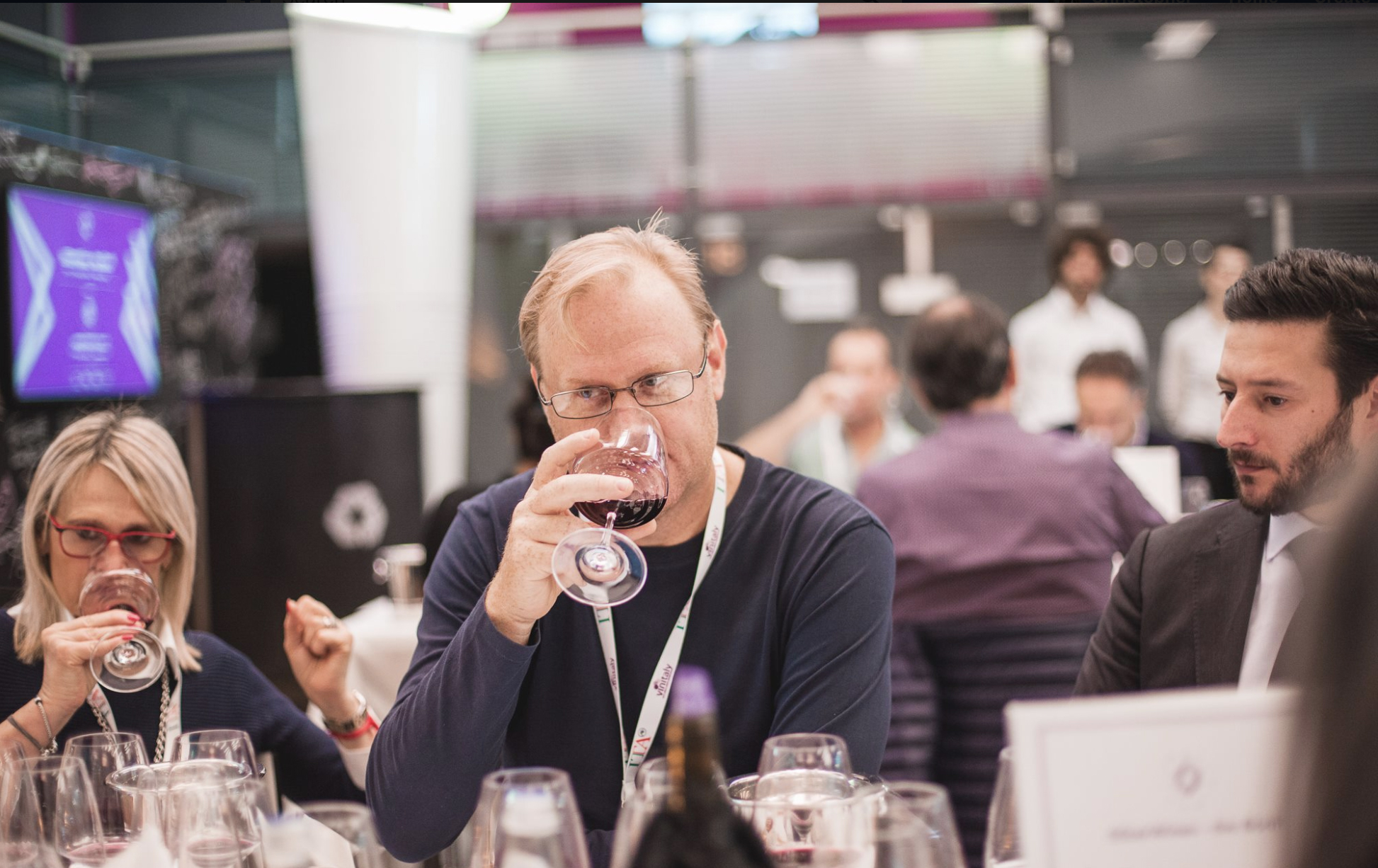 (Richard Kershaw judging at the 5StarWines competition in Verona, Italy, Photo by 5StarWines)
There are good ones and bad ones and that's really important. So you can't just go away and say, "Well, it is a great quality Retsina, even if it's not necessarily a wine I would necessarily enjoy." Importantly, that tasting gave me a real insight into where South Africa stands. Because we all know when we taste great wines that we sort of say, "Oh, this is a great wine from Bordeaux. It's a fantastic Pauillac and it's from a fantastic second or first growth," if we've got the opportunity.

We do that in the New World to an extent as well. When we look at California, at Napa and we look at a sub-AVA of Stags' Leap or something. We go further deep, further down and dig a deeper trench to really get into the understanding of what makes that wine tick. And importantly we have the universities to back us up on that. For me, the Master of Wine gave me the perspective on South Africa because South Africa unfortunately tended to be in the, "If it's a Chardonnay and it's South African, that's good enough."

And I think that we tend to confuse our readers, confuse our are imbibers. So the Master of Wine is important for me because it, on the back of it, has given me the chance to show that maybe South Africa needs to regionalize itself, and that regionalities come from understanding that most of the most important and prolific and successful wine regions of the world have done that.

Talk a little bit about the South African wine industry and how it's evolved, and what some of the big challenges are.

I think, well firstly it's evolved for the better in terms of the, I suppose, the jaws of what the KWV ( Co-operative Winemakers Union - now a global wine and spirits company) had back in the day when they had quotas and allowances for what you could and couldn't grow. That has changed. And clearly in that intermediary period, they had embargoes when South African wine wasn't obviously very available because of sanctions.

The difficulty being of course how far you take South African wine back. For me that's where it starts. For others, they would quote me and say, "No, no, no Richard. You have to remember, back in 1653 the first wines are being developed." The problem is with that argument is that that may have been the case and we don't deny Napoleon probably did imbibe some fantastic Vin de Constance in his day. But the problem is, is that historical perspective useful to us now? And the problem is it isn't, because we don't make necessarily those wines anymore.

We do have a Vin de Constance, and we have a few sweet wines in an ever-diminishing sweet-wine world, but we don't really have the ability to take that knowledge and say, "Right, well this is obviously a great place to plop Pontac or some other grape varietals we never heard of. Importantly, that has an impact because when we now go forwards in the '90s and 2000s, we start to see a growth in South Africa and the confidence, but albeit very slowly. But we tend to still look at history and we still don't quite know what we're doing. So we're saying, "Well, we've got a historical perspective but we still don't really know what to plant.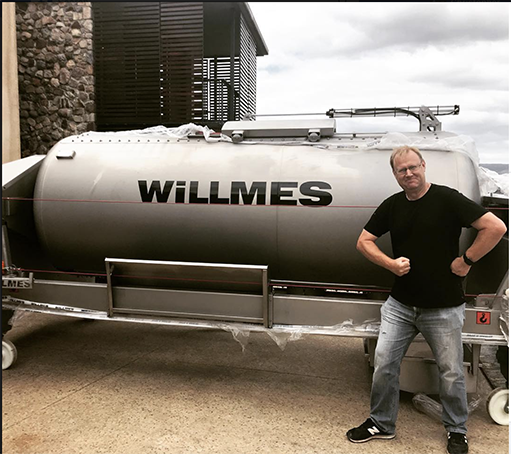 (Photo of Richard with the Willmes 5 sorting machine)
The challenge I think for South Africa is to now, in the new decade, as we go forward is to start to regionalize better as I alluded to just now, to really kind of get an understanding and grip on what works best. Because if we can do that and we go forward as a region, in our different regions, that is the way forward. I think the challenge in South Africa is clearly obviously also related to our stance in terms of world standing. We have a good world standing and we have the opportunity to show better wines. We have an increasing amount of great wines.

Our challenge is we have a government that's not interested in alcohol. In fact, it's vehemently almost anti-alcohol, so there is no investment and there's no ability to have that money pumped into the system. That is a challenge because it means that we are always on a lesser footing than say Australia, where the government is happily to pour millions in. It also means our researchers aren't necessarily able to do the research on grapes that we would like them to do.

To give you an example, the AWRI in Australia have 156 full time researchers. Stellenbosch, we have 143 researchers, so pretty impressive, but only three of them are full time. The rest have to supplement their income with lecturing, and that is a problem. It means we don't always have the ability to go deeper. Because I believe the best wine regions of the world have always had the outsource of the institutions and resources to understand the grapes and styles and soils better than say a region that's just blooming.

What are some of the challenges related to the transition from apartheid?

That's always a tricky question because obviously during the apartheid there was a very strict decision for the way that blacks and whites were treated, or blacks in particular were badly treated in terms of not being allowed to vote and have land rights and various other things. The challenge is that, going forwards, that for the last 20 or so years, there has been an increase in, you know, trying to readjust that balance. It has been very difficult.

The thing is with what we have BEE, this Black Economic Empowerment project, and the BBBEE Broad-Based Black Economic Empowerment. The challenge has been in most industries that you have a factory or something like that. It's easier to do that work, that's easier to cost it, to raise the capital for it from the bank and so. Agriculture is always a challenge because you need land. Land itself isn't necessarily that profitable. It's largely because you're going to produce something that you're going to sell, which will then be manufactured into something more profitable. So if you have land and you want to grow grapes, you are far better to make the wine from it than actually to sell the grapes. Therefore for black ownership to work, you're going to have to invest millions from the powers that be into that, and it just doesn't make sense.

So this new situation, we have land expropriation, where we're trying to get land without necessarily paying the farmer for it, is a challenge because you think, "Well this isn't going to help farmers make longterm decisions. It's going to have an impact on any decision-making from that point of view." Yet arguably it's going to have less impact say in the Western Cape because we're not actually controlled by the ruling party. But more importantly it's probably going to be rolled out to those areas of the country that isn't necessarily benefiting at all.

There are certainly sectors of South Africa which have farms that aren't profitable in the north, who have maybe grown some sort of arable crops that are now just basically not doing anything. And in many cases are sold off as lifestyle properties. Clearly those are places which maybe do need a bit more work and a look at.

The other side is that a lot of the land is owned by the government in the first place. So they would all be effectively, they would be expropriating from themselves, in which case that's fine, then they can do whatever they need to do. But it's a long hard thing and it may just be more tied up in the concept of it rather than the actual doing it. And certainly one of the big things that's come through is if land is being utilized for food, and you could argue wine is part of that, then there wouldn't be any need to be expropriating. You're not going to find that happening because it makes no sense, as Zimbabwe has proven.

If you were to pick a career other than a winemaker, what do you think you would have chosen?

Well, I was certainly very close to village idiocy. I thought that was certainly a career path I could have excelled in. But when I turned up for the village idiocy, the other guy didn't, so he got the job. I'm going to turn 50 this year, which is a frightening concept, and I think that for me, looking at it, I think I would have loved to do more research because I do find that part of it fascinating. And wine is definitely an infinite kind of research. There never seems to be any shortage of new things going on.

But perhaps, you know, living in the countryside in the area that we live is a beautiful place. So there wouldn't be lots I'd want to necessarily not do. But I, yes, I suppose maybe research. Probably having a restaurant maybe. But I know that that's also just as bad at eating up money for no real reason at all. But the fun of serving people is definitely interesting and being creative in the kitchen is equally fun as it is being creative in the winery. So that would probably be my career path. Both dismally paid. So probably I should've said, "I don't know, I want to be an oil broker or something."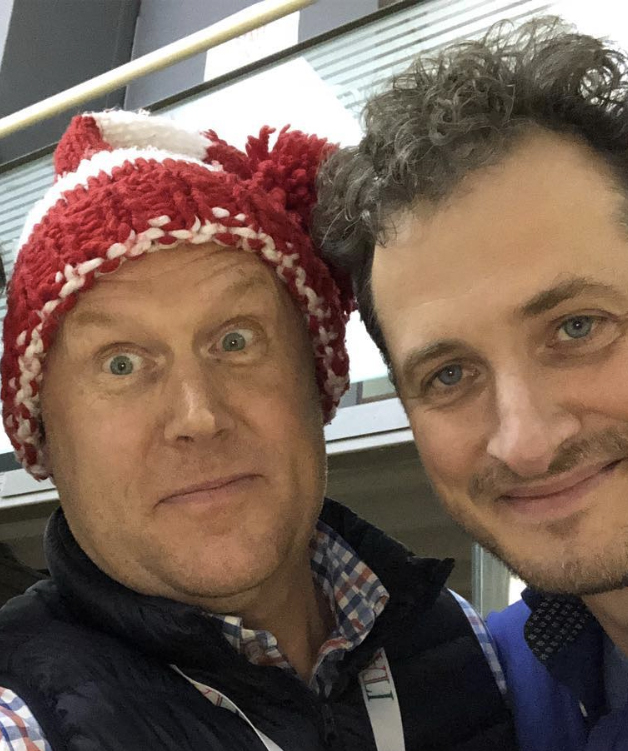 (Photo of Richard Kershaw with journalist Monty Waldin)
Or an astronaut.

Or an astronaut. Exactly.

And if you were on a desert island and you had to pick one wine to take with you, what would it be?

It would be the last one I drank with friends.

And as a Master of Wine, you get to meet all kinds of people from around the world. I understand when you were younger, you took a trip to Bordeaux with the famous wine journalist, Monty Waldin. Did that have a big impact on the way you think about wine?

Absolutely. I mean the famous wine journalist, Monty Waldin definitely had a big impact, and certainly almost put me off going into the wine trade. No. Monty was great but the trip itself was rewarding because we had the chance to see Bordeaux in its full glory, and less of its glory, where you look underneath the surface of just the fancy châteaux, which I'd like to always say "Don't have winemakers there because they have technical directors." But underneath where you've got a whole bunch of working people that are actually doing the job and making fantastic wine.

So for me touring Bordeaux is very much like touring so many areas. We can often be flattered by wineries in that glory but actually some of the most interesting places are the ones that you find underneath the stones and go, "Wow, this is just something else." And it's nice to see those people then prosper and do well a few years later, and you go, "I remember them." So that would be my big thing. But it was good fun. Monty was a great guy to tour with because he had lots of knowledge and opinions, in fact, as well, some of which I actually agreed with.


Listen to Richard being interviewed by Monty Waldin on the Italian Wine Podcast on Soundcloud.
Videography by Piers Parlett