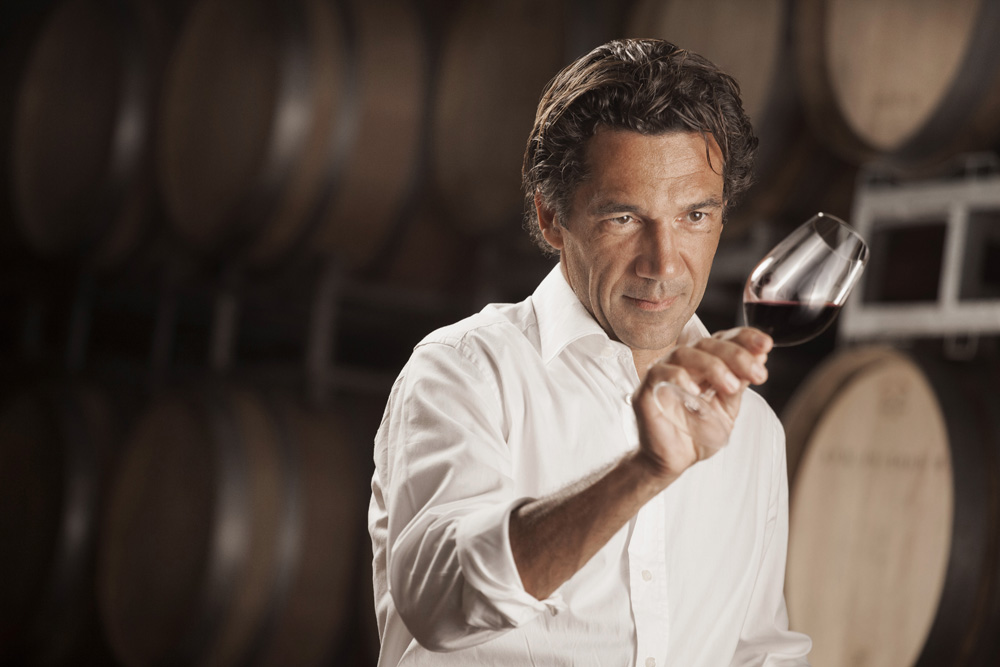 Jean-Claude Mas of Domaine Paul Mas is often described as a pioneer in the Languedoc, one of the leaders of a new wave of quality winemaking from a previously ignored region. Until recently, wines of the Languedoc remained largely overlooked thanks to its history of bulk wine production.
Domaine Paul Mas (named for Jean-Claude's father) stands as the largest privately-owned winery in France outside Champagne. In the world of wine, size is often associated with quality. Boutique size wineries tend to be thought of for higher quality wines; larger wineries, lesser. However, despite this reputation for quality, many of the boutique wineries of the region have struggled economically.
For Domaine Paul Mas, size serves an advantage. It affords its vigneron the capital to invest in the long-term potential of the region. It has also led to the house's award-winning wines, receiving attention from both Sunset Magazine and The Los Angeles International wine competitions earlier this year.
Mas credits two primary goals for helping to secure the success of his winery: to revitalize exceptional vineyards and keep wine prices accessible. Most Domaine Paul Mas wines coming into the United States sell for less than $25.
Still, he didn't always predict such success.
Return to the Languedoc
For the Languedoc, its blessing also proved its curse. The Mediterranean climate with its easier growing conditions meant winegrowers since the 19th century took advantage, pumping out forgettable wines from poorly farmed vineyards. Grapes of the region were used to bulk out high production wines, or add a sense of ripeness to blends from the north. Consumers and critics looked elsewhere for quality.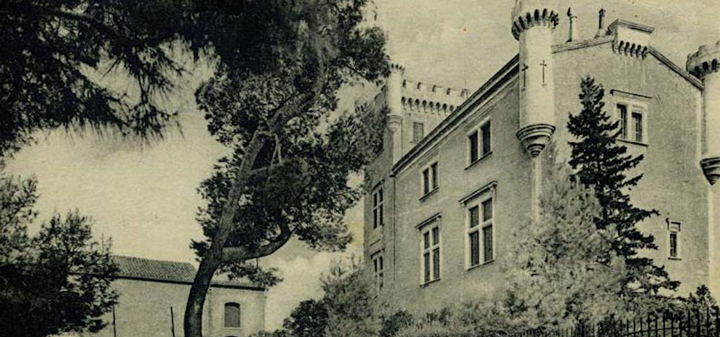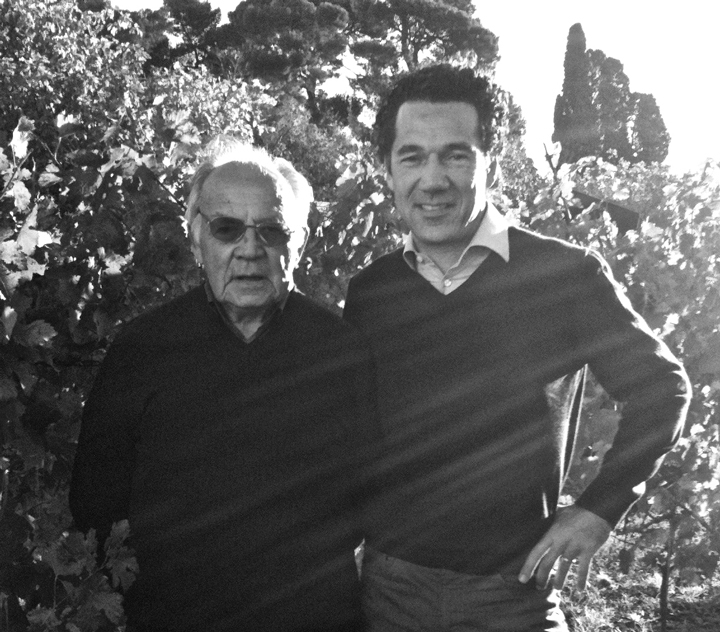 Above: Chateau d' Conas in Pezenas, the 1000 year old hamlet was purchased by Jean-Claude's grandfather in 1954 to then become the family home, and vineyard. It is the historic center of Domaine Paul Mas. (Courtesy of Paul Mas)
Left: Paul and his son Jean-Claude Mas. Jean-Claude Mas started Domaine Paul Mas named for his father. (Courtesy of Paul Maus)
Born into wine, Mas learned home winemaking with his grandfather, and worked the vineyard with his father. The Mas family has farmed the Languedoc near the town of Pezenas in the Hérault subregion since 1892. For previous generations, most fruit was sold to outside wineries.
Having left home first for his studies in economics (and advertising), Mas created successful wine import businesses both in England and the United States. He had few thoughts of his region's future for quality wine. Then, while working in Miami in the 1990s, he gained insight into this future thanks to inspiration from another, then lesser-known region.
"I went to a tasting for Argentine wines," he explains. "No one had tasted wines from Argentina before."
At that time, wine from Argentina was just beginning to gain international credibility, previously relying only on a history of bulk wine production without real export.
"Everyone was talking and writing about how good the wines were," he says. "It occurred to me — the Languedoc has a long history of growing grapes. If the focus turned to making good wine, the Languedoc had great potential."
Soon after, Mas returned home to champion sustainable farming first at his family's 35-hectare home vineyard, and then in vineyards throughout the region.
Investing in Long-Term Sustainability
"The future of the Languedoc," Mas explains, "depends on supporting what is here now as a step towards long-term quality." With that in mind, his attention turned first to already established vineyards.
Mas contracts with established vineyards, then requires them to implement sustainable farming practices. It's a brilliant tactic towards supporting both the economic and environmental sustainability of the region, while also bolstering the quality of his entry-level wines and keeping his own costs down.
"A vineyard owner, and the son of a vineyard owner, can manage their property more efficiently than me managing a site from the outside," Mas says. "It's a win-win situation. I save money. They make money."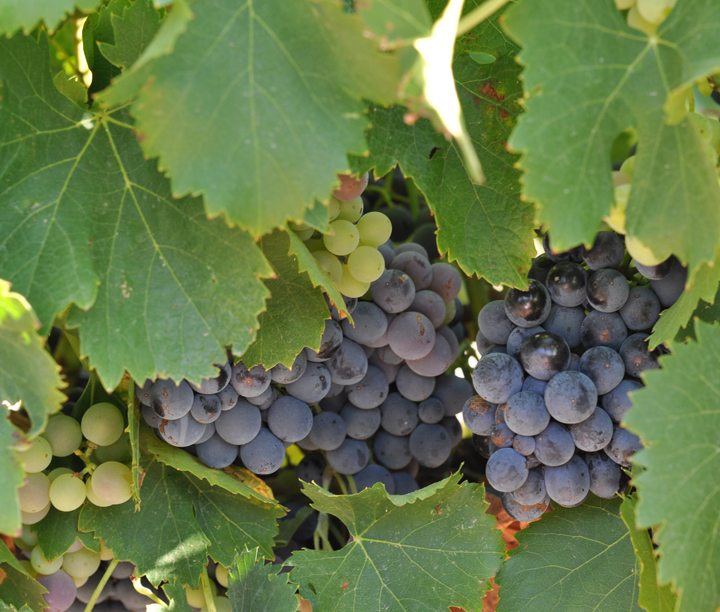 Grape contracts ensure long-term livelihood for grape growers while also revitalizing older vineyards.
Right: An investment for all involved. (Courtesy of Paul Mas)
"Winegrowing in the region has to be sustainable," Jean-Claude Mas explains. "You have to have the economic aspect in place. Winegrowers have to make money, to make quality wine."
By relying on already established vineyards, Domaine Paul Mas gains higher quality older vine fruit. At the same time, he benefits from the lower cost of vineyards already owned by their families. But the approach also boosts the environmental health of the Languedoc.
"Domaine Paul Mas has a sustainable viticulture guidebook to follow for contracted vineyards," Mas says. The winery provides education to vineyard owners on sustainable viticulture, while also paying them more than they'd receive selling still conventionally farmed fruit elsewhere.
By contracting with vineyard owners, Mas ensures that the people that control the region's land have a reliable income that also depends on their long-term shift to sustainable viticulture.
"It's all connected," Mas tells me. "To be environmentally sustainable, we have to first be economically sustainable. We are working towards all organic. We cannot continue to destroy our environment."
Last year in the midst of some of the region's heaviest rains, Mas found that the vineyards that had already established organic protocols actually showed the healthiest fruit at harvest.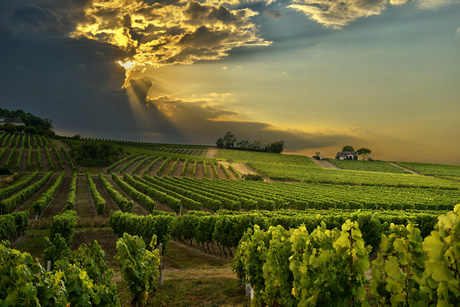 Establishing Excellence Through Everyday Luxury
"We're also always looking for outstanding vineyards to purchase," Mas says, "and non-vineyard sites where we can plant right from the beginning."
Left: Looking to the future, for more land to emulate past and present successes, such as the vineyards here. (Creme de Languedoc)
While Mas contracts with established vineyard owners, he also keeps an eye out for premium sites with a high portion of virgin land to purchase. With these sites he seeks to showcase the unique and varied terroir of the Languedoc.
"We want sites we can dry farm," he explains. "We're looking for terroir that can accept this strategy. Excellence in these sites depends on the land's access to water, its soil, altitude, aspect, and exposure to wind."
The approach Mas takes to preserve, and establish high quality sites coincides with an overall change in viticulture seen in the Languedoc-Roussillon. According to data provided by the Sud de France-Développement office, from 1979 to 2010, area under vine within the Languedoc-Roussillon has decreased 49% at exactly the same time that wine imports from the region to the United States have increased 12-fold. The change reflects the greater attention being brought to vineyard quality that has simultaneously increased consumer interest within the United States.
Earlier this year, Mas purchased the Domaine' eighth vineyard property. Each site showcases a distinct subregion of the Languedoc ranging from the crisp yet fruity high-value bubbles of Limoux, to the earthy, organic Rhone style wines of Mas Les Tannes in Hérault, or the newest purchase, a richer bodied mixed reds site in Aude.
While the differences of the sites highlight the incredible variety available from the Languedoc, they share one thing in common.
"We want excellence with value," Mas explains. "We're working with iconic varietals on quality sites. I hope people understand one thing about our region. We make wines for everyday luxury."

For more from Elaine Chukan Brown, be sure to visit here website, Hawk Wakawaka Wine Reviews.