Wine country photographer Richard Duval has tips that will have even a novice taking better photos in and around vineyards.
Photographer Richard Duval reveals his best tips and tricks, with examples of amazing photos.
How To Take The Best Photos in Wine Country
I've had the pleasure of meeting Photographer Richard Duval in Seattle and out in the field among the vineyards of Walla Walla. Noticing not just the quality of images but how strenuously and meticulously he works, I asked Richard if he would chime in with a little Wine Country Photography 101. He went above and beyond the call of duty to deliver this fascinating, thoughtful, and extremely useful primer on how to take better photos in the vineyard, in the tasting room, and of winemakers. Enjoy the slide show and get inspired! --Jameson Fink
So what happened to your wine vacation pics? You remember the colors of the vineyard, the impact of the grapes, the cool tasting room. Yet, your pictures fell way short of portraying the zest of days at play. What happened to the terrific terroir you saw through the viewfinder?
Jameson asked me to address two specific questions for ambitious wine photographers with mobile, point and shoot, or DLSR in hand:
1) If I'm visiting a vineyard, what are a couple things I can do to get a unique perspective or photo?
2) Wine bottle photos can be pretty boring. How do I give them some sizzle?
For both questions, three lines of advice: drop low, go slow, get close.
It's atypical of most casual photographers. See a cool scene. Put camera to eye. Click. Move on. Yes, you took a picture (snapshot really) that proves you were there but, odds are, you didn't capture a memory.
Watch pro photographers at work; you'll seldom see us standing full upright, much less still. In fact, most of us are one day short of chiropractic agony – on our knees, bending low, face down in a field, scaling a railing. Why? Angles! The best pictures are seldom straight ahead, full height eye-level shots. Instead, get low and close -- look for cool things in the foreground, dramatic perspectives that reflect the intimacy or the majesty of the scene.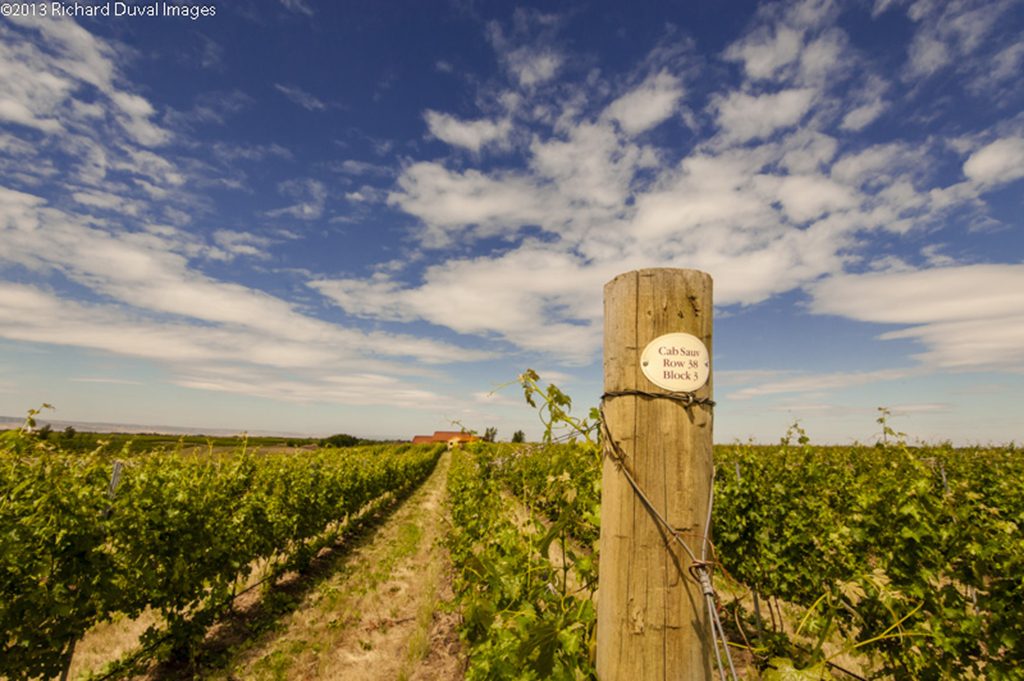 Richard Duval is professional photographer/writer who travels the state capturing the ever-growing wine industry. Find his work in Washington Tasting Room Magazine,Washington Wine Report, Sip Northwest, Wine Spectator, Wine Enthusiast, Northwest Travel Magazine, and Nature Photographer. See Duval's work at VineLines and Duval Images. All photos ©Richard Duval Images and may not be used without permission.