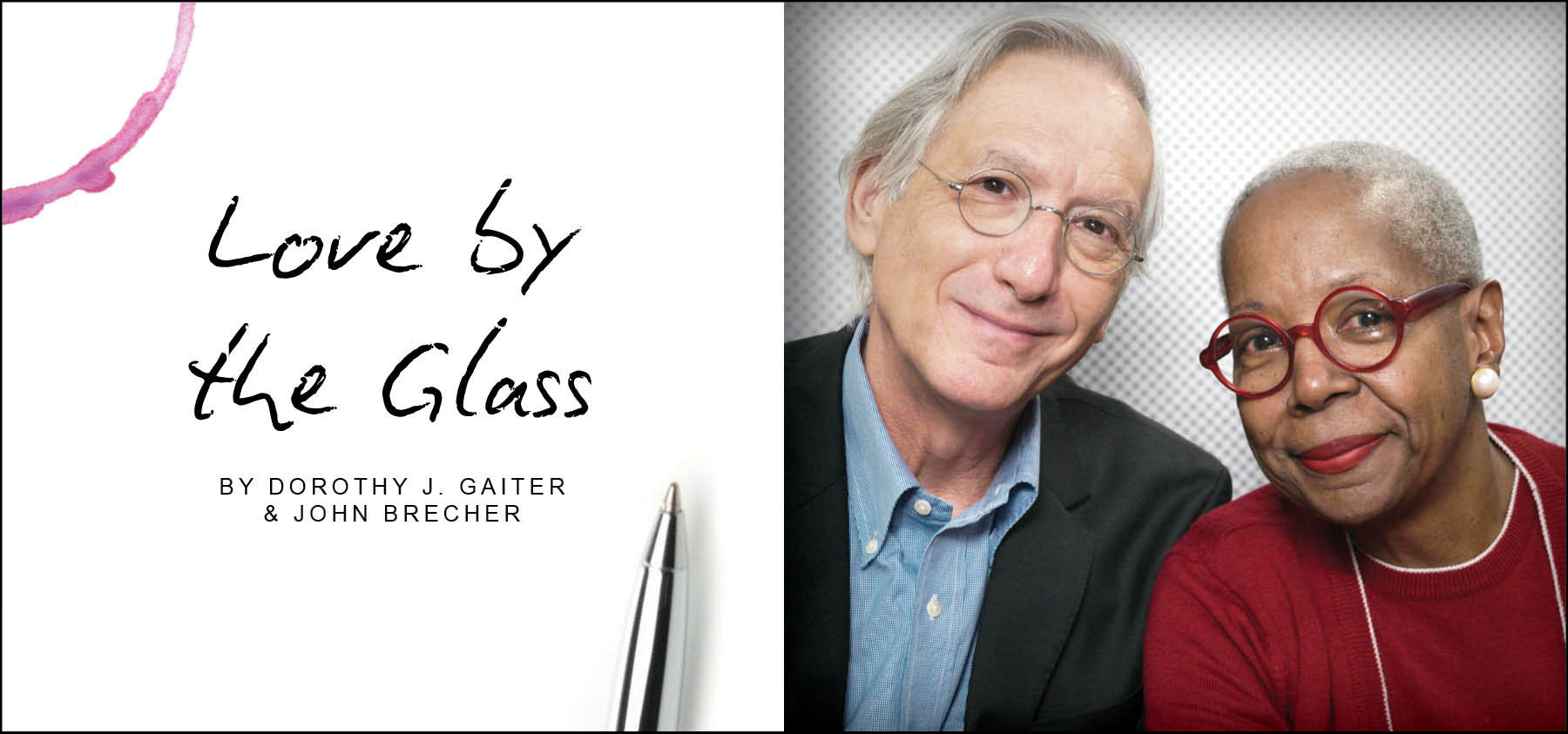 For many years, Navarro Vineyards Dry Gewürztraminer from the Anderson Valley in Mendocino has been what we consider a unicorn wine. We loved its heady, aromatic nose and its spicy, prickly, white-pepper, rose-petal, rich-lychee tastes, but we hardly ever saw it in stores or even in restaurants. We were at Mustards Grill in Napa in February -- the venerable Mustards Grill! -- and our waiter commiserated with us, saying they didn't have it, either, though they had a different Navarro wine.
So imagine our surprise last month when we walked into the Harlem Wine Gallery for a guided tasting by the Wine Avengers -- formidably wine-savvy Sukari Bowman, Larissa Dubose and Jermaine Stone -- and there on a shelf in the front were two bottles of Navarro Dry Gewürztraminer. It was the 2016 and had arrived at the store so recently that the store's owners, longtime Harlem residents Pascal and Dani Lewis, had not yet had a chance to affix a sign to the rack.
We were so nervous that someone might beat us to the wine while we were in the event space in the back that John bought the two bottles right then and there and asked if there were more. There were, so he returned two days later for a refill. The two bottles we've opened did not disappoint. They were delicious, with hints of luscious mangoes and citrus fruits and white pepper, all in a crisp, light, minerally package. But descriptors do not do this wine justice. It is so elegant, so complex, so precise and so endlessly fascinating to us that John actually called it "infinite," which is probably the only time he's used that word in 46 years of tasting. And at $27 a bottle, the price was in line with one of Navarro's bedrock principles that fabulous wine doesn't have to be expensive. The soon-to-be released 2018 will be $24 at the winery.

"We feel really loyal to our customers, who tend to be academics, people who are not necessarily high-end wine buyers, so we try not to get too expensive," said Deborah Cahn, who founded Navarro 46 years ago with her husband, Ted Bennett. Navarro makes four Gewürztraminers including unfermented Gewürztraminer juice, which the French Laundry served Media and Zoë when they were little and we ate there for one of Dottie's birthdays. "We charge enough so that we can provide heath insurance for all of our employees and take care of everybody."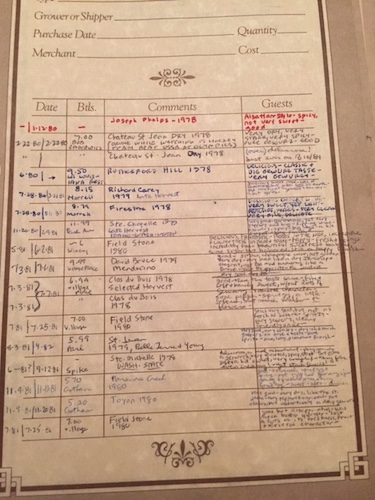 We've been fairly obsessed with Gewürztraminer for decades, ever since a tasting room attendant at Sebastiani Winery in Sonoma poured us a glass back in the 1970s during our first trip to California wine country. We were so clueless that we asked if Gewürztraminer was two words. (In a sense it is, since it means "spicy Traminer," and is pronounced something like guh-VERTZ-tra-mee-ner.) We returned home determined to get to know this grape, which of course led to our discovery of Gewürztraminer from Alsace, where it originated.
Our old book of notes, with John's tiny handwriting, and our old labels, some from wineries that don't even exist anymore, are testament to our devotion to the grape. (Among our U.S. favorites from way back: Mark West, Toyon, Field Stone and Chateau St. Jean.)
But something bad started happening to Gewürztraminer more than a decade ago, when winemakers started making them sweet across the board. Gewürz can make outstanding sweet wines. Navarro makes one in some years. However, it was a bad trend when many that were supposedly dry were not only sweet, but also lacked balancing acidity. That made them ponderous.
We've heard from a handful of industry people that a noted winemaker in Alsace is responsible for almost killing the entire category because the sweeter he made his wines, the higher the scores he got from Robert Parker's Wine Advocate. We haven't asked the winemaker about this or Parker, but in 2016 when Dottie asked Parker about winemakers molding their wines to win his approval, he said no honest winemaker would do that. "That is selling your soul out big time," he told her.
Through all that, Navarro has been steadfast in its fealty to dry Gewürztraminer. So we've always appreciated it and remembered each bottle, like the one at the restaurant on Fisherman's Wharf in San Francisco in 2002 and at Le Cirque in New York in 2007. And it's not just us. Winemaker David Ramey of Ramey Wine Cellars in Healdsburg told our Grape Collective colleague Lisa Denning that he orders a case every year, so we asked him why.
"I first discovered Alsatian Gewürz at Gaylord Indian restaurant in San Francisco around 1981 or so. In those days, most Alsatian GT's were dry. The spicy, broad richness of the wine perfectly matched the spicy, broad richness of the food, I felt," Ramey wrote to us. "Next, I discovered that it paired equally well with spicy Thai dishes. Then I enjoyed it at an Alsatian restaurant in Paris, Chez Jenny, with choucroute garnie (I know that Alsatians would drink a Riesling with that…). And when I finally made it to Strasbourg, I learned that they enjoy it with Muenster following the meal.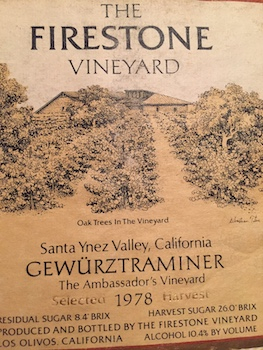 "I love the extravagant aromatics coupled with the broad, plush texture. The only problem these days is finding ones without too much sugar, which is where Navarro fits in," Ramey added. "I know that Gundlach Bundschu makes a dry GT, too, and I need to look that up—it's been a while since I tried that." (Note to us: Find Gundlach Bundschu's Dry Gewürztraminer.)
The misconception that all Gewürztraminer is sweet has been a challenge even for Navarro.
"This is our 46th year of being in business and every year I say to somebody, 'Try it, it's dry. Try it.' There is a prejudice and expectation that people always assume it's going to be a beginner wine and we find in the tasting room that it appeals to beginning tasters and really sophisticated tasters but not so much in the middle," Cahn told us. "There's such a lack of knowledge that it can be made in a dry style."
It's not just wine drinkers who balk. It's sometimes distributors. "We always have to convince people to take our Gewürztraminer and not just our Pinot Noir because Anderson Valley is now Pinot Noir territory," Cahn told us. The valley has coastal marine-influenced weather, being about 10 miles from the Pacific Ocean, which is fed by the Navarro River. It's also a pretty new premium wine-growing region. A history of it says, "The modern area of winegrowing and winemaking in Anderson Valley began in 1964. That was the year Dr. Donald Edmeades, a Southern California physician, planted 24 acres of premium wine." On the advice of UC-Davis, he planted some Gewürztraminer. Cahn and Bennett, his neighbors, later joined with him in a short-lived venture to sell their wines to tourists, the historical account states. And today, unlike many wineries, there is no tasting fee at Navarro and you can try whatever you like. Tours are free but require a reservation.
The Cahn-Bennett family owns 940 hilly acres in Anderson Valley in coastal Mendocino, with 100 acres of gravelly loam planted to grapes and about 25 of those acres planted to Gewürztraminer. It makes 3,000 cases of the dry Gewurztraminer we love, not a tiny amount, but only about five percent is sold in stores, Cahn said. If you're lucky, you may see it on a restaurant's list. They have distributors in 10 or 12 states, Cahn said, explaining, "We don't want to totally ignore the rest of the world."
So how do they do it? Cahn said their location in cool-climate Anderson Valley and their practice of harvesting Gewürztraminer grapes at night when the fruit is cold are key to capturing and maintaining the grapes' aromatics and acidity.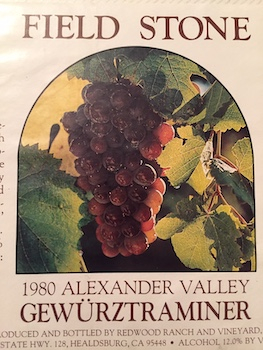 "The Anderson Valley is just the right place because it's cool. If you try to grow it in too warm a climate you get bitterness and harsh skin phenolics and people cover it up with sugar," Cahn said. "But you not only have to have a cool enough region but a cool enough growing season….
"We let it macerate in a tank for a couple of days before we put it out into big German and French oak ovals. Then it ferments for about a month on the yeast and then we let it age on the yeast for about 6 or 7 months like they do in Alsace and I think that's what gives it its floral quality while still being dry."
Cahn, 71, and Bennett, 82, live next to the winery, which produces 25,000 cases total of about two dozen different wines including Chardonnay, Pinot Noir, Zinfandel, Riesling and sparkling wines, most sold directly from the winery. Jim Klein is its longtime winemaker and Manuel Eligio its longtime cellarmaster.
"It's really sad, the consolidation of small wineries being sold to fewer and fewer big wineries, because distribution is so difficult," Cahn told us when we mentioned the recent sales by founding families of Heitz Cellar and Stony Hill. "We've always concentrated on direct marketing for family reasons as well as business reasons. We wanted to go to the softball games and the volleyball games and the 4H meetings and you can't do that if you're a dog and pony show on the road all the time."
Cahn and Bennett met in 1971 when she was a graduate student at UC Berkeley and took a summer job writing advertising copy for Pacific Stereo, "a chain of stereo stores where Ted was a founding partner after he graduated from Berkeley about 10 years earlier with a business degree," she said. Two towering figures and friends in wine and food, Kermit Lynch and Alice Waters, introduced Cahn and Bennett to Alsatian wines, triggering the couple's first trip to Alsace in 1976 to taste at the source. This was two years after starting Navarro Vineyards & Winery on what had been a working sheep farm.
"We decided Navarro is best suited to be a big fish in a small pond and you can't get a much smaller pond in California than Gewürztraminer," Cahn said.
Their offspring are now their business partners. Son Aaron, 41, is part-owner of Navarro. He took the recent viral video of a bear eating Navarro's Pinot Noir grapes. Allergic to milk as a newborn, he is also the reason the family sells Gewürztraminer and Pinot Noir juice, since juices were the only liquids he could tolerate, Cahn told us. The couple's daughter, Sarah Cahn-Bennett, 38, raises sheep and goats and makes cheese from those animals, as well as small-production wines at the family's second label, Pennyroyal Farm in Boonville, a few miles from Navarro's winery. All of the family's operations are sustainably farmed. The sheep and goats keep the ground cover between vines mowed and fertilized and the sheep also sucker the vines, eating the green shoots along the base of the vines in the summertime. The sheepdogs protect the sheep.
"People ask, 'Aren't you going to retire?' But we like what we do. Ted's out there right now at the winery looking at every grape that goes in," Cahn told us.
It's great to find someone and something you love that can sustain you through your whole life, as Cahn and Bennett clearly have discovered. In this ever-changing world, it's wonderful when some things, like their Dry Gewürztraminer, remain true.
Dorothy J. Gaiter and John Brecher conceived and wrote The Wall Street Journal's wine column, "Tastings," from 1998 to 2010. Dorothy and John have been tasting and studying wine since 1973. Dottie has had a distinguished career in journalism as a reporter, editor, columnist and editorial writer at The Miami Herald and The New York Times as well as at The Journal. John was Page One Editor of The Journal, City Editor of The Miami Herald and a senior editor at Bloomberg News. They are well-known from their books and many television appearances, especially on Martha Stewart's show, and as the creators of the annual, international "Open That Bottle Night" celebration of wine and friendship. The first bottle they shared was André Cold Duck. They have two daughters.
Read more from Dorothy J. Gaiter and John Brecher on Grape Collective.