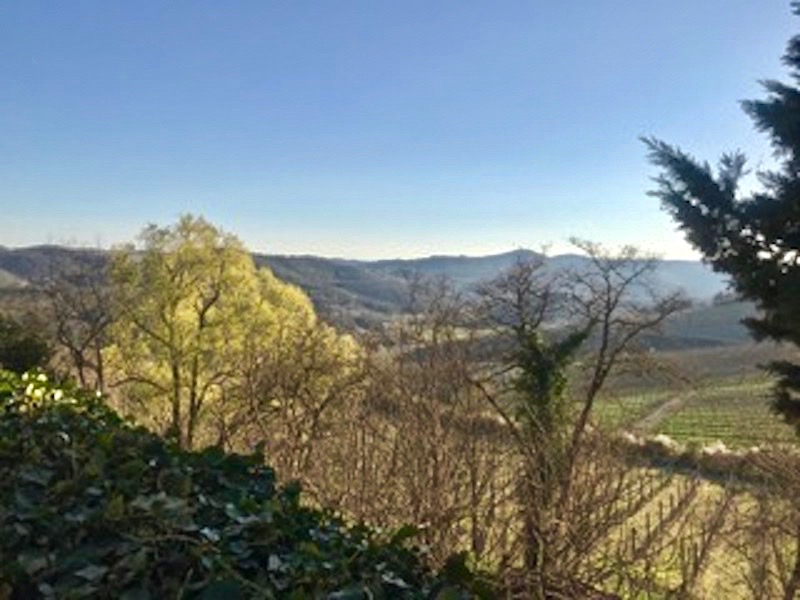 Chianti Classico is not your daddy's Chianti. To help me explain why, I asked for help from my friend, Walter Speller. Walter is the Italian Wine Specialist at the Jancis Robinson publication and has great command over Italian wine knowledge, yet he describes his insights with playful banter and intimacy.
We then turn to Piero Lanzo, a third-generation winemaker of Poggerino winery, to gather more information. Poggerino is located in Radda, a town at the heart of Chianti Classico. Piero has been making wine since he was 19 and has become skilled at shepherding superb Chianti Classico into a bottle. Needless to say, Chianti Classico is much more than straw-covered bottles. Do yourself a favor -- buy a bottle and show your daddy.
Marco Salerno: Tell me about your first experiences with Sangiovese.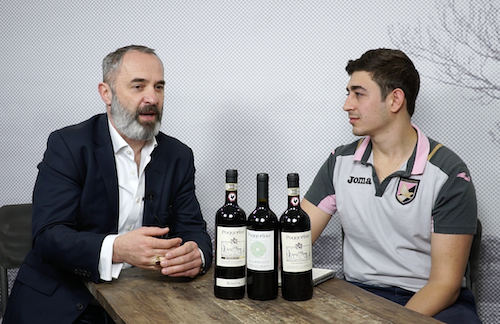 Walter Speller: So I must say, I remember that at some stage, a couple of years, it must be years ago when I was on the Decanter World Wine Awards as a judge and we were tasting lots of Sangiovese, and I thought it was all such rubbish, one of my co-judges said then obviously you don't like Sangiovese, and I thought: "That's just not true, I love Sangiovese, this is just not my Sangiovese. Perhaps I know nothing about wine."
(Photo: Walter Speller interviewed by Grape Collective's Marco Salerno)
So I think it's one of the most misunderstood grape varieties but I never found a lot of them that I truly, truly liked. And we don't get to see a lot of the really great stuff and plus the UK is notoriously known for considering Italian wine as a kind of bulk wine market where you get the cheap stuff so that, of course, has implications for the image of Italy in the UK, because it's all Pinot Grigio and Prosecco.
Now we see a change because Barolo has become very popular, this is an expensive wine so we're on the right track. But back to Sangiovese. So Sangiovese I knew had to be great but of course if you have 65 thousand hectares planted of a variety in every corner of the peninsula, where it's just not suited to make red wine, you might come to the idea that it's so bad. Like if you would plant Pinot Noir everywhere in France, most of it will be total crap because...oh you have to cut that down right?..but it's bad quality, then nobody in their right mind would say, "Oh Pinot Noir is a bad grape variety." They would say, "This is just not the right location or not the right terroir for Pinot Noir."
What was the turning point for you and Sangiovese?
So while I was raging a war against people claiming that Sangiovese was all bad, and raging a war against those producers who include French grape varieties in Italian wines, in general, but especially in Chianti Classico, at some stage, I decided that I must join these big en primeur tastings in Florence every year. And little by little things started to change. First, I thought it must be the vintage - like a light vintage tasted much better because it was more supple, more nervy, they had a better expression of originality, they would just on the whole be lower in alcohol, much more lively wines and not with that weird heavy nose from Merlot. Merlot changes the blend completely because it ages much faster than Sangiovese. And it shouldn't be too dark in color or have the cassis nose of Cabernet Sauvignon because that basically overlays it and then the oak thing, the new oak thing going on where the grape has completely disappeared.
I saw in 'new' Chianti Classico a firm emphasis on Sangiovese but also advancements in winemaking. For instance, a year on the fine yeast without any stirring and no new oak. It was part of a trend of younger people who were truly interested in Sangiovese, believing that it was great and made great wine.
What makes Chianti Classico so great?
I think that we're dealing, no, I'm convinced, that we're dealing with a great wine producing region -- Chianti Classico.
There is an emphasis on native grape varieties, either itself 100% Sangiovese or it is with indigenous grapes varieties like Colorino and all those varieties it has become now a truly distinct wine of high quality. And this I think is really the moment for Chianti Classico. Now it finally has a clear-cut profile. Now my only problem is that it's still so cheaply priced, that the price needs to go up even if I'd rather keep the price down because everybody should be enjoying this wine. But we need to keep the price up.
Chianti Classico is this one of the smallest regions in the area, much smaller, it is not even half of Chianti, and the production rules are much stricter and so if you have Chianti Classico, automatically the quality is higher than a plain Chianti. Now there are always exceptions on the rule but that basically confirms the rule.
---
Marco Salerno: So how did you get into winemaking?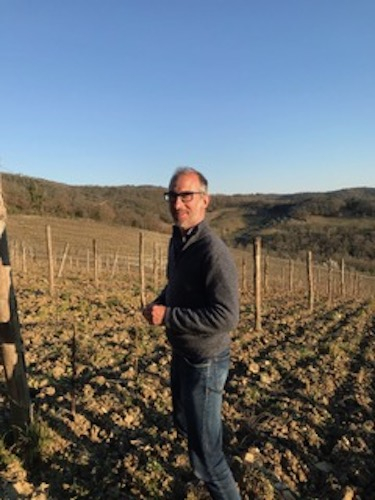 Piero Lanza: It's a long story. Poggerino, is a 3rd generation winery. It's a winery that was bought from my grandfather, the father of my mother, in 1940. It was a huge winery and when he died in '72, most of the winery went to my uncle. My mother's family is actually a noble family of Florence. So, they used to have the castle with the vineyard, with the cellar. My mother had a small part of this land and no vineyard. Just land and houses that needed to be restored and then my uncle sold it all to a big company. We were the only ones that decided to invest in this land. We speak about the '70s, when the price of the wine in Chianti was very cheap and so it was not easy to invest at that time. But they did and in '73 they planted the first five hectares of vineyards and for a few years they used to sell grapes or wine in tank.
(Photo: Piero Lanza)
In 1980, they decided to start bottling the wine. So they bottled wine from 1980 to 1987 and in 1987 actually I finished my degree in agriculture in Florence and I moved to Poggerino. At that time, I was 19 years old. I was actually too tired to study more and my father was too tired to work more. So it was perfect. I started to work at Poggerino from that time in '88. I was young, I started agriculture but I had no idea how to make wine because it's one thing to study, another thing to do it. And now it's more than 15 years I make wine myself.
Where you make wine and where Poggerino is located in Chianti Classico?
Okay, Chianti Classico is an area within Chianti. Chianti is between Florence and Siena but doesn't touch Florence and doesn't touch Siena. It's a quite a big area where the altitude and the ground and the exposition of the vineyard change a lot. We are located in the small, historic area of Chianti Classico, within Chianti, and specifically in Radda. Radda is in the middle, in the heart of the Chianti Classico area. Together with the Gaiole and the Castellina Radda, they belong to Chianti Classico.
What makes Radda so special?
Well with Radda we have a cool climate This comes from the altitudes; Radda is quite high between 500 to 600 meters high. But I think the most important is all the forests that we have around the vineyards that with the oxygen they first produce in the night, help to cool down the temperatures. So we have hot days but cool nights during the peak growing season that goes between late July to late September. And this brings elegance in the wines.
What kind of wine does Poggerino make?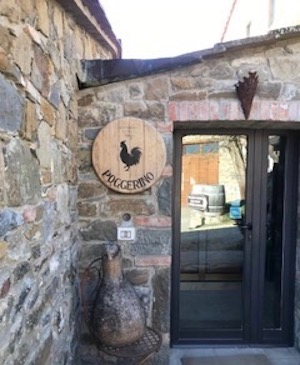 Well first of all wines come from my winery. So I don't buy grapes or wine from outside because I believe that the style of the wine comes from your land. What we have in Poggerino -- soils with quite a lot of clay together with many stones and so the clay is able to give wine that are elegant but at the same time with a touch of body. Because the clay gives a little bit body and so my wines are wines that have high acidity, fine tannins but with a little bit more body than other ones from Radda, so they need to age a little longer sometimes. And Poggerino wines are to pair with food.
(Photo: Poggerino)
What grapes do you work with?
I work mostly with Sangiovese. We have 12.5 hectares of vineyards, 11.5 of Sangiovese. Sangiovese for the reason I was telling you before. So this combination of climate and soil give unique wines. I don't say they are the best wine but wines that have a very strong personality and different than anywhere else in the world.
With 20 different clones of Sangiovese, each clone gives identity in the blend. It is like an orchestra, where different people play but you see, you listen to music. Grape clones are the same, all these clones together, they give complexity and also they are harvested at different times. Some clones need to be fermented differently compared with other clones. As an example, some clones have thinner skin so I must be more gentle during the fermentation. Other clones have thicker skin so I can do more pumping over or do more blanching and I do the blend only after the pressing.
You mentioned there's different kinds of Sangiovese and different clones and perhaps different bio-types. What are the different ways you make the wine -- do you use different wine vessels, different approaches, etc.?
I must say that for me, there is not a way to make the wine. The same way I am picking, sometimes in the same vineyard, I go there three times because I only harvest when ready. I do the selection, for example, between big batch and small batch that I pick a little bit later. After that, the winemaking means that all my wines are always fermented with wild yeast but the quantity, the temperature during fermentation, the pumping over that I do, the blending that I do during the fermentation, change vintage by vintage. So, I have some rules but after that, it's very in sync to make the wine and this comes also from the experience because I did more than 30 vintages. What I must say, compared with the past, in the past I used to be more aggressive during a fermentation to extract a lot. Now I am more gentle.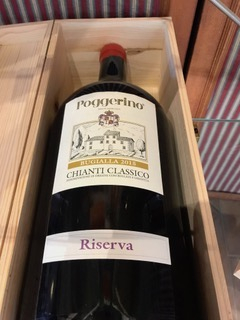 So I do a little less pumping over but after that it depends year by year. And skin contact also, days of skin contact usually for my wines go from, can be 20 days is the minimum to 70 days. In some vintages, some vineyards I know how the grape was because I tasted the grapes in the vineyards, and I know they can stay on the skin for much longer than 50 to 60 days. Skin maceration can bring more complexity to the wine.
(Photo: Poggerino Chianti Classico)
What message does your wine convey?
What I want to say is that all my wines are made really to be respected, and well they show my face. They are my face. It is one of the reasons a painting, you know, that you can recognize the touch of the painter. So for me it's important that there is my signature in all the bottles. So the vintage changes, the wine changes, but the style is there every year and this comes from my lands. I must say 60% probably comes from my land and I'm very lucky to be able to work in this land that is a great land. And 40% comes from how I work in the vineyards and the patience that I put during this wine. So, that for me is the most important. The best compliment I get is when they say "I can see Poggerino style." So not just a good bottle of wine but Poggerino style. That is for me, really what I am looking for.