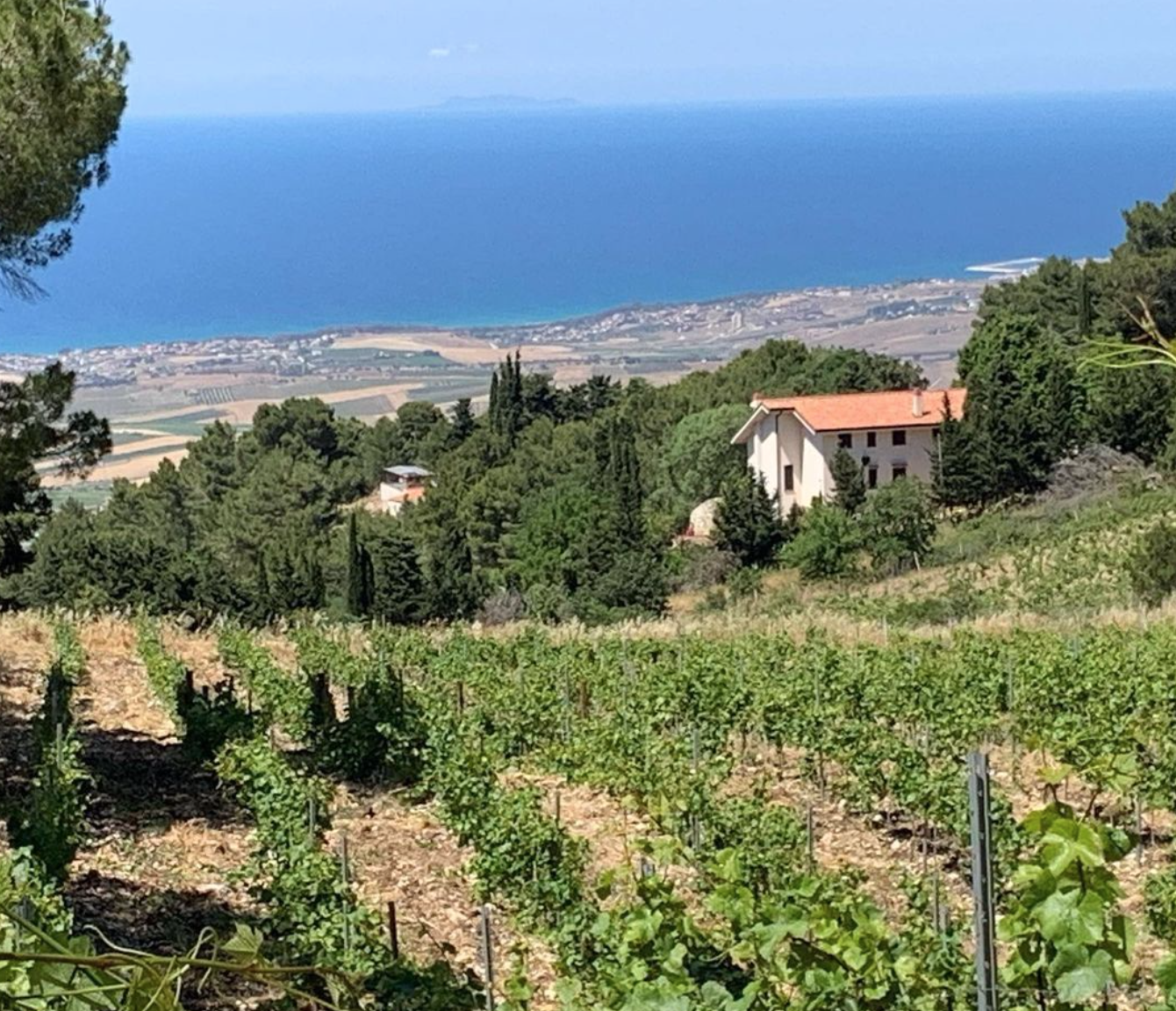 When wine drinkers think of Sicily, a few images come to mind: popular and explosive Mt. Etna, Nero d'Avola from all over [Sicily], and perhaps natural winemaker Arianna Occhipinti from Vittoria, most recently televised by the CNN program Stanley Tucci: Searching for Italy. "Sicily is a continent of flavors," as they say. So let's take a closer look at those individual ingredients of "Sicilian wine" and identify those flavors.
One subtle ingredient in Sicily is the region of Alcamo. Alcamo, on the west coast of Sicily, sandwiched between Palermo and Trapani, has had steady wine production for a long time. Historically, Alcamo was a key growing region for classical grape varieties, like Catarratto, which mostly ended up in Marsala wines. In more recent history, Alcamo has been associated with large-scale production. Alessandro Viola and Luigi Stalteri, a small-scale natural wine producing duo, have been among the first to turn back the tide from large-scale production to artisanal craft production.
Having visited Alessandro and Luigi back in 2018, I was given a first-hand look at how special Alcamo is. The quiet town on the glamorous Mediterranean coast is shadowed by a natural reserve sitting atop a mountain about 800 meters above sea level. This natural reserve gives birth to abundant pines, luscious green foliage and sweet fresh air. This is where Alessandro and Luigi's vineyards are located.
Some might argue (Alessandro) that Alcamo should not be viewed as a "Sicilian wine." "What does Alcamo have to do with Mt. Etna?", he posed to me during my visit. Alessandro easily proved to me that Alcamo sure is a distinct territory of Sicily. You should get to know it.
Recently, Marco Salerno emailed questions to Luigi Stalteri:
Marco Salerno: Can you explain the area of Alcamo, Sicily? Where are your vineyards located and how do they stand out?
Luigi Stalteri: The Alcamo area is highly suited for the cultivation of the vine. As a percentage of the surface, the province of Trapani is the most cultivated in Europe in vineyards despite the fact that there are several non-native varieties, but Catarratto, Perricone, Nero d'Avola, Grillo and Inzolia are the most cultivated. We immediately bet on Catarratto despite being considered a grape that is anything but precious, but today it has been definitely re-evaluated.
The vineyards are located on the northeast side of the mountain at 350 m.s.l. and the other, the new one, to the north between 650 and 700 meters, always surrounded by pines and eucalyptus trees, both bordering the "Bosco d'Alcamo" Nature Reserve.
(Luigi Stalteri (left) speaks with Marco Salerno)
How should Alcamo wines be understood by wine consumers? How are Alcamo wines different from other parts of Sicily?
In general, the wine consumer should not have territorial preconceptions, but be willing to try because only in this way can he be overwhelmed by the territory and the varietal. Thus the understanding of the natural wines of Alcamo, as of any other region or nation, can have its pure meaning.
Sicily is certainly a happy island where you can find the right climate for long periods, depriving us of annoying surprises.Specifically, the wines of our territory must thus speak of sun, sea and everything that surrounds us and in recent years the explosion of many small natural producers are giving excellent results and notoriety.
What are the key grapes of Alcamo?
The grapes of Alcamo are Catarratto, as the protagonist for whites, but excellent results are also obtained from Grillo. Among the reds, Perricone, Nero D'Avola, Syrah and Nerello Mascalese give an excellent expression.
How did you guys meet?
The friendship between Alessandro and I was born many years ago, when we were fourteen-year-olds we would hang out with a group of friends. We have come a long way together such as playing football in the team of our city, lifeguarding and spearfishing, the latter a discipline that does not see us particularly successful ...
Then we met up in Bologna where I had a wine bar and he came to visit me over the weekend from Alessandria where for a couple of years he worked alongside a great winemaker and from there we found ourselves even better than before with the new passion for wines. Passion that soon turned into production up to today.
(Alessandro Viola and Luigi Stalteri)
What defines your approach to winemaking?
Since he is the winemaker it would be better to have his answer ... but I would say that the basis is to be found in nature itself, less impact in the vineyard as in winemaking, thus giving space to the grapes themselves. Certainly there is an oenological imprint but its aim is to obtain the maximum territorial and varietal expression.
What do you think about the impact of natural winemakers in the Sicilian wine industry?
In the last 20 years, the "natural" phenomenon has made several steps forward, growing more and more in quality and cleanliness in drinking. It still remains a niche practice and so I would like it to remain so as not to lose its pure identity.
However, our job is also to make money, but we must not get caught up in greed! I would never want to lose the emotion in September when the harvest begins and I find in the bunches the efforts of an entire vintage, looking forward to the wine to come. Dirty, hard and swollen hands, a sore back at the end of the day but a heart full of joy in sharing our greatest passion!