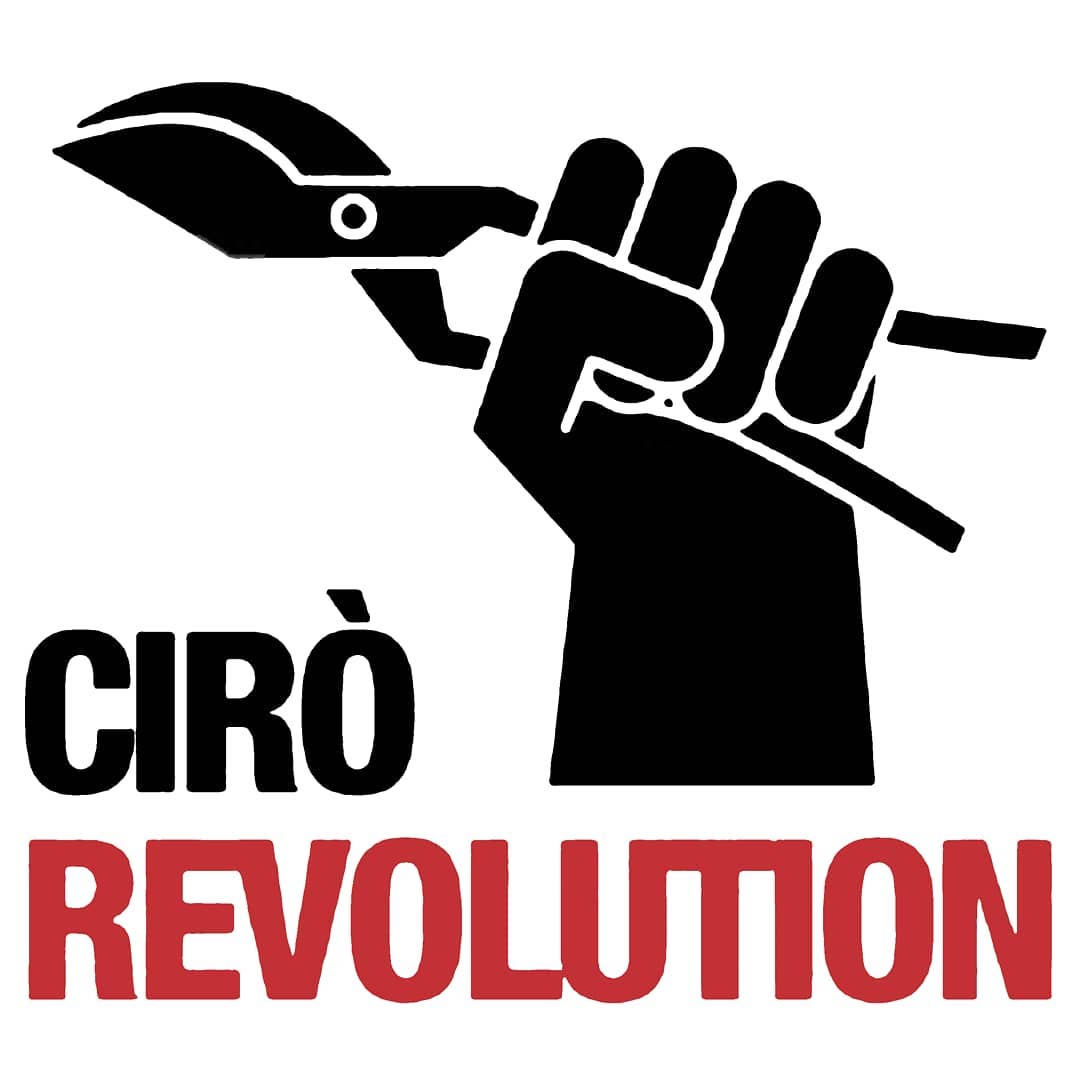 Cirò is at the very center of a crucial wine transformation happening right now in Calabria, arguably Italy's most exciting wine region! But I, having Calabrian roots, am a little biased.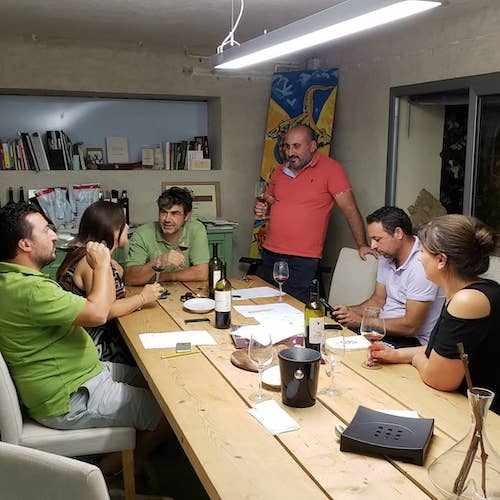 In the spring of 2019, I traveled to several unknown (at least to most people) unique wine sub-regions in Calabria. I was blown away by the vibrant, orchestrated movement by producers to make incredibly authentic and artisanal wines in each of these areas. When I arrived in Cirò, at the southeast corner of Calabria, a group of winemakers called "The Cirò Boys" impressed me with their vision to produce traditional Cirò wines and show the world. I was struck by their collaborative spirit and warmth towards one another.
Cirò, Calabria is located in the very south of the Italian peninsula, gently jetting out east into the Ionian Sea. Sea breezes flank both sides of Cirò, while to its back is the national park of Sila, where dense forests reach over 6,000 feet in altitude. Cirò's vineyards are specifically located along long stretches of coastline and stand atop the surrounding soft sloped hills reaching a few hundred feet high. Cirò is historically famous for its powerful reds, nicknamed the "Barolo of Calabria." The best Cirò Rossos are exceptional and historically their greatness has been recognized throughout Italy (see photo of 1974 "Cirò Rosse" bottled in Piedmont). Cirò Rosato and Bianco wines are delicious as well. Ciro' offers rosati and bianchi that are usually solid with structure, lively in taste and aromas, and still very refreshing.
"The Cirò Boys" are members of a larger collective of producers who are dedicated to organic viticulture and minimal-intervention winemaking. They represent and respect their territory's identity by making artisanal wines, as their families always have, with native grape varieties, especially with the prized Gaglioppo grape.
The Cirò Boys have inspired a whole new generation of Calabrian winemakers and uplifted Calabria into new heights of wine recognition. This collective movement is called "The Cirò Revolution" and this surge of winemakers has caught the media's attention in Italy and beyond: La Repubblica (a renowned Italian newspaper), VICE Italia, Walter Speller of Jancis Robinson.
The following producers make up "The Cirò Revolution": A' Vita, Sergio Arcuri, Cataldo Calabretta, Tenuta del Conte, Assunta dell'Aquila, Cote di Franze, Vigneti Vumbaca, Rocco Pirito and Francesco Fezzigna.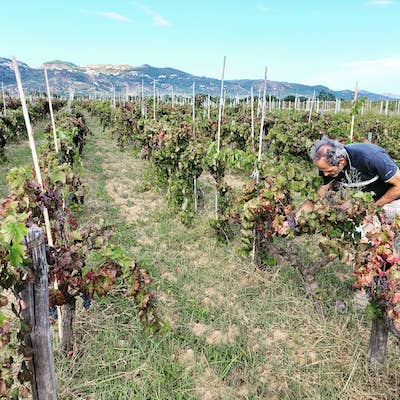 I was honestly so impressed by what I found in Cirò that I decided to return a few months later for harvest. I was invited to participate in Ciròs "Cru Microvinification Project," a project designed by Cirò's innovative winemakers to better explore the differences in each sub-region of Cirò DOC. Together, we vinified small batches of wine pertaining to vineyard from each sub-region, all made up of Gaglioppo. More info on the microvinification project on my website: https://www.marcuzzovino.com/microvinifications
I sat down with Cataldo Calabretta, Sergio Arcuri and Francesco de Franco on separate occasions in Cirò, Calabria during the 2019 harvest.
Marco Salerno: What does the Cirò Revolution movement mean to you?
Cataldo Calabretta: The Cirò Revolution is a group of winemakers of the Cirò Doc, united by an idea of ​​organic viticulture and production of wines with a strong identity and without the use of oenological products (tannins, mannoproteins, clarifiers, acidifiers); who try to share work experience and projects for everyone's collective growth.
Francesco De Franco: The Cirò Revolution means changing our way of thinking, that is, starting to be proud to be a winemaker and to make wines that speak of our land and the culture of the farmers of Cirò. You must know that many are ashamed of being farmers because in the past it meant being poor.
Sergio Acruri: For me, the term Cirò Revolution means having revolutionized for the better and given an authentic imprint to the production of Cirò wine.
What has been accomplished with the Cirò Revolution?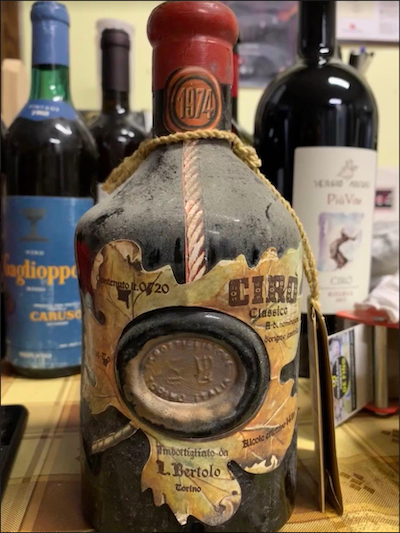 Cataldo Calabretta: I shouldn't say this, however, we certainly awakened the attention of the press and operators in Cirò. Despite Cirò being the most historic of the Calabrian denominations and having a strong community of local winemaking, before us there was no figure to look up to, only aspirations among small farmers to sell grapes. In essence, the figure of artisanal winemaking was missing as is the case in other historical wine production areas in Italy. And so the language of wine has changed, no more vision of "international" wine but on the contrary a very "traditional" wine, we speak more of vineyard than of "market taste," we speak of a wine that speaks of territory and not to follow fashions.
Francesco De Franco: No more Merlot and Cab Sauv. I started selling my first vintage of Cirò made with 100% Gaglioppo, the wine was immediately appreciated abroad and we started to collaborate among winemakers who had the same idea on how to make a Cirò wine.
Sergio Acruri: "Cirò" is to have produced a natural wine from pure Gaglioppo from its own grapes as my father did, my grandfather is a great grandfather, but improving the quality, with long refinements as the Gaglioppo requires. Bottle it and make it known outside the regional and national borders. All this has been done by several producers with the same philosophy and thus the Cirò revolution was born.
What does the future hold of the Cirò Revolution?
Cataldo Calabretta: Since Cirò Revolution is not a slogan invented for marketing, but wants to create knowledge and knowledge without undergoing the standardized oenological protocols that have created homologation in wine, in the cellar we try different techniques to see what the limits and potential of the Gaglioppo grape are, focusing on rosato wine and red; then we started to make the microvinifications of the individual vineyards of the different areas (crus) of Cirò, and with daily work and over time we build the local meaning of "oenology" in the Cirò terroir, made by Cirò's winemakers and not by "winemaker consultants"!!
Francesco De Franco: The work of the microvinification is important so that we can begin to understand the various Cirò characteristics of the vineyards and crus. We do many tastings together with the other winemakers to promote the territory of Cirò and Gaglioppo.
Sergio Acruri: We increased the Cirò Revolution group of producers, to stimulate them to produce a local, natural and recognizable wine. The more we are, the more we will grow. I hope as soon as possible that the Cirò revolution will start to travel the world to make the wines and our territory known, so it will be a great revolution!
Marco Salerno grew up watching his father make wine and visiting his grandparents' farms in Sicily and Calabria, which led to his fascination with traditional winemaking. He is now pursuing a career as a professional winemaker. Marco explores his deep love for Southern Italian culture by leading tastings in NYC and NJ, collaborating with Cirò winemakers on microvinification projects in Italy, and making natural homemade wine with his family in NJ. Follow him on his journey: marcuzzovino.com or @marcuzzo_vino
Banner art by Piers Parlett