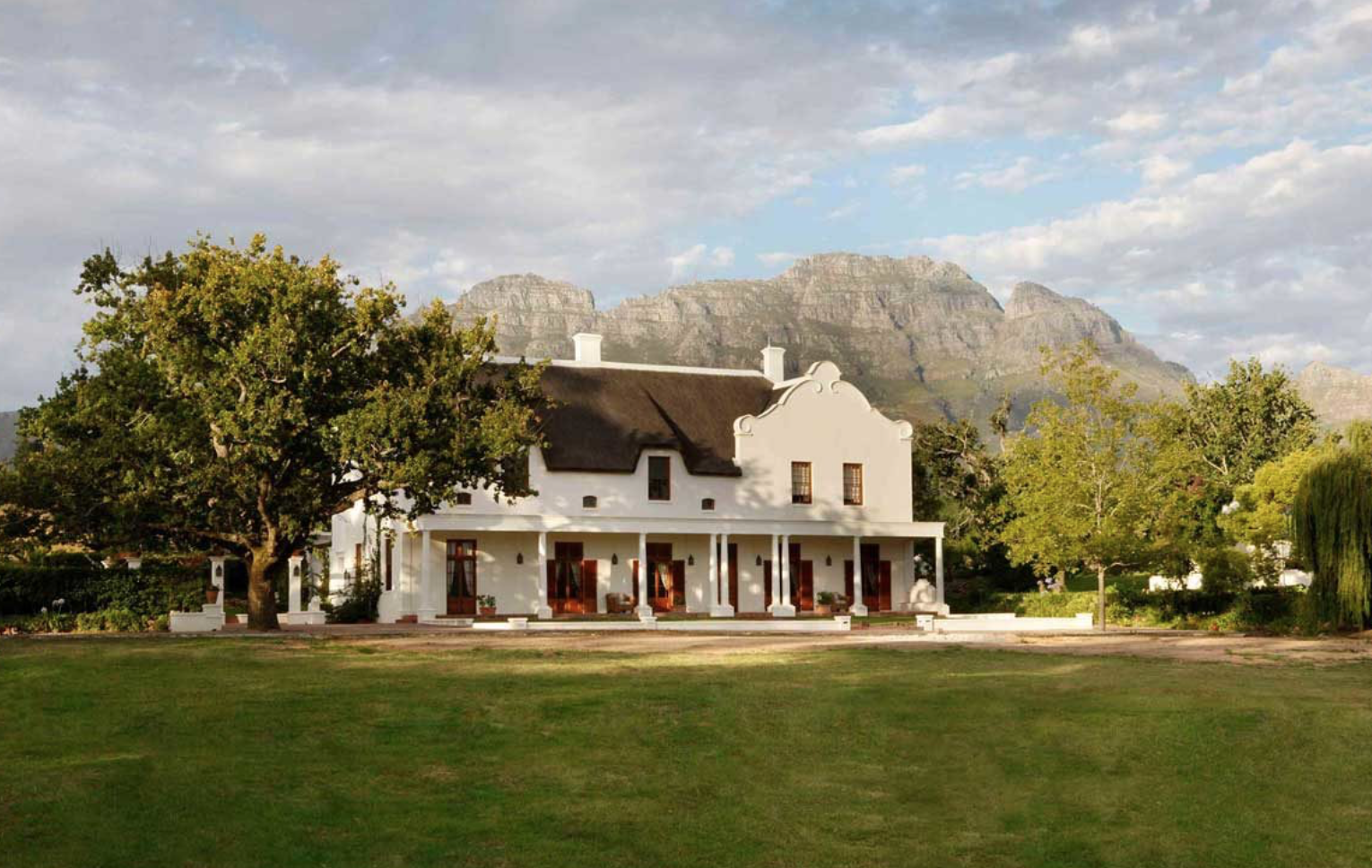 Stellenbosch, 31 miles east of Cape Town, is considered the second oldest town and perhaps the most famous wine region in South Africa. The Simonsberg Mountains lie to the northeast of Stellenbosch separating it from Paarl; with the Hottentots Hollands mountain range running through on the eastern side. False Bay is roughly 12 miles away to the south.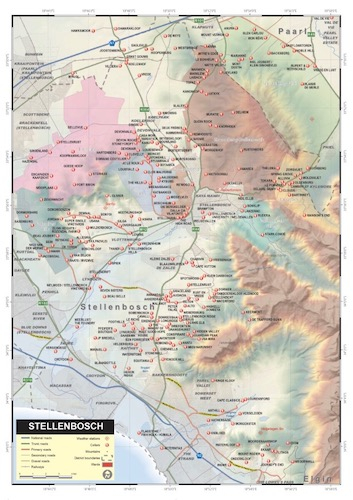 The climate of Stellenbosch is Mediterranean with hot dry summers and cool wet winters. The cooling southeast breezes from False Bay wash through in the afternoon, giving the vineyards a refreshing bath after the morning's hot sun. This factor prolongs the growing season and enable grapes to reach their full ripeness.
(Map of Stellenbosch, courtesy Wine of South Africa)
Granite and sandstone are the two major types of soils scattered throughout Stellenbosch. The granite-based soils, mainly found in the eastern part of Stellenbosh are favourable for producing fine reds, whereas the sandstone-based soil in the west are suitable for whites. Nearly 40% of the grape cultivation is white with Chenin Blanc, Chardonnay, Sauvignon Blanc, and Semillon accounting for the major white varieties. Reds are dominated by Cabernet Sauvignon, Merlot, Shiraz, Pinotage, and Cabernet Franc.
South Africa enjoys "Wine of Origins," a classified denomination just like the French Appellation d'origine contrôlée (AOC) system. It is divided into three tiers: regions, districts and wards. There are seven wards within Stellenbosch; Banghoek, Bottelary, Devon Valley, Jonkershoek Valley, Papegaaiberg, Polkadraai Hills, and Simonsberg-Stellenbosch.
The Glenelly estate, located in the Idas Valley in Stellenbosch, is May de Lencquesaing's vision of producing award-winning wines with power, elegance and elegance outside of France. May de Lencquesaing, the former owner of Château Pichon-Longueville Comtesse de Lalande, purchased the estate in 2003 from the Garlick family, who ran the property as a fruit farm for over 90 years. Overseen by May de Lencquesaing, her team and viticulturist Heinrich Louw planted 60 acres under vine with red Bordeaux varieties along with Syrah and Chardonnay in 2004. Blessed by nature, Glenelly is situated on a unique cooler, eastern-facing slope allowing the grape vines to enjoy an even and slower maturation during the growing season. 2008 was the inaugurated vintage of the Glenelly estate.
Luke O'Cuinneagain, the winemaker at Glenelly, first worked at Château Fieuzal, followed by Screaming Eagle and Château Angélus. He then spent five years at Rustenberg Wines before he joined the Glenelly team. Grape Collective spoke with Luke O'Cuinneagain regarding the birth of Glenelly, May de Lencquesaing's vision for the estate, and the visibility of South African wine in the international market.

Joyce Lin: Talk a little bit about your background as a winemaker.
Luke O'Cuinneagain: Well, I really started by going off to university to study veterinary science. But, on the weekends, I was working on wine farms to earn extra pocket money. I enjoyed doing that, particularly working in the vineyard. And then I made the transition across to winemaking because in both veterinary science and winemaking the basic subjects are all based on mathematics and chemistry. So, it was an easy transition for me to make. After graduation, I headed off to Bordeaux and I worked in Bordeaux for a number of years at Châteaux de Fieuzal and Château Angélus under the tutelage of Hubert de Bouard. Then, I ended up at Screaming Eagle in Napa for a brief stint as well. After that, I decided to head back to South Africa and started working at Glenelly where I've been for 10 years now.
So, when people come to you with their dogs and say their dogs are sick, can you help them out?
I've had one or two requests but it's not commonly known I was involved in that sort of field. I think more pressure gets put on me by my wife when my dogs get sick to sort them out.
So it's like a secret skill that you kinda keep under the radar?
Yeah.
Talk a little bit about Glenelly, the history of the estate.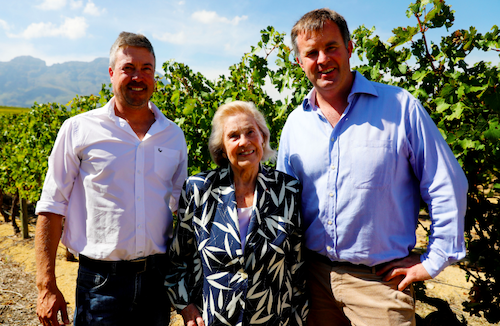 Glenelly is a fairly new estate in South Africa. As I said, I've been there for 10 years and I was really at the birth of it when Glenelly started. But, if you're looking at it from a farming entity, it's actually a very old property in Stellenbosch. It was established by a French Huguenot back in the late 1600s. He farmed almost his entire lifetime. It was really just fruit trees on the field until we took over. I think it was very exciting being taken over by May de Lencquesaing, the ex-owner of Château Pichon Comtesse de Lalande, because she thought it's a blank canvas and she can plant the vines wherever she wanted to.
(Photo: Heinrich Louw, May de Lencquesaing and Luke O'Cuinneagain in the vineyards of Glenelly Estate)
It's a unique property forming like an amphitheater, so we have a number of different aspects on the hills. I'm not sure if you've seen the mountains around the property, they're very dramatic and they're quite sheer slopes. Mrs. Lencquesaing saw the potential of this land. The other factor is the soils. The soils we have in the Western Cape are arguably the oldest viticultural soils in the world. We didn't have the ice age and the glaciation effect of removing the top soils, so our top soils are very very old, weathered soils. Where Glenelly is situated is mostly granitic-based soils. The mountain ranges around us pre-date 280 million years ago, just like the Alps and the Himalayas. You can imagine how weathered and craggy the soils are. I think the top soil contains incredible complexity, and ultimately it gets through the wines and the vines.
Talk a little bit about Stellenbosch as a region. It's certainly one of the most well-known regions in South Africa. How has it evolved over time?
I think Stellenbosch is like what you just said. It's one of the best known wine regions of South Africa. But, I think Stellenbosch is a very big area and the climate of South Africa offers us to do and grow a lot of things. In Stellenbosch or in South Africa in general, we don't want to be too specific. We are trying to grow a bit of everything. And that's why so many properties have 15 SKUs and stuff.
I'd say, in the past 10 to 15 years, farmers and vine growers have been focused on figuring out what to grow in specific sites. Cabernet and the other red varieties, but especially Cabernet, grow really well at where we are based in Stellenbosch.
When I'm talking about the climate of Stellenbosch, it's very diverse because it covers a huge area. If you go down to the southern part, it's much cooler than the northern part. In general, Stellenbosch is known for its red wines and known for its climate and terroir.
How has your winemaking evolved over time?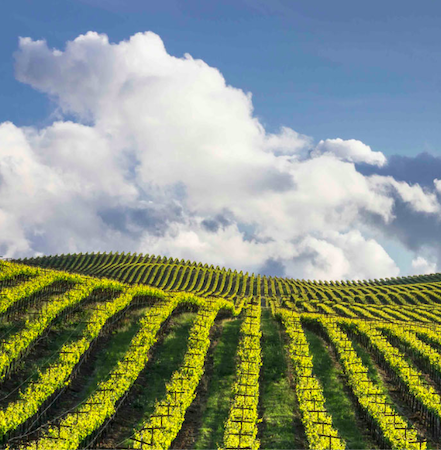 Well, I'd say, I'm not your traditional South African winemaker. Low intervention is my approach in terms of winemaking. From my experience of working in France, and joining the French bastion of the wine industry like May de Lencquesaing, my focus is to get the wine expressing the terroir, the soil, the climate of an individual area. I believe wine in a bottle is capturing the geography and geology of a specific area at a period of time. We try our best to capture the expression of the terroir as much as possible.
(Photo: Glenelly vineyards)
There are three things I'm looking for in terms of winemaking. First, I want the wine to have power; elegance is second, then I want it to have balance. I think balance is the crucial key element, because if the wine has balance, you can do a lot of pairings and things like that. To get the seamless expression of food and wine, which is so dear to my heart and I love the concept of sharing.
What are some of the biggest challenges that you face as a grape grower in the Stellenbosch region?
I think as a grape grower in the region, I'd say our number one challenge is probably controlling the heat because we can easily get extreme conditions. We had a severe drought last year, although lots of vineyards weren't affected as bad as we were, but some were struck seriously. Luckily, most wineries in Stellenbosch got off quite lightly with it. Therefore, there are some absolutely stellar wines coming out of the 2018 vintage.
In my opinion, the true challenge of growing vines in Stellenbosch is to select the right cultivar for the sites, and trying to focus on doing just one thing really well than trying to do 20 different things at once.
Could you go into a little bit more detail about the terroir, the climate, and some of the main contrasts with other parts of Stellenbosch?
We're situated on the slopes of the Simonsberg, and the majority of our vineyards are east-facing, which is very unusual. In that case, we rely on the morning sun to get our grapes to ripen and this allows the grapes to open canopies. Since we aren't getting the harsh afternoon sun, the grapes could take the time and ripen without the jamminess. Freshness and elegance are the two big things we look for in our wines. As soon as you get the jammy flavors in the grapes, you're starting to lose the freshness.
We did a detailed soil study in the property and we managed to pair up our soils to the grape vines. Take Merlot for instance. It's arguably, in my opinion, the most difficult variety to grow in the Stellenbosch because it suffers terribly from heat stress. We have a clay seam on our eastern slopes, so we planted Merlot there just to ease the heat stress. Clay retains water very well and the roots of the vines can get the water and climb buffered against the heat. We've seen some very interesting results coming out of it.
Another crucial factor is the altitude. As you go higher up on the hills, you catch more wind than the valley floor. Where we're situated, during the summertime, you will get breezes blowing from the south around 10 o'clock in the morning. It has a cooling effect and it serves as a ventilator and keeps the canopies airy and dry. We believe, If the canopy is healthy, then we don't need to spray anything or do things like that.
What's your philosophy of viticulture?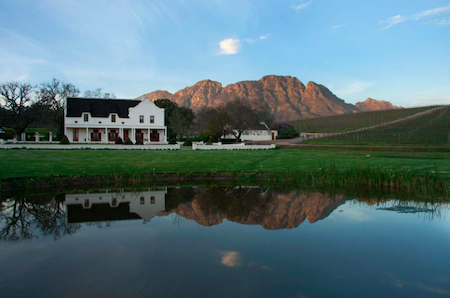 Well, in Stellenbosch, it is very common that we grow different plants on the properties. On the viticultural side, we try to maintain the diversity in our estates. If you look at the Western Cape where we're situated, it has the highest density of plant species. It is because we have all these different soils scattered around and these are a resourceful home to the plants. Take our estate for instance, we are surrounded by natural vegetation. We don't have any fences with our neighbors, so the natural flora and fauna can move freely in between. I think it is all because of the healthy soils we have in the area.
(Photo: The Glenelly estate)
In terms of farming practices, we've always been using a practice called responsible farming. We use sprays only when we need to and we try to cut it as much as possible. Now, we are doing a lot of experiments and trying to convert our property to organic. Because, we believe it is the way to go forward, naturally. The weather condition in the western cape is actually suitable to do so.
And, how big is the property?
Our property would be about 230 acres.
Okay, so quite big.
Yeah. About 140 acres is planted on vine, so it's a decent size.
What varietals do you work with?
We're mainly based on red grapes. The dominant variety is Cabernet, followed by Syrah, Merlot, Petit Verdot, and Cabernet Franc. For the white, it's just Chardonnay.
Talk a little bit about South Africa as a wine region. There's been a lot of improvement in terms of the visibility of South African wines over time. What does South Africa have to do to take the next step in terms of getting global acceptance of its wines?
Well, I think there's a misconception about South Africa in terms of winemaking history. A lot of people view it as a New World wine producer but if you look at the history of South Africa, we have produced wine for more than 350 years. If you put that into context with a place like Bordeaux, the Medoc didn't even exist when South Africa produced its first wine.
Unfortunately, due to political circumstances, with apartheid and stuff, the wine industry went into isolation for a long time. So, things developed differently, at their own pace and different to the world trend. And because of the political circumstances, winemakers and vine growers have limitation to travel and to communicate with their peers outside of South Africa.
Since the sanctions were lifted and people could travel again, there has been a proliferation of improvements and changes in the industry. The ability of being able to travel freely outside of South Africa brings in new knowledge of vinification and viticulture. Even winemakers and growers started to explore other regions in South Africa.
One of the popular areas is probably the Swartland at the moment. I'm sure you've heard of it. In addition, there has been a fantastic revival of how people see the value of the vineyards. Back then, one of the biggest problems in South Africa was the grape growers have never been financially supported properly. Meanwhile, the price of the grapes was suppressed over time and it was not a profitable produce. A lot of old vineyards were converted to fruit farms or something else.
Now vine growers start to lower the yield, focusing on the quality of the grape over the quantity, and get paid at a proper rate. We start to see the characteristics of the grapes from these beautiful old vineyards.
Fantastic. And, I know there's been a lot of work in terms of diversity in the industry in South Africa. You want to talk a little bit about that?
Well, we've been very diverse but the biggest challenge we've been facing historically is the industry's been very white-dominated. We've tried to bring different races of people into the industry through education over the years and we are excited to see the changes but it will take a long time. This should have been done many years ago.