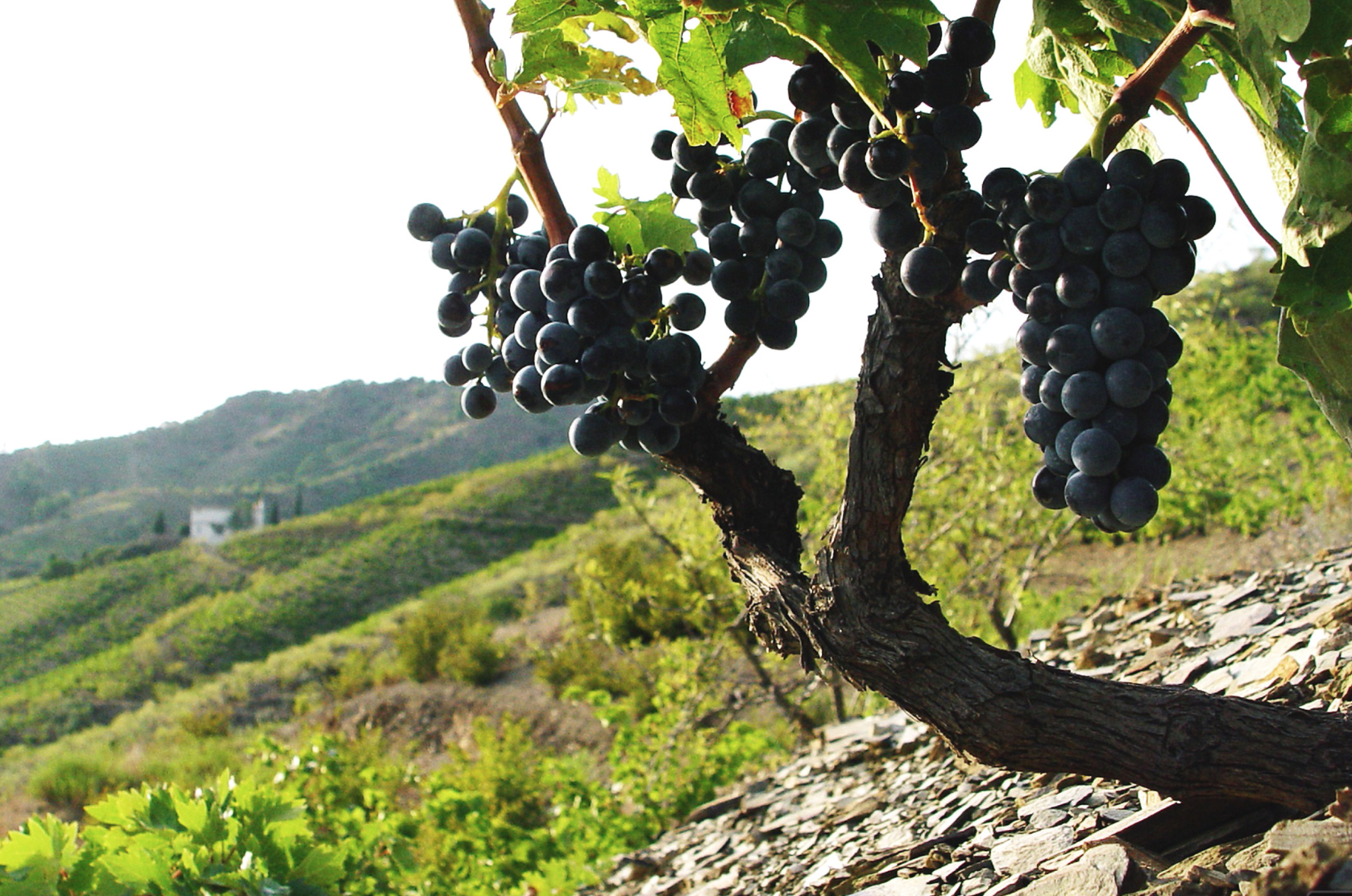 Priorat, a tiny isolated wine region qualified for the highest classification: DOQ in Spain, is richly endowed by nature.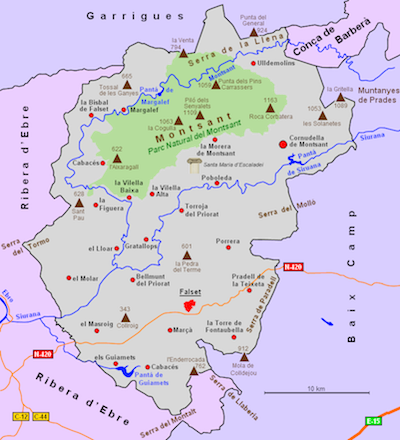 Enclosed by the Montsant Mountains from the north, Sierra de la Figuera to the west, and Molló from the south and east, Priorat not only stretches out with endless valley along with the Siurana River downstream towards Ebro but is known for its remarkable soil: Llicorella (a nutrient-poor, free-draining, stony, and slate-laced soil). Annual rainfall is often less than 16 inches; hot summers and cold winters make Priorat an ideal place to grow grapes. Terraced vineyards are scattered all over the country and manual harvest is still applied with the assistance of mules and horses.
Priorat red is predominantly made of two native grapes, Garnacha and Cariñena. The wine could be powerful, luscious, packed with flavors yet lifted by great acidity and tannin. Vitis Vinifera grape varieties can be found in the region, too. Only 4% of the vineyards are planted in white. According to the Consell Regulador de la Denominació d'Origen Qualificada Priorat, the surface of Priorat is 17,629 hectares (43,526 acres) and 1,887 hectares (4,663 acres) are occupied with grape vines. There are more than 600 growers taking care of these vineyards. Currently, there are 106 wineries registered in Priorat.
Priorat is formed by 12 villages. Porrera, situated in the southeast part of Priorat, is where Vall Llach located. Comprised of almost 29 hectares (72 acres) with 445 residents, Porrera is home to 12 local wineries, and Celler Vall Llach is one of them. Famous as the "liberal and insurrectionary town", Porrera is enriched by its history which dates back to 1201. Vine cultivation has played a crucial part to its economy as well as the wine trade in the 18th and 19th centuries. Two wine-related festivals held every year in Porrera; one is Tast de Porrera, taking place on the second Saturday in November. The other is Tast de Carynyenes a Porrera, which happens in the beginning of May. There are numerous wine tastings and fiestas taking place village by village all year around which serve to boost wine tourism and the interest in Priorat wine.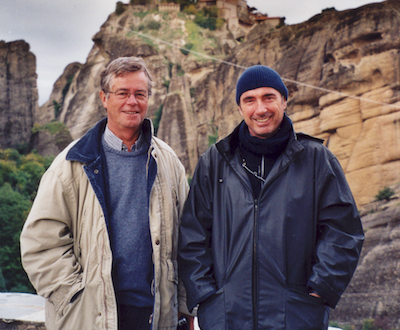 Vall Llach, founded by famous Spanish singer/songwriter Lluis Llach and Enric Costa, started as a social project in the early '90s as a way to help local business. Over the years, they have dedicated themselves to the locals, providing jobs, increasing wages for the employees, and enhancing the local economy turning Porrera into a wine tour destination if visiting Priorat. Furthermore, a few more social projects were created along the way.
(Photo: Vall Llach founders Enric Costa and Lluis Llach)
The Terra i Cultura contest, created by Celler Vall Llach and Fundació Miquel Martí i Pol in 2008, is an annual award given to the best songs recorded of original musical pieces based on poetry written in the Catalan language. The Women Project of Clos L'Asentiu, an independent project created by Albert Costa, pays the tribute to the women of Porrera. Albert makes three wines under this project bearing the names of three women, Maride, Catalina and Joaquina, who devoted their lives working in the vineyard since a young age. The Women Project donates €2 for each bottle sold of any of the three wines to help finance the activities for the senior citizens in the village.
Albert Costa, the son of Enric Costa, is now the co-owner and head winemaker of the estate. Grape Collective spoke with Albert about the history of Vall Llach, winemaking in Porrera, and his various community-focused endeavors.
Joyce Lin: Please tell us about your background as a winemaker.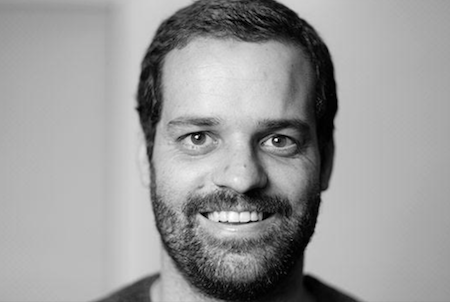 Albert Costa: I studied agricultural engineering first, then studied winemaking, both in Spain. Then I went to New Zealand, Australia and California for three harvests. Afterwards, I came back to work at Vall Llach in 2010. I like to make wine but I actually prefer working in the vineyards, growing grapes.
(Photo: Winemaker Albert Costa)
Tell us about the history of Vall Llach.
Vall Llach is founded by my father, Enric Costa and my business partner, Lluís Llach, a famous singer in Spain. The funny thing is they don't like wine and they don't even drink wine. They started Vall Llach as a way to help the people of Porrera, because Priorat used to be a very poor region.
Porrera was a 400-person town and Mr. Llach's mother was from the town. When Mr. Llach's mother passed away, he inherited her properties and started living there. Mr. Lllach would stay on the properties when he wanted to write songs. It is a very quiet town, and Mr. Llach enjoys going there to write songs. After Mr. Llach started to live in Porrera, he decided to do something for the town and that's how Vall Llach, the social project, was born. He and my father started this project only to help the people in town.
There were two major changes when we started this project. First was to raise the wage from 15 cents to three euros for every worker in town. The second was to build the winery in the middle of the town. The reason why we wanted to build the winery in town is because all the people live in town. In addition, when people are visiting in town, they come for wine and food, and oftentimes they stay overnight. Building the winery in Porrera was a wise decision to keep the economy going.
Looking back then, there were only three wineries when we started, with no restaurants or hotels. Now we have 21 wineries in the middle of town, four restaurants, and four hotels. The changes mean so much to my father and my business partner, Mr. Llach. That's what they wanted to bring to the town; to increase the economic flow for the town. Vall Llach operates not only as a winery but more like a social project to us.
There are 12 villages in Priorat, and Vall Llach is based in Porrera. Can you tell us a little bit more about Porrera, in terms of geography, climate, and terroir?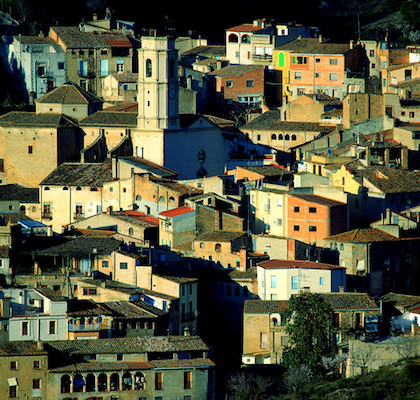 Ten years ago, Priorat was divided into 12 subzones in a way similar to what the French did. It is super important to us, because the climate is very different from Porrera to La Vilella Alta. For example, Porrera is closer to the sea so we have the sea breeze coming through. During the day it is very hot, but it's cold at night, and that makes Porrera the last area to harvest grapes in Priorat. For this reason it also makes Porrera known for the Cariñena grape. If you go more inland, the wine is more Garnacha based. The climate of the villages of Poboleda and Porrera is more of a Mediterranean climate, while others are more of a continental climate.
(Porrera, where Celler Vall Llach is located)
The soil is dominated by blue slate, also called Llicorella. It's the key element making our wine so special and unique. Llicorella has low PH and that enables us to produce wine with great acidity. We can make wines containing 15.5% abv but the wine still tastes fresh because we have enough acidity.
Tell us about your philosophy of viticulture.
We work organic In Vall Llach. We don't use any herbicides or pesticides. As you know, Priorat is hilly. All of our vineyards are located on slopes. We don't grow grapes in flat places. We can't even go by tractor. We work with mules. I have three mules and they plow every winter. If we don't plow the vineyards, we might have to use herbicides.
Have you practiced organic farming since the beginning?
No, we started organic farming after I started to work in Vall Llach in 2010. I decided to change all of that.
And why?
When I work at the wineries in New Zealand, Australia and California, they all have one thing in common: they all farmed organically. I learned so much from these wineries. They are able to take care of the vineyards without using any herbicides or pesticides. I applied this method to our vineyards and everything worked out. Furthermore, our wine tasted cleaner while using these organic grapes. The grapes and wine speak for themselves, you know. They are telling the truth, and that's the reason why we keep doing it.
What is your philosophy of winemaking and has your winemaking changed over the time?
It changed little bit over the last five years. In Vall Llach, we have always been doing spontaneous fermentation. We never add cultured yeast or anything like that. We've been doing this since we started this project. The only changes I make is the style. I started to do less extraction with the skins and use less oak. I wanted to make wine that can be enjoyed right after bottling. Our customers don't need to cellar the wine themselves and wait for 10 years. If you tasted our wine five years ago, you would have found they were difficult to appreciate when they were first released to the market. For that reason, I wanted to make wine that can be enjoyed when it's on the market.
Besides that, I'm very happy to see more and more Priorat producers making fewer and fewer international variety wines and shift the focus to indigenous grapes such as Garnacha Tinta and Cariñena, just to name a few.
What are the grapes you work with?
I work with Cariñena and Garnacha mostly. Cariñena is the major variety we grow in Priorat. The vineyard is closer to the sea and Cariñena grows very well next to the sea. Garnacha is planted more inland. Oftentimes, people think Cariñena is a blending variety, but if you taste the Porrera, 100% Cariñena we made from very old vines, you will find it very different.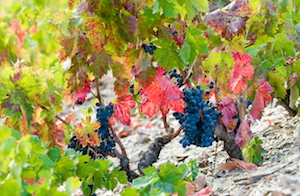 Moreover, the slate soil gives Cariñena characters and personalities that you can't find anywhere else. For me, Cariñena is not just a blending variety but it's a delicious wine by it's own. I'm very happy to work with Cariñena and be able to educate our customers how to appreciate it.
(Photo: Old vine Cariñena)
I also work with Cabernet Sauvignon, Merlot, Syrah and Viognier. I tend to work less and less with the international varieties cause we wanted to go back to our roots and focus on the native grape varieties we have in Priorat.
Among all of our production, only 5% is white. The production of white wine is growing because people want Priorat white. We have some Garnacha Blanca but I mainly work with Viognier. My family planted Viognier 25 years ago and Viognier grows very well in Priorat. We like the expression of the Viognier a lot. I'm very happy to see Viognier, accepted by the Spanish government, (Consell Regulador de la Denominació d'Origen Qualificada PRIORA) as one of the authorized white grapes in Priorat.
Please talk about the terroir of the vineyards you work with.
In Porrera, the soil is dominated by slate soil, mostly blue slate. The majority of the vineyards we have are facing south. Fifty years ago, vine growers got paid according to the ripeness of the grapes. The riper fruits you get, the more alcohol you can produce, and you can earn more money. It was a big deal back then. Now with the new vineyards, we try to plant the vines on higher elevation due to the climate change, and on north exposition to get less sun to achieve higher acidity. The highest vineyard we have is located 600 meters above sea level.
Tell us about the flagship wine, "Mas de la Rosa".
Mas de la Rosa (Rose's Farmhouse) is a three-hectares vineyard. It has 15,000 vines and only produces 2,000 kilos of grapes per year. That means every seven vines produce one kilo of fruit and that counts for one bottle of wine.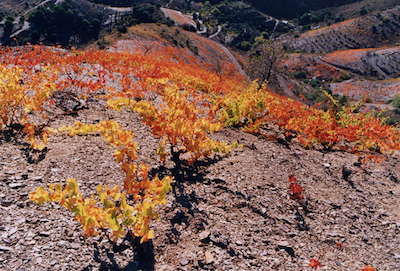 When I worked in Napa, one grapevine can generate about six bottles of wine. That's the other way around in Priorat. This vineyard was planted in 1900 after the phylloxera and 80% is on the slope. We have almost 48 feet of vine roots. That means the vines work so hard just to look for water and it also explains why the yields are so low, but the fruits are concentrated and packed with flavors.
(Photo: Grand Cru site: Mas de la Rosa)
Mas de la Rosa is made with grapes only from this vineyard and now the vineyard has become Grand Cru according to Consell Regulador de la Denominació d'Origen Qualificada Priorat. We are very happy with that and we can put Mas de la Rosa on our label like the French do. In Priorat, we only have two Grand Cru sites. One is Clos Mogador; the other one is Mas de la Rosa. It means a lot to us and that's what makes Mas de la Rosa very special and unique. Only 1,500 bottles produced and that's the only wine we sell on premier and we are very proud of it.
Find out more about the "Vins de Vila" project, the new regulations that allow Priorat producers to put village names on the label; a further step to link their wines to the origin.
Tell us about Porrera. It's a Cariñena dominated blend, isn't it?
Yes, Porrera is a Vi de Villa, meaning a joint. All the grapes are coming from the town, Porrera. We have three vineyards next to the town, and these are the best three vineyards we have. The terroir of these vineyards represents Porrera the best. We grow more Cariñena than Garnacha here. We used to ferment the wine in concrete tanks back then; moving on, we used a lot of barrels. I started to use clay (600 liters) to ferment and age Cariñena since 2012. For Garnacha, I use 2,000-liters footer barrel. In my opinion, Cariñena needs air and it is a relative high acidity variety. Clay has pores and provides more oxygen to the wine; microorganisms are more active than using other vessels. I think clay is a better material to work with Cariñena and I'm happy with the outcome.
Tell us about the white wine you produce.
"Aigua de Llum" in our language means "water of light". The fragment comes from a poem, called Solstici. It is made of 100% Viognier, an authorized white grape just accepted by the appellation. Only 1,500 bottles were produced in vintage 2016. It's not like Condreau or Château-Grillet. It is a singular wine. A wine that's hard to describe when you taste it. It has more white flower notes on the nose and it's fresher. The packing is very special too. All the bottles come with a rock from the vineyards where we picked the grapes.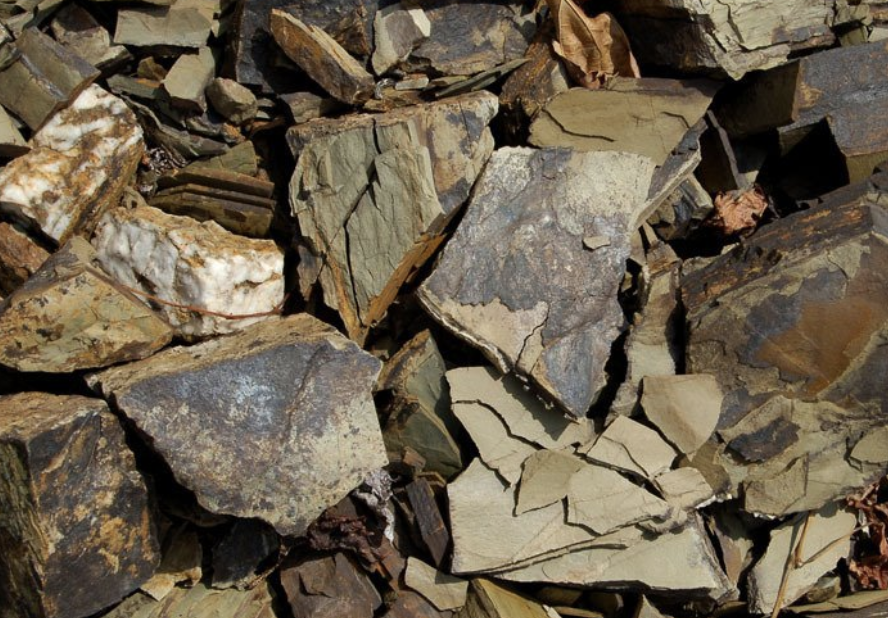 What regional dishes will you pair with your wine?
I like to drink Priorat by itself, because a glass of Priorat by itself is a pleasure. You don't need anything to pair with it. In Catalonia, we eat a lot of wild boar. Priorat tinto would be a perfect wine for this red meat. We also eat a lot of tuna, Priorat Bianco would go with tuna very well.
(Photo: Llicorella slate soil)
Most of the Priorat wines are big. You have to be careful of the food you pair with them. Sometimes they can easily go over the food. I always tell my customers, don't worry about the dish or the food you are pairing with. Think about the person you are with. If you are with great friends, I'm sure the wine you drink together is going to be fantastic!
What's your approach to those who are not familiar with Priorat wine?
When I'm in the States, I always like to tell my customers that if you are a fan of Napa Cab, try red Priorat. Generally, red Priorat is a full-bodied wine with generous dark fruit flavors but contains great acidity to give a lift without dullness. I'd like to let them know that they have these options. I've noticed that the American palate is changing and lots of young people prefer less oak-driven wine. For us, that's great news, because we try to trim the oak usage in wine too.
Is there anything that you wanted to add?
I'd like to thank my father and my business partner for letting me carry on this beautiful project as well as all the help I get from the town.
For more information on Priorat wine check out: Joyce Lin's article on Priorat producer Mas d'en Gil
Lucia Albino Gilbert and John C. Gilbert's article on women winemakers of Priorat