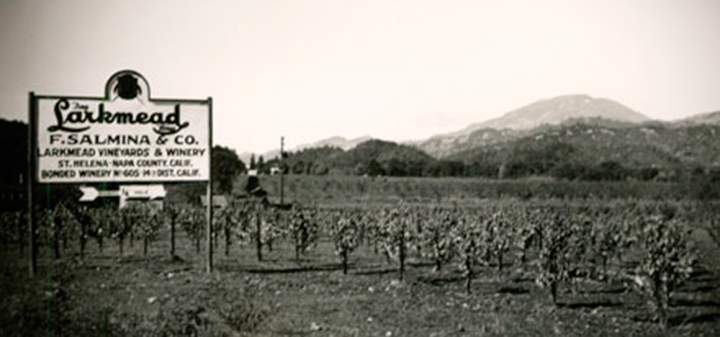 Larkmead has a storied history but a sporadic one. Here are a handful of highlights from over the years.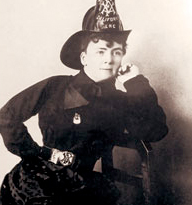 In 1851, the Hitchcock family purchased 1,000 acres between St. Helena and Calistoga. Lillie Hitchcock Coit became so enamored with the singing of the local meadowlarks that she called the property "Larkmead." (Coit's later philanthropic work prompted the city of San Francisco to name the landmark Coit Tower in her honor. Also in her honor: Larkmead's "Lillie" sauvignon blanc and "Firebelle" red blend.)
Coit planted grapes, mostly zinfandel and riesling, in the Three Palms Vineyard, now one of Napa's foremost merlot sites.
In 1895, the Salmina family joined forces and established the Larkmead Vineyards business.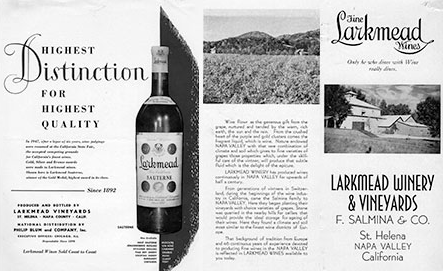 According to James Lapsley's book "Bottled Poetry": "When André Tchelistcheff arrived in Napa in 1938, he recalled 'four outstanding wine processing plants: Inglenook, Beaulieu, Larkmead and Beringer.'"
In 1944, Larkmead's Felix Salmina was one of the seven founders of the Napa Valley Vintners Association, along with Fernande de Latour, Charles Forni, Robert Mondavi, John Daniel Jr., Louis M. Martini and Louis Stralla.
In 1948, Larry and Polly Solari purchased the winery and vineyards, and in 1952 they sold the winery building and focused on growing grapes on the 150-acre estate, making wine only occasionally. It wasn't until 1997 that Larkmead became a full-scale winery again.