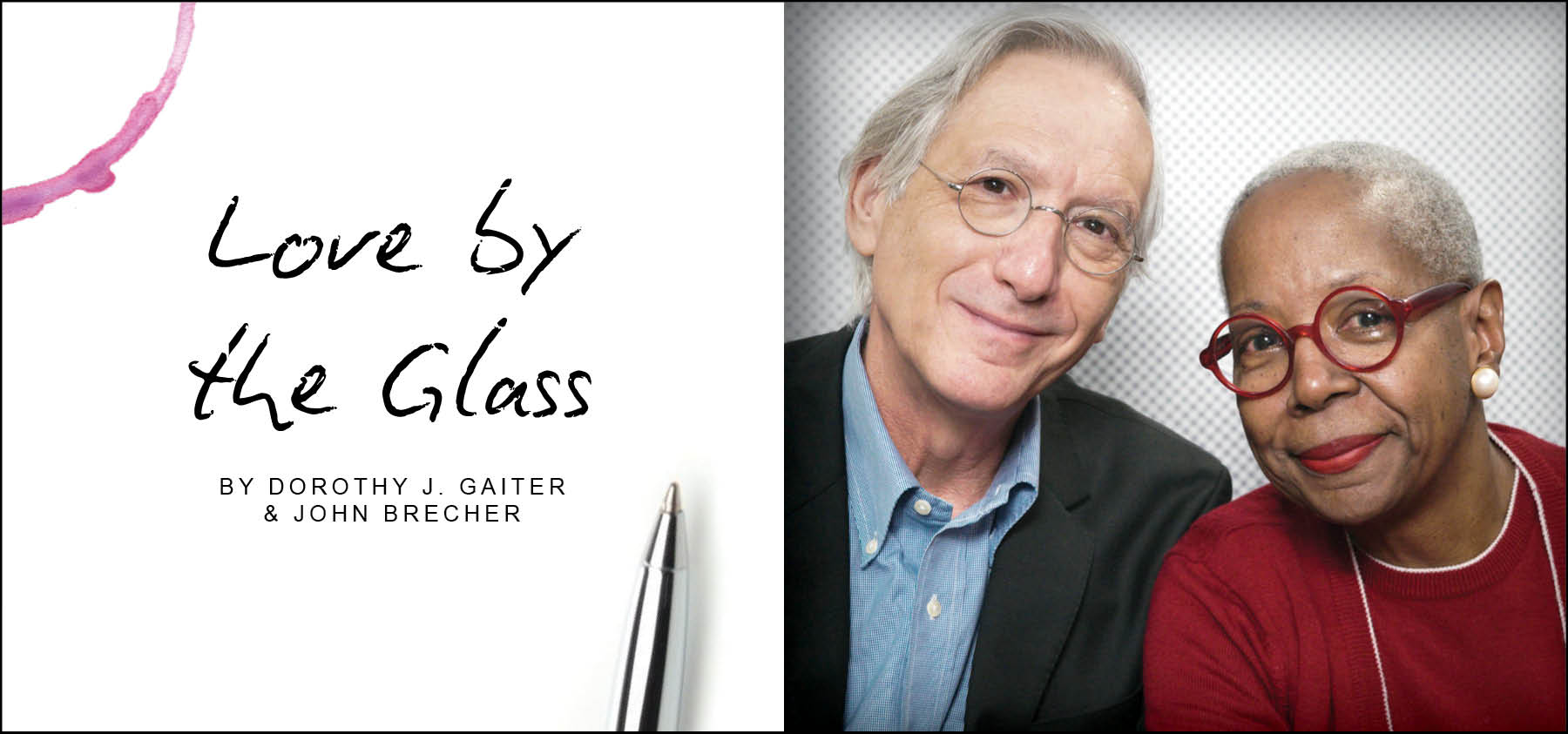 Carlton McCoy Jr. argues that the future of Napa Valley is its past. As the new president and CEO of venerable Heitz Cellar, he makes a convincing case.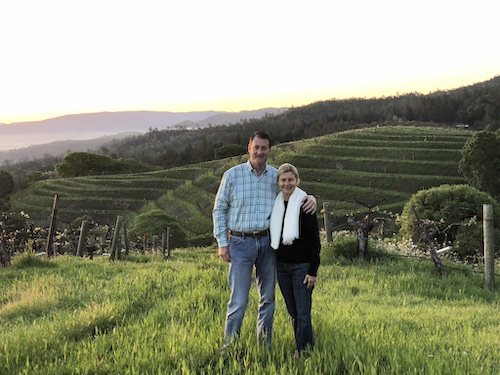 When Heitz, one of Napa's great old wineries, was sold last year to Arkansas agriculture-and-banking billionaire Gaylon Lawrence Jr., we feared the worst. We've seen so many great names in American wine go into the spit bucket after being taken over by rich people or giant corporations.
(Photo: Gaylon and Lisa Lawrence)
When Lawrence appointed McCoy, we thought, hmmmm, this is interesting. McCoy is 34 years old, a graduate of the Culinary Institute of America in New York, former Wine Director of The Little Nell in Aspen and one of two African-American Master Sommeliers. As even he puts it, "I'm not a farmer. I was born and raised in Washington, D.C."

We were eager to meet McCoy and we got our chance recently when he visited New York on a business trip. When we asked about his vision for Heitz, we felt as though we were standing next to an active volcano of ideas for more than an hour. And there's news – lots of news, especially for people like us who have revered Heitz for decades.

Even if you are not a wine geek or a big fan of Heitz, his vision is important for anyone who cares about historic preservation – a winery, in this case – and anyone who is interested in Napa Valley. McCoy feels, as we do, that too many legacy brands have effectively disappeared as fine wines. Too many other Napa Valley wines -- overwhelmingly Cabernet Sauvignon -- have become interchangeable, lacking the personality and elegance that made Napa famous in the first place.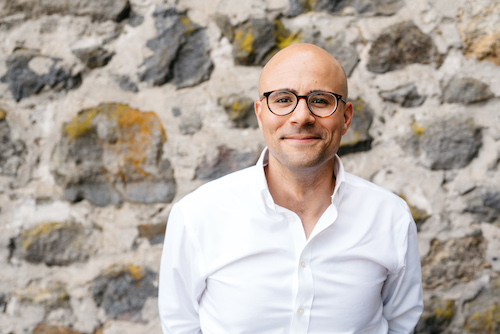 McCoy said many wineries now are owned by people who care more about the lifestyle than the wine and outsource the winemaking to consultants. "It means wines that all taste the same and look the same," he said. "They're boring." He believes Heitz, which has been a leader since it was founded in 1961, can help lead the way back.
(Photo: Carlton McCoy Jr.)
McCoy told us he has known Lawrence for some time as a frequent visitor to Aspen. "Gaylon is a big wine aficionado—he buys to drink, which I love," McCoy said. "He's not the kind of guy who's like, well, I just want to buy a bunch of wine and hoard it and hopefully it grows in value. He buys wine that's ready to drink and he drinks it. He loves wine. He loves wine culture. We met over many bottles of great wine." Lawrence decided he'd like to buy a winery and wanted to keep his money in the U.S., McCoy said, so he focused on Napa and then heard Heitz might be available.
"So I said, 'Look, it's going to be expensive, and it should be expensive, but I think the wine world would appreciate this being family-owned, if that counts for anything in your investment,'" McCoy recalled telling Lawrence.
For months, he advised Lawrence as a friend, but Lawrence never seemed to find the right team to help him guide Heitz. He ultimately decided that McCoy had the vision and passion for the job.
From our brief time with McCoy, we'd say Lawrence chose wisely, tapping a smart, charismatic man who excels at reading people and commits endearing acts of kindness, as befits a star in the hospitality world. In March, after reading about some great Napa Valley wines we have enjoyed, McCoy wrote to say he had a special bottle he wanted to share. At our interview at the Grape Collective store in Manhattan, he gave us a 1968 Beaulieu Vineyard Georges de Latour Private Reserve Cabernet Sauvignon. We enjoyed this on our honeymoon in 1979 and have often proclaimed it the greatest wine we've ever had.
"I think it's really difficult for people to summarize what makes a wine so impactful," McCoy told us. "It's the reason why we end up with such a focus on number scores and things like this. How do you express the emotion that comes from something like that on a honeymoon? There's an emotional feeling behind it that is really difficult to quantify."
He took the job in December and moved to Napa Valley in April. Here's what has happened so far and what McCoy says is going to happen, and quickly: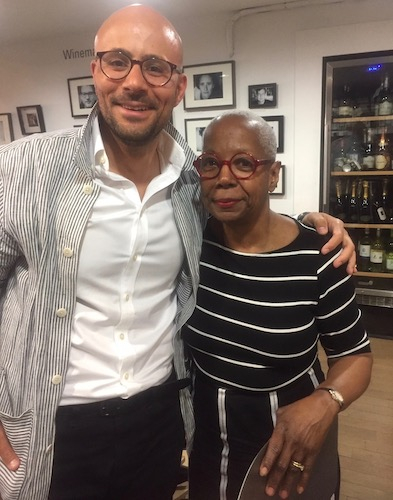 --McCoy said the first thing he did was start chopping away at some of Heitz's smaller wines that he felt "didn't make sense" under the Heitz brand. He said Heitz Cellar usually produces 30,000 to 40,000 cases, but that will drop by 10,000 cases this year that will either be not made or sold under a new brand name. Heitz's marvelous Grignolino rosé, for instance, will still be produced, but will not be sold as Heitz. ("I love the rosé," he said. "It's a rosé with purpose.")
(Photo: Carlton McCoy Jr. with Dorothy Gaiter)
--There will be other new estates – new wines, new labels – to come, with new vineyard purchases and repurposing of existing ones. "We will be launching two new brands in 2020," McCoy said. Heitz owns 480 acres of vineyards in choice parts of the valley. It's working to determine what wines do so well in a certain spot that they should be separated into their own estates. "Every estate will have its own story, its own profile," he said. "What makes sense? And what is naturally calling to be its own estate?"
--Heitz itself will focus on what made it famous: site-specific Cabernet Sauvignon. Founder Joe Heitz and Tom May, who named his family's world-class vineyard after his wife, collaborated in 1966 on the first vineyard-designated wine in Napa – the famous Martha's Vineyard – and that will be the base of Heitz. "What is Heitz's legacy and what do we want to be known for?" McCoy asks. "We're going back to that. Single-vineyard wines is our focus and everything else takes a back seat." Heitz will not make more than 40,000 cases under its own name. Perhaps 3,000 cases of the total Heitz production will be Chardonnay and it will be from a vineyard in the cooler Oak Knoll District. He said Joe Heitz fashioned his Chardonnay on the focused, pure Chardonnay from Stony Hill – another legacy winery that was recently sold – and Heitz will make the wine in that style. Heitz will only make Cabernet and Chardonnay under the Heitz name. "If you are all things to all people, you end up being nothing, right?" McCoy said.
--Heitz is going to resurrect Lot-C 91, which Joe Heitz bottled only in 1969 as a blend of wine from the best vineyards that didn't quite make the cut for vineyard designation. "It takes pressure off because we can only bottle the very best of every year" as a vineyard-designated wine, McCoy said. The rebirth of Lot-C will be a 2016 blend of the single vineyards in Rutherford, Oakville and Howell Mountain, McCoy said. It will be priced higher than Heitz's Napa Valley Cabernet, which is a lower-priced option to vineyard-designated bottlings, but still pure and honest.
--Heitz just announced that it bought 51 acres adjacent to its Trailside Vineyard. Heitz has been for many years the largest organic winegrower in Napa. McCoy told us that eventually all of its vineyards will be Demeter-certified biodynamic, and that will be declared on the labels. He said Heitz will always sell about 40 percent of its grapes to others. "Because of the amount of land we have we'll always be a farming business," he said, which leads to the Really Big Picture:
--All of this will serve to protect and support Heitz Cellar's focus on continuously improving the quality of its own wine with the rest of the company acting as a financial moat. "We are in the business of purchasing very high quality vineyard land in Napa Valley," McCoy said. "It's the core structure of our business as a whole. Heitz is only a very small part of what we will be doing in the next five years. Everything else we do allows for us to not have to force revenue through Heitz."
"We really care about the estate and brand and we wanted it to be protected and the only way we can protect Heitz is to take pressure off the brand by creating completely different estates," McCoy said.
"What other wineries may be forced to do in today's market would be to ramp up production of Heitz to get money for Heitz. But you don't need to do that anymore and that's because the holdings are so diverse," he said. "We want people to look at the Heitz Cellar name and understand a style but also a quality level. We don't want to be pressured to bottle a Heitz that doesn't meet that criteria."
--He said Heitz Cabernet will continue to be 100 percent Cabernet. "The purest expression of any place is monovarietal wine," he said. "When you show one varietal from one place in one vintage it's the purest expression of a place ever. To me Heitz will always be that pure expression."
--And he said the Heitz team will stay in place. The May family is on board, he said, along with the Neal family, longtime managers of Heitz's vineyards and Martha's Vineyard. So is Heitz's winemaker, Brittany Sherwood, who is just 29.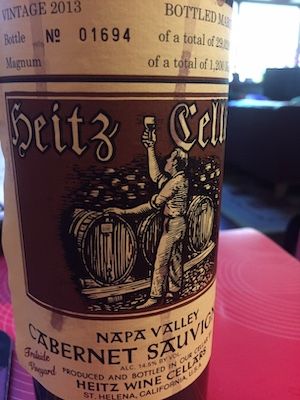 We have felt for some time that Napa Cabernets are too often judged by price – the higher the price, the more seriously they are taken by some critics and consumers – and Heitz's prices have always been reasonable compared to other top-notch Napa Cabernets. We asked: "Do you think Heitz needs to raise prices to be taken more seriously?"
McCoy's response: "Yes" – but "incrementally" and "within reason." Heitz's most expensive wine, the legendary Martha's Vineyard, costs about $250. "If I were to raise that to $350, there would be a riot. But there's a new winery popping up every six months that's charging $500 a bottle and no one ever says anything. And they have no pedigree, they don't own vineyards," he said.
He added a fascinating postscript to that: "The one wine I did increase the price of was the Trailside Vineyard because I thought it was dramatically underpriced. It drinks way out of its price range." So he raised the price from about $80 to about $110 "and the sales went up. Dramatically. Like, crazy. They just went through the roof." (The winery sent us the 2013 Trailside and it is a beautiful, old-school Napa Cabernet, which tastes like tightly wound, ripe fruit instead of oak and vanilla, and is best enjoyed in small sips.)
(Photo: Heitz Trailside Vineyard)
McCoy sees all of this as a mission that goes far beyond Heitz itself. "For me," he told us, "I think it's a bigger question of how do you want the world to perceive the Napa Valley?" And one part of that is a legacy winery recommitted to quality above all.
We wish him and the Lawrences well. Heitz Cellar is a precious part of our development as a fine wine-drinking nation.
Dorothy J. Gaiter and John Brecher conceived and wrote The Wall Street Journal's wine column, "Tastings," from 1998 to 2010. Dorothy and John have been tasting and studying wine since 1973. Dottie has had a distinguished career in journalism as a reporter, editor, columnist and editorial writer at The Miami Herald and The New York Times as well as at The Journal. John was Page One Editor of The Journal, City Editor of The Miami Herald and a senior editor at Bloomberg News. They are well-known from their books and many television appearances, especially on Martha Stewart's show, and as the creators of the annual, international "Open That Bottle Night" celebration of wine and friendship. The first bottle they shared was André Cold Duck. They have two daughters.
Read more from Dorothy J. Gaiter and John Brecher on Grape Collective
Banner by Piers Parlett