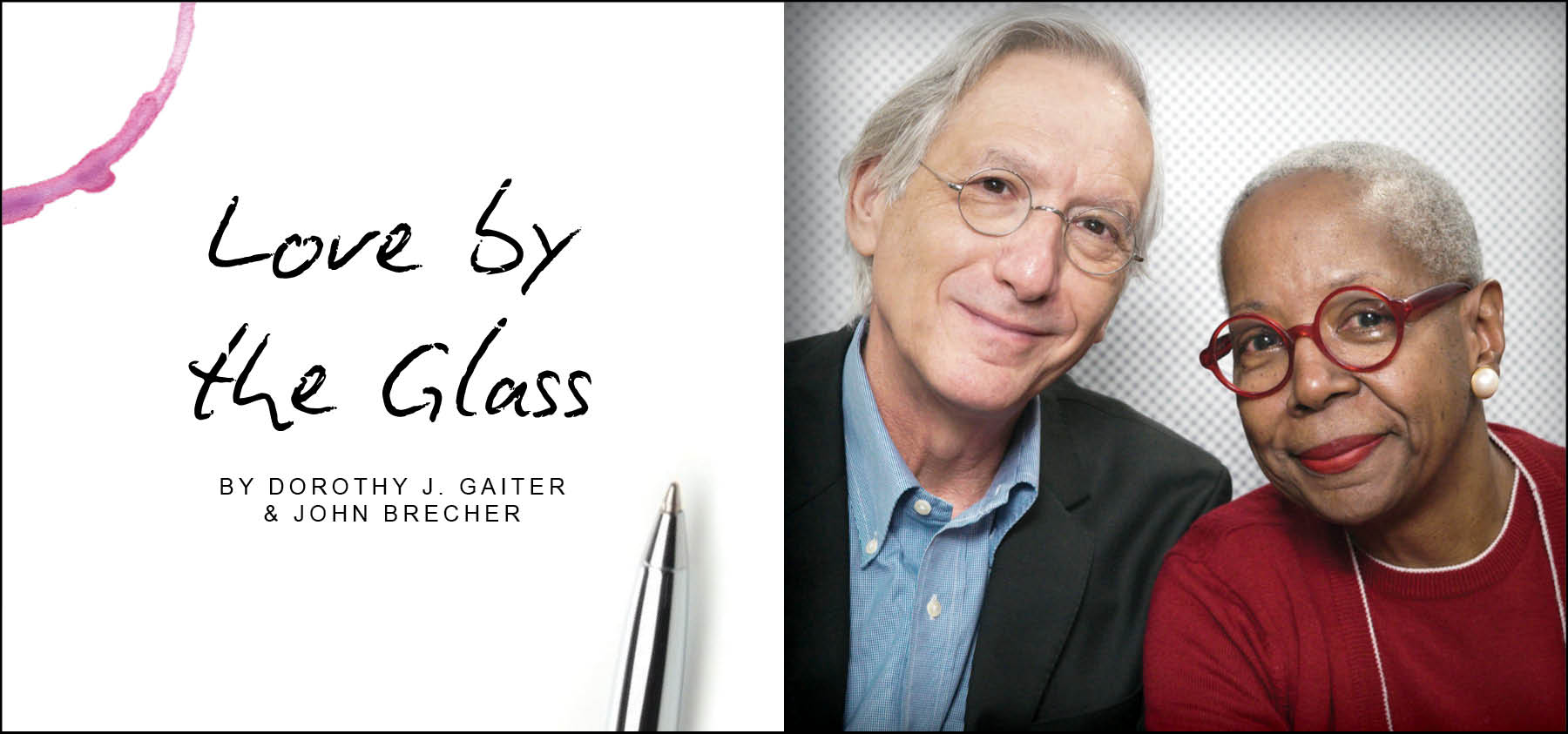 My husband's grandfather had an old bottle of Cognac that he was holding and first it was for when my husband hit his 18th. Then it was going to be graduating high school and then it was graduating college and then it's when he gets married and then it's going to be the first grandchild. He never opened the bottle.
This is not just your usual Open That Bottle Night memoirist talking.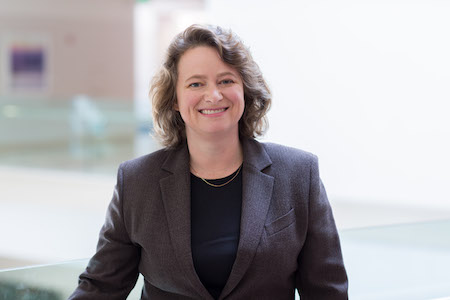 This is Dr. Suzanne Shu, an associate professor at UCLA who has been studying delayed gratification for more than 15 years. She and the University of Pennsylvania's Dr. Marissa Sharif recently produced a paper on "Occasion Matching of Indulgences" that was partly informed by Open That Bottle Night and for which some of the research took place at an OTBN party in Chicago.
(Photo: Dr. Suzanne Shu)
Their question: Why do people put off enjoying special things? Or, as they put it, "Self-control may be overapplied and the temptation to indulge is resisted to the point of lowering one's overall enjoyment of life."
Exactly! That's why we invented OTBN 20 years ago – and why this year, once again, it will be celebrated worldwide: at wineries from Pennsylvania to Texas to California, at homes everywhere and at clubs and restaurants from Baltimore to Melbourne, Australia.
For those of you who don't know the story – and, really, where have you been? – we began OTBN soon after we conceived The Wall Street Journal's wine column, "Tastings." We realized that the letter we received most often from readers was: I have this special bottle of wine that my father left me or that I bought at auction or was left over from my honeymoon. When should I open it? Our answer was always the same: Prepare a special meal this weekend and have a good time. (And do this as often as you can.)
But we knew it wasn't that easy. Too many bottles had been saved for far too long. They had become too special to ever open – or, as the professors put it in beautifully academic terms, "When thinking of an ideal occasion, consumers may unintentionally create a threshold that is highly unlikely to be reached in real life." So we wrote, OK, let's do this: On a single night – the last Saturday in February – let's all pop those corks together. OTBN falls on Feb. 23 this year.
Wagyu beef tartare with grape pomace cracker, pickled mustard and poached quail egg.
Santa Barbara seafood chowder with local shellfish and winter roots.
Roasted Parker Ranch lamb saddles with celery root purée, caramelized cipollini onions and Syrah jus.
Flourless chocolate cake with cherry-Port compote, blood orange and cocoa nibs.
Hungry yet? OTBN has always been about the food, too. What you just read is the menu for the blowout dinner planned by Chef John Cox at Fess Parker Winery and Vineyard in Los Olivos, Calif. It will be paired with library wines, most of them in large-format bottles, and 80 lucky guests can bring their own, too.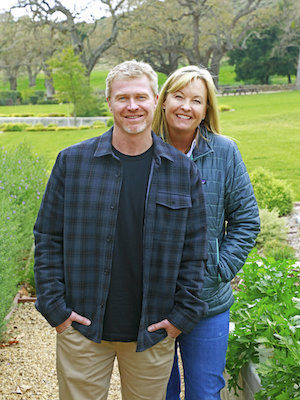 Co-owner Ashley Parker-Snider (daughter of the late actor) and her husband, winery President Tim Snider, said this is the winery's first OTBN event, although they've personally enjoyed it with friends for years. "We've opened some incredible bottles of wine and told some really fun stories," Tim said. "Some of them were even true."
(Photo: Tim Snider and Ashley Parker-Snider)
They decided OTBN would be a perfect way to celebrate the winery's 30th anniversary. Tickets ($125 each; $100 for club members) sold out fast – the greatest response they've ever received for an event.
"It's sometimes hard to get people to commit," Ashley said. "Around here everyone is very casual about planning, but it really did sell out in about a week to 10 days."
On the other side of the country, in Andreas, Pa., Galen Glen Winery will be celebrating its first OTBN event, too. "We've talked about doing it for years," said Sarah C. Rhodes-Troxell, the winemaker at the 7,500-case winery that she founded with her husband, Galen, in 1995. "So many of our friends have collectible bottles and never open them. We didn't want to be like them, filling our cellar and always looking for that 'special' reason.
"In December, we opened some old bottles of Cab Franc during our staff holiday party and had so much fun reminiscing and telling stories about the vintages that we thought we should share a few more bottles with more winery friends."
So on OTBN, for a small fee, guests can taste older, sold-out wines from the winery's own cellar – special wines like Riesling, Cabernet Franc and Grüner Veltliner, with maybe a Zweigelt in there, too. During the day, the couple's daughter, Erin, will lead a class on older Riesling.
Will Sarah and Galen open a special bottle themselves? Probably.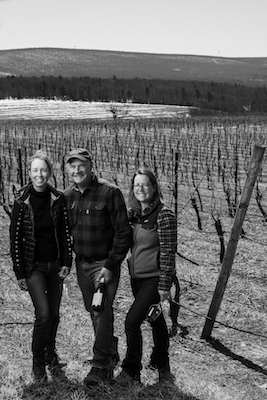 "We really should open a sparkling from the first vintage we made," a 2000, made from Cayuga grapes, Sarah wrote. "We said we'd save it if one of our children returned to our winery. Our daughter is back. With two degrees from Cornell – Enology & Viticulture and Plant Science -- she was destined to be a winegrower, even though we tried to talk her out of it. Winegrowing is not the easiest life, especially as a woman. Her Masters is from the SupAgro program at Montpellier with her final project presented at Geisenheim. She traveled for about 10 years, working and studying in Europe, CA, NY, New Zealand."
(Photo: Sarah C. Rhodes-Troxell, Galen Troxell and Erin Troxell)
We suggested to Sarah that there must be bottles even winemakers can't stand to open. She replied: "Opening the last bottle of a vintage is like saying goodbye to a very dear friend, one that you will never meet again. Since there are only so many vintages in a winemaker's lifetime, there is much more gravity to that last bottle. Each time it's a bittersweet goodbye."
Indeed, Dr. Shu talks of "asymmetric regret" – or, as the paper puts it, "people feel greater regret if they use their special item too early than if they wait too long and never use it at all."
Emma Thomas could be the spokeswoman for that. She works for Jackson Family Wines in California and here's her story:
"In 1985, my parents were celebrating their 10th anniversary by spending August traveling through France. They didn't have a plan, just rented a Renault in Paris and headed for the Loire Valley. They wanted to bring back a few nice bottles as a memory of that trip, so while heading through the Côte de Beaune they picked up a 1973 Meursault Les Charmes. The idea was to open the wine for some celebration that felt special enough to deserve it, but somehow the occasion never seemed grand enough, or the meal never amazing enough to bear the thought of actually opening the wine. My mom recalls feeling like it would have been the end of something that she wanted to hold onto.
"So they kept the bottle, first in a small closet in the apartment in NYC that they had lived in through graduate school. Then it traveled upstate to Poughkeepsie when they bought the house in 1989, and it settled into a small corner of the basement. The basement at my parents' house is the best kind of musty, dusty old basement that keeps wine at the perfect temperature, but it's also a place where things go to die.
"My mom pulled it out again when I was home for the holidays. It was around 11:30 p.m. and we were both in our PJs. She remembers thinking that its dark caramel color meant it was way past drinkable – she thought I was brave to open it, and I trusted she was right. So just before bed we thought we'd open it just to 'see how bad it was' and we poured a glass while standing at the kitchen counter. My mom remembers thinking, 'What the heck?' The color was light brown and it was nutty like a fino sherry, but with beautiful length and liveliness. I thought 'holy sh*t, this is gorgeous' and felt a sudden flood of delight and dread. That wine deserved its moment – the best moment – and it surrendered to the fate of a late-night snack. My father likely was asleep. Otherwise, he probably would have been the wise voice that told us to save it.
"If I could have any wine moment back, it would be that one. I vowed from that point to always expect the greatest from a wine."
To be honest, our feeling is that drinking a treasured bottle of wine with your mom late-night in your PJs is pretty darn special in its own way. But the bottom line is the same: Open that bottle! Celebrate the memories! Appreciate the wine for what it is, not what it might have become or might once have been. This is about wine, of course, but it's about so much more – family, love, life.
And, by the way, the story of Dr. Shu's Cognac has a sweet ending. After her husband's grandfather passed away, the family built an entire three-generation celebration around the bottle and toasted his life.
Dorothy J. Gaiter and John Brecher conceived and wrote The Wall Street Journal's wine column, "Tastings," from 1998 to 2010. Dorothy and John have been tasting and studying wine since 1973. Dottie has had a distinguished career in journalism as a reporter, editor, columnist and editorial writer at The Miami Herald and The New York Times as well as at The Journal. John was Page One Editor of The Journal, City Editor of The Miami Herald and a senior editor at Bloomberg News. They are well-known from their books and many television appearances, especially on Martha Stewart's show, and as the creators of the annual, international "Open That Bottle Night" celebration of wine and friendship. The first bottle they shared was André Cold Duck. They have two daughters.
Read more from Dorothy J. Gaiter and John Brecher on Grape Collective