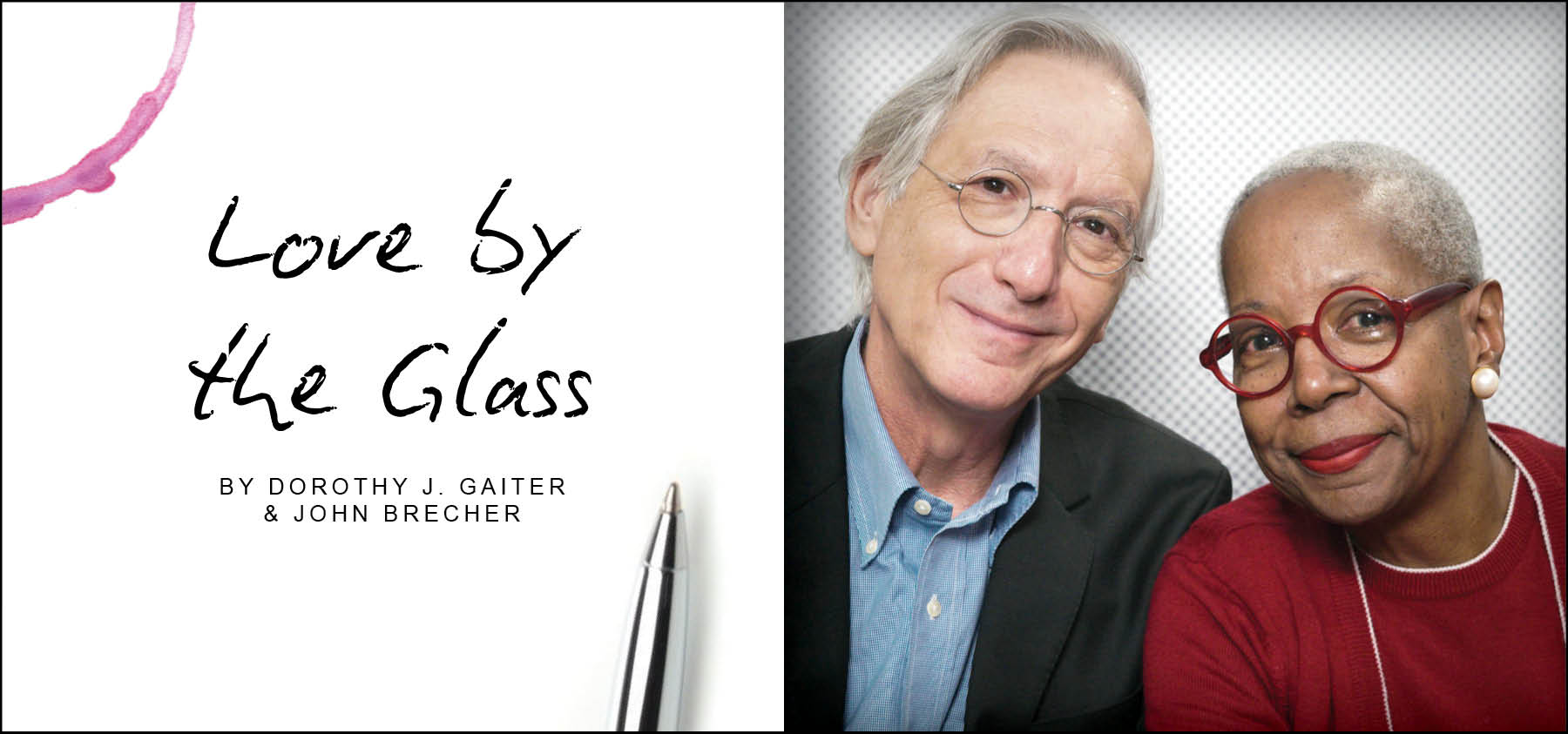 It's bubbly time!
We're dispensing with all of the usual preliminaries here. No, sparkling wine shouldn't just be enjoyed around the holidays (but, overall, it is, despite our best efforts). Sure, only sparkling wine from the Champagne region of France is real Champagne (you know that, but you probably don't stay awake at night worrying about it.) And we're not getting into the once-again heated debate about the "correct" stemware for bubbly (if a glass says "celebrate" to you, that's perfect).
Instead, we're going to share a mixed case of bubblies that we have particularly enjoyed over the past year or two. We'll move through them quickly. In most cases, we also provide a link to something we have written about them here at Grape Collective or on our Facebook page.
Some of these are available at grapecollective.com. If not, you can find others by checking out wine-searcher.com. Ready? We'll count down to Zero – because, as it happens, Zero is the hottest word in sparklers these days. All prices are approximate for these wines, some of which were sent to us to review.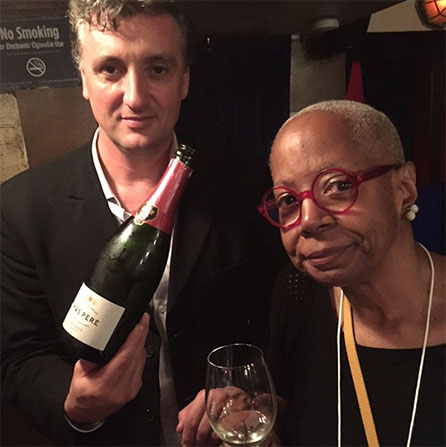 (Jean-François Ey importer of Mas Pere Cava with Dorothy J. Gaiter)

11. Prosecco. Everyone loves Prosecco, and why not? If you're having 20 over sometime soon, you can buy enough for everyone and not have to mortgage the house just as interest rates are rising. The problem is that too many taste the same to us: pleasant, but interchangeable. To improve your odds, it's a good idea to look for "Prosecco Superiore DOCG" on the label. We especially liked Drusian ($16 or so). We wrote: "It was dry and clean, with good acidity and just enough weight to make it real, like an agricultural product, grown in the soil."

10. Italian sparkler that's not Prosecco. You obviously shouldn't serve, or take to someone's home, a bubbly just because it will surprise and impress your wine-loving friend, but … if you were going to do that, we have just the thing: a wine from the Alta Langa region of Piedmont. If you've never heard of this, there's a reason. It's a fairly new classification. It only produces around 50,000 cases a year and the wines, crafted like Champagne, are only made in good years, from Chardonnay and Pinot Noir, and are always vintage. They taste classy, with real personality. Enrico Serafino is a good name to look for. We especially loved its rosé ($27), which we called "a food sparkler, with Red Delicious apple-juiciness, lemon and chalk. Great acidity and surprisingly muscular." We also liked its Brut ($25), which we called "a serious wine showing a lot of skill. Excellent."
9. Cava. Like Prosecco, we find many Cavas pleasant, but not special. This year, we tried Mas Pere (it was non-vintage Brut), which showed what fine Cava can be. It was exceptionally crisp, which we don't taste frequently in Cava. It will be hard to find, but if you see it, grab it. For $15 or so, it's a steal.

8. Crémant from Alsace. Sparklers from the Alsace region of France are called Crémant and we enjoy them as bubblies that pair particularly well with food because they have good acidity, weight and depth. We were especially impressed this year with Gustave Lorentz ($25), about which we wrote: "This was a real winner, classy, with apple crispness and acidity plus a long, lively, mineral finish."

We also liked Lucien Albrecht Brut Rosé, made from Pinot Noir, which is crisp, balanced, dry and lovely, with such delicate rosé tastes that it reminded us of roses. It is widely available for less than $20.
7. English sparkler. The idea of English wine is no longer a joke thanks to its impressive bubblies. If you haven't tried one, now's the time. Ridgeview is a good name to look for, since it makes a tasty range of sparklers, with prices around $35 to $60.

6. A Pink Surprise. Amaze your friends, or just your taste buds, with a rosé bubbly from Austria. Yep, Austria, made from Zweigelt, Pinot Noir and Chardonnay. It's Weingut Loimer Niederösterreich Brut Rosé non-vintage and it's worth a special search. It costs around $33. We wrote of it: "Elegant. Nice weight. Mouth-coating yet clean. Beautiful. This is fine wine with bubbles – it can't be drunk quickly, it must be appreciated. There's a real foundation there. Amazing precision. Romantic. Simply beautiful."
5. Lambrusco. No, seriously. Many people still think of Lambrusco as a sweet, syrupy red, but a lot of these have come a long way. We're partial to the wines of Cleto Chiarli. They are both tasty and a lot of fun, a great way to begin a night of celebration. Maybe you're skeptical, but for about $17, it's not a huge gamble -- and we'd bet that your guests will drink way more of this dry bubbly than they think.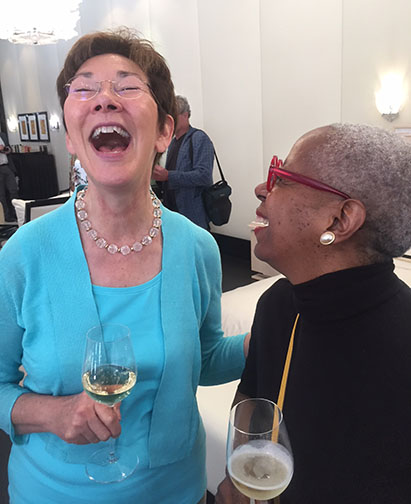 (Eileen Crane, CEO and founding winemaker of Domaine Carneros having a good chuckle with Dorothy J. Gaiter)

4. American bubbly. We've been most impressed recently by Domaine Carneros, which has been made for more than 30 years – from the beginning – by winemaker Eileen Crane, who calls herself "chief bubblehead." It produces several different bottlings, but the basic Brut for $30 is delicious and reliable. (And, yes, Schramsberg continues to be so reliable that we toasted our daughter Media's engagement with it at a trendy Manhattan restaurant.)

3. French bubbly under $20. France produces a great deal of sparkling wine that's not Champagne, of course, but we find too much of it simple and industrial. Nevertheless, it's worth seeking out sparklers from Limoux in Languedoc in southwestern France. They're quite distinctive – made from Chardonnay, Pinot Noir, Chenin Blanc and a grape called Mauzac -- with the kind of grounding (some call this "rustic" tastes) that makes them good food wines. They're also generally inexpensive. We tasted quite a few this year and we were especially impressed with the 2015 Domaine J. Laurens "Les Graimenous" Crémant de Limoux Tête de Cuvée Brut. That's quite a mouthful, but so is the wine. It became even more interesting, with more layers of flavor (think citrus and nuts) as it warmed on the table and got air (although we did indeed lose some of the bubbles).
2. Large-production Champagne. The big, well-known Champagnes are good, but we want them to be better than good and we have been disappointed too often. We'd urge you to pick up the non-vintage Brut Réserve from Pol Roger (still family-owned), which is about $48. We wrote that it has "tastes and aromas of lemon curd, mushrooms, minerals, and toast." In other words, it tastes like Champagne, the real thing.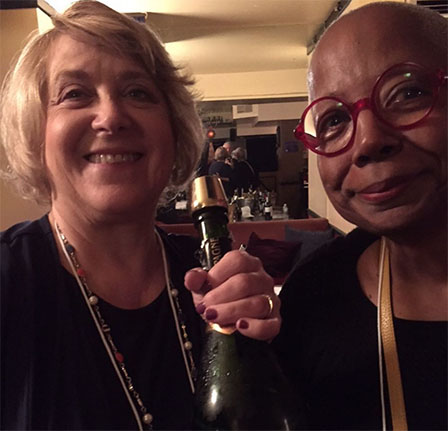 (Alice Loubaton importer of Marion-Bosser with Dorothy J. Gaiter)
1. Grower Champagne. These continue to be some of the best buys on the wine shelf. They are small-production Champagnes made by the people who grow the grapes. Sure, maybe you'll get lucky and find one from Marion-Bosser, a mother-daughter team that makes only 3,600 cases – and grab it if you do – but any specific grower Champagne you've heard of can be hard to find. (For some reason, the Pennsylvania state stores appear to have the Marion-Bosser for $44.99, a fine deal.) These are consistently wines of passion and personality. When you're at your local wine store, look for a Champagne that's unfamiliar to you. Then search for a tiny number on the label – could be front or back – starting with two letters. If the letters are RM, that's a Grower Champagne. The RM stands for "really memorable" -- no actually it's récoltant manipulant, but you understand. It may cost about the same as a large-production Champagne – maybe $45 to $60 – but will likely be special and memorable.
Zero. Zero Brut (or Ultra Brut or Brut Sauvage or Brut Nature) is the hottest term today in Champagne, and among some other sparklers around the world. In Champagne and other places, a tiny bit of sweetness called dosage – such as sweet wine or sugar or liqueur– is added even to dry wines right before their final bottling so the bubbly won't be overly aggressive and acidic. But some have none at all or almost none. We'd never heard of these until we visited Champagne in 1984. Before our first dinner at Boyer Les Creyères, we asked if we could buy a Champagne, borrow a couple of glasses and stroll the majestic grounds. They suggested Taittinger Brut Absolu, which they said was made without dosage. It was stunning, like nothing we'd ever tasted – so stunning that we began a search for similar wines when we got back to the States.
It took a trip to Chicago on a train vacation the next year (our cabin attendant was named George Patton – we still have his welcome card) to finally find two: Laurent Perrier Ultra Brut and Piper-Heidsieck Brut Sauvage. They were also memorable, with a clean, honest and precise focus that left us discussing every sip. We've been fans ever since. Champagne maker Tarlant even makes a terrific Brut Nature rosé. Be warned: These are intentionally austere. (Tarlant calls its Brut Nature "frank," which is a good word to describe the style.) Think how confident winemakers have to be in their grapes to basically go naked.
It was a lonely search for us until the past few years, when the wave began rising on these special sparklers. Well, surf's up. Now, Zero Brut bubblies and the like are showing up everywhere, and not just from Champagne. Domaine Carneros, which is owned by Taittinger, has made a tasty low-dosage Ultra Brut since 2003, according to Crane, who is not only the founding winemaker but also CEO. "I have over at least the last 15 years seen an uptick of Ultras, nature, zero etc. I see it as a real category now, whereas before it seemed an anomaly," she told us. The 2014 is around $45.
Because these are uncommon, they can be expensive. But keep this in mind: If you have a wine-loving friend (or boss) or a budding wine-lover in your life, this is likely on Santa's list this year.
Happy holidays.
Dorothy J. Gaiter and John Brecher conceived and wrote The Wall Street Journal's wine column, "Tastings," from 1998 to 2010. Dorothy and John have been tasting and studying wine since 1973. Dottie has had a distinguished career in journalism as a reporter, editor, columnist and editorial writer at The Miami Herald and The New York Times as well as at The Journal. John was Page One Editor of The Journal, City Editor of The Miami Herald and a senior editor at Bloomberg News. They are well-known from their books and many television appearances, especially on Martha Stewart's show, and as the creators of the annual, international "Open That Bottle Night" celebration of wine and friendship. The first bottle they shared was André Cold Duck. They have two daughters.
Read more from Dorothy J. Gaiter and John Brecher on Grape Collective
Find these wines at Grape Collective or locally via winesearcher.com - click the links below:
Domaine J. Laurens "Les Graimenous" Crémant de Limoux Tête de Cuvée Brut
Weingut Loimer Niederösterreich Brut Rosé