Domaine de l'Amauve is a small, family-owned winery nestled at the base of the Dentelles mountains in the Côtes du Rhône Villages Seguret appellation. Christian Voeux began running the organically-farmed winery when his parents retired in 2005, even though, at that time, he was the head winemaker at Château Mont-Redon and, soon after, at Château La Nerthe, both large estates in Châteauneuf-du-Pape. A few years ago Christian decided to focus all of his attention on his own winery.
Grape Collective caught up with Christian to talk about the Seguret appellation, in the process of becoming its own cru like neighboring Gigondas, and how simple his approach to winemaking is.

Lisa Denning: Can you tell us a little bit about the history of your winery, Domaine de l'Amauve?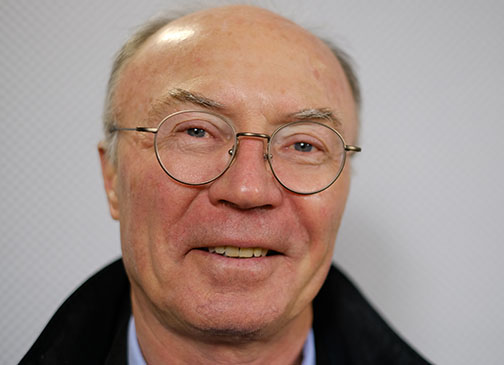 Christian Voeux: Domaine de l'Amauve is a very small family estate, but at the same time, it's a very old estate, because my family first arrived in Seguret in 1790. This was during the French Revolution, and since that time we have been living there, and it was a different other culture at that time. But since about sixty or seventy years, it's been 100% a vineyard.
Tell us a little bit about your background in winemaking.
My first time winemaking was in 1975, and I worked at this time as a young winemaker in many different places. In 1984, I became the winemaker for Château Mont-Redon in Châteauneuf-du-Pape, and I stayed there for 25 years. After that, I moved to Château La Nerthe, that was in 2008, and I stayed there for eight years as the General Manager and Winemaker. But during the same time I was also running Domaine de l'Amauve which I started to run when my parents retired, and that was in 2005. Since the 2006 vintage, I've been making my own wine at Domaine de l'Amauve.
Tell us about the terroir of your vineyards?
The terroir in Seguret is very, very special because we are on the west exposition of the Massif de Dentelles de Montmirail, which is made up of very small hills. And on the south, above the rocks of the Dentelles de Montmirail is the cru of Gigondas. Seguret is just four kilometers north of Gigondas on the same type of exposition, and we have a lot of clay, marble, and limestone in our soil and that makes our wines have a very nice evolution over time. And we also have a west exposition with the sun arriving later during the day and that makes the place a little fresh for the vine and so we have a very nice acidity in our cuvees, in the whites, rosés, and the reds.
Can you tell us about the village that your estate is in, Seguret?

Seguret is a very nice small village, located on the west side of the hills, and its history is very ancient. At the time of the popes in Avignon, the middle of the 13th century, Seguret was one of the places owned by the pope, which, by the way, has been many different places in our small region. It was a place where, long ago, people were living more freely than in many other places. The vineyard was tilled there for 2,000 years, since the Romans came. And the pope did a lot in the vineyards in Châteauneuf-du-Pape but also around and in Seguret.
Seguret is a very nice place for visiting, a very nice place for wines. And the specificity is the freshness and the richness of the wine with the type of soil we have. As far as the evolution of things here in Seguret, we are working on becoming a cru like Gigondas. We have to show that our production is sufficient for becoming a cru and this could take the next ten or twelve years, we don't know exactly what will happen. It's a very long way, we know that, but this is something very important for the different producers of the village. We have to show the interest of the soil, we have to show the quality of the wines, and for all the wines produced in the appellation, not only one or two or three. And it's very important to get all of the producers around this idea. This is what we are doing together at this moment.
How many producers are in your village?
There are producers who are with their own winery, not too many, only 24. But after that, there are four cooperative wineries, working in Seguret or nearby. And there is something like 150 producers working with the cooperative winery. This is quite a lot of producers.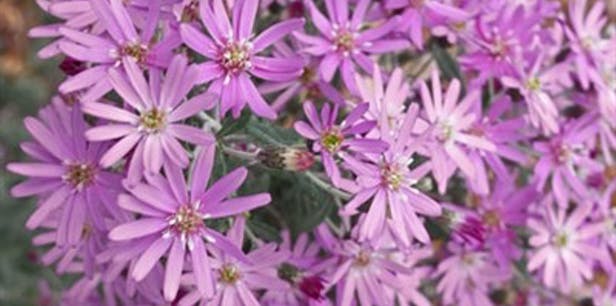 (The estate's name comes from the abundant Mauve flowers growing on the property.)

What is your philosophy of wine-making?
My philosophy of winemaking is very simple. Everything is hand-crafted. At the vineyard, I am doing a lot of hard work, I have some people coming and working, sorting the grapes. I want to work with a small yield. I want to pick at the end of the harvest only very, very nice grapes that will make very, very nice wines. And for the winemaking, everything is so simple. I use the most simple methods and control the temperature, but after that I only do some pumping of air, some punching down, but with my legs. I do that myself. And everything is checked by tasting. I take a sample from the tank every day, taste all my small tanks, and after that I decide what we are going to do the next day.
Have you noticed any differences in recent years with the winemaking due to climatic changes?
Yes, in fact, for us in the southern Rhône Valley, the climate started to change in 1985. And at this time, we started to pick a little earlier and then earlier and earlier, and nowadays we start picking the grapes at the end of August. When I first started as a winemaker 40 years ago, we started harvesting around September 20th.
Does it worry you that it keeps getting earlier and earlier?
Yes, there is quite a big difference since I first began.
Have you noticed increasing levels of alcohol in your wines?

There has been a little bit of increase in the level of alcohol, but I think it has increased the quality of our wines in the southern Rhône Valley. The wines we were making in the 70s were not as rich as the wines we are making now, and this is something that's very positive about the climate change.
Do you do anything with organic or biodynamic farming?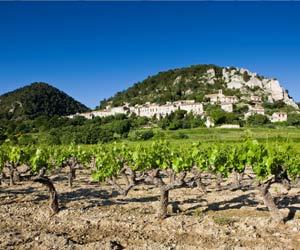 Yes. In fact, I have been working with organics for many years, and the estate will be certified organic next year. It's in a transition period right now.
What changes have you seen?
No changes for me because I was working organically for a long time, and all the estates I was taking care of in the past were organic too. I think it's so logical to work organically, because without any pesticides, you can keep the life in the soil. You keep attracting the bees and everything else, and this is my way of life. It's normal for me to do that.
(Above, vineyards by the village of Seguret.)

But it's only recently that you decided to go that extra step of obtaining the actual certification?
Yes, that's right.
And your parents, did they farm organically?

Yes, because in the past, everybody was organic. There was just a small period of time, maybe fifteen, twenty years, where the chemicals had arrived and it was very easy for some producers to use them. But my parents didn't, and this is why we are completely free of them at the estate.
And how do you keep mildew and mold away, is it very windy where your vineyards are located?
Yes, that's right. The southern Rhône Valley is very windy. We have something like three hundred days of wind every year, two hundred days of north wind which is the main one, and one hundred days of south wind. The small amount of the rest of the days are without any wind. And the thing is, these winds, and mainly the north wind because it's cold and dry, protect the vine from getting the diseases. We don't have as many diseases as some other regions and this is very important for the viticulture.
How different is it working for your own company versus a larger estate like Château La Nerthe?
In fact, there is not so much difference, because I always wanted to work as simply as possible, even with the larger estates. And this is why the winemaking as I was doing in Château La Nerthe is very similar to the winemaking I am doing today at Domaine de l'Amauve. The main difference is, at Château La Nerthe, I had a lot of people working with me. At Domaine de l'Amauve, I only have a few people, two, three in the vineyard, and I am the only person in the winery. This is the main difference.

But you have to worry about sales, and marketing, and things like that on your own, right?
Yes, but this is mostly a treasure, you know? It's not a problem. It's so important for me to share what we are doing when we are in the vineyard and in the cellar, with the persons who will sell the bottles and with those who will drink the bottle. To share is so important.
What is your total production at Domaine de l'Amauve?
40,000 bottles
How many producers are in your village?
There are producers who are with their own winery, but not too many, only 24. But after that, there are four cooperative wineries, working in and around Seguret. And there is something like 150 producers working with the cooperative wineries. This is quite a lot of producers.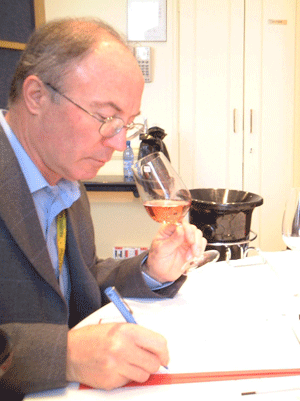 What do you like to drink when you're not drinking your own wine?
Everything. In fact, I am very, very curious. I like to taste wines from other regions, from other countries. I really taste everything I can. And I am taking notes, and this is something very important, in order to compare the wines I have tasted. From this last year and the same wine from three years ago, I do a comparison about the evolution. It's very important for me to take notes when I'm tasting, and this is what I said to my students during the time I had some students in the wineries.