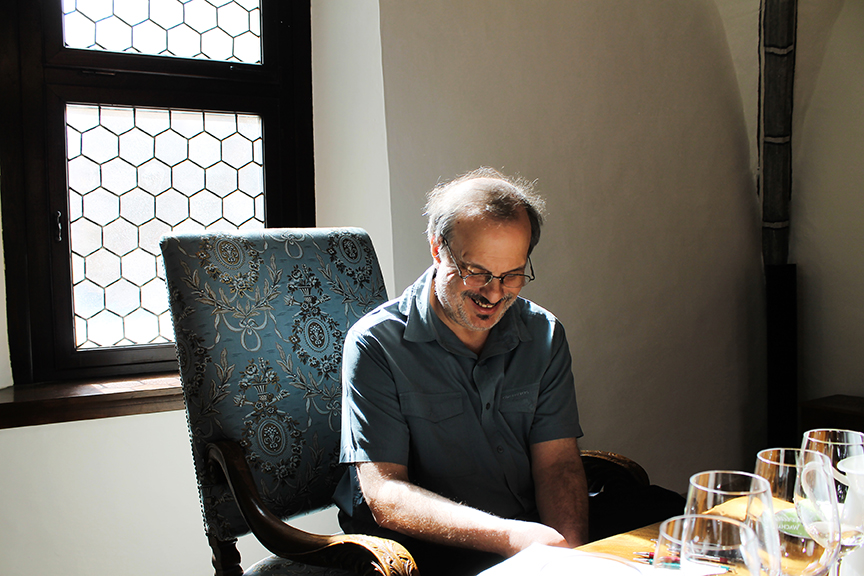 Some wine books are about much more than just wine. Terry Theise's What Makes a Wine Worth Drinking: In Praise of the Sublime concerns itself with how wine can play a part in elevating human experience. At the heart of Theise's meditation is his deeply felt relationship with all things vinous over the course of a long and storied career. He invites readers to find their own connection with wine by pausing and seeking the silence necessary to commune with it. "Wine can open up worlds," Theise writes, "immeasurable, inscrutable, unquiet, and sublime. You only need to be where reverie can find you."
For more than three decades, Theise has imported and written about wines from Germany, Austria, and Champagne. In his pioneering work as an importer, he brought to the American market a number of producers whose wines were revelations that became benchmarks. He is the author of a previous book, Reading Between the Vines (2010), which introduced themes related to appreciating wine that are deepened and recast here. In the intervening years, his pen has hardly been still. Theise's annual wine catalogues are some of the most vivid and absorbing wine prose around. Few wine writers combine his authority and facility for evocative, provocative, associative, allusive, romantic, poetic, earthy, salty, ethereal, sheerly iridescent prose.
Don't let the book's title or slim size fool you: This is not a set of new rules, a guide to instant expertise, or any kind of handy how-to. Pay more attention to the subtitle: "In Praise of the Sublime." A word as slippery and subjective as sublime is not reducible to a checklist. Rather, over the course of 11 loosely linked chapters, the book offers a highly personal exploration of a range of related questions and topics: "For what do we go to wine, entertainment or repose?," is a person able to judge wine "from the entirety of one's being" and "avoid excluding wine from the rest of one's emotional and spiritual lives"?
The book asks that we mute the noise of inner and outer criticism, expertise, hype -- and instead tune in to a wine's "signal," recognize its potential as "a vector to mystical experience" (which the wine will offer us, providing it is, in Theise's word, "authentic.") He suggests we make ourselves "available to be absorbed into the universe," for what wine offers is nothing less. What we bring to a wine, be it modest or epic, the latest vintage or a century old, determines whether it fulfils its destiny. "Sleeping in its silent bottle, a wine is merely potential energy, inchoate. When we meet a wine's authenticity with our own, we are part of the blossoming."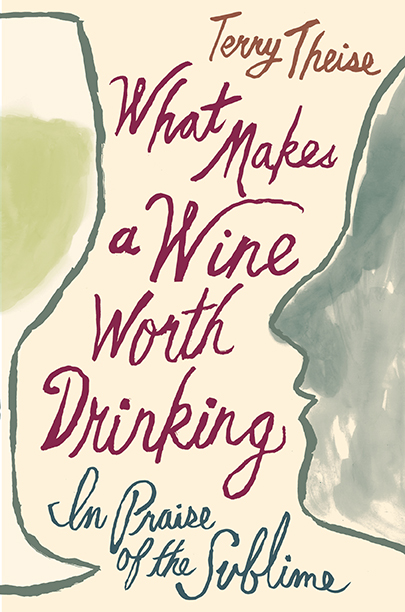 When we engage with a wine, Theise would have us consider the quality of our day, what we were doing at work, what sorts of dreams may have carried us away or disruptions shifted our mental state, whom we were with, what was the season, the weather, the quality of light, the arrangement of stars and moon in the sky, and, not least, our expectations of the wine or lack thereof. When we assess a wine's impact on us, those specific and inherently highly subjective factors, he argues, should count as much as who made the wine, when, where, and of what.
"If I am in a relationship with wine," Theise writes, "I must consider whom I bring to the dynamic. Who is the man I've brought to this wine?" Episodically, Theise gives us a sense. He writes of being adopted (his was a loving family, he tells us, "I lucked out") in an era of closed adoptions. He reflects on the capacity for imagining -- the family he did not know, the parallel universe he might have inhabited -- this opened to him. He ponders his yearning for and celebration of connection, and how this has drawn him to the small winemaking families he has loyally represented over decades as an importer. He traces the eventual course of his life to the sudden death of his father, when Theise was 17, an event that unmoored him, set him on a search for meaning -- found, of course, in wine. He writes of the bottle that transformed his interest in wine into fascination: a 1971 Dhroner Roterd Riesling Kabinett ("How in the world does anything taste like this?," he recalls wondering) plucked from a grocery store shelf in Germany, where Theise lived in early adulthood.
Wine professionals will be gratified to see Theise dig in with frank but considered opinions on the noisy, divisive topics of the day (hello, natural wine) and his reflections on what it is about wine that keeps us coming back for more. Amateurs will be opened to new ways of regarding wine and likely find glimmers of their own experiences reflected in Theise's. And those who are newest to wine may benefit most, if they are patient enough to sit quietly and receive Theise's sifted lessons.
He weighs in against high-alcohol wines (a "perversion of wine's basic everyday purpose") and advocates for their moderate-alcohol brethren (for their "nuance and complexity and articulation.") He values wines that are "gentler, less overt, more analog, more companionable, because they draw only so much attention to themselves. Theirs is a quiet purpose: to make you feel better without your noticing." He notes the tension "between what I evaluate and what I thirst for" in other words: "the most dynamic hooch" versus "deliciousness, charm, and companionability."
He favors wines that meet you "where you actually live, sometimes in peace and sometimes in grief, sometimes in bliss and sometimes in difficulty." He treasures wines that "build a house with a foundation going deep, deep below the ground, and this we never see with our eyes, we can only infer it with something we apprehend at a level deeper than 'palate.' It is the taste of things that do not change and are not relative -- the taste of permanence."
Theise's signature prose style is vaulting, unbounded. He untethers his associations and lets fly, as when describing a wine that "decoupled the mind from its judging and identifying functions, and I flew up toward the ceiling like a birthday balloon… A wine like this one just erases the world, even as it encompasses the world, even as it sends a depth probe into some ocean floor of the spirit." In my now well-worn copy, the number of passages, like this one, that demanded underscoring far exceeds the number unmarked. It is that sort of consummately gratifying read.

Yet melancholy also suffuses the book, in a way that sometimes weighs upon the page. Theise, who recently turned 60, dwells repeatedly on mortality: "the downslope of my life." He embraces sadness, especially the kind he says inevitably follows bliss: "I've always felt that a great wine, as I perceive it, embodies a certain elegy, a certain sad melting, a certain force of beautiful breakdown, and that the proper response -- or my proper response, anyway -- is to join in its sadness." This tone feels fitting in its context, though I sometimes found myself wishing the exuberance of the catalogs had raised its glass a little more in What Makes a Wine Worth Drinking. But I imagine Theise might argue the catalog represents the merchant, the book the man unmasked.
Valerie Kathawala is an NYC-based wine writer. She is WSET Level 3 certified, with a special interest in the wines of Germany, Austria, and northern Italy. You can follow her exploration of wines of place on Instagram @valkatnyc
For more on Terry Theise check out Dorothy J. Gaiter's column and interview. Buy his new book on Amazon.
-------------------------------
The Grape Collective team offers some additional suggestions for holiday wine reading and wine presenting including some shameless (though thoroughly deserved) plugs for some of our contributors. Click the link to get to the Amazon.com page.
Terry Theise's Reading Between the Vines
Our own Dorothy J. Gaiter and John Brecher's Love by the Glass
Sometime Grape Collective contributor Stuart Pigott's The Best White Wine on Earth: The Riesling Story
For the ultimate wine geek - Monty Waldin's Best Biodynamic wines and a subscription to the excellent wine insider magazine Noble Rot
David White's But First Champagne
Two classics for the wine newbie - Kermit Lynch's Adventures on the Wine Route and Neal Rosenthal's Reflections of a Wine Merchant
Two total thrillers - The Billionaire's Vinegar and Wine and War
Deirdre Heekin's An Unlikely Vineyard
Jancis Robinson's Tasting Pleasure
Alice Feiring's For the Love of Wine: My Odyssey through the World's Most Ancient Wine Culture