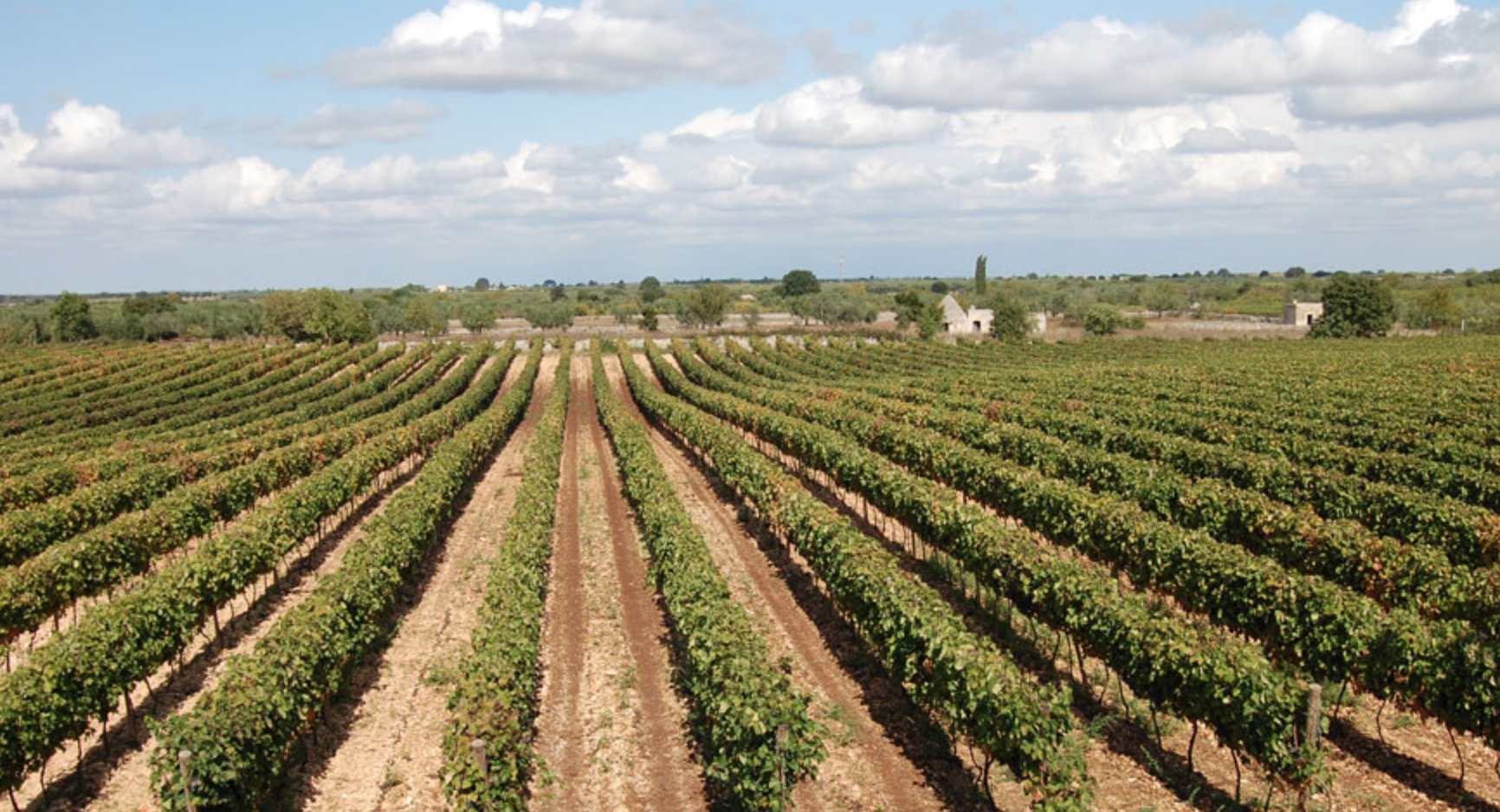 Almost as far south as one can go in Italy lies Marchesana, a small town near Gioia del Colle in Puglia.
Puglia is the "heel of the boot" of Italy and is surrounded by the Ionian and Adriatic Seas. Puglia is among the most fertile growing areas in Europe, particularly for olives, stone fruit, vegetables, wheat and other grain, herbs and grapes.
Historically, much of Puglian grape production was blended into vermouth, but over the past few decades, DOC and IGT classified wines have developed. The most famous Puglian wines are made from negroamaro, primitivo, nero di troia, and malvasia nera. Primitivo's name is a derivation of "ripens first" and hence, its acidity is naturally very high. To tame some of that acidity, some of the grapes are dried on the vine which results in fruity flavors of dark cherries, berries and plums.
Marchesana is technically part of metropolitan Bari (the Puglian capital) but at a higher elevation inland. There, Filippo Cassano purchased a 25-hectare vineyard, Masseria Antonietta, where primitivo had been planted for more than 100 years. Cassano called the winery Cantine Polvanera meaning "black dust" based upon the local dark soil.
In addition to Masseria Antonietta, Cassano entered into long-term leases on two small vineyards, one with clay soil and the other with limestone soil, aggregating another 15 hectares. These had been planted with 40- to 60-year old "alberello," or bush vines of primitivo, a grape related to zinfandel. In addition to growing primitivo in the three vineyards, Cassano also grows aleatico, aglianico, minutolo (an indigenous white varietal), falanghina and moscato. The vineyards are between 300 and 450 meters above sea level and were all certified organic in 2008.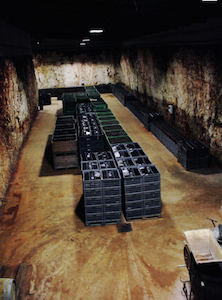 Cassano restored the masseria and excavated Karstic limestone to create an eight-meter deep cellar which provides constant temperature and humidity year round.
Cassano carefully manages the vineyards using organic methods for low yields. The area is cooler than coastal Puglia because the vineyards are subject to a lot of wind. Its soil is hard and fast-draining which results in higher acidity fruit. At this higher altitude, the harvest can be as much as a month later than at vineyards around 200 meters lower. Because September is a good month for day-night temperature differences, the grapes continue to develop aromatically until this later harvest.
In the fall, all of the grapes are hand-picked. Cassano then makes his wines with minimal intervention. Cassano softly presses the grapes and macerates the juice on the skins for one to four weeks. Then he ferments the juice in stainless steel vats and ages the wine in stainless steel and in bottles. Puglian red wines are full-bodied and rich but unlike most others, Cantine Polvanera red wines retain their freshness and minerality as a result of Cassano's vineyard management and winemaking skill.
CANTINE POLVANERA'S WINES:
Puglia Falanghina - This white wine is savory and refreshing with good minerality.
Puglia Rosato - This rosé is made from aleatico, aglianico, and primitivo and is medium-bodies and dry. 12% abv. It has a cherry pink color and a rich palate of red berries.
Puglia Minutolo - This light, fruity and fresh wine has good minerality and floral aromas. Minutolo is an indigenous white grape that was once thought to be related to fiano but genetic analysis proved it was not.

Puglia Aglianico - This full-bodied red wine shows black cherry fruit with violet, anise and earthy notes with a medium body and dry tannins. (2009 is $17.99 at Grape Collective).
Gioia del Colle Primitivo 14 Vigneto Marchesana - This medium-bodied red has rich, dark berry and plum flavors with nice freshness, acidity and minerality. It is aged for 20 months in stainless steel tanks and eight months in the bottle. 14% abv.
Gioia del Colle Primitivo 16 Vigneto San Benedetto - This primitivo is more intense with deep brambly fruit and peppery and herbal accents and powerful concentration and tight tannins. 16% abv.
Gioia del Colle Primitivo 17 Vigneto Montovella - This is an even more powerful and dense wine with juicy black fruit and anise and cocoa notes and good acidity and minerality and a long finish.
Puglia Aleatico - This light to medium weight wine has fresh sweet spices and flowers and soft tannins, somewhat like an unfortified port.
Puglia Primitivo Dolce 21 - semi-sweet like a Recioto with dark cherry and plum fruit and herbal notes.
Metodo Classico Rosé Brut - a sparkling fruity rosé made of 100% primitivo, 12% abv.
SUGGESTED FOOD PAIRINGS:
Falanghina - grilled chicken, risotto, grilled fish, pasta with cream sauce
Minutolo - pasta and seafood dishes
Rosato - cold and hot appetizers, cheeses, cold meats, and pasta
Aglianico - beef, grilled lamb or hearty pasta
Primitivo - pizza, meat, game, poultry, rich cow's and sheep's milk cheeses, roasted or grilled vegetables
Aleatico and Primitivo Dolce 21 - blue cheese, almond desserts, chocolate
------
For more on Puglia check out our interview with Paolo Cantele.