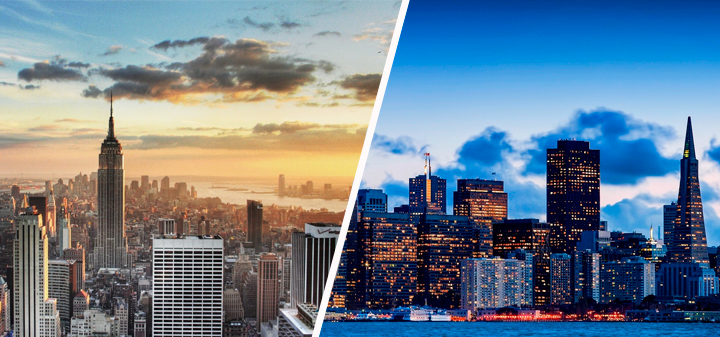 The comparisons between San Francisco and New York City are endless: the Golden Gate Bridge versus the Brooklyn Bridge; burritos, bagels; yellow cabs, sidecars; Mission District, Williamsburg; San Francisco coffee, New York coffee. Okay, that last one is a bad comparison — sorry, New York. Which city is better depends on who you talk to. Both cities have loyal supporters. And both these cities have plenty to offer in the way of charming neighborhoods, great nightlife, and dining options. Quite frankly it's impossible to choose one over the other.
So, rather than comparing them, we are taking a look at how these two great metropolises celebrate wine. What's the wine scene like in each city? Where are the best wine shops and bars? Napa Valley (Sonoma, too) or Long Island? Embrace them both! And celebrate what each city has and offers!
Wine Shops
When it comes to wine selection, New York City is unmatched. There are a number of retailers with great selections, sometimes just blocks away. You almost get the feeling that if it's imported into the country, the City has it. There are a number of retailers we like, but these are our top three: Chambers Street Wines, Astor Wines, and Vintry Fine Wines.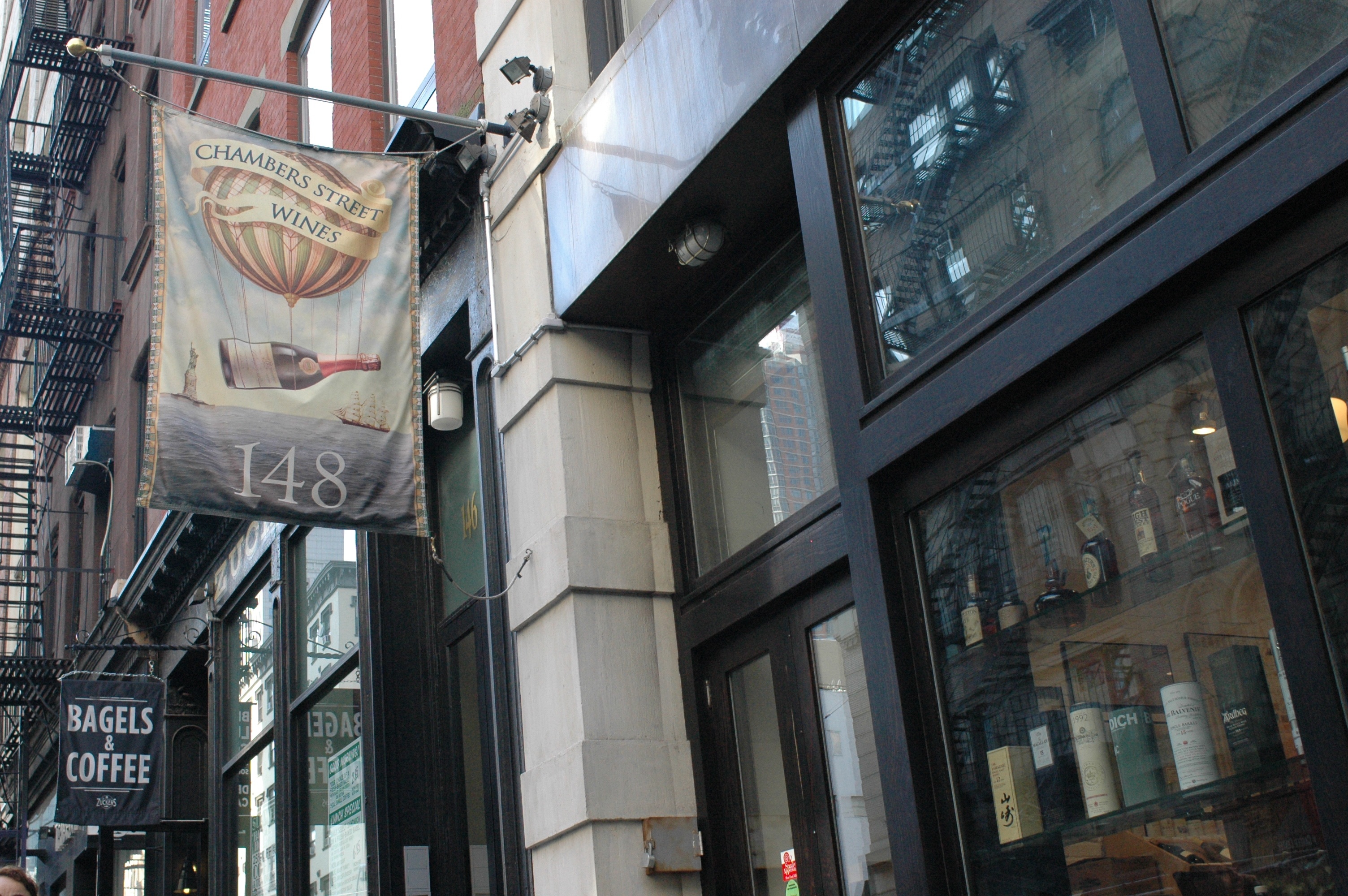 Consider Chamber Street Wines (Tribeca) aka the Loire capital of New York next time you're looking for a great Loire Valley offering, or picking up a fine German Riesling, and even yet, if you're looking for something old and exciting from Piedmont. Notable strengths also in Beaujolais, Jura and Rhone Valley.
Right: Jancis Robinson's best wine shop in the world. (Joe Benavides via Terroirist)
Astor Wine and Spirits (Astor Place) is great for price minded individuals. The selection is great and if you're producer-oriented, they carry the main labels from the major wine producing regions. Don't miss the "cool" room, the precious selection within the glass walls includes magnums of Conterno, Clos de la Roulette, and Vietti. You'll also find a lengthy lineup of older Lopez de Heredia, Oddero and Valentini. There's a great selection of spirits at unbeatable prices, no better prices in the City.
Vintry Fine Wines (Battery Park City) is a nice little store a little hard to find. Burgundy and Champagne lead an impressive lineup of wines, names like Henri Gouges, Domaine de Montille, and Jean Grivot grace the curvature walls which guide you around the store. You're led to the back to an inspiring collection of Champagne only to be outdone by massive bottles of Leoville Barton, Le Pergole Torte and Giuseppe Rinaldi, among many others, raised above the RM (Recoltant Manipulant)-centric selection. The visually engaging design, inspired by trellised rows on curvy hilly vineyard, is a treat in itself, the wine the exclamation point.
San Francisco has many wine shops but we think these three cover the essentials: K&L Wine Merchants, Arlequin and Ruby Wine. Honorable mention goes to Biondivino in Russian Hill, nice selection and good looking little store.
K&L Wine Merchants (SoMA) is a little multi-tasking force of wine with auctions and several locations in California. It's a must for anyone seeking a nice selection of Bordeaux, local wines, Champagne and one or two surprises like a 1996 Joly Savannieres Coulee de Serrant.
Arlequin (Hayes Valley) is perhaps the Chambers Street Wines of San Francisco. A hand-picked selection of somewhat hard to find wines. You'll find labels like Marquis d'Angerville, Domaine Ramonet, Dashe Cellars, Quintarelli and Clos Rougeard. Arlequin has an inviting garden in the back, no better way to relax with a book and some Clos Cibonne. Check out their Thursdays tastings, you have to pay a cover, but usually very good wines being poured.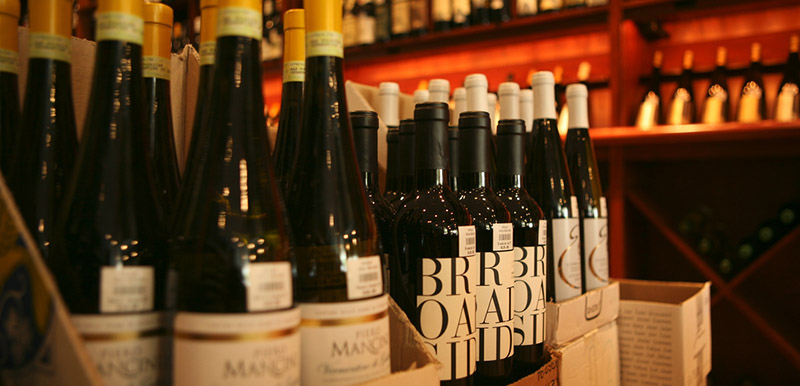 Ruby Wine (Above, Potrero Hill). A small shop offering a curated selection of natural, organic and biodynamic wines from California, Europe and other corners of the wine world. Great things do come in small packages! A shoe box of a store with a very focused selection. Note: a little out of the way, but quite worth it.
Wine Bars
New York has a number of wine bars but most miss the point or are just not trying hard enough, poor selection or no real sense of direction often the culprits; however, these always get us talking and coming back: Ten Bells, I Trulli and Vin Sur Vingt.
Ten Bells (Lower East Side) is warm, inviting, and fully equipped with a wholesome lineup of natural and organic wines. Enjoy a very diverse tapas menu of cheese plates, oysters, empanadas, and salmon tartar. The wine list is superb with wines from producers like Frank Cornelissen, Eric Texier, Francois Pinon, and Puzelat - go channel the wine geek in you! They do large format sizes - Jeroboam for four, please!
I Trulli (Gramercy) has a very comprehensive list of Italian wines. Well beyond the best well-known producers and grape varieties, you'll find wines like Erbaluce, Schioppettino, Pelaverga, Teroldego and Lagrein. It's fun, educational, it's an Italian wine sanctuary. Don't forget the pasta dishes. Sorry, no cannoli.
Vin Sur Vingt (Below, West Village) is an intimate, thoughtfully-lighted little French wine bar. It's a nice stop at the end of the night or early drinks for two before dinner plans. Rhone Valley and South of France, perhaps their strengths, there's always a nice Jura to induce and guide conversation. Little kitchen, little menu - think tartine and Cote du Rhone blanc.

San Francisco gets very creative with its wine bars, it's proud of the wine region up north and promotes its wine. There's a certain excitement about wine in San Francisco and it's quite contagious, these are some of the wine bars to get excited about: Terroir, St. Vincent and Hotel Biron.
Terroir (SoMA) is an interesting concept, wine store moonlighting as a wine bar with a handcrafted selection of natural and traditional wines. Enjoy a cheese plate over new finds like La Lunotte's Sauvignon Blanc or something equally natural, savage and inexcusably invasive.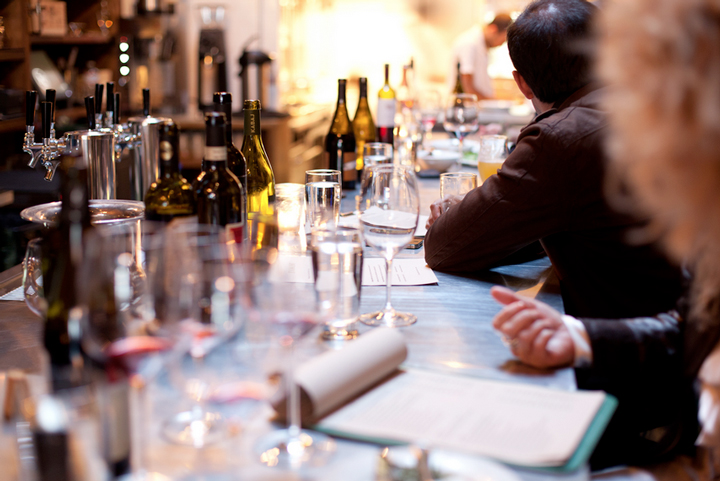 St. Vincent (Left, Mission) offers a surprisingly solid selection of wines by the glass. Currently on the list: A Pinon Vouvray, a Von Volxem Saar Riesling, a Matteo Corregia Arneis, and a Yves Cuilleron Marsanne - that's only the whites. Eric Texier and Caves Cooperative Donnas lead the way for the reds. A very diverse and exceptional wine list. A must! Complimenti, David Lynch! Go early or late, it gets pretty bumpy. There's also a food menu where "emphasis is placed on simplicity and defined flavors!"
Love your wine as much as you love your art? What about California wine and cheese? Try Hotel Biron (Hayes Valley). An unassuming, small wine bar with plenty of personality, art, and a creatively selected wine list. No, you're not in Eastern Europe but I think it's what they're going for. Broc Cellars, Nicolas Joly, Produtori del Barbaresco, Domaine de la Pepiere, and Les Cretes only a short list of the many highlights on the wine menu. It's got a divey charm - enjoy!
As far as neighboring wine regions are concerned, New York City has Long Island and San Francisco has Napa Valley. Something very exciting is happening in New York State and you don't need Wine Enthusiast labeling New York State best wine region of the year (2014) to tell you that, it's in the glass. The wines continue to get better, and it's not just Riesling making a splash up in the Finger Lakes, some of our favorite producers include: Ravines, Onabay, Lenz, Channing Daughters and Wolffer State Vineyards, think Pinot Noir, Merlot, Cabernet Sauvignon and Franc, and Friulian varieties. New York won't catch up any time soon, perhaps ever, in production levels with Napa Valley and California, but the quality of wine it's already well on it's way.
So there you have it. Both cities have their claim on wine. It's hard to choose which city is better, with regards to wine or otherwise, but if you make me choose, I would answer this way... My heart is in New York, but I am always thinking about San Francisco.