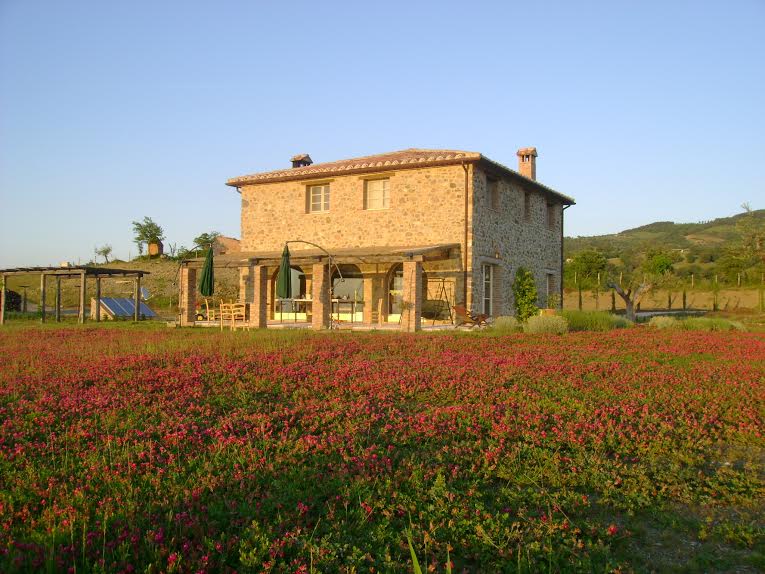 Basile Organic Wine Farm is a small family winery located at the southern end of Tuscany in the Montecucco DOC. The winery's founder, Giovan Battista Basile, a native of Naples, moved to Tuscany in the late '90s to pursue a career in law, but as fate would have it, found his calling in winemaking instead. After falling in love with an abandoned property overlooking Montecucco's gently rolling hills, he purchased it and immediately began planting vineyards. Deserted for over three decades, the land's eight hectares had never seen chemicals, a great advantage for Basile, who wanted to farm according to the principles of organic farming.

Montecucco sits at the base of Mount Amiata, an extinct volcano, sandwiched between two famous wine appellations, Brunello di Montalcino and Morellino di Scansano. Like its distinguished neighbors, Montecucco is known for its Sangiovese-based red wines although the DOC rules account for white and rosato as well. The area consists of mostly small, family-owned farms that also breed animals, grow vegetables, and have their own olive groves.
The region, a part of the larger Maremma Toscana DOC, includes two distinct appellations, Montecucco Rosso DOC that requires wines with a minimum of 60% Sangiovese, and Montecucco Sangiovese DOCG that must be produced with at least 90% Sangiovese from vineyards on the slopes of the Amiata mountain. While the are area has been producing wine for centuries, it has only been a classified wine designation for a short period of time, receiving DOC status in 1998 and DOCG in 2011.
As more people discover Montecucco's robust, complex expressions of Sangiovese, the region is making a name for itself, especially as a superb alternative to the much pricier Brunello. I chatted with Giovan Battista by email to find out more about life on an organic farm in Montecucco.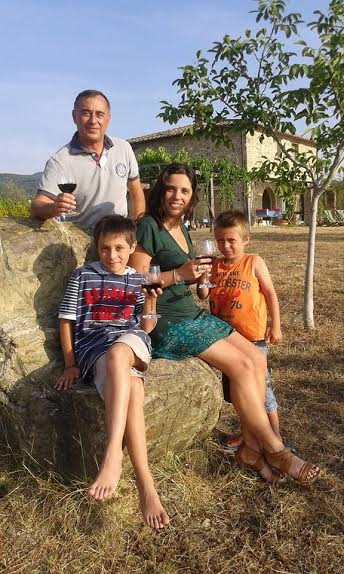 Lisa Denning: Can you tell me a little bit about your background — where you're from and how you got into winemaking?
Giovan Battista: I was born in a big Italian city of southern Italy (Napoli). I decided to move to Tuscany and at the time, in 1996, I was ending my law studies which ended up being nothing to do with what I did in my life afterwards. When I arrived in Cinigiano, the main municipality of Montecucco Region, I started to be interested in the wine world. In 1998 Montecucco was recognized as a D.O.C. wine region and in 1999 I bought the property, whose lands have been abandoned for 30 years. Since then, we had a lot to do!

Your winery is located in the Montecucco DOCG, but also a part of the larger Maremma Toscana DOC. Can you explain how that works and how your wines are labelled?

Montecucco is a small region of 7 municipalities on the slopes of the Monte Amiata Volcano. It borders to the south with the Morellino region and to the north with Brunello di Montalcino. The main grape is Sangiovese. Maremma Toscana is a bigger region in which Montecucco is embedded. It includes all the region of the Province di Grosseto. In this case the grapes that are used are several (international mostly) together with Sangiovese. I produce 4 labels within the Montecucco Appellation: Artèteca Vermentino Montecucco Doc, Cartacanta Montecucco Sangiovese Docg, Comandante Maremma Toscana Rosso Doc and Ad Agio Montecucco Sangiovese Riserva.

Tell us about your vineyards — the soil, the climate — and why the varieties planted are suited to this area. How is your terroir different than nearby Montalcino that is on the other side of the Amiata mountains?
The vineyards are mostly exposed towards the southwest, in an ideal exposition for sun radiation which allows the vines to receive sunlight all day long. The altitude varies in height from 380 to 330 meters. The soil has a prevalently calcareous composition; characteristic of this territory is the so-called galestro, a rock that crumbles over the time because of bad weather conditions, thus creating an ideal environment for the vines. These soils with a low clay content drain their water excess naturally, but in extended drought periods they remain fresh, allowing the vines to adequately nourish themselves, therefore allowing the grapes to ripen in a well balanced manner.
Our lands are closer to the sea than Montalcino is, so that the climate is more influenced by the Mediterranean the same way it is by the Mount Amiata. In our region there is also less total quantity of rainfall: this is why in vintages as 2014 (notoriously a vintage with an excess of rainfall), we could produce better quality wines than in many other wine regions.

What is your philosophy of winemaking?
We combine respect for tradition and nature with the evolution of technologies. Also the good relation between quality and price is a very important feature. I don't have in plan to expand our production of the winery to more than 70 to 80,000 bottles. Our strength is our family dimension and we want to preserve it.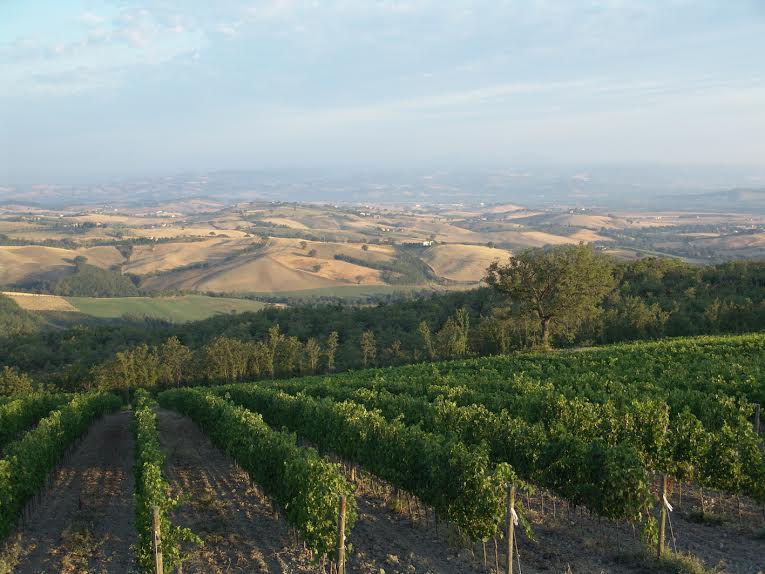 Your winery is certified organic. Do you also farm according to the principles of biodynamics?
No, we don't. We just follow many old cultivating principles that were practiced centuries before biodynamics was born. The fields, before the acquisition, had been uncultivated for over 30 years; this means an absolute lack of chemical products in the soil nor in the grapes. The vineyards are surrounded by woods that create a great, natural defensive barrier. Manure and other organic materials are used as fertilizers. To help fight diseases and mold that might affect the vines, traditional products, such as sulphur and, in rigorously controlled quantities, copper, are used. We sow the vineyard with seeds that fertilize the soil.
Many operations (defoliation, thinning out, green-pruning) are carried out manually in the vines and grapes to permit the plants and fruit to stay healthy and undamaged as long as possible. Weeds are uprooted both mechanically, as well as manually, since weed killers are never used. We also produce zero pollution since we produce and use solar energy and follow the principles of the green building.
Your bottles are noticeably lighter than other wine bottles. Can you tell me more about that?
Yes, our bottles have always been light, since the beginning even though it was hard to find a company that makes them. In recent years we have been using the 360 gram bottle for three labels (the lightest 75ml bottle in commerce). Only for our Ad Agio Riserva do we us a 500 gram bottle. It is said that the heavier the bottle, the finer it looks. I never though that this was right. We have been organic since the winery was born in 1999. Respect of nature and the environment are fundamental principles for me and a lighter bottle means reduction of carbon footprint and less pollution in the transport.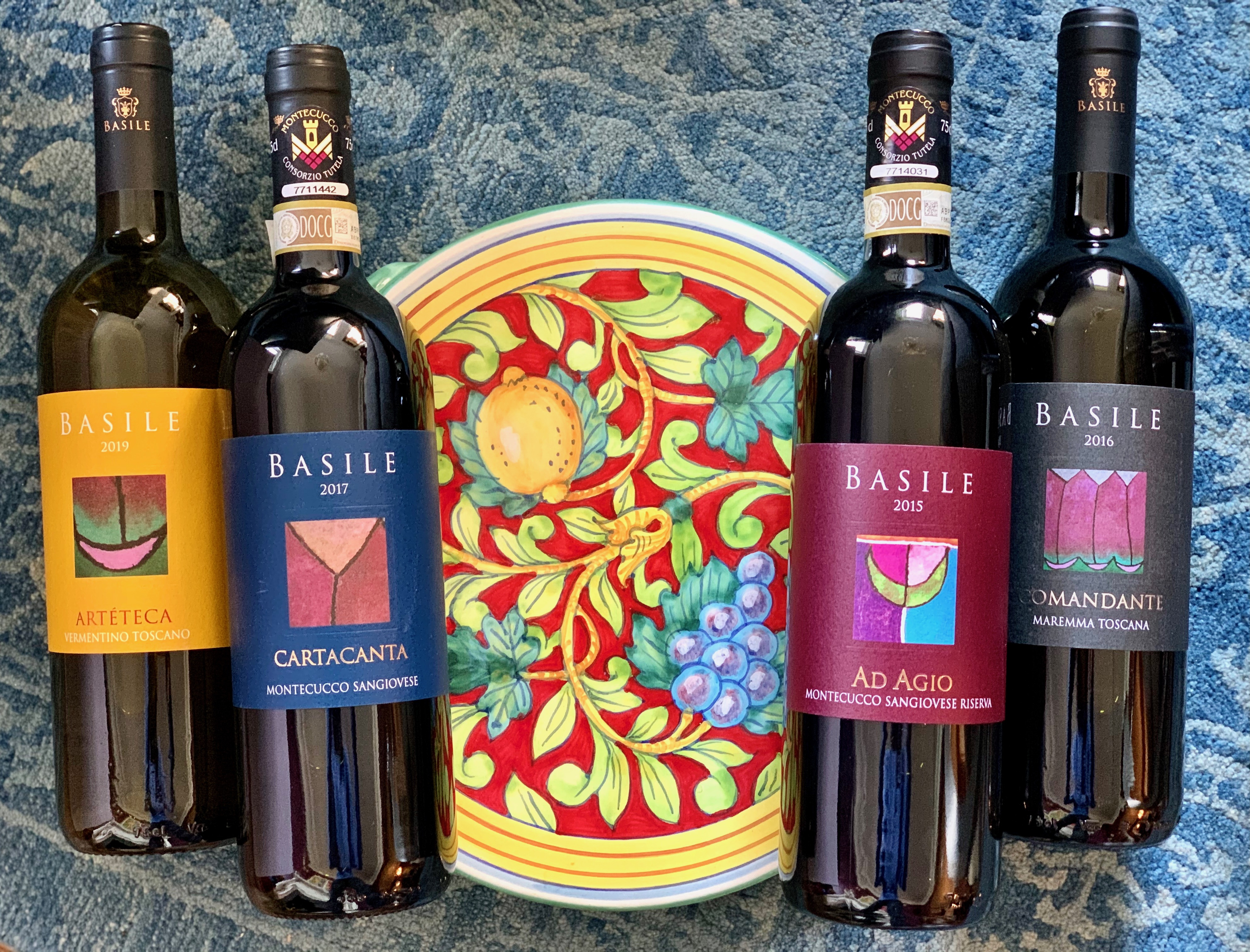 How would you describe the style of your wines to someone who's never had them before?
Wine critics say that we produce elegant wines. I would add that they have character and are influenced by the terroir; they are not just created in the cellar, but came from the soil and the vines' fruit, even if they are aged in French oak, from 12 to 24 mounths. The reds are the expression of Sangiovese and even Comandante, which is a blend of 50% Sangiovese and 50% Merlot, makes the Sangiovese part be prevalent. The Artèteca instead is a beautiful expression of the Vermentino grape.
How do you think the wines of Montecucco and Maremma Toscana can become better known throughout the world?
Both are "young", but, year by year, are growing and are more and more appreciated by the consumers. My winery is export-oriented. We export about 75% of our bottles and a good part is consumed in USA. The consumers' grapevine is doing a lot in our sales.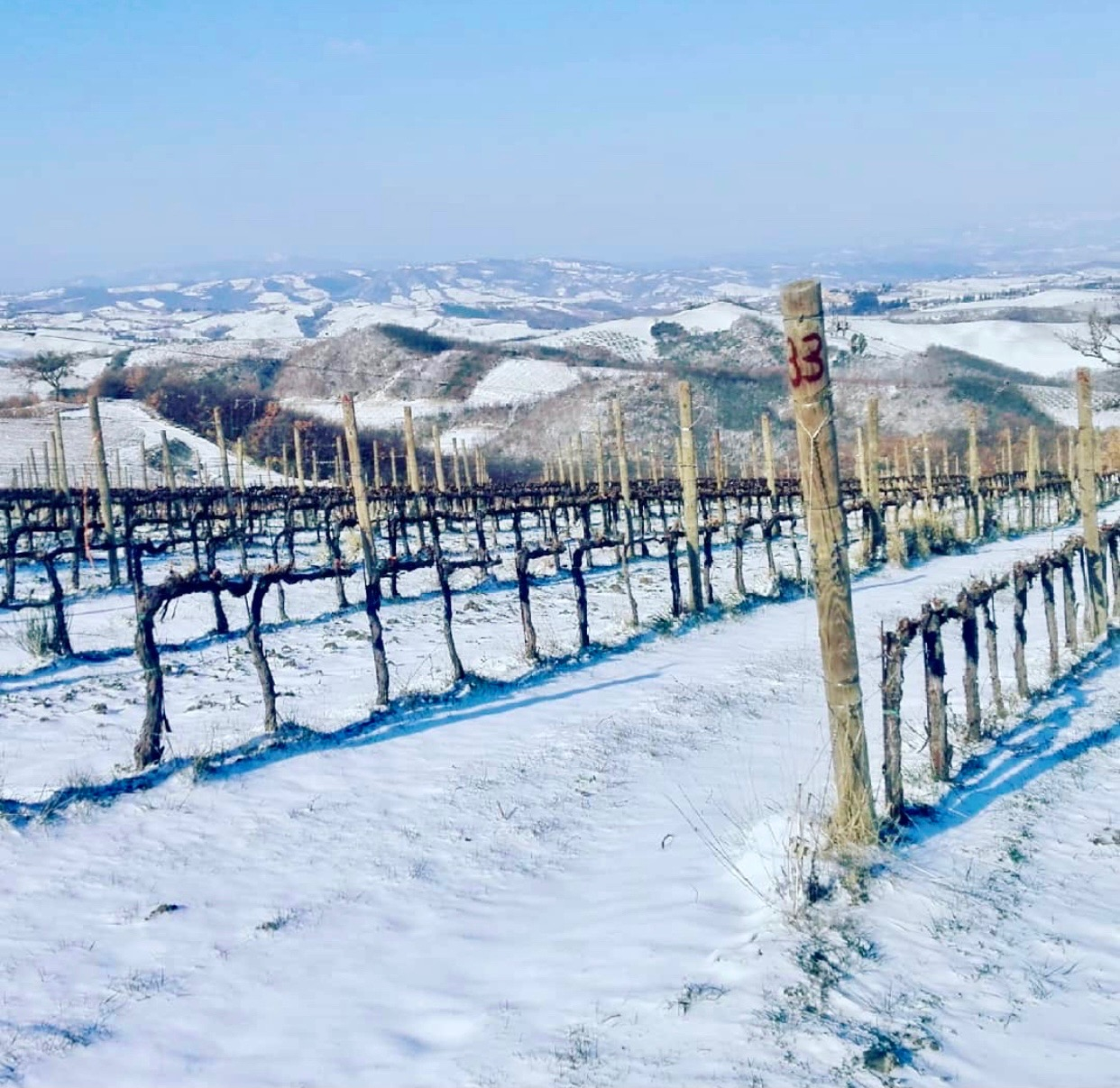 During the past 20 years, have you seen changing weather patterns and how does it affect your winemaking?
The climate change is affecting the wine process. Italy was know as the country of the "bella estate" (beautiful summer) with mild temperatures because of the Azorrean anticyclone. Actually things are different and in the last 10 years we had indeed two very hot and dry vintages (2012 and 2017). Luckily our vineyards are positioned at 350 meters and not far from the Monte Amiata and our Sangiovese, as does the Vermentino, reacts very well to the high temperatures and to dry summers (this happens also because of our soils). The Merlot suffers much more from high heat, and I'm thinking of using the emergency irrigation on it, starting from the next years.

What is the best part for you about being a winemaker?
Interviews :-)) Together with my family, we built up a winery starting from nothing, (when we bought the property, it was just an abandoned land) and this represents a great satisfaction for me. Every year a new challenge begins as you can't have everything under control, because a big part is decided by Mother Nature; this never makes things boring. Seeing how the wine, following the harvest, grows and becomes what I wish (and hope) it should be (with the great collaboration of my friend oenologist Maurizio Saettini), traveling around the world to make my wines known, seeing that our wines are drunk from the far east (Japan) to the far west (British Columbia) of the globe.

What are some local dishes that you enjoy with your wines?
The reds with red meat and with game. Ideal also with aged cheese. The Artèteca with seafood.
What kind of experience should visitors expect when visiting your winery and do they need to make an appointment ahead of time?
When they visit our small winery they can have a beautiful walk in the vineyard, enjoying the great view. And they can taste our four wines paired with a small tasting of local food. Booking is needed at [email protected].