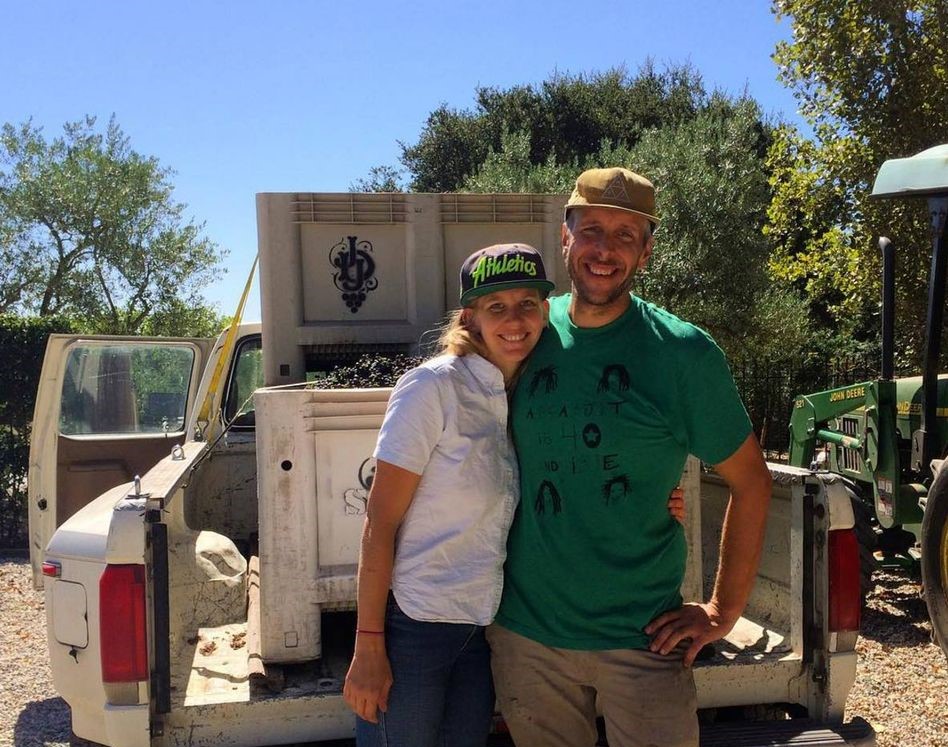 Drew Huffine is producing some of the best Pinot Noir and Chardonnay coming out of California today. Not only is he the winemaker for LIOCO, a well known and oft-sought brand in its own right, but Drew also produces his own brand with his wine, Trail Marker Wine Co.
Both wine brands produce excellent terroir-driven wines from across northern California. LIOCO focuses on finding the best vineyards and meticulous sorting of the fruit to provide the highest quality expression of these world-renowned sites. Trail Marker Wine on the other hand explores underrated vineyard sites using primarily Chardonnay and Pinot Noir.
Much of what Drew chooses for the Trail Marker brand is coming from the Santa Cruz Mountains. This undervalued region south of San Francisco is situated between the Pacific Coast and Silicon Valley. Like many other mountain growing regions, The Santa Cruz Mountains are defined by their elevation extending from 800 feet (therefore ensuring the vineyards are above the fogline) and over 3000 feet at the highest peaks.
Fear of over-ripeness is a real problem for California winemakers. Therefore finding these high elevation sites that offer the ideal environment to reduce this risk is a like hitting the jackpot (think Cabernet Sauvignons from Mt. Veeder in Napa or Rhone varietals in the Sierra Nevada foothills). The trade-off usually comes down to picking early and loosing some richness yet retaining the ideal acid balance versus picking later to reach the plush ripeness our palates crave but losing the acidity required to be balanced. Being high elevation, the extra sunlight (from being above the fog) helps develop the richness we seek and the cool climate (coastal wind and elevation) retains the acidity required to maintain balance. The proximity to the Pacific Ocean also gives the Santa Cruz Mountains the added benefit of high winds which helps concentrate the flavors (especially in Pinot noir) giving the wines coming from this region more impact that similar, more inland counterparts.
Even though today, the Santa Cruz Mountains are known for their cool climate yet sun-soaked Pinot noir and Chardonnay, one of the top Cabernet Sauvignons at the 1976 Judgement of Paris was from Ridge Vineyards located in these mountains.
Grape Collective talks to Drew Huffine about his journey into winemaking, the story behind Trail Marker Wine Co and what makes the Santa Cruz Mountains a special place to grow wine.
Jonathan G Bomberg: Thank you for taking some of your post-harvest availability to participate in this interview. What is the story behind Trail Marker Wine Co?
Drew Huffine: I worked as a cellar hand and then assistant for several years, always with a focus on Pinot and Chard. In 2010 I was hired as Tuck Beckstoffer's winemaker. A job I was in no way ready; I definitely lived by the "sink or swim" mantra that year.
Many of the vineyards I worked with for Tuck and also some of the sites my consulting winemaker Kenneth Juhaz worked with were beautiful, true cold-climate coastal sites that we struggled to ripen.
At the same time, my wife Emily and I started talking about starting our own label, we knew we wanted to make wines like the non-interventionist wines out of Jura that we loved. We wanted to work with mountain fruit, we wanted to find undersung sites and really bring them to people; this was a desire to create wines that were beautiful, that presented the terroir and individuality of their sites, and weren't something that was already on the shelves or on the wine list already. The more we talked about this, the more we talked about "what is a bottle of wine?" It is a time and a place, it's the very long journey that brought that wine bottle from the vineyard, to your table, that you're now enjoying with your family, friends or just with dinner alone. There were a lot of people behind that wine, and the bottle is just one marker on that trail.
So, ultimately, it was this understanding of what a bottle of wine is, coupled with the wines we loved drinking, that led us to start Trail Marker.
The first site we made wine from was Manchester Ridge. It's a 2000' site on the ridge line that separates Anderson Valley from the Pacific Ocean. In winemaking we talk a lot about coastal or maritime influence, but this site quite literally looks right down at the ocean. At the time, most of the winemakers who worked with Manchester made bigger style wines: opulent wines that required acid and water adds. To my thinking, this was ridiculous, the site was cold and windswept, it wasn't the site to make these really alcoholic wines from.
What was your journey into winemaking?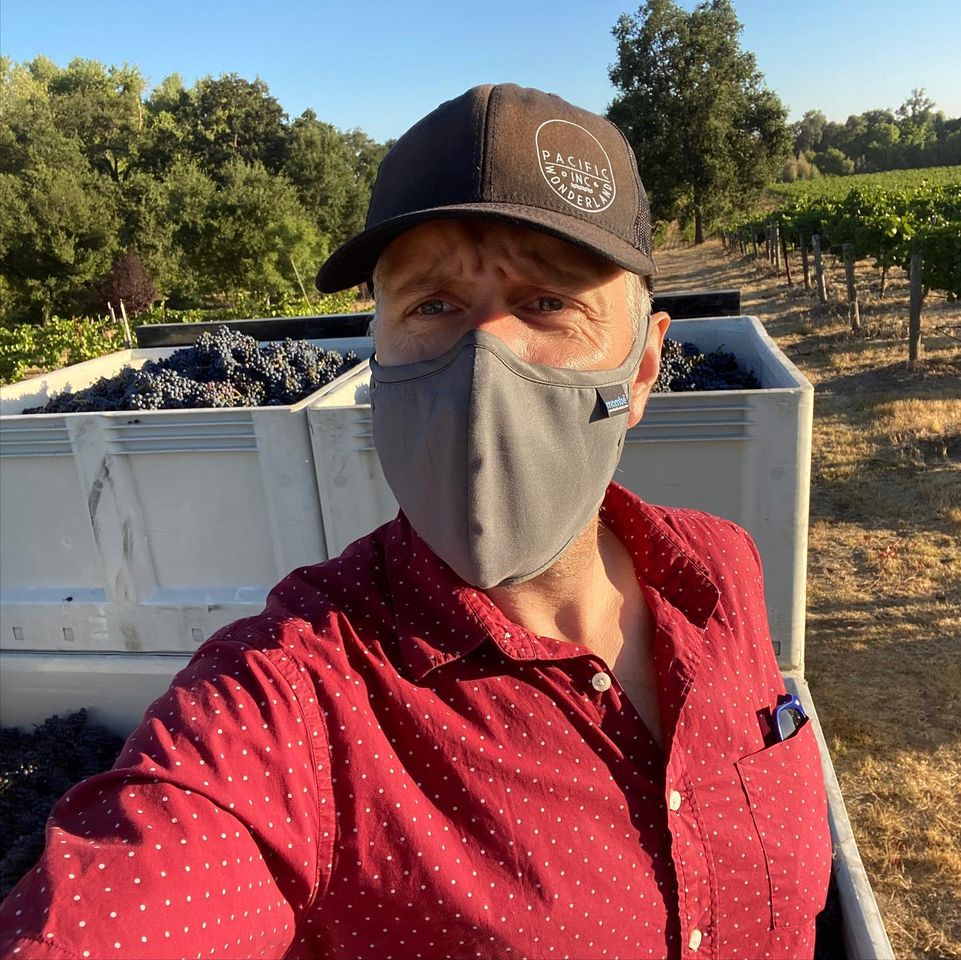 I was in grad school in LA and I worked at a local wine store just for the discount mostly. When I finished my MA I started teaching at local city colleges and Cal State LA. Teaching was a rough grind. All along, I felt I was more drawn to wine than I was to grading my students' essays.
Nonetheless, I didn't see a way off the academia train and was weeks away from moving to Hattiesburg, Mississippi to do a PhD in modern poetry.

At the wine store I worked with, I lamented my fate to a winemaker--Eric Kent--we were doing an in-store tasting with and he almost offhandedly suggested that I defer for a year and come work with him as a harvest intern.
I thought about it for a day or two and then called Kent. I recall asking him, "Were you serious, can I come work for your?" He had no memory of the conversation, but nonetheless, I wiggled my way into a job.
I loved it, I'd never worked with my hands, I'd never seen a job from beginning to end. It was great. I was hooked. From there I worked with anyone I thought could teach me about vineyard to bottle winemaking. Auteur, DuMol, Donom, Kosta Browne. I landed at Copain, which really changed my whole approach to wine and winemaking. Then Tuck Beckstoffer. I'm now the winemaker for LIOCO, where I make wines I'm very proud of.
I'd add that something I love about American winemakers/winemaking is that we don't have a generational culture of winemaking. It's not like in France where I'm going to be a winemaker because of my parents and their parents. We're winemakers. Thus, while we lack something of the culture and the tradition, most of the people in the industry choose to be here. It makes for a nice work environment: most people gave up a different career to be here.
You took over as winemaker at LIOCO in 2018, how has that been? What opportunities has LIOCO offered you in terms of expanding your repertoire?
What's been great about working with LIOCO is the new varietals I've gotten to work with and the amazing sites I've been able to make wine from.
Whereas Trail Marker is pretty dedicated to lesser known sites that we aim to bring recognition to--sites like Chapel Vineyard in the Santa Cruz Mountains, or Ferrari Vineyard, also in the Santa Cruz Mountains-- LIOCO goes for these, but also searches out and makes wines from some of the gems of California. E.g. Hirsch, Hanzel, Demuth and Cerise Vineyard.
Personally, I've loved working with the Pinot from Kiser Vineyard, Cerise and Demuth Vineyard and the Chardonnay from a small site in The Santa Cruz Mountains called Howard, truly beautiful veins planted in the early '80s.
With regards to new grapes, I'd never made Valdiguie or Carignan, it's been great. I'm able to look at what the previous winemaker did (my friend John Raytek) and use his wines as inspiration but also use my own palate and sensibilities. I'm really proud of the Valdiguie from Lolonis as well as the Grüner Veltliner I just made for LIOCO from Tatomer Vineyard. What's also so fun about making these wines is that there really isn't a "California Grüner style," so to speak It's all new territory. I'm neither working in a pattern nor kicking against the pricks as they say.
Looking at the Trail Marker Wine Co selection, it seems to be heavy on wines sourced from Santa Cruz. What draws you to that region and how does it stand out for you as a go-to growing region?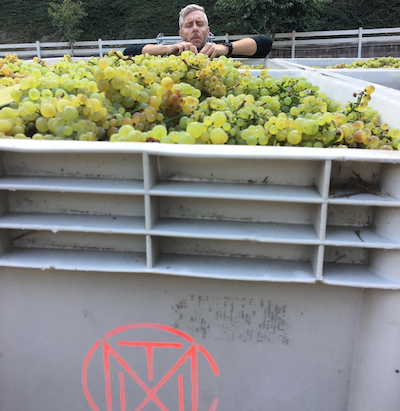 I truly believe that the Santa Cruz Mountains AVA is the most under-appreciated wine growing region in all of California and also can grow the best wines bar-none. In winemaking, we constantly talk about soils and the ocean, (particularly in California winemaking where we don't have 250+ years of slow and steady observation). But far too often we merely pay lip-service to these two things. Take for example the "Sonoma Coast" AVA. Wines grown in this area can be miles from the ocean in impacted clay soils that have nothing to do with the coast, but we still call these wines Sonoma Coast. There are countless other examples, but you get the idea.
But, in Santa Cruz, particularly in the region of the AVA that I work in, you have two tectonic plates--the North American Plate and the Pacific Plate--pushing right up against each other. The result is colluvial soils tumbling down to meet and blend with marine sediment uplifted from the ocean floor. This is a million year in the making eden for winemaking. Add to this the proximity of the Monterey Bay--with its cooling wind and fog--and you have a beautiful area for growing wine. At Chapel Vineyard, it is dry farmed and there are huge calcareous chunks of former ocean floor throughout the vineyard.
The Saveria and Quink Vineyards are both in the same small valley just a couple miles from the ocean but at about 800 feet elevation. The morning fog burns off at about 10 or 11 AM an then you get a brief bit of intense heat in the 80s. This big temp shift causes the grapes to develop rich complex flavors much more nuanced than any wines from the Russian River or Anderson Valley. Further, there is an amazing structural acidity to the wines that you won't find in other regions.
I first worked in the Santa Cruz Mountains in 2013 at Saveria Vineyard. The first thing I noticed was the soil. If you don't know better, you'd swear you were at the beach: grey sand and the distinct smell of salt air. Even more awe-inspiring was just how developed these grapes tasted just after veraison--the process in which the grapes go from opaque to red. Even at very low sugars when other grapes would just taste nondescript, these grapes were clearly something special.
A mile away or so at Quink Vineyard you can actually see the ocean. The result is a delicate salinity to the wines here. Further the natural vigor of the vines are kept in check by the wind, fog and cold temps. All of these influences lead to stunning wines.
I've just started working with two new Santa Cruz Mountain sites, Bates Ranch for Cabernet and Ferrari Vineyard for Pinot Noir. At Ferrari, the vines here were planted in 1980. Forty years old is rather old for California Pinot. Because Prudy Foxx (who farms all these sites sans Chapel) uses no herbicides or pesticides, the soil is a living biome meant for the long-haul. The vines here are old, but they are healthy and nuanced. The wines are amazing, textured and perfumed, really beautiful.
Bates Ranch is one of the original modern Santa Cruz Mountain vineyards. It was planted in 1970, hell it's older than I am! You can really see the way the earth has folded in on itself here creating a blend of different soil types. The volcanic soils naturally soften the tannins (this of the wine of Sicily for a comparison... but Cab).
I truly can't say enough about the SCM. One word about my viticulturalist Prudy Foxx, T.S. Eliot said in his dedication to The Waste Land, "Il Miglior Fabbro..." (To the greater craftsman). In this way, I mean that it's her unique understanding of this region and her blend of organic and biodynamic practices that's tailored to every site she works with that really lets these sites shine!
Aside from my wines, I think the wines that Ashley Holland is making from Peter Martin Rey are amazing, as is everything Arnot Roberts makes from this area, ditto the wines of Ceritas. The wines from Flores and Margins that I've tried lately are also delicious.
After selecting these vineyards, what is your winemaking philosophy? What is your end goal that you strive towards?
All of my wines are spontaneous fermentation for both alcoholic and malolactic fermentation. Because I don't want to manipulate or change the nature of the wines, I search out cold-climate sites that provide natural soaring acidity.
Beyond acid and yeast, I don't have many taboos. I try to avoid dogma when it comes to most aspects of my life and that includes winemaking... dogma leads to religious fervor, suddenly it's not that you make a wine different than I do but they can both be good, rather, suddenly you're on the opposite side of a religious war. I think we can see that play out in multiple aspects of our daily life from politics to esoteric wine debates.
With Chard, I press to tank without sulfur or dry ice. My goal here is to really oxidize the juice and then to bring it back from the dead in barrel. The idea is that by oxidizing the juice, the browning will occur in the juice rather than the wine. I can say from experience this is definitely the case. IT makes for more structured wines that really keep a crystalline clarity for years after bottling or in the glass for days.
I cold settle the juice to drop out lots of big solids for a day to three to achieve the phenolic richness I'm looking for. This is based on how bright or developed the juice is tasting out of the press, and probably a little bit on my mood that day. I ferment in a mix of puncheon and barrique. I used to bottle in summer before the next vintage, but I've been experimenting with racking the wines to stainless steel and then aging in a completely anaerobic environment for an additional six months. My initial experiments were great and I'm now transitioning all my Chardonnay winemaking to this fashion.
With Pinot, I usually ferment using 50% to 75% whole cluster. I've experimented with 100% but I've personally found the VA starts to rise as the yeast struggle for sugar and nutrients in the early stages. I've had wines I LOVE that are 100%, I just haven't made them this way. I probably will down the line. I do a mix of pump overs early to get the ferment oxygen and then tend to switch to very gentle punch downs twice a day. Once the wine is dry I'll leave it on the skins in the fermentation tank for a couple days to a full week as long as it keeps tasting good.
My aims are always beauty, perfume, "cut" (which is to say a pronounced acidity and lift + minerality). I'm not as concerned with extraction or overt fruit flavors. I make wine in California, I almost can't help but get those qualities. I use no new oak on my Chards simply because I really don't like the taste of it on American Chards. I will usually use one or two new barrels a year on my Pinots, in part just to replace the older barrels as they get funky. I'm not averse to tannin, I just never seem to make tannic wines. I think this is because I don't ferment my Chards too hot and I tend to be pretty gentle with my Pinots.
Again, thank you for taking the time to delve into your winemaking approach. I would like to end with a book and album for our readers. Is there an underrated book or album that you would like to recommend?
I'm not sure there are too many "underrated books," in that I don't think too many people read books anymore, save for management manuals and general "how to be a better business person" that then seem to go unread.
I think that DH Lawrence's "Women is Love" is an amazing exploration of a search for spirituality and love in the modern world. Perhaps not as much a tour-de-force of raw emotion but with an eye towards plotting, the intricacies of language and societal relationships, I love Edith Wharton's "The Age of Innocence."
I have read and reread the novels of Nabokov many times. I cannot get enough of them.
I love Ralph Ellison's Invisible Man.
And Faulkner is of course the greatest American Novelist, and possibly greatest English language novelist of all time.
As for an album, I think that Joni Mitchell is underrated, hers are beautiful albums that hold their own against all the other heavy hitters of the '60s and '70s.