We have always had a special fondness for Burgundy and from our correspondence over the years with readers, it's clear we're in good company. Burgundy lovers and people wild about Riesling -- sometimes the same folks -- are renowned for their fervor.
Burgundy holds a notable place in our wine lives. In 1983, we went to France for the first time with a mission: to conceive a child while glorious wines coursed through our veins. As readers of our memoir, "Love By the Glass: Tasting Notes from a Marriage" know, that was easier said than done.
No, not the drinking glorious wines part. That was easy. After leaving Paris, we had driven to Reims to taste Champagne at its source. We had decided to visit wineries in Burgundy rather than Bordeaux because that route seemed easier, we'd always thought the wines especially romantic and, even way back then, we'd heard Burgundy was more welcoming. A bottle on a wall meant "Please drop in," which led us to about 20 wine estates in a little more than a week. (We were young.)
We met a winemaker in Chablis who, standing in his vineyard, talked about the magic of the sun on the fossilized seashell-rich slopes, and the Côte d'Or some miles away. We drove past the Hospices de Beaune and dined at a restaurant owned by relatives of the late Pierre Franey, the great food writer for the New York Times, where Dottie worked at the time. Franey had called ahead. We were welcomed like family.
At L'Espérance, near Vézelay, we had our first Ladoix, perfumed and velvety, with the chef-owner Marc Meneau's delicious creations. Meneau joined us later in the salon, curious about who we were. L'Espérance earned three Michelin stars that year and Gault Millau named him France's Best Chef of the Year. He died last month of COVID at the age of 77.
We had visited Napa and Sonoma almost a decade earlier, but we'd never seen a density of wineries like those in France or met families who had made wine in those very places for generations. We didn't have our first child until 1989 and didn't become wine writers until 1998, over time, many wines of Burgundy, red and white, became too expensive and sometimes unreliable, sweet and heavy, sometimes both, nothing Pinot Noir or Chardonnay should ever be.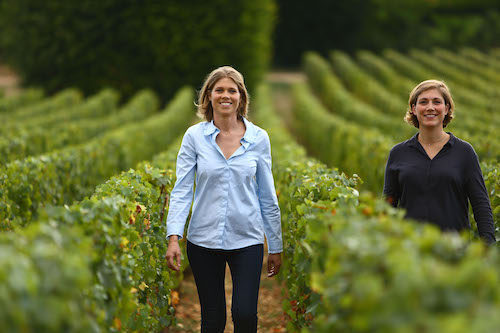 So we were pleased recently to savor some tasty Burgundies from Domaine Matrot in Meursault, which brought back happy memories. Founded in 1835, it is now being led by the sixth generation of the Matrot family, sisters Elsa, 33, and Adèle, 35, who took over from their parents, Thierry and Pascale, in 2016. For now, the labels still have the parents' names on them. A third sister, Eleonore, 40, owns a restaurant, Le Chevreuil, with her husband in Meursault. Adèle's husband has a wine estate with his brother and Elsa's husband is a wine broker, the sisters wrote to us in an email. The U.S., with 30 percent of its sales, is Matrot's largest market. Annual production from its 60 organically tended acres is about 12,500 cases.
We've been fans of the wines of Matrot for a long time, so the wines sent by importer Vineyard Brands got us caught up with them as well. Back in 2009, two made our list of favorites in our Valentine's Day column for The Wall Street Journal, and we gave a third a warm assessment. We'd recommended passing on the restaurant scene to enjoy a romantic dinner at home, advice that is certainly apropos this year. The two favorites back then were Pierre Matrot Premier Cru "Perrières" 2005 and Thierry et Pascale Matrot Premier Cru "Charmes" 2005. The third, also from Chardonnay, was the regular Thierry et Pascale Matrot 2006 Meursault. Pierre, whose great-grandparents founded the domaine, was Thierry's father. The Perrières vineyard is famous and seeing it on the label reminded us of our first glimpse of the fabled Cote d'Or where it is located.
The first Matrot we tried of the bottles sent recently, 2017 Thierry et Pascale Matrot Maranges Vieilles Vignes ($35), made us sit up and smile. Maranges, with its limestone slopes, is in the southernmost part of the Côte de Beaune. The wine had ample acidity and brightness, and also a weight and fullness that made us think of its location farther south, warmer. It was complex and elegant, with lovely, slightly peppery and earthy red-berry tastes and a trace of purple flowers on the nose.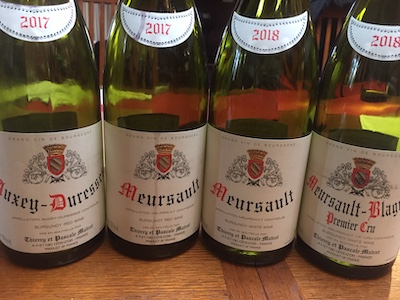 The 2017 Volnay-Santenots ($85) was "surprisingly peppery and flashy," we wrote in our notes. "Nice follow through. It's a lot of wine, bigger than we expected. A bit boisterous. Young. It's bursting with fruit, but still has more earthy elegance than many U.S. Pinot Noirs. It's the earth and the acidity that really separate these, whether they are ephemeral or bigger, like this one."
The 2017 Meursault Rouge ($94) was "elegant and restrained. It has that hint of funk that makes Burgundy unique but which we don't sense that much anymore. That gave it a combination of earthiness and elegance. This could have been more haunting, but it was still excellent and what we'd hope to get in a Burgundy."
The 2017 Meursault Blanc 2017 ($68), we wrote in our notes, had "butter but not too much. Toast but not too much. A little hint of bitterness at the end. Definitely restrained. This is a wine that you have to go to. Soulful. Lemon more than lime. Light and elegant."
We disagreed about Meursault-Blagny 2018 ($85). John loved it. "It was almost weightless, so it had all of the classic tastes—butter, lemon, a little oak, great minerality but with just a bit of texture. Dottie compared it to a lemon soufflé. But she thought it was a bit wan, especially on the finish. John thought it had just the right balance of taste and texture and that all of the various complex tastes were perfectly balanced in a great package." Burgundy's subtleties tend to spark those kinds of disagreements between us.
The transitions of ownership and the transmission of know-how from one generation to another have fascinated us for a long time, whatever the industry, but especially in the world of wine, where so few wineries in the U.S. seem able to get past the second generation. So we were interested in how the Matrot clan has done it and put some questions to Adèle and Elsa.
What did you do before you joined the family business?
We were both students, Adèle in wine business Elsa in oenology and vines.
Does each of you have a specific responsibility at the domaine?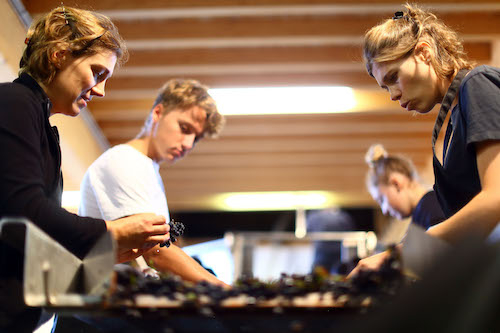 We share the work. Elsa takes more care of the wine in the cellar and checking the vineyard. Adèle does much more of the business. But we are both aware of everything in order to be able to take care of the whole estate alone if needed. Meaning: Elsa knows all the customers and Adèle makes the technical decisions with Elsa.
Do you yourselves make the wine or is there a winemaker you work with?
We do it together just the two of us.
Do your parents live nearby?
Our parents live 5 km [about three miles] from the estate and are always around when we need help. They help us during the harvest. Our mom cooks and takes care of the 40 workers and our dad drives the tractor and helps us with the harvest.
Are there generational differences in winemaking? Specific things your parents brought to the winemaking? Specific things you have brought?
Yes, of course. Our taste is different, weather is different but most importantly tools are different. When Thierry (our father) took over the business, it was the moment with big changes on the technical side—better quality destemmer, more precise press, starting temperature control. We kept the style of the estate.
First and very important, our parents turned all the estate organic in 2000. Important in the winemaking because it changes the quality of the grapes. Quite the same with us. We invested in a new destemmer and a new press to get more precision. We invested in thermos-regulated vats to better control the temperature during fermentation. Longer elevage in barrel and then tank.
We think of Burgundy as often having a haunting, almost ephemeral quality with a beauty and purity not often found in red wines or white wines. Do you agree? If so, why do you think that is the case?
As winemakers we are obsessed with quality and we are aware that we are very lucky to take care of such beautiful terroirs. Indeed the terroir of Burgundy is amazing and you cannot find it anywhere else on earth. The delicacy of Pinot and the minerality/purity of the Chardonnay are unique. It is all about terroir. We cannot control everything and the terroir speaks for us.
Each of the sisters has two young daughters. Adèle has 5-year-old Léonie, and Joséphine, 2. Elsa has Iris, 2 years old, and Charlotte, 7 months. It would be great if they became the seventh generation to run Domaine Matrot, to hear the terroir speak.
Dorothy J. Gaiter and John Brecher conceived and wrote The Wall Street Journal's wine column, "Tastings," from 1998 to 2010. Dorothy and John have been tasting and studying wine since 1973. In 2020, the University of California at Davis added their papers to the Warren Winiarski Wine Writers Collection in its library, which also includes the work of Hugh Johnson and Jancis Robinson. Dottie has had a distinguished career in journalism as a reporter, editor, columnist and editorial writer at The Miami Herald, The New York Times, and at The Journal. John was Page One Editor of The Journal, City Editor of The Miami Herald and a senior editor at Bloomberg News. They are well-known from their books and many television appearances, especially on Martha Stewart's show, and as the creators of the annual, international "Open That Bottle Night" celebration of wine and friendship. The first bottle they shared was André Cold Duck. They have two daughters.

Banner art by Piers Parlett