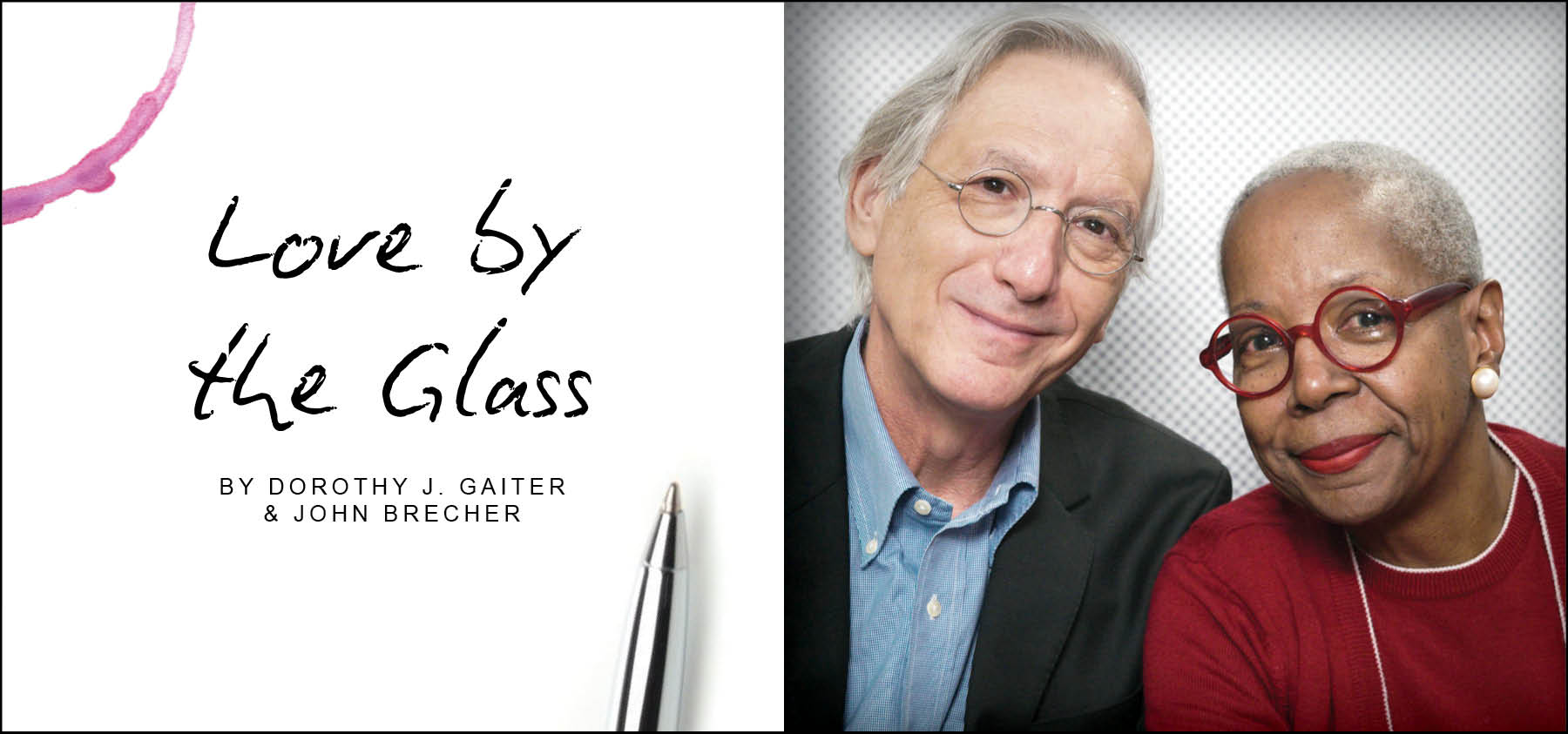 When we tell people that our daughter Media recently got engaged, the second question they ask is, "Do you like the guy?" (Yes, we do, very much. They were MFEO.)
The first question is, "Are you going to choose the wine?"
We'd like to, but we know there are many issues involved here, such as caterers and event spaces that will insist we pick from their list. If we do get to choose, however, we now have an unexpected contender. It's from an unusual blend of grapes and an unexpected region, it's bubbly and it's pink. We never would have thought of it, but we happened to be in the middle of a tasting of rosés when it burst upon the scene for us.
Let's start at the beginning. It's rosé season. Yes, we know they're being hawked as a year 'round beverage. Nevertheless, walk into any store now and you are likely to be greeted by a sea of 2017 pink wines from all over the world, and why not? For consumers, chilled rosés are lovely for warmer weather. For wineries, they are great cash-generators. No expensive, years-long barrel aging or 100-year-old vines or long cellaring. It's pretty much just pick 'em, crush 'em and put 'em on the shelf.
Unfortunately, too many wineries treat them as nothing more than cash cows. They leave them sweet to cover flaws or put so little ripe fruit in the bottle that they taste like watery Kool-Aid. But we are here to tell you: If your rosé is just OK, just an inoffensive quaff that takes a little edge off the commute home, you can do better. Vintners everywhere are making rosés that show diligence, care and even passion. They don't just taste OK; they taste affirmatively good, both with and without food. They don't just glide over the surface of your mouth, but have underlying tastes and textures – minerals, earth – that give them grounding whether you really think about it or not. They tell your tongue and your brain, "Hmmm, this is wine, from an actual place, not just a manufactured wine product." They're the kind of wines that tell those cash cows to just moooove along.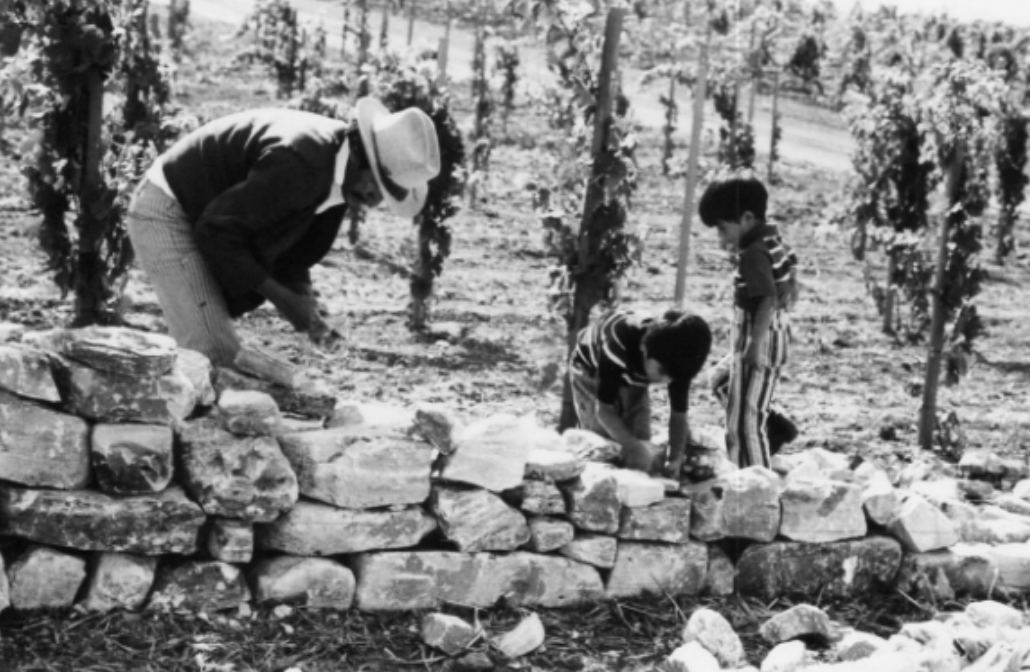 (Cellarmaster Auggie Rodriguez and family at Sanford & Benedict Vineyard in 1972)
What's the difference? What makes a good rosé? We called Steve Fennell to find out. Fennell is the winemaker for Sanford Winery in Lompoc, Calif., a long-time favorite of ours. His 2017 Rosé of Pinot Noir (Sta. Rita Hills) is not cheap at around $23, but it doesn't taste cheap, either. It's crisp, dry and fresh, with great balance – not too light, not too heavy, with some fleshy watermelon and strawberry tastes and some complexity. We wrote in our notes: "Not showy, just hits all the right notes."
"You have to start with great grapes," Fennell told us when we called. "We have a true advantage with Sta. Rita Hills Pinot Noir as our base. We have great acidity because of the cool climate and a nice combination of fruit character and savory components, which translates into an interesting rosé because that takes it above a simple tutti-frutti rosé, which some are."
The grapes are from the two estate vineyards, 70% from La Rinconada vineyard, planted in 1997, and 30% from the adjacent, famous Sanford & Benedict vineyard, first planted in 1971, which contains some of the oldest Pinot Noir vines in Santa Barbara County. The two vineyards and the ranches attached to them comprise the Sanford Estate. After founders Richard Sanford and Michael Benedict went their separate ways in 1980, the property changed hands and the two vineyards were separated. How far do we go back with Sanford? Since the winery was called Sanford & Benedict. In 2002, we opened an ancient Sanford & Benedict blend for Open That Bottle Night and talked to the legendary Richard Sanford about the wine. Read about it here.
The Terlato family, which now owns the estate, reunited the vineyards with its purchase in 2011 of the Sanford & Benedict vineyard. After Fennell was hired in 2006, he and the family began redesigning and replanting sections of the iconic vineyard, replacing ailing vines with some other clones planted at a higher density, the winemaker said. "We're kind of at the point where we're taking full advantage of the land, but not having one row shade the next," he said. About 40% of the original vines are still growing and "have the potential to stay healthy," he added.
"What we do is we have these two estate-farmed vineyards and we look for blocks that are well-suited to rosé. They have a little bigger berry, juicier, with lower tannin than the other blocks that we're using for red wine. We have very gentle handling; the grapes are gently squeezed. They spend very little time in the press, an hour or an hour and 10 minutes, but it still gives it enough skin character to give it the depth of fruit but still remain lively." The wine, made in stainless steel tanks, is then given a little aging in neutral oak barrels.
Sanford has made a rosé for decades, Fennell said, but it has only recently been distributed nationally. The 2017 will be hitting shelves in about a month, he said, adding that the 2016 is drinking better now than when it was released. "Rosé benefits from a little time in the bottle," he said. (We just bought the 2016 and it is indeed also excellent, but, when it comes to rosé, we would pick up the '17 instead of the '16, given a choice, for the simplest of reasons: You don't know where the older wine has been for a year. Unless a wine store or distributor has kept it well, it could lose some of its nice freshness. We tasted an '18 from Domaine Bousquet in Argentina and it was tasty, lively, and a lovely celebration of the new vintage, especially for about $13.)
We tasted rosés for more than three weeks, some sent to us by wineries and some off the shelf. They were from many countries, from Long Island to Sicily, and from all sorts of grapes. Aside from the Sanford, here were our favorites, in ascending order. Prices are approximate. All are 2017 except the bubblies.
6) Domaine Lafond "Roc-Épine" Tavel (France; made primarily from Grenache, Syrah, and Cinsault; $19). There's still a feeling among some that there is a kind of objective right and wrong about wine, that when an important writer or a Level 93 Somm declares a wine good, it's good. That's nonsense. We've been drinking and learning about wine together for 45 years, so generally our tastes line up, but not always. This dark pink wine is an example. What John found "heavy" Dottie found "mid-weight." Where John tasted sweetness, Dottie sensed ripe watermelons, strawberries and peaches, with good acidity. Perhaps it was because John was having chicken Françese and Dottie was having pasta with sausage, chicken, mushrooms and red sweet peppers. In any event, neither of us had to sleep on the sofa that night. We just disagreed. See for yourself (and let us know whose side you're on. Dottie writes, "He's back!").
5) M. Chapoutier "Belleruche" Côtes-du-Rhone (France; Grenache, Syrah, Cinsault; $16.99). This is a long-time favorite and it's pretty widely available, so be sure to keep this in mind as a reliable standby. It has nice weight, good fruit and crispness at the end that simply demands another sip.
4) Barone Pizzini "Franciacorta" 2012 (Italy; 80% Pinot Nero and 20% Chardonnay; $40). Well, this was sure as heck a surprise: a fairly expensive Italian rosé sparkler aged for at least three to four years. Let's be honest: If we were looking for a rosé at the wine store, we would not pick this up – and that would be a mistake. This is a remarkable wine, with a copper color and real weight. We liked it when we first opened it, but then, as it warmed and got some air – bam! It got better and better as the fruit and especially the acidity grew. It's clearly a food wine – and, really, when was the last time you thought of a pink bubbly as a food wine? By the time we finished this, we called it "intellectually interesting" because of its complex layers of taste. If you see this, take the financial leap and try it.
3) J. Portugal Ramos Vinho Verde (Portugal; 40% Padeiro and 60% Espareido; $9). We generally think of Vinho Verde wines as light whites, but there is some red and rosé out there, too. We once found the red in the Ironbound neighborhood of Newark, which has a sizable Portuguese population. This rosé, only the winery's second release of it, might require a search, but it's the best deal of the tasting at nine bucks. "Light color. Tart, with a nice underpinning of minerals – wet stones. You can taste the touch of red. This just has real life."
Grape Collective talks to Silvano Brescianini, owner of Pievalta and Barone Pizzini
2) Fleur de Mer Côtes de Provence (France; mostly Grenache, with a little Cinsault and Carignan; $20). Light and pleasant, with strawberries, white peaches and other fruits. There's a roundness to it. It tastes authentic, like someone cared about it. Dottie said, "It's like it tells a whole story."
1) Weingut Loimer Niederösterreich Brut Rosé NV (Austria; Zweigelt, Pinot Noir and Chardonnay, though the 7% Chardonnay is not listed on the label; $33). This was the standout of the tasting and our biggest surprise. We've been fans of Loimer's wines for years. Dottie included the regular sparkler in a holiday column two years ago. But we were still unprepared. It looked gorgeous: light pink, with pinpoint bubbles. The first words we wrote about the taste were "smoothness and nice acidity." We went on: "Elegant. Nice weight. Mouthcoating yet clean. Beautiful. This is fine wine with bubbles – it can't be drunk quickly, it must be appreciated. There's a real foundation there. Amazing precision. Romantic. Simply beautiful."
We contacted winemaker Fred Loimer to ask about this marvelous bubbly, which was first made in 2013. (Grape Collective interviewed Loimer about his commitment to biodynamic wines here.) He told us that Zweigelt makes good rosé – he's been making a still one since 2003 – so it wasn't a big leap to make it into a sparkler and that he had "great passion" to do it.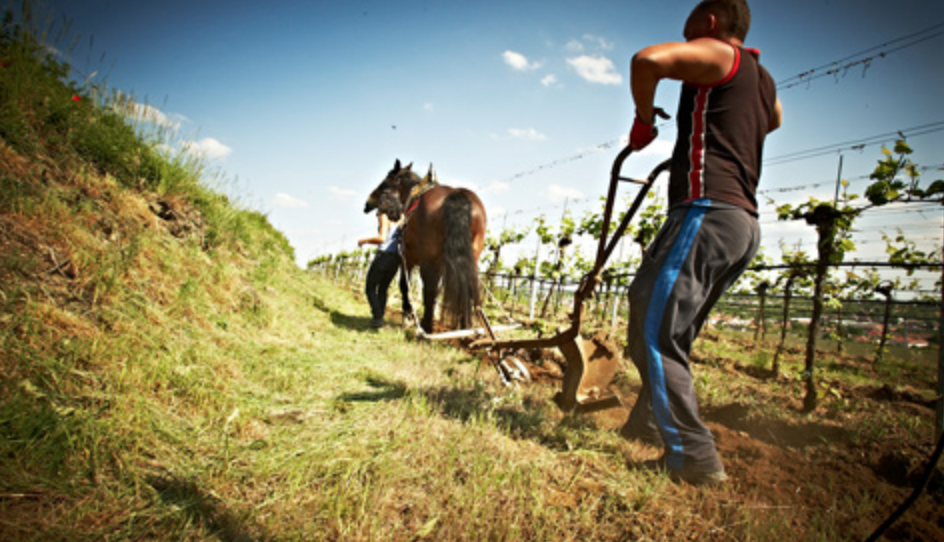 (Photo: Biodynamic winegrowing at Loimer)
He said the pink color comes from the addition of 3% to 4% red Pinot Noir wine (which is a common way to make pink bubbly in Champagne, too). What does the red wine add? "Texture, mouthfeel," he responded, "and it brings in a red wine fruit."
We also asked if he made this rosé sparkler because rosé is so popular now. We enjoyed his emailed response: "It's more what the region offers. There are a lot of Zweigelt vineyards doing great for rosé -- still and sparkling! -- and of course, you always need a market..."
As long-time readers know, since we began tasting wine together in the 1970s, we have rated them on a scale that goes Yech, OK, Good, Very Good, Delicious and the very rare Delicious! The last description is reserved for wines that are not only beautifully made and tasty, but genuinely exciting. We only have one or two a year. This wine rates Delicious!
We liked it so much that John rushed out and surprised Dottie with four more bottles. We opened one right away to make sure it was as good as we thought – and it might have been even better. And here's the kicker: When we had the first bottle, John was thinking to himself that this would be bangin' (as our daughters would say) at Media's wedding, but he didn't say anything. When we had the second, Dottie said quietly, "You know, I can see this as Media's wedding sparkler."
But don't wait for a special occasion, like a wedding. If you can find this wine, get it. And remember: Any rosé should taste good enough that you want to have it again, and right away. If you immediately forget your rosé from the night before, try another one. Heaven knows there are plenty to try.
Dorothy J. Gaiter and John Brecher conceived and wrote The Wall Street Journal's wine column, "Tastings," from 1998 to 2010. Dorothy and John have been tasting and studying wine since 1973. Dottie has had a distinguished career in journalism as a reporter, editor, columnist and editorial writer at The Miami Herald and The New York Times as well as at The Journal. John was Page One Editor of The Journal, City Editor of The Miami Herald and a senior editor at Bloomberg News. They are well-known from their books and many television appearances, especially on Martha Stewart's show, and as the creators of the annual, international "Open That Bottle Night" celebration of wine and friendship. The first bottle they shared was André Cold Duck. They have two daughters.
Read more from Dorothy J. Gaiter and John Brecher on Grape Collective
Banner art by Piers Parlett
Find the wines:
As of publication -
Weingut Loimer Niederösterreich Brut Rosé NV at Grape Collective $33.99
J. Portugal Ramos Vinho Verde Rosé at Grape Collective for $9.99
Domaine Lafond Tavel Rosé at Grape Collective for $19.99
Fleur de Mer Côtes de Provence find locally at Winesearcher.com from $13.99
Barone Pizzini "Franciacorta" 2012 find locally at Winesearcher.com from $33.99
M. Chapoutier "Belleruche" Côtes-du-Rhone at Winesearcher.com from $8.99
Sanford Winery 2017 Rosé of Pinot Noir at Winesearcher.com from $17.99