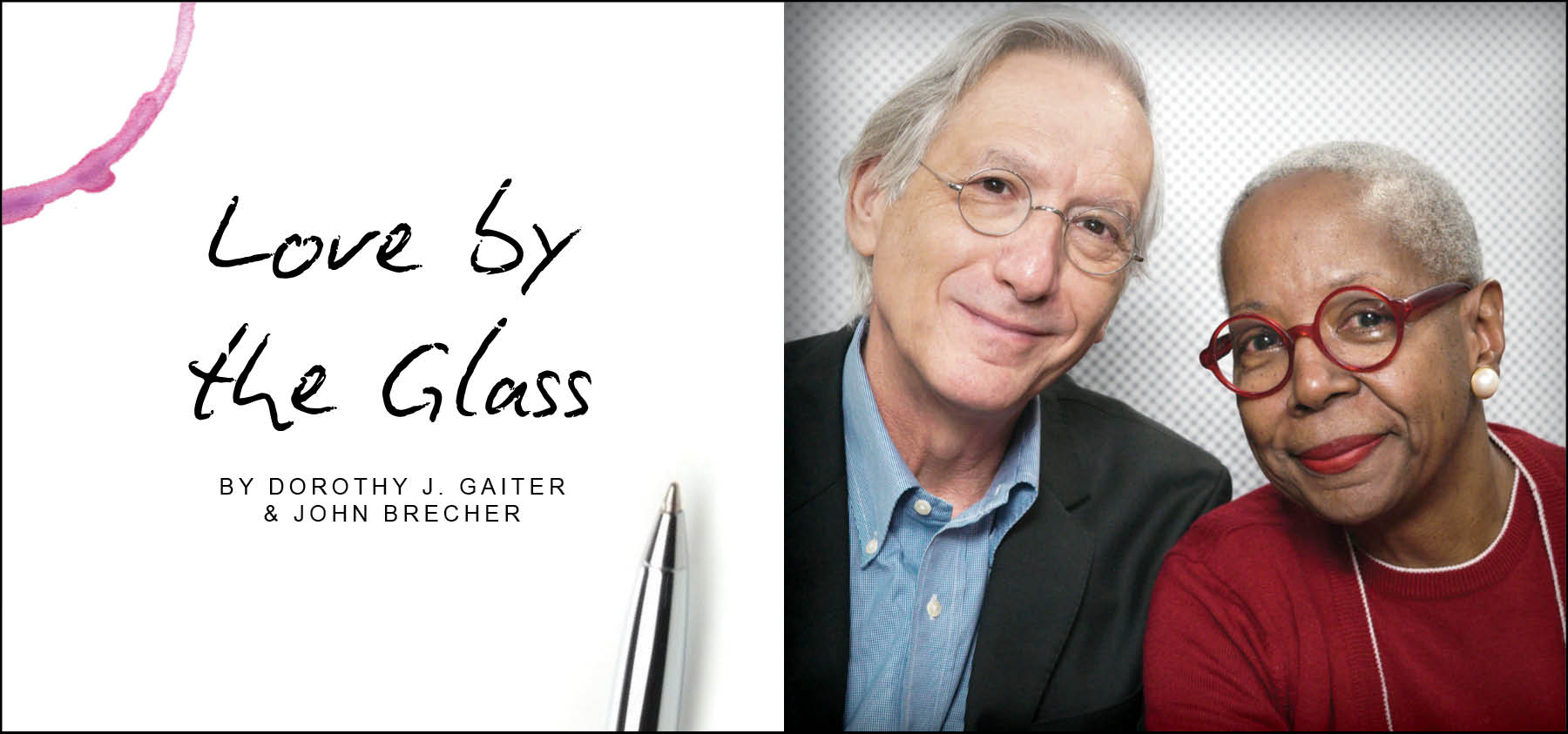 So I called up the Captain,
'Please bring me my wine.'
He said, 'We haven't had that spirit here since 1969.'
Thanks to today's wide world of wine, we were able to travel from the Hotel California to Hungary in a single delicious evening. Here's how it went down:
We're not the world's biggest fans of the Eagles, but we got tickets to see the EagleMania tribute band play Tarrytown, N.Y. The reason: Their drummer that night was the brilliant Ron Negro, our daughter's longtime drum instructor, who was so important in her development as a musician and a person. How's she doing? Well, she just appeared on NPR's Tiny Desk with the band Kalbells. As the President would say, that's huuuuge.
We figured we'd eat before the show, so John checked out restaurants near Tarrytown Music Hall. There were quite a few, but he focused on a place called The Twisted Oak because it seemed to be the most serious about wine. When we sat, they handed us two wine lists, one of high-end wines and another of more reasonably priced wines that were available by the bottle or the glass.
After a quick look at the menu, we decided we'd have a white. There were only four whites on the latter list, all interesting and all about the same price, in the $40s. One especially caught our eye: "The Oddity," a dry Furmint from Hungary made by Royal Tokaji.
Furmint is the great grape of Hungary, used to make the world-famous sweet wine Tokaji Aszú. Over the past few years, Hungary has been working hard to interest American consumers in the dry version of Furmint. There's even a trade organization called Furmint USA. Dottie wrote about Furmint back in 2015.
Royal Tokaji is probably Hungary's most widely known producer. It was co-founded by the wine writer Hugh Johnson after the fall of communism to help bring back the once well-regarded Hungarian wine industry. And we did just have a serendipitous meet-cute with an excellent Hungarian wine: As we wrote in a previous column , we had a Hungarian rosé at a wine bar recently and were so impressed that John rushed out to buy more the next day.
So, all in all, John said to Dottie, this seemed like a good bet, or at least an interesting experience. "This could be heaven or this could be hell," he sang to her, and then, "We may lose or we may win, but we will never be here again." She looked around and said "OK," really quickly.
When the waitress came over, we ordered the Furmint and John asked, "So, does anyone except us ever order Furmint?"
"Well," she said, "since we don't have a Chardonnay by the glass, this is what we suggest to people who want Chardonnay."
Wait. What? We hadn't noticed, but there indeed was not a Chardonnay by the glass (the other three whites were an Oregon Pinot Gris; a California Sauvignon Blanc; and an Italian Garganega, the grape of Soave). Whoa. That's certainly brave. We ordered the Furmint.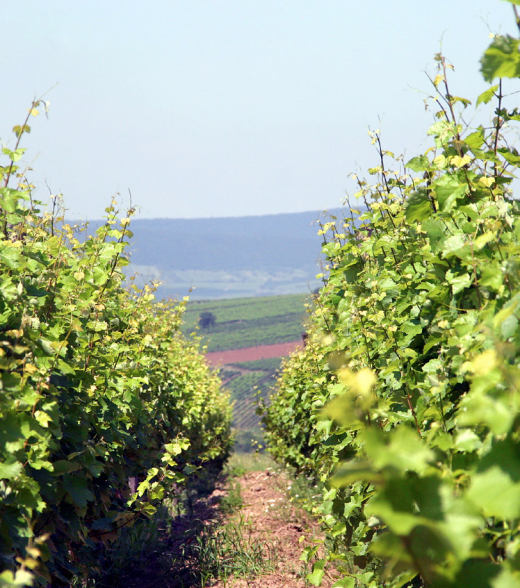 (Photo: The Royal Tokaji vineyards)

The wine was simply delicious with two somewhat disparate main courses, John's country fried chicken and Dottie's octopus, each with rich, white sauces. The 2015 Furmint elevated both. Furmint has tremendous acidity and minerality that go well with seafood and a presence that does remind us of a good Chardonnay. It has tastes of apricot and roasted nuts that paired perfectly with the golden crust of John's chicken and the smoky salinity of Dottie's grilled octopus.
Our contemporaneous notes: "Some Furmints don't seem complete. There's a lot of stuff going on with them, but it doesn't go anywhere. It's just a jumble of tastes. This has a beginning, a middle and an end, with great acidity for food. It still has that nutty taste of Furmint and its minerality, but the lemon curd acidity lifts it. It still has a kind of fullness -- we can understand why they suggest it to people who want Chardonnay -- but it's not heavy at all. There's a real sense of place."
The importer, Wilson Daniels, told us the winery first made a dry Furmint in 2003 and it has been imported into the U.S. ever since. The winery produces about 5,000 cases of dry Furmint, of which about 1,500 are imported and sold nationwide. The suggested retail price is around $17 – and, folks, that's what we call a steal.
Soon after our dinner, a representative for a Furmint called Oremus Mandolás, owned by the family that purchased Spanish winemaker Vega Sicilia in 1982, contacted us and asked if we'd like to try a bottle. The parent company is now Tempos Vega Sicilia. We jumped at the chance. We liked this one, the 2016, at least as much, maybe even better than The Oddity. Tokaj-Oremus, founded in 1993, began making this wine from the volcanic-soil rich Mandolás vineyard in 2001. It's fermented in new oak and undergoes frequent batonnage to stir the lees to enhance the wine's minerality, according to the winery. The suggested retail is $27, but it's available for less.
Our notes are endless. Here's an edited transcript:
"Sauvignon Blanc acidity with Chardonnay weight. Almonds with some walnut bitterness. Takes some time to open and warm in the glass. With air and time and also food, the wine becomes one of regal presence. Serious lemons with Chardonnay oiliness. A wine of stature. Lemon rind on the finish. Intense lemon and toast. Nose at the very beginning was like some Sauvignon Blanc and there's some grassiness a couple hours later. But now some salt and white pepper. An amazing experience. Sort of eau de vie nasal cleaning!"
Dottie then summed it up in real wine-geek speech: "I'm crazy for this!" The winery says 400 cases were imported and distributed nationally, primarily in larger markets.
Furmint is pretty hot among some sommeliers these days, but consumers haven't really caught on. Furmint USA told us that around 10,000 cases are exported to the U.S., which is like spillover at a giant American winery. But it's out there. FurmintUSA.com has a very nice "where to buy" section and, of course, wine-searcher.com is always a good source.
Will Furmint catch on? John says it's possible. Who would have guessed that Malbec from Argentina would become a sensation when we first wrote about it in 1999 and hoped that it would? And some wine merchants tell us that Americans are getting more adventurous in their wine choices. After all, even our favorite local burger and beer place had a dry Furmint on its limited wine list. But Dottie's not so sure and she says the name certainly doesn't help. Furmint? Ferment? And it's true that our burger and beer place went out of business.
That said, we'd urge you to find a bottle, chill it slightly (like cellar temperature, not refrigerator temperature), decant it and then savor it. Decant it? Yep. There's something about the complexity of these wines that makes them even more interesting as they get air and warmth.
By the way, the show was terrific, especially Ron, the drummer. Before it was over, most of the people in the audience were singing and dancing. There's nothing like the sight of a room full of gray-haired people shaking their booties to make you happy that you had a good bottle of wine beforehand.
Dottie says we should fully disclose this in case a video turns up: She was among those getting down! (And looking good, she adds.)
Dorothy J. Gaiter and John Brecher conceived and wrote The Wall Street Journal's wine column, "Tastings," from 1998 to 2010. Dorothy and John have been tasting and studying wine since 1973. Dottie has had a distinguished career in journalism as a reporter, editor, columnist and editorial writer at The Miami Herald and The New York Times as well as at The Journal. John was Page One Editor of The Journal, City Editor of The Miami Herald and a senior editor at Bloomberg News. They are well-known from their books and many television appearances, especially on Martha Stewart's show, and as the creators of the annual, international "Open That Bottle Night" celebration of wine and friendship. The first bottle they shared was André Cold Duck. They have two daughters.
Read more from Dorothy J. Gaiter and John Brecher on Grape Collective
Banner by Piers Parlett