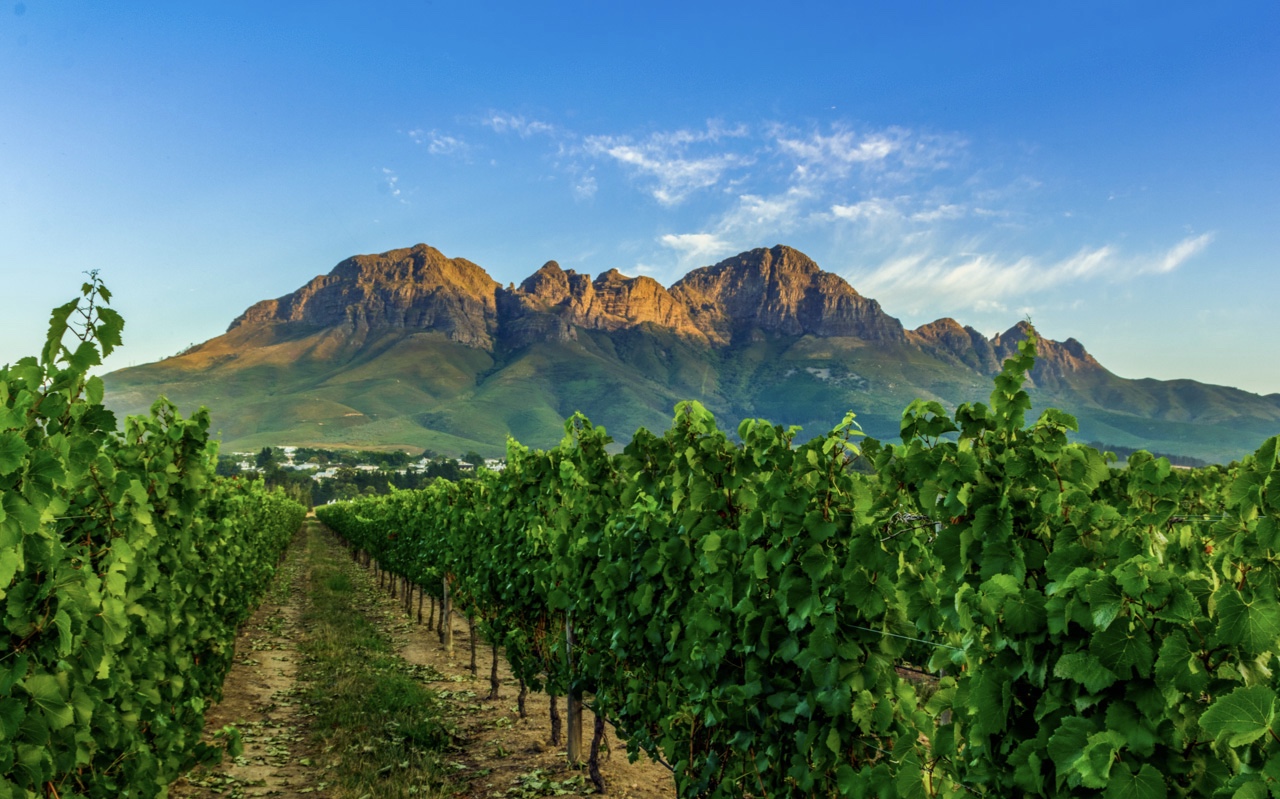 In 1992, one year after U.S. sanctions were lifted in South Africa, brothers Andre and Gary Shearer founded Cape Classics, a wine importing company now based in New York. Over the past 26 years there have been many, as Andre tells it, "game changers" that helped them become the largest importer of South African wines in the United States. Most recently, the company's focus has expanded with the addition of several French wineries to their growing portfolio.
From the beginning, Andre's idea was to create a company with an underlying social approach of helping those in need. In the spirit of giving back, Cape Classics has created Indaba, a scholarship brand where a portion of the proceeds goes toward early childhood education for disadvantaged South African children.
Andre talked with Grape Collective about his amazing journey and the challenges still faced by the South African wine industry today.
Lisa Denning: You weren't in the wine business initially. You studied to be a doctor and you also did some modeling. Tell us how you got into wine and what led you to start your company.
Andre Shearer: I started in medicine and was in my third year of studies when I realized that I was not doing what I wanted to do and plucked up the courage to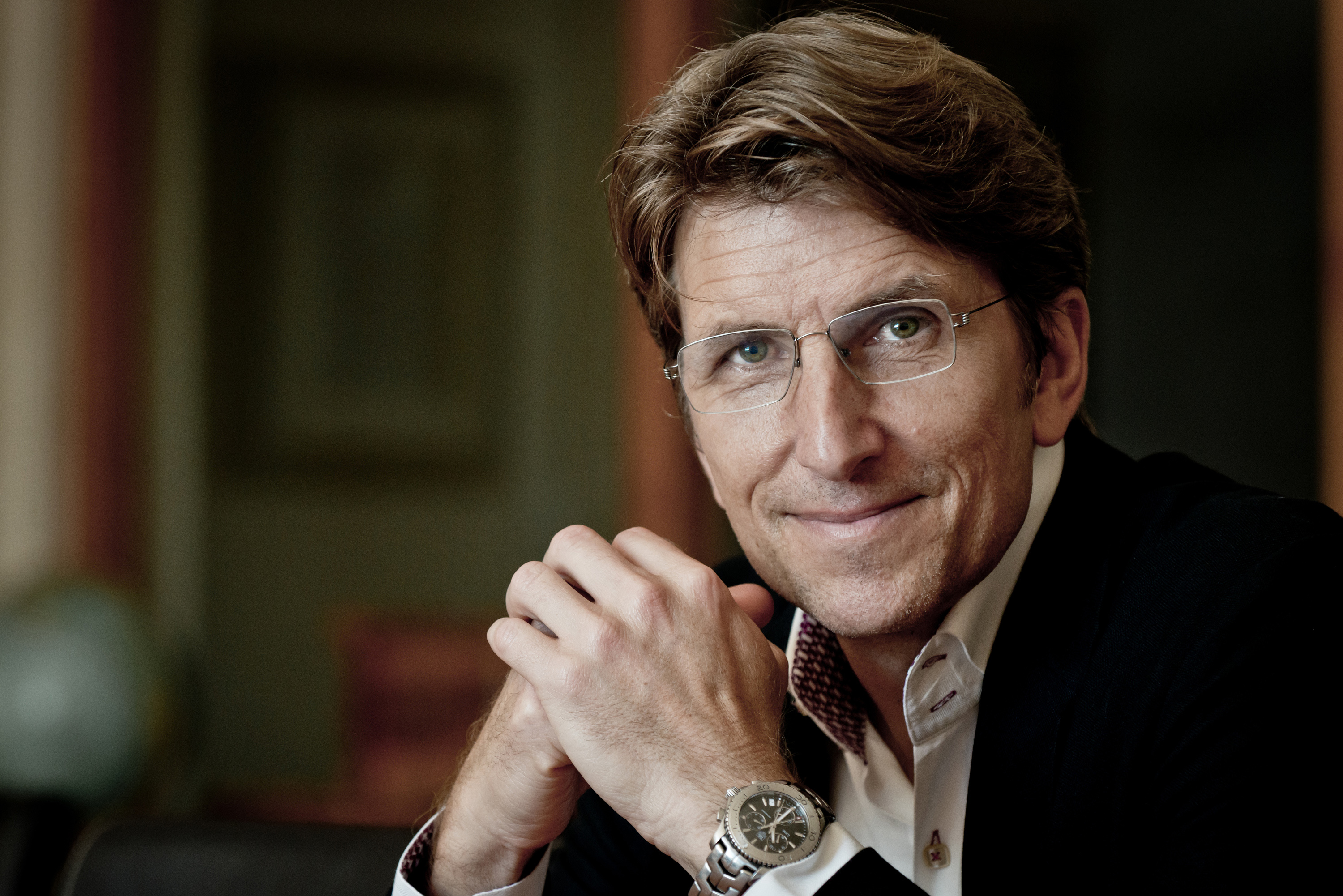 drop out, much to the horror of everybody. My parents were panic stricken so I was talked into staying at University and getting my bachelor's degree. Half way through that year I was like, "What am I doing? This is nuts." I had no connection to what I was doing so I dropped out again.
Then I was roped into doing some commercial modeling for department stores. One of my friend's brothers was a photographer who suggested I try it and I needed the money to pay for my student loans. I went to Paris in '84 even though I was clearly not a Paris fashion model but I ended up doing runway shows and worked with a lot of German clients doing catalogue work. That was during the early days of male models so there weren't that many of us. It ended up being 7 years of travel and immersion in culture and languages. I finally felt like I was learning about life even though I often couldn't go on bookings because my South African citizenship precluded my being in certain places.
And then in Germany one year, I was at a political meeting and they had just lifted sanctions in South Africa. A journalist asked me if I would put him in touch with somebody in South Africa because he was interested in reporting on a group who wanted to import wine. My brother drank wine — I didn't drink anything — I was a vegan, teetotalling vegetarian so I went back to South Africa and said to my brother, "Look, I've got these people and they're looking for wines." So my brother and I started a company and we called it the Natural Corporation as I had all these ideological and socially and environmentally correct ideas. I was really keen to do things right coming from a society like South Africa with its political complexity and the disease that existed during apartheid. I had all these lists and my brother was like, "Listen, if you want to do business, you have to open the list a tiny bit and not be so restrictive." I had these strong ideas about setting up the company with a fundamental social approach of looking forward and not being connected with anything that was.
My brother guided me to a couple of producers and I tasted for the first time a Cabernet with a very private producer that has come to be one of South Africa's greatest properties. It was the first time I had ever basically tasted a wine — I mean, growing up I'd had the odd taste — and I was blown away by the aromatics and the style. I've always had a very good sense of smell, so I was particularly struck with what I was smelling and tasting. He explained it to me via the soil, and I was suddenly aware of what the wine industry meant, what grapes were in terms of viticulture. I didn't understand any of that before.
What was that wine?
It was the Thelema Cabernet, 1988. His first vintage with Cabernet from Stellenbosch. It was this minty, Heitz Martha's Vineyard, Napa type of red wine. And he said to us afterwards, "By the way, are you looking for wineries? You should visit a new winery just started by Larry Jacobs, Mulderbosch, just around the corner." We got in the car and drove to them. They were producing their first crop and here these two idiots, who had no idea about anything, show up.
This was in 1990 when sanctions were formally lifted by the EU. We ended up creating a really good collective of wines, independent family-owned wines, really brand new. We didn't know who was who but we knew what we were tasting and they had no affiliation to the big companies. They were all family owned and watching the chemicals and using low amounts of sulphur. Up to that point it was mostly big conglomerates and all these wines and spirits boards and the big state organization which had very strict and not all quality-conducive production rules. That all changed and we were right on the cusp of that.
And during that same year, we went back to Germany with a whole set of wines to sell and I ended up finding a great importer in Bremen and we started to trade as a supplier to them. During that year, my girlfriend (now wife), who is also from South Africa, and had been a successful occupational therapist as well as having been coaxed into the modeling business, was doing a three-week BMW car shoot in Las Vegas. They said, "We also need a guy, would Andre join us?" and I wasn't really working as a model anymore but I was like, "Great!" And while there, I watched George Bush Sr announce the lifting of the sanctions and I made the fatal decision that we would have a tasting in New York.
And my wife said, "You've never had a wine tasting in your life!" and I said, "What the hell!" And the embassy was so excited about something other than apartheid and fighting. They were truly supportive and we had the wine tasting.
Where did you have the tasting and how did you get the word out about it?
We had it at the Consulate General on East 38th Street and we used their PR people. We just put feelers out. We needed glasses and called Rory Callahan who used to run Food & Wine Associates, a wine school, with his wife Carol. He said, "I'll give you the glasses for free but under one condition. I want to come to this tasting because I don't know anything about South African wines." He was so amazing and he said at the end of the tasting, "This is just unbelievable. What are you doing tomorrow?" And we said, "Well, nothing." He said, "Let's keep all these wines and join me at the Society of Wine Educators in Cherry Hill, New Jersey. I would love to showcase what you guys do."
I met Harriet Lembeck, Fiona Conover, Kevin Zraly and dozens of other people. I was then asked to speak at the World Vinifera Conference in Seattle on Sauvignon Blanc from South Africa and I was like, "Oh god, they don't know that I know nothing." Some of the wineries in South Africa said, "Don't say anything you don't know. Have a cheat sheet but if you don't know something, tell them you'll get back to them!"
You then decided to open an office in New York. How did that come about?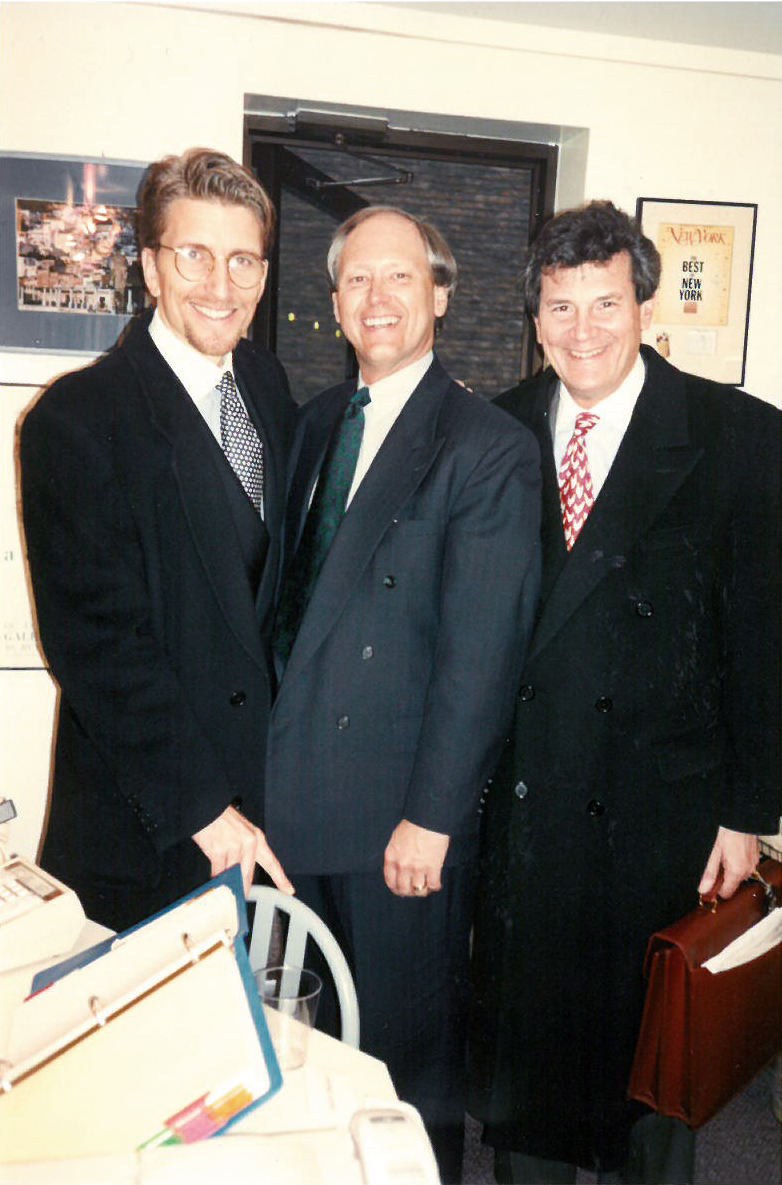 We decided to become a little more serious so we started to raise more money and started to lose more money than you can imagine setting up shop in the United States. We stuck it out and left the Natural Corporation behind as a name, changing it to Cape Classics, realizing that Natural was really not the most applicable term for the wine industry at that time.
Then the next big game changer came in 1994 with Michael Aaron, the owner of Sherry-Lehmann at the time. One lunch, one dinner and he became an extraordinary supporter. He found the wines intriguing and the quality to price points ridiculously amazing and he said, "These are wines to be promoted and celebrated." He put us on a platform in Manhattan that I couldn't have paid a PR firm all the money in China to do. He had real conviction and he believed in us commercially. Over the years I kept saying to him, "I don't know how to thank you." He said, "It's a pleasure and I'm enjoying it as much as you are."
Photo at left, Andre with Mick Yurch, center, and Michael Aaron, right, of Sherry-Lehmann.
My experience in New York with Michael Aaron and the dozens of other great people in the trade was amazing. It's where I got my feet wet and built so many relationships that have endured for 26 years now.
And after 26 years, what would you say is the biggest challenge of selling South African wines in the American marketplace?
It's that the average American wine drinker thinks of Africa as 'that continent over there'. Wine and Africa somehow don't really gel. I was in South Africa for the big 2000 Millennial celebrations and I got an email from somebody saying, "Congratulations on Parker!" and I said, "What?" and then somebody else emailed me and told me that Robert Parker did a four page spotlight on Cape Classics which was fantastic. Frank Prial of the NY Times had already been a huge supporter and had written articles on our region's wines in the New York Times, but it was a little bit too soon for the public to respond. James Suckling also wrote a ten or fifteen page essay in the Wine Spectator on South Africa saying, "My God this is the most beautiful region, the wines are world class" but the commercial side here in the U.S. never quite stuck because, politically, people weren't quite sure. Also, Africa geographically is this big collective and that's the problem — it's not about the wine or the prices.
We have no problem convincing the gatekeepers, like the sommeliers, but putting it on a shelf and leaving it in a store, it doesn't sell. People know Australia; they know New Zealand, those countries have country images. New Zealand has a very strong tourism brand and they're in lots of stores and they have the Lord of the Rings. Australia has movies with Mel Gibson and Crocodile Dundee, olympic games and Outback Steakhouse — they've got these living images. Whereas South Africa, hmmmm — politics, ebola, Africa, drama, that's just our image. The Wine Spectator selected three wines as the greatest white wines of the 21st century to date for its Grand Awards and one of them was the DeMorgenzen Reserve Chenin Blanc which is just exquisite. He got up at this thousand person dinner and said, "Chenin's day has come because of wines like this."
And do you remember the restaurant Lespinasse? Gray Kuntz, the chef, and Victor Taylor, he was the sommelier. I sat next to Victor at a tasting back in the 90s and he asked me what I did and I told him and he said he had never tasted a South African wine. He said, "You should come and see me" and he gave me his card and I had never heard of the St Regis and had no idea what Lespinasse was and he said, "Come and see me at the hotel at 10:00" and I went. It was so fancy there and we did a tasting and he said, "This is one of the most revolutionary tastings I've ever had. I'm going to put this one and this one and this one on the menu and I want you to come every week to train the staff." I couldn't believe it. He was buying 20 cases of this and 20 of that and on and on — it was like a Michael Aaron moment! Lespinasse became a showcase for our wines.
We've had lots of those, but the US is 300 million people, and we do Costco, Whole Foods, lots of regional and national business but it isn't scalable yet, but if we keep doing it, it will keep growing. Anybody who goes to South Africa comes back and says, "Holy smoke, that's it, I can't believe what I saw." When the press goes, they just want to write books about the things they tasted and the people they met. It's very evocative; it's complex and it's real.
But then the consumer in Michigan or in South Florida is going to the shop, going to Costco and looking for wine for dinner. There's 6 or 7 million cases of Argentinian Malbec. Do they know all the brands? I'm not sure but they know Malbec and it's rich and ripe and tastes like California. It's easy and it's Eva Peron and steakhouses with churrasco. Our issue has not been with the wine and I keep saying to South Africans who come here, "Don't be demoralized." It's not about what you are able to do. It's about us biding our time for the consumer to be aware.
What do you think can change that?
Honestly, I don't know. I've tried and we keep trying and we've never had more positive press about South African wines in the US. I've given up that we're about to change the national profile of a tourist region on the budget we have, it's impossible. I mean, you have Brazil spending 100 million on a Macy's campaign for one year. That's our national tourism budget for 5 years! We just believe by building quality and by going out there every single day, our business will grow. Thankfully it's very stable but if you bring anything inferior here from South Africa it dies a very quick death. It's not like it's carried along in the jug wines of California or France or even Chile. They have much bigger categories so the less than good stuff still flows cause the average consumer looks for it.
I'm a tireless promoter. I'm South African, I love it, I'm born there and my heritage is hundreds of years there, so it's not like I'm the wrong person for the job. We overdeliver on everything and I think that's partly why we've placed a lot of stake on relationships in an old-fashioned way and our social motivation from a philanthropy perspective. That's front and center of who we are. It's been an interesting quarter of a century journey and we are limited by the category.
For example, Jam Jar as a success story is unparalleled to none in our business and I was very reluctant in the beginning to do anything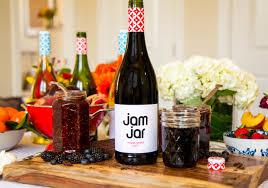 sweet. If we did, I felt it would have to be world-class. I'm going to say it and you can write it, I think it's the best made sweet red wine in the world. It's 100% Shiraz that comes from a very particular area. We built this brand that has defied logic, but it's not about a South African brand. Jam Jar has become this juice that people go nuts for. They paint themselves like Jam Jar trees for Halloween. People send us images and we're like, "What the hell?!"
I haven't come across Jam Jar. Is it more widely available outside the New York area?
Yes, it hasn't been as widely distributed in New York as we would have liked it to have been. But across the country, it's in some of the big chains, like Whole Foods. It's earned its place, not because of South Africa or Shiraz. It's fitting a very particular profile, for the sweet wine consumer. It's rich, ripe and robust. It's sweet but not that sickly sweet stuff. We don't chaptalize (add sugar). We use all natural Shiraz must from the actual harvest and it's a very natural process across the board.
What do you look for when you are selecting a winery for your portfolio?
First the wine quality has to be there and the price value has to be there. Inevitably I don't visit with the winery on the first go around. I just want to taste the wines. We prefer organic or biodynamic if we can. In South Africa that's a bit more challenging because of the difficulties of the actual certification process but most of our producers are as natural as they can be. The floral kingdom in the Western Cape is larger in plant species than the entire Northern hemisphere and it's a very protected region. The wine industry falls within it and you can't encroach on it so pesticides are kept to a bare minimum. I think we're one of the world's most sustainable regions from that point.
Secondly, it's being connected to the people and if we don't care for the people then we won't do business with them. It doesn't matter how good the wine is. I want to feel like I can break bread with them. They can have a 99 point Parker and everything else but if the people aren't a good fit, then no way, because that's what's really going to make it work at the end of the day, the willingness to work together and to support each other. Some of our producers in France have had really challenging times these past few years with weather and we've bought vintages ahead of time to support them financially because it's part of the relationship. I love what I do and I cherish the relationships we have.
Tell us about your involvement in France.
We decided to co-promote and co-brand and that's the first step we took to France. We said, "Chenin is this joining force. Let's try and figure out how to promote things like Chenin. How do we stop saying South Africa? How do we say, "Wow, just look at this product?"
When we launched the Loire, we went over there and just fell in love with the Chenin story of Vouvray and the food and the wine and everything about the Loire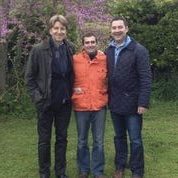 Valley. Our South African connectivity there was just remarkable. We were sent to see Vincent and Tanya Careme, he's one of the top producers in the region and Tanya had been the accounts manager of De Toren in South Africa 15 years ago. So Robby who runs our business there went to see them, and Rob was told, "Sorry, Vincent is stuck on a tractor and he can't see you." After he got in his car, this woman comes running out to the driveway and says, "Who are you?" And Rob says to her, "You're South African!" and she says "Yes, I used to work at De Toren." And then she said, "Get in the house, like right now. We're going to work with you guys because I love Cape Classics." They've become amazing partners.
Andre (at left) and Cape Classics President/COO Rob Bradshaw (right) with Vincent Careme
We also do another venture with them, the Terre Brulee, which Vincent does in South Africa and they've introduced us to a lot of folks in France. I thank God that I learned to speak French back in my modeling days. It's been such a blessing because a lot of the farmers we've met don't speak a word of English. I'm able to sit in the kitchen and just chat with them and not be the wine guy, but just be me. They couldn't be more conducive to what we're trying to do. They all love South Africa. They know about Stellenbosch and they love the wines so it's been a real dream getting France off the ground.
What other regions of France are you involved in?
The first trip I took was to Burgundy and we had a consultant there which we paid a fortune for but he taught us about everything. It was fantastic and on one of the trips he said, "We're going to see Michel Colin in Chassagne Montrachet." I said, "Can we buy from him?" and he said, "No he's famous and he's retired. You should be happy I got a tasting with him." And I said, "Well we have limited time, shouldn't we be visiting people we can buy from?" And he said, "Listen dude, you don't get to see this kind of guy every day, shut up already and just come and do the tasting." So I was like, "Ok."
We got there and this very jovial chap with his slops on greeted us and he didn't speak any English. He opened some bottles and I completely and utterly fell in love with the wines. They were just ridiculous! I'll never forget that tasting because it was my first tasting of Burgundy in Burgundy and I was in Michel Colin's cellar and he was tasting us on old vintages.
At the end of the tasting, he said to me, "You should see my son Philippe. He's leaving for South Africa on Saturday" and I was like, "No way!" So I went to see Philippe and tasted the wines and they were just shockingly good and he said, "Why don't we have lunch next week in Cape Town?" The next week we had lunch and he took me to his winery there and showed me what they were doing and the wines were just fantastic. One day he said to me "I've made my mind up. I would like to be imported by Cape Classics."
And it just went from strength to strength. We work with an amazing company in Bordeaux and work with Chateau Giscours on a third label exclusive now and we work with Philippe Pacoulet who's considered the father of natural winemaking and the top negociant. I'm so grateful to Philippe Colin, you have no idea. Our business in France is just phenomenal. We're used to three percent growth every year and this has just exploded.
The connection between South Africa and France has only helped both categories. We have this great business based on South Africa and we've got placements with France helping open doors to South Africa. Some restaurants have been reluctant and we've pulled out, while we were doing Careme, a DeMorganzen Chenin and the Somm is like, this is amazing and less expensive. So it's been a tremendous journey in France and Rhône is our next focal point. We just went to see a wonderful Château in the South so it's really amazingly exciting.
We just wish South Africa had greater consumer interest. You know, 9 out of 10 people walking into a wine shop, they're not looking for South Africa. If you hand sell them some, they'll come back next week and say, "That wine was amazing" but if you don't hand sell, they'll look for Burgundy, Australia, New Zealand, Oregon, Portugal. South Africa just doesn't quite make it. I could give you 100 cities, and people there will say, "Where is that from? South America?" "No, no, it's South African" and then, "Yeah? Which country?" and I'm like "South Africa!"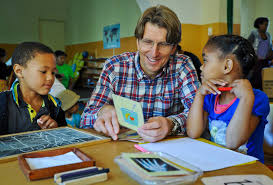 Can you tell us about the foundation you started?
The roots of the foundation started a really long time ago with aspirations. Aspiration and reality are sometimes very far apart. You've got to build the business. You've got to make something of it before you can be giving it away so you can't do it when you're losing tons of money.
We started the scholarship foundation in South Africa to help disenfranchised young black South Africans. I came from an area of teetotaling and I didn't drink much at all as a young adult but I noticed this terrible scourge where the incidence of Fetal Alcohol Syndrome in South Africa is very very high, in particular in the Western Cape and in the Northern Cape. In any other country you'd call it a national crisis. Some parts of the region have 25 to 30 percent of all children of school-going age with a measurable amount of Fetal Alcohol Syndrome. Can you imagine?
For me, this was the legacy of apartheid. It was history. It was something that was done in the past and this problem now exists. I used to see drunk parents dragging kids alongside the highway and I would think, this can't be. The first thing we thought was that we would stamp out Fetal Alcohol Syndrome but then you realize, "You and which army? And you and how many billions?" You've got to be realistic.
I realized that education is probably the best way of doing it because you can't fix that kind of ailment. You've got to stop it in the first place. You need to take a few steps and roll back in front of it and re-educate. We started bringing in students and during our first round of scholarships we trained about a dozen or so at University, from 1st year to 4th year, graduation, mentorship. We found them jobs, some went on to MBAs and we employed some of them so it was a real commitment.
You can't just give a scholarship. You've got to do the whole thing, you've got to incorporate and really help them to frame their role in society and that they're in a very different place than they were before. But I also got frustrated feeling that it wasn't doing enough. My kids were raised in Montessori and I realized that if you change the paradigm of early childhood education you would have the greatest chance to prevent things like Fetal Alcohol Syndrome and a lot of behavioral things from instilling themselves. I decided to start a Montessori training institute in South Africa and we also started the Indaba Education Fund three and a half years ago.
I was then invited to attend the Annual General Meeting in Amsterdam where the world Montessori headquarters are and I was introduced to James Walton from the Walmart family. He invited me to Denver to attend a meeting which became a committee to discuss the future of Montessori in the States. He impressed me incredibly, the most self-effacing, humble, highly intellectual, just a normal Joe, this amazing guy who comes from one of the richest families in the world. I was asked to join this committee which I did and so we've now got a foundation and the Waltons are just incredibly supportive financially. And James and his wife came to South Africa and saw the work we are doing and he fell in love with the region and what the implications were and we're using it like a laboratory. I've been to Harvard to the Center for Childhood Development which is a huge think tank for early childhood which is the next interface of educational change — it's not university, it's not high school.
The latest research at Harvard shows that the single biggest precursor to our adult disease profile across all societies is the incidence of early childhood trauma: sexual, emotional, physical, war, violence, you name it. That trauma — it doesn't matter what socioeconomic group — is what gives rise to health issues later on. We're designing a whole new curriculum in South Africa using the Montessori benchmarks and it's the most exciting stuff I've ever done. To me, that's the Indaba wine brand and what it stands for. It's to try and shift well-being using a wine brand to try and transform education which in 10, 15, 20 years from now will slow the incidence of Fetal Alcohol Syndrome. It's a bit of a round about way, but you can't do it any other way. We started Indaba 22 years ago as our scholarship brand and every year we donate a portion of the case sale and it's one of our biggest selling brands and produced impeccably. We get really good reviews on it and it's a quality price point and it's insanely good.
Your South African wines have had great success at Disney World. Tell us how that happened.
Just after apartheid ended, I got a call from an extraordinary guy, George Miliotes (read more on George in Dorothy Gaiter and John Brecher's article about Wine Bar George), who was the executive director of Disney's largest on-premise business called California Grill. George left a voice mail for me saying that they were building a 900 room, 1 billion dollar lodge with a South African theme and that they'd like to know if I would like to talk with them about the wine program. I called one of my team members and they said, 'That's an April Fool's joke!' But George came to New York and met with me and I ended up helping them sculpt an entire, huge wine program and it was mostly our wines.
They're still our biggest restaurant client since the 2000s in the United States. George is just an incredible guy and I met so many sommeliers. Did you know that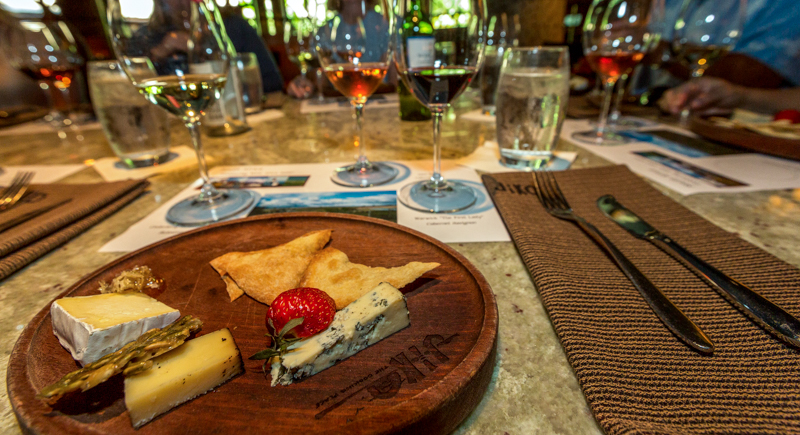 Disney produces more sommeliers than any other company in the USA? Florence Fabricant or Frank Prial would poo poo the whole white tablecloth dining thing there and I said, 'Don't kid yourselves, Disney has amazing standards.' Jiko is the name of the restaurant (at right, cheese pairing with South African wines) and it serves 500 covers a day of really top quality food and it's an entire South African wine list.
Initially the buyer said that they wanted to do 50/50 California/South Africa and I said, "I'm just telling you one thing, if you sell Kendall Jackson next to Indaba, you won't sell one bottle of Indaba, ever." We talked for about six weeks and they were very nervous and she even read me the riot act that if things went wrong I would have to take the wines back and I was like, "Yes Ma'am." She was this African American, very imposing lady and we ended up becoming very close and she came to South Africa a few years later. It was their biggest success — it's been one of their best wine programs in the US — and that just shows, in a vacuum, people just go nuts over South African wines.
What climatic changes have you seen in South Africa since you've been in the business?
South Africa is seeing less of an impact from the heat than say France, Germany or Austria. And look at England; they're now producing beautiful Champagne-style wines and rieslings in England. I've tasted wines there and I've gone, "What the hell, this is gorgeous." If I was blindfolded I would think this was Champagne of the finest kind. South Africa, maybe less so. It's a rich, ripe region but we've also got a lot of coolness and we don't have the heat like Napa does. We have a more temperate Mediterranean climate so we haven't seen quite as big a change although in the Elgin region which has more Pinot Noir there's been a lot of growth in ripe richer styles of Pinot.
Your last meal on earth. What would you have to eat and what would you have to drink with the meal?
I would probably have the most absurd thing to eat if I was on a desert island and I could only have one meal that I could sustain myself with rather than my last meal. It would be a Cobb salad without the blue cheese.
You're missing one of the best parts without the cheese!
It's because I don't eat dairy or bread but I've always enjoyed Cobb Salad and the restaurant at Buitenverwachting in Constantia does one that's exquisite (photo above). It's kind of like a caesar salad but it's with salmon and I've always looked at it as a full meal.
That's probably one of the strangest responses you've ever gotten to that question. It's not like, "I'll be having a rib eye," but I'm very conscious of food and I love to eat and we're pretty much an organic or biodynamic family. Our whole property has seen no chemicals in more than a decade and we grow our own food, we raise our own chickens, we eat our own eggs. I would want my last meal to be reflective of and celebratory of organic produce and beautiful salads which make up a big part of our diet.
In terms of the wine that goes with that, that's the big challenge. I would say that, even though I'm South African, Burgundy has captured my imagination. White Burgundy, actually. Perhaps more than any other area. I have found a profundity and a depth in those wines. Don't get me wrong, I love red wines, I just think a beautiful white Burgundy is in a class apart in what it represents, historically, soil types, delicate and elegant power. So either a white Burgundy or a really brilliant Chenin because I have a personal affinity for Chenin.
Read more from Lisa Denning on Grape Collective and The Wine Chef.