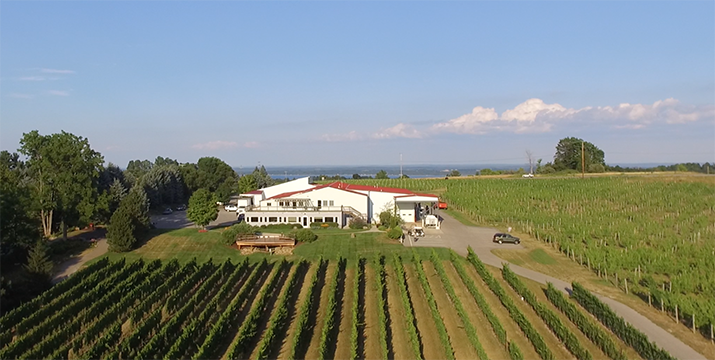 In 1974 ex-FBI agent Ed O'Keefe had the crazy dream of planting Riesling in Traverse City in northern Michigan. While at the time many people shook their heads in disbelief his crazy bet paid off and today Michigan has developed a reputation with the Riesling insiders as producing special wines. In his book "The Riesling Story, Best White Wine on Earth" Stuart Pigott dedicates a whole chapter to northern Michigan Riesling and holds special praise for Chateau Grand Traverse where he describes their medium-dry whole cluster Riesling as "one of the world's most distinctive whites in this style."
Grape Collective talks to the second generation at Chateau Grand Traverse Eddie O'Keefe about the challenges and triumphs of Michigan Riesling.
Eddie, how did your family get involved in the wine business?

It's funny when you really think back on it because it's much like the movie "Field of Dreams." If you really think about it, it was crazy when my father decided to start this back in '74, and it's build it and they will come. He was very entrepreneurial. He's still very much alive at 86, but he's a very entrepreneurial guy. He's been everything from a Green Beret Army paratrooper to a gymnast to a scuba diving instructor to an undercover narcotic agent in New York City. He started a business back in the '70s in the nursing home business in Detroit, and was successful in that. The larger companies bought him out. He took his capital gains and pursued his passion to go into the wine business, but he didn't necessarily just say, "I want to go in the wine business and make average wine." The spirit that he had is, "I want to make the best wines in the world and that's what I'm going to do. What I want to grow is European vinifera varieties of grapes."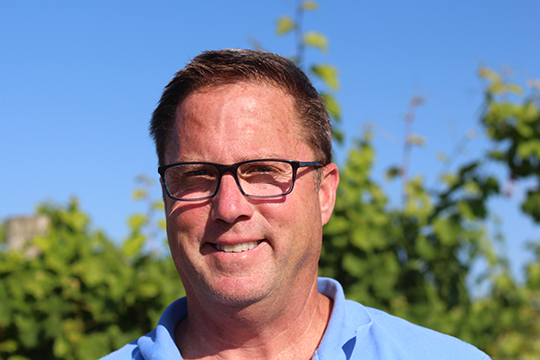 Problem with that though is the leading agricultural institution in Michigan, Michigan State University, as well as talking to experts at Davis in California, even bringing the experts in from Germany, from Geisenheim Grape Breeding Institute in Germany, they all said, "It may or it may not work. If you're going to risk a lot of money at it, we're going to say that it's not going to work. The climatic conditions in northern Michigan are just too difficult for these grapes to survive." Lo and behold, his spirit said, "Let's move the whole family in a station wagon north from Detroit, buy a 90-acre piece of property, plow it, and shape it to a southwest exposure, and bring in 35 acres of Riesling from Germany and plant it." Build a winery before he even made his first wine.

It goes with the nature of my father and how we operate. We've always been a very pioneer, maverick, independent operation because there were no wineries when we started, and here we are 42 years later, essentially doing what we set out to do 42 years ago. To grow Riesling and European varietals, and we really do not mess at all with the hybrids or anything like that.

When your father first came here with the family and he's in the supermarket, or he's at a bar talking with friends, as soon as he leaves, were they like, "That's the crazy guy that's planting vines?" Did people think he was insane when he first started doing it?

When my father came to town, he was looked at like the big city guy coming to town. A fool and his money shall soon part. It's going to be O'Keefe's folly. Nobody can make good wine in Michigan. You deal with it, we dealt with it. There were a lot of skeptics from chefs to restaurants to wine buyers to everybody. We've always had to do the battle, but don't judge it until you taste it. Taste it and then tell me what you think. It was always a wow factor, and we did really well in California in the very early days, and won medals right off the bat. That really allowed us to come back to Michigan going, "If it wins a gold medal in San Francisco in the mid-'70s, do you think that maybe it might be good enough for you to try?" That's how we proceeded.

What are some of the changes that happened over the years in terms of viticulture and winemaking?

It's been a very, very long road, but there's an increasing acceptance, obvious increasing acceptance for regionally produced products. What grows in a region is probably the best thing for that region, and we've always felt that Riesling is, and there's other varietals that we grow, but Riesling's our workhorse brand. When you hit it right, I don't think there's any place better in the United States. It is dead on, classic style Riesling or ice wine or whatever you want to make. I'm not going to go into the terroir and the soil, but the growing conditions here, right here, smack dab on the 45th parallel, allow us to do what we do. It really took a visionary and a very spirited person to persevere.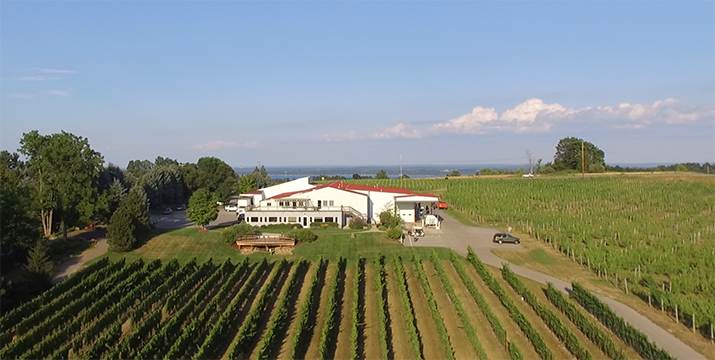 I guess my question was more along the lines of did you make mistakes at the beginning that you then changed the way you manage the vines? Was there a vision that you brought with you that pretty much stuck through and managed to exist through since '74?

One of the things that we did right off the bat, again, very '70s thinking, is buy the land and manipulate the land and shape it to your needs, rather than working with the land and planting it accordingly. I think that if we were to look back with what we know now, we really did a lot of earth moving, and it really stunted our vineyards for many years. Really mixed up the soil in quite a way that we have many other vineyard sites out here on the peninsula that we just went with the train of the land. Looking back, that's probably the more appropriate way to go, but also, what we've established here is one of the most scenic shots or beauty places in the state. They say grapes like to grow where people like to live. They like to be on beautiful sights overlooking water, west-facing, southwest exposure. Again, when we went into this in '74 without really knowing what to expect, we had to insure all aspects of being able to grow the grapes.

Is there a philosophy of viticulture and a philosophy of winemaking here?

We really do have a philosophy of, and it sounds a little cliché, but we truly believe that the wines are made in the vineyard. When you go in and look at tanks and barrels, and that's what people think winemaking is, it really is not over-cropping the vines, planting the right grapes for the area, and really expressing it in the winery. Again, it sounds very winemakeresque, but it's what we do. We grow grapes, we make wine, and we sell wine, but the other thing that we truly believe in, and sometimes we get mocked for it, is that we want to make wines that people can afford to drink regularly. We don't want to make the $50, $60, $100-bottles of wine that people can boast that they're drinking a $100-bottle of wine. We make wines that people can afford and they're good values and good quality.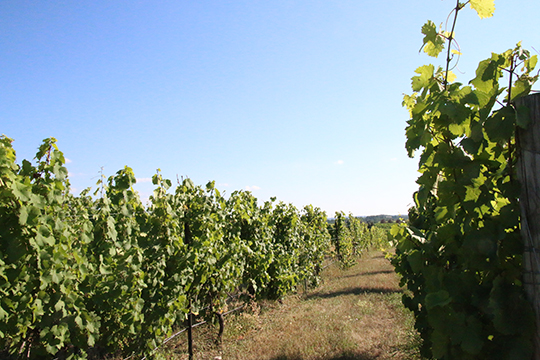 How has the Michigan wine industry evolved over time?

It's been interesting to watch the evolution of the Michigan wine industry. I've had the luxury of watching it over 42 years, and the original winemaking in Michigan started in southwest Michigan, approximately 200 miles south of here. It's a whole different animal down that way. Northern Michigan, it's a wine area that's starting to mature. There's a lot of I guess sophistication that's going on up here. Vineyard management experimentation, really dialing in what varieties and all that work. We're here to stay. This industry is going to grow, but you can no longer really rest on your laurels, like we're the oldest or we're the original, because in a way, nobody really cares about that anymore. They really want to know, "What are you doing now? Are you authentic? Are you real? What are your practices?"

We stick very much to that, and I think that's what is the charming thing in northern Michigan, is that we are an emerging wine region. It's very passionate. A lot of new players, but a lot new players that really know their stuff. I really think if the production levels can get up to where they need to be, that this is a wine region that could really spread out around the country and be known for very, very high-quality wines, in restaurants and elsewhere, not grocery store wines because there just isn't enough volume in this area to make something like that.

How long did it take when you started for there to be 10 wineries, and then how has it evolved over time and how many are there now here?

Out on Old Mission Peninsula where we're located, we started in '74, and the emergence of the first other winery out here happened in '93. Then after that, a couple others came along, but really from 2000 forward is where a lot of the wineries have started. There are now nine wineries out on the peninsula. Most of them, I'd say more than half of them, started in the last 15 years or even less. We have a long track record, but a very recent history with new wineries. As far as in the whole region here, the Old Mission Leelanau region, when we started in '74, we were the first commercial winery up here. Bernie Rink over in Leelanau County was experimenting and dabbling in all sorts of great varieties, but we were the first commercial winery in the region. Larry Mawby, Good Harbor Vineyards, and Leelanau Wine Cellars were the only other games in town for 20 years before the industry came along. There's some old dogs and some real new players, and I think everybody gets along pretty well.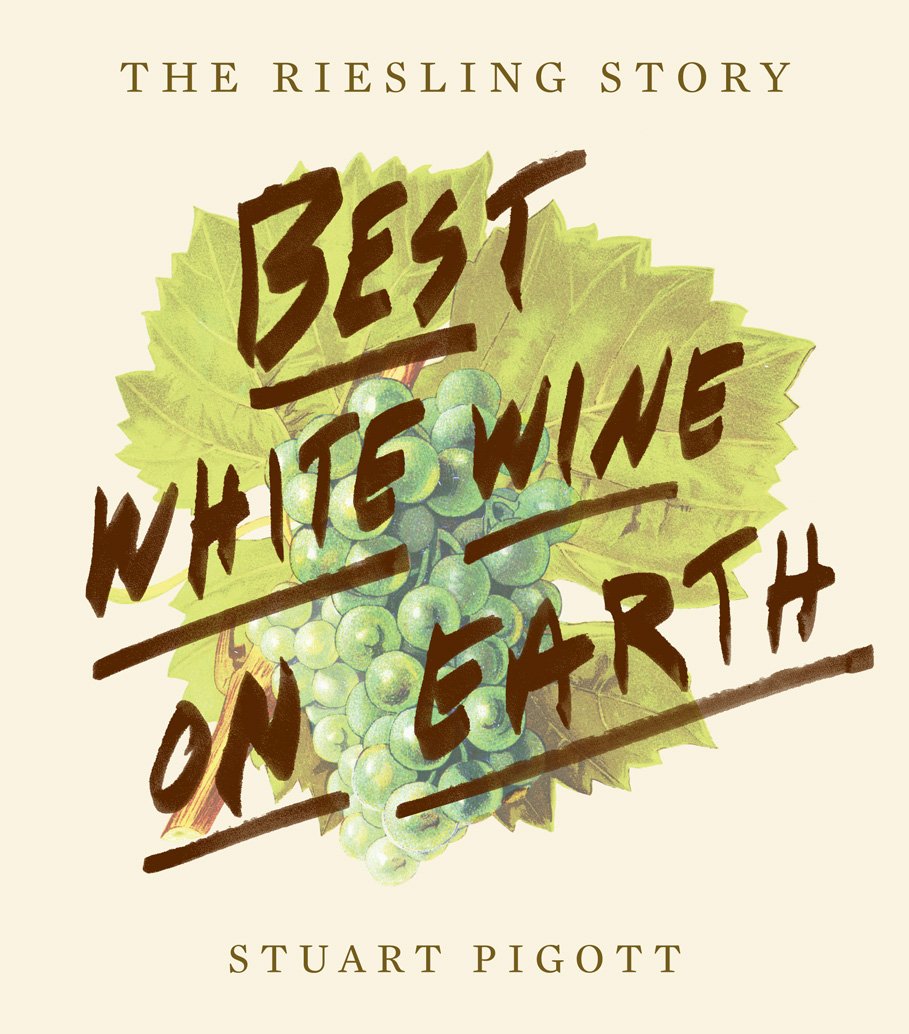 Interestingly when you look at Washington, Oregon, New York State, all that, we've been around as long as those industries have been. There are some really old players in those regions, but they all were emerging in the late '60s, early '70s. We're right there with them. We have extreme close ties to many, many of the best wineries in Germany. We travel there regularly. We're involved really at a national level. I've been involved with Wine America for 12 years. I was the recent chairman of it. We're involved politically, we're involved socially in the industry, and we're passionate about what we do. Eventually if the product's good enough and you speak loud enough, you get noticed.

What does Michigan need to do to become part of the international wine conversation?

I think from my winemaker's perspective, we're doing what we need to do, but I really think that you really need a state's backing. You need a really concerted backing from the state, and some help in branching out into these other states. Every other state that I'm involved with, Oklahoma, Nebraska, Iowa, Minnesota, you name it, they have very active, engaged marketing departments or whatever for marketing their agriculture. We as individuals pretty much have to do it on our own with a very small Michigan agency. Really if you want to play, you got to pay.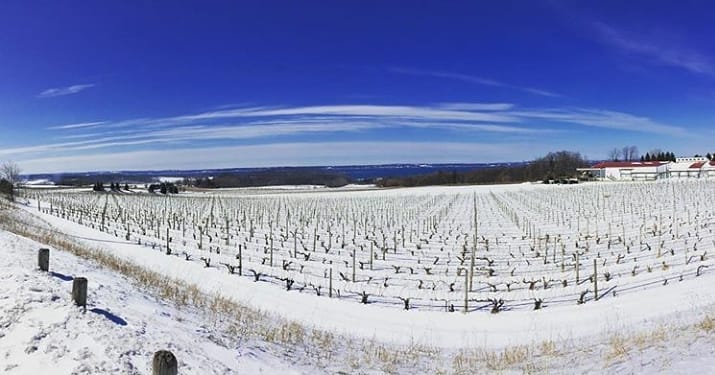 How would you describe the terroir here in northern Michigan?

Northern Michigan, the entire landscape up here is basically sand dune-based. This is a very glacially-carved area. The glaciers came back through here, and deeply cut out the water are and scraped away all the top soil. Basically we have boulders and sand here. Very well-draining soil. Not very nutrient rich, but the conditions that add up be on the 45th parallel with very strong white spectrum light during the summertime for very intense growth.

How would you describe the Rieslings from here? How would you describe the flavor profiles, if you were to compare it to other regions perhaps?

I've tried Rieslings from many other regions and what the true calling card of the wines that come out of this region are in a very expressive acid. I think Stuart Pigott, he calls himself an acid freak or whatever like that, just the idea that the very crisp, unadorned, naturally expressive wines are what we make here. They're a very, very cool climate, often described as steely dry, but there's just a nuance to them that I can't explain, that can't be duplicated, and I haven't tried elsewhere. When we hit it right, we hit it big.
Take a 360-degree virtual reality tour of the Traverse City wineries. This experience only works in certain browsers including Google Chrome. You can also experience the VR tour directly on Youtube.
If you were to say Riesling is the star in the region, are there other grapes that you're excited about that you think represent very well in this climate?

Again, I'm a little bit conservative based upon what we know, but I believe that Gamay Noir, which we grow here, we've grown since 1988, just got the best of class red at the Riverside International Wine Competition, Dan Berger's competition. Our Gamay, our red wine is beautiful. It's black peppery, very cherry, and as people learn to discover non-California, warm-climate reds and start to appreciate the cooler climate, the nuanced reds, that's what we produce here. Pinot Grigio, or Pinot Gris, is just an excellent variety. Pinot Blanc. Riesling of course is our mainstay. Chardonnays are beautiful here. The key big boy white wines do really well. Cabernet Franc, Merlot do really well.

I'm not so sure about the esoteric varieties that others are starting to dabble in, and I do not wish anybody wrong, but I'm just not sure if that's where I want to put all my money or efforts at this time when we know what works best.
Buy Stuart Pigott's book "The Riseling Story" on Amazon
Find Chateau Grand Traverse wine on Winesearcher.com
For more on Michigan wine check out our interview with Lee Lutes of Black Star Farms on Grape Collective