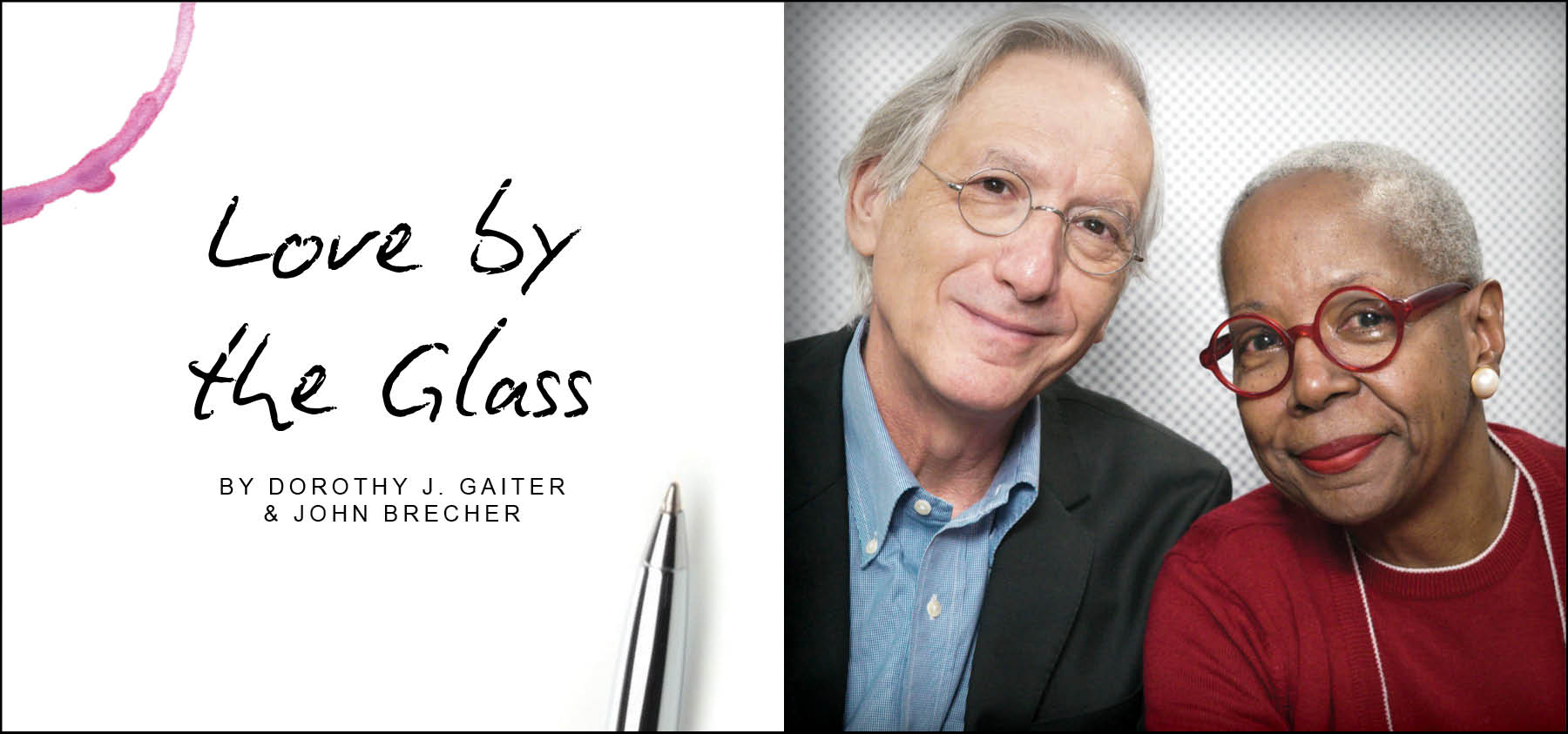 We've been professional observers for decades and there are times when the things people don't say resonate pretty clearly. When we were at Stony Hill Vineyard in Napa in June, there was a valedictory feel about our visit with Sarah McCrea and her father, Peter, whose parents made a unique, long-lived Chardonnay that became one of America's first cult wines.
They were grateful for what Fred and Eleanor McCrea had created with the land they bought atop Spring Mountain in 1943. And they should be proud of their stewardship of the 5,000-case winery, long an outlier in Cabernet Sauvignon-centric Napa Valley because it is famous for its whites, especially that bright and soulful Chardonnay. But that night felt a bit bittersweet. There was a sense of fatigue, a well-run race nearing the end.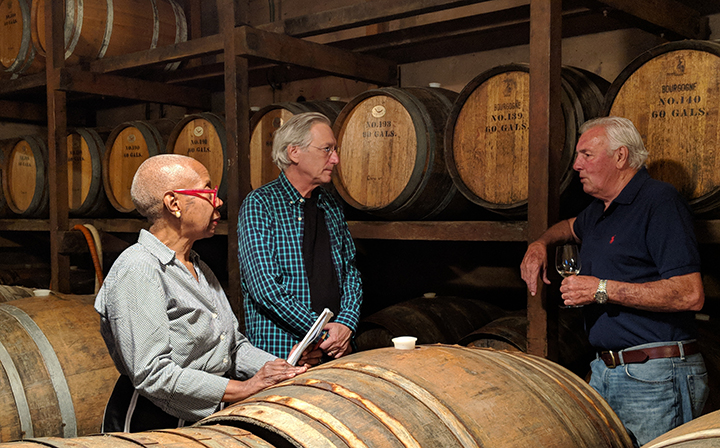 Grape Collective's Senior Editors Gaiter and Brecher with Stony Hill's winemaker Mike Chelini
So the email that Sarah, president of the winery, sent us Tuesday morning, telling us that Stony Hill had been sold to the Hall family, owners of Long Meadow Ranch and long-time family friends, was shocking but not surprising. (Dottie wrote about Stony Hill in 2016)
Stony Hill had been on the market for about 18 months, a source we trust told us. He added that the purchase price, as bandied about in winemaking circles, was around $30 million, and that many potential buyers had looked the property over, including some from France.
We expect we'll be seeing more and more of these sales of small, family-owned wineries as generations who follow the founders find themselves whipsawed by industry crosscurrents that have to do with economies of scale, rising costs, changes in tastes and global competition. Sometimes younger generations simply would rather do something else after a while.
Still, coming so soon after the sale in April of Heitz Wine Cellars, another pioneering Napa winery, to an Arkansas billionaire, this hurts. (We wrote about that sale here) We worked at The Wall Street Journal for many years and we understand that creative destruction is at the heart of capitalism. We also know it's easy to romanticize the past. And we realize that larger companies sometimes have the wherewithal to build upon and improve a product that is already excellent, that sometimes a purchase can be a rescue, or, less dramatically, a path forward for a brand.
However…
One reason we fell in love with wine was because every good bottle speaks of the soul of the winemaker. There's not just juice in there, but personality and vision. That is particularly true of the McCreas, who wanted to create white wines of focus and purity and, through three generations, never wavered in their commitment. To us, their Chardonnay, Gewürztraminer and White Riesling tasted like someone was ringing a bell. We didn't so much taste them as experience their essence. Stony Hill even kept prices reasonable as other Napa wines made with so much less integrity seemed to establish $100 as a floor, not a ceiling.
How influential was Stony Hill? In an interview with Dottie earlier this year, Jed Steele, the famous winemaker of Kendall-Jackson and Steele Wines, reminisced about growing up in San Francisco in the Sixties and said this of the McCreas:
Stony Hill's high-elevation vineyards atop Spring Mountain in Napa Valley
"My parents knew them. At the time, one way to get the wines was you had to get on the mailing list. But they really liked you to pick up the wine at the winery; that was sort of the protocol, although they did ship to some people. So once a year we would go up there and pick up our allocation of Chardonnay or whatever it was, so I had met them." He worked two crushes there in the Sixties. He told Andrew Lampasone of Wine Watch: "There certainly is a degree of power and professional prestige in turning out six-figure boxes of good Chardonnay annually, but there is something about the days at Stony Hill that I felt I needed back. The touch, the feel, the intimate contact with the wine is necessary to me as a winemaker in the practice of my craft. I had lost this intimacy at Kendall-Jackson."
In the 1980 edition of The Great Vintage Wine Book, Michael Broadbent devotes only nine of 432 pages to California wines, but finds space for an homage to Stony Hill. "Fred McCrea was perhaps the prototype of the visionaries who gave up the lush pastures of business in the eastern states to create vineyards and devote the rest of their lives to making good wine," he wrote.
But the storm clouds of finance and fashion were clearly building for some time. Way back in 1995, the authors of The New Connoisseurs' Handbook of California Wines wrote, "To longtime observers of the California wine scene, Stony Hill merits a special place and special status," but they added at the end of the section that its signature Chardonnays "have been bypassed in favor of newer products who elevate oak and ripeness over restraint."
Indeed, when we visited, long-time winemaker Mike Chelini proudly showed us his large and very old barrels and explained that the last thing he wanted to interfere with his fruit was oak flavor.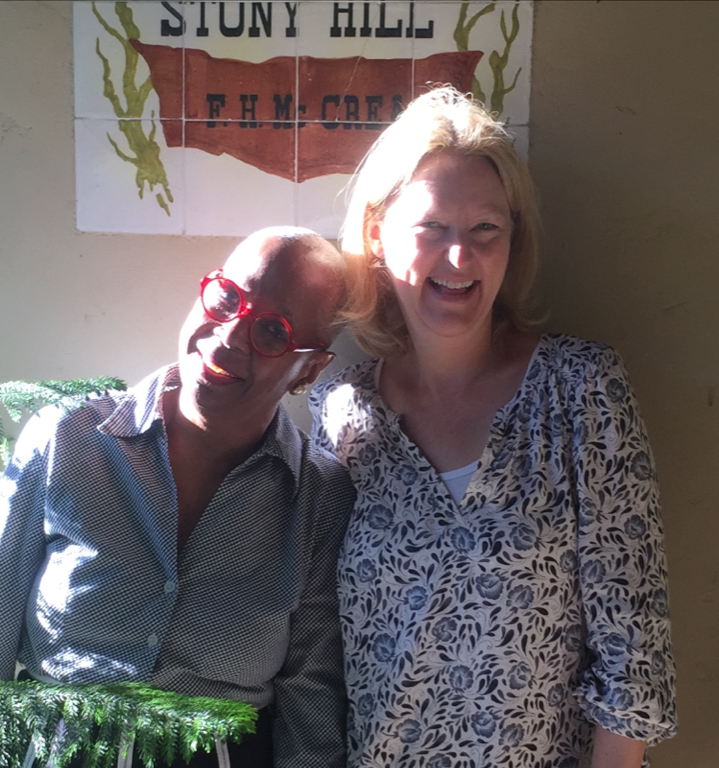 Grape Collective's Gaiter with Sarah McCrea, granddaughter of Stony Hill's founders
We've seen so many fine wineries become virtual bulk-wine producers after being bought by big companies. Heck, many years ago, we had a delicious Gamay made by a guy named Charles Shaw. You know the kicker to this one: Shaw sold his name to a giant producer and became Two-Buck Chuck.
There are reasons to hope this will end differently, since it's a family-to-family sale. The Halls own a diverse 2,000-acre agricultural, California-based enterprise with properties in five areas. The home site of Long Meadow Ranch -- which Ted and his wife, Laddie, purchased in 1989 and restored with their son Chris – is in Napa Valley, in the Mayacamas Mountains. They own a winery and several vineyards, grow grass-fed cattle and vegetables, and own Farmstead, a well-regarded farm-to-table restaurant, a farmer's market and a general store, among other businesses.
The Halls plan to convert the Stony Hill vineyards to organic farming, which they hope will, among other things, increase yields. The Halls are pioneers in organic and sustainable farming. Last year, the Napa Valley Grapegrowers association, an industry support group, named Ted Hall Napa Valley Grower of the Year.
The McCreas will retain an equity interest in the combined company, with Sarah joining Long Meadow's executive team and her father becoming a member of its advisory board. Chelini, 71, the longest-tenured winemaker in Napa Valley, will complete the 2018 harvest, his 45th, and then become winemaker emeritus. Chelini's family has lived on the 160-acre property, of which 35 are vineyards, since 1972, when he came there to work for Fred, who died in 1977. Eleanor died in 1991. Aside from Fred, whose first harvest was in 1952, Chelini is the only winemaker the winery has ever had. Stony Hill's vineyard, hospitality and operations workers will also join Long Meadow Ranch, according to the press release.
The Halls have been fans of Stony Hill for some time, purchasing its lots at wine auctions, we were told. The press release that Sarah sent us notes that Stony Hill's Cabernet Sauvignon plantings – they didn't sell a wine labeled Cabernet until 2009 -- came from budwood from Long Meadow Ranch's Mayacamas Estate vineyards.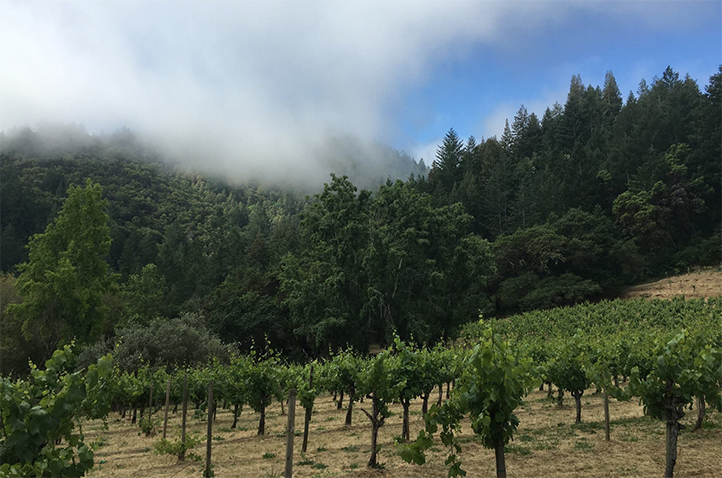 Among the concerns for the McCreas were their employees, some of whom have been with them for 30 years, Sarah told us that night in June. The sale, she told Esther Mobley, who wrote a fine piece about the sale for the San Francisco Chronicle, makes it possible for the 13 employees to get more generous retirement benefits.
That night, sitting at a long table with Sarah and Peter outside the home his parents built but where no one lives anymore, we heard about the need to replant some vineyards. Some Riesling vines are 50 years old. That's expensive to do. The Halls assured the Chronicle that they would upgrade the equipment but not the old barrels.
Stony Hill's wines have never been easy to purchase outside the winery and its mailing list, and when we told Sarah that night that we hadn't been able to locate the most recent vintages of Gewürztraminer, she pointed to distribution issues. The sale is expected to help with that. The Chronicle reported that the Halls say that "for now" they will not change the style of the wines, although there might be a slight uptick in price. Stony Hill's 2013 Chardonnay is $54 and its 2009 is $68 on its website. These are steals.
"We didn't really try to make it like white Burgundy; we just tried to make the best wine we could out of our own grapes," Eleanor once said in a Wine Spectator/UC-Berkeley oral history project. "We weren't trying to imitate anything. It turned out to taste quite a lot like Corton-Charlemagne, but that was incidental."
Wine is for enjoyment and, most of the time, consumers, for everyday enjoyment, just want to pull a cork and drink. But it's worth the effort to work with a good merchant to buy wines that are imprinted with the personalities of passionate, hard-working and often quirky artists. These are likely to be wines that will speak to you if you listen. Those are the bottles that will make you a lifelong wine lover. Stony Hill's wines have been like that for us, and we wish it well as it enters this new chapter.
Dorothy J. Gaiter and John Brecher conceived and wrote The Wall Street Journal's wine column, "Tastings," from 1998 to 2010. Dorothy and John have been tasting and studying wine since 1973. Dottie has had a distinguished career in journalism as a reporter, editor, columnist and editorial writer at The Miami Herald and The New York Times as well as at The Journal. John was Page One Editor of The Journal, City Editor of The Miami Herald and a senior editor at Bloomberg News. They are well-known from their books and many television appearances, especially on Martha Stewart's show, and as the creators of the annual, international "Open That Bottle Night" celebration of wine and friendship. The first bottle they shared was André Cold Duck. They have two daughters.
Read more from Dorothy J. Gaiter and John Brecher on Grape Collective
Banner by Piers Parlett