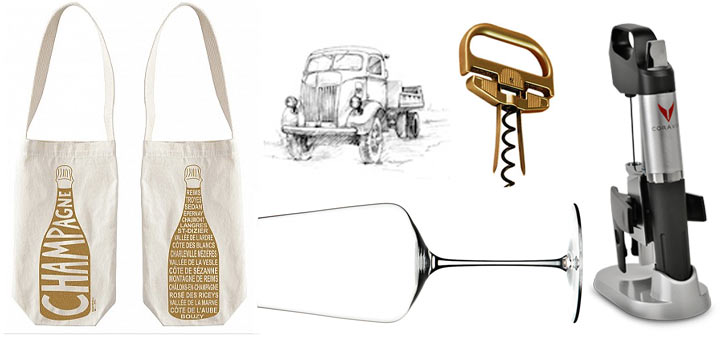 Finding the perfect gift for your loved ones is always the biggest challenge of the holiday season. But if your loved one happens to love wine, then you're in luck: We've culled a list of items that any drinker would be happy to unwrap this year, whether they be seasoned veterans or wine amateurs.
What the Experts Want
The Durand
Matthew Kaner of Bar Covell in Los Angeles recommends this two-part tool for anyone who is interested in vintage wines. "It combines the tried-and-true technology of the Ah-So with the gravity-based 'worm' found on the ubiquitous waiter corkscrew. The result is a tool that can pull even the most precarious corks from their bottles unharmed." $125; thedurand.com
The Coravin
This high-tech gadget has blasted its way to the top of every sommelier's wishlist this year, since it brings high-end wine within the reach of a by the glass list. The tool allows its owner to extract wine from a bottle without removing the cork or changing the air pressure within the bottle. At Miller Union in Atlanta, partner and wine director Neal McCarthy has been using it to pour some of his favorite special occasion wines by the glass, including 2010 Marcel Servin Grand Cru Chablis and 2005 Valdicava Brunello di Montalcino. $300; coravin.com
The Cult Wine
Forget the Screaming Eagle. If you want to impress sommelier Patrick Cappiello of Pearl & Ash in New York, just give him or her a bottle from Arbois winemaker Emmanuel Houillon.
The Main Event
For some sommeliers, an experience is the best kind of gift. Grant Reynolds, sommelier at New York's Charlie Bird, is hoping for a ticket to the epic La Paulee Grand Tasting in San Francisco this March. The three-hour walk-around brings Burgundy's brightest stars together in the same room, alongside food from local chefs. $300; lapaulee.com
The Glassware
According to Cat Silirie, James Beard Award-winning sommelier of Menton in Boston, the last word in stemware is Zalto. Each glass from this boutique Austrian glassmaker is made from a single piece of mouth-blown glass, and features a paper-thin rim to improve the wine drinking experience. Silirie particularly favors them for sipping on Riesling. $60 each; amazon.com
The After-Dinner Answer
"This year, I'd like a bottle of Inniskillin Vidal ice wine for Christmas! Years ago I interviewed a winemaker who specialized in ice wine and he talked about how excruciatingly painful it was to make them; getting enough hands on deck to pick the grapes, perfectly frozen, in the middle of the night and having the authorities constantly checking to make sure the grapes had proper sugar content. But the end result is this lovely, transformative, peach-scented nectar, sweet but with bright acidity that gives it wings and soulful earthiness that reminds you that even though it's ethereal, it sprung from the ground. No matter how much wine you drink, you never have enough ice wine. (And it can keep forever in the fridge opened because of the high sugar content, so it's a gift that keeps giving.)" –Dorothy Gaiter, Editor, Grape Collective $40 for a half bottle; inniskillin.com
That's a Wrap
During the holiday party circuit, a bottle of wine is a reliable host gift to have at the ready. Make yours stand out from the rest of the offerings with clever packaging:
Wine Wraps: Bottle Stock is a sommelier-run line of wine accessories brings some much-needed design to a genre that trends towards tacky. We're stocking up on these mod, geometric wine wraps ($10 each) and these watercolor gift tags (8 for $8) for all of our holiday wine-giving.
Quiver: Wrap your gift in a bag that they'll use over and over again. This beautiful vessel ($150), made of merino wool and leather, makes any bottle into a tote and is perfect for picnics and BYO nights.
MapTote: Take terroir beyond the bottle with these map-adorned cotton totes ($15), which come in a variety of wine regions (pair this Napa Valley bag with a bottle of this Mathiasson Ribolla Gialla, for example) and cities.
A Gift For Every Type:
For the Us Weekly reader: Chateau Miraval Rosé
In between parenting their brood and making movies, Brad Pitt and Angelina Jolie have somehow found time to take up the wine business. The celebrities are partners in this Rhone-based label. $25 for 750 ml; wallyswine.com
For the art lover: Big Table Farm Chardonnay
Clare Carver illustrates all of the whimsical wine labels for her husband's stunning Willamette, Oregon, wines. The bees on the label of this Chardonnay are suggestive of the wine's honeyed beeswax notes. $48 for 750 ml; grapecollective.com
For the nerd: The Metaphysical Lecture with Abe Schoener
Abe Schoener, the scarf-wearing winemaker behind the Napa-based Scholium Project, is hitting the road in 2014 with a lecture series that calls upon his past career as a college dean. The geeky 20-person events will circle around "The Metaphysics of Geography," and each one is paired with multiple wines. $100; scholiumproject.com
For the entrepreneur: Angel membership to Naked Wines
This new crowd-funded wine site uses membership fees from its "angels" to help fund small, independent wineries. In exchange, these angels can buy the resulting wines they helped fund at a 40 to 60 percent discount. $40 a month; nakedwines.com
In his December 2nd, 2013 column in the New York Times, Eric Asimov lists his five book recommendations for 2013. Jon Bonné's New California Wine, Clark Smith's Postmodern Winemaking: Rethinking the Modern Science of an Ancient Craft, Hugh Johnston and Jancis Robinson's The World Atlas of Wine, Ray Walker's The Road to Burgundy: The Unlikely Story of an American Making Wine and a New Life in France, Neal Martin's self published Pomeral.
For those who think bubbly is a great present - next week Grape Collective examines grower Champagne.