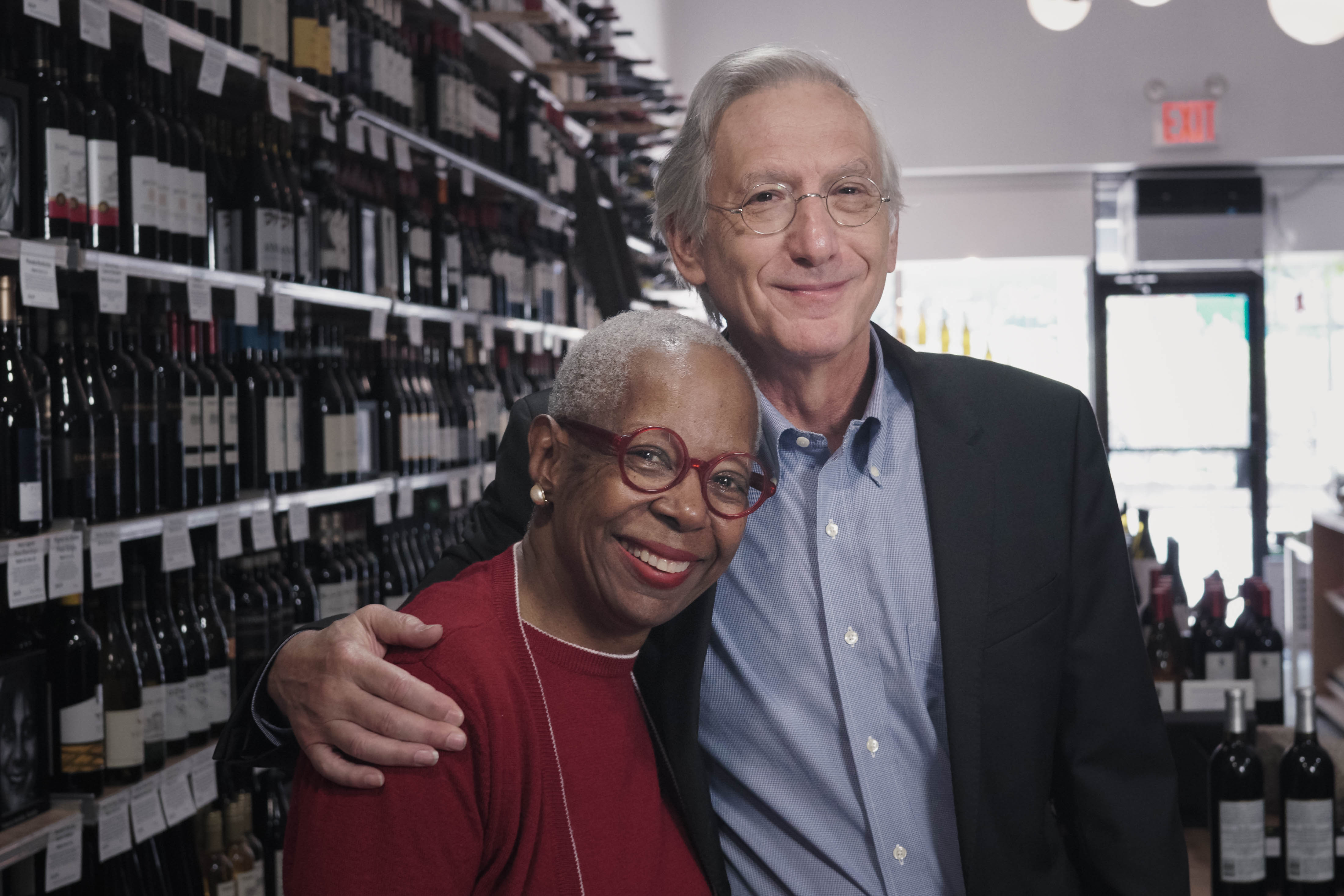 Over the years, various people have lowered their voices and whispered to us, "Is there some BYOB place where wine pros go and open their own best bottles – you know, like that mystical restaurant where all the chefs eat after work?"
And the answer is: Why, yes, there is. We're a bit torn about whether to write about it, for fear of making it too popular, but, hey, it's our job – and we mean our job, but we'll get to that.
Let's start at the beginning, which, of course, takes us to Napa.
We're still reeling from the sale of legendary Heitz Wine Cellars in St. Helena and thought one way to deal with our grief was to open its new vineyard-designated wine.
The just-released 2013 Heitz Cabernet Sauvignon Linda Falls Vineyard in Howell Mountain is the first new vineyard-designated Cabernet from Heitz since 1989, when it introduced its Trailside Vineyard Cabernet from Rutherford. With the company's sale in April to Gaylon M. Lawrence Jr., whose family owns a multitude of farming, banking, real estate and other businesses in several states, there won't be any more single-vineyard releases by the Heitzes. That's it for the family that in 1966 brought the world the first vineyard-designated Cabernet Sauvignon from Napa Valley, the famous Martha's Vineyard.
With this column, we are joined once again in writing about wine. We thought the weighty significance of the Linda Falls Vineyard Cabernet would be a good opportunity to reacquaint you with what's important to us, and who we are.
"When we were growing up in wine, there were a few famous high-end American Cabernet Sauvignons, notably Heitz Cellars 'Martha's Vineyard,' Beaulieu Vineyard Georges de Latour Private Reserve and Robert Mondavi Reserve. The 1968 and 1974 Heitz and Beaulieu and the 1974 Mondavi were among the greatest wines we ever tasted," we wrote in 2004 in our column, "Tastings," for The Wall Street Journal. We wrote "Tastings" together from 1998 until 2010.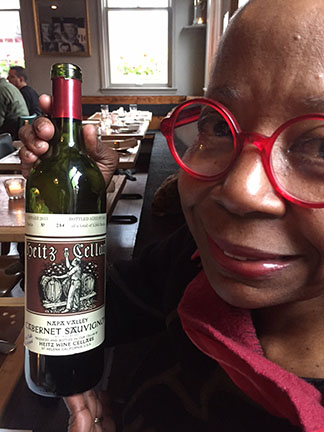 The Heitz Martha's Vineyard '74 was also "the first wine for which we paid more than $100," Dottie wrote in her Grape Collective column about a dinner we attended two years ago to celebrate the 55th anniversary of the founding of Heitz and the 50th anniversary of its Martha's Vineyard. Members of the Heitz family and the Mays family, which owns Martha's Vineyard south of Oakville, were at that celebration.
In February, a wine rep had whispered to John about a French place in Bedford-Stuyvesant that had a no-corkage BYOB policy on Mondays. She said everybody in the business went there. We had been to Bedford-Stuyvesant together only once, to hear Zoë play drums for Sad13, a terrific passion project of Sadie Dupuis of the band Speedy Ortiz. Dottie had been there a few times in the 1980s and 1990s writing about poverty and its attendant ills as a reporter for The Journal and The New York Times. The community's name for decades was pretty much synonymous with crime and poverty. Nevertheless, it produced people of enormous talent like Jay-Z, Notorious B.I.G. and Mos Def. Chris Rock, the comedian, hails from Bedford-Stuyvesant as did the late Congresswoman Shirley Chisholm, and the late actress Lena Horne. Baseball great Jackie Robinson lived there and a street bears his name. Spike Lee filmed movies there. In 1961, The New York Times dubbed Bedford-Stuyvesant "Brooklyn's Little Harlem" and that great jazz standard "Take the A Train" had its roots in how black Americans moved from Harlem to Bedford-Stuyvesant. It became the second destination for blacks in New York City, a place where they could afford to purchase homes. A large influx of people from the Caribbean came later.
But a fine-dining destination? Why not? Things change, as the sale of Heitz demonstrates. Brooklyn is the center of the universe today; who would have guessed that? And once-troubled communities are being redeveloped, with gains for some and struggles for others that we need to find ways to ameliorate.
The wine rep told us the name of the place was L'Antagoniste. We wrote it down and promised ourselves that we'd go. But you know how things are. Weeks went by. Then Heitz was sold. This seemed like the perfect way to celebrate Heitz: take our bottle of their new wine to a very special restaurant and toast the past and a new dining future at this sounds-too-good-to-be-true restaurant.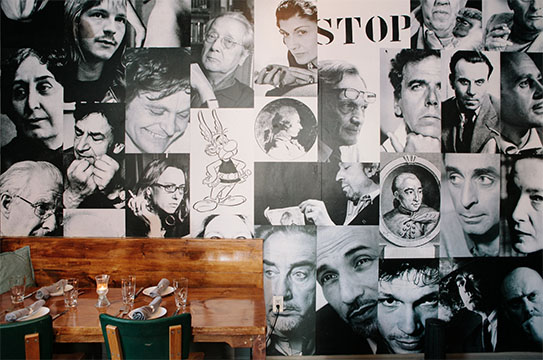 So we made reservations and, braving a windy rain, took the subway and a bus to L'Antagoniste (photo right), a farm-to-table restaurant with a wide-ranging wine list and French dishes, some straight-up traditional, some gloriously tweaked, that opened at 238 Malcolm X Blvd. in 2015. Anthony Bacle, who has been sous chef at some pretty tony places in Paris, is the chef. Amadeus Broger owns the place and has lived with his wife and 6-year-old son around the corner from it for six years.
Pushing open L'Antagoniste's red door, we found a friendly wait staff and a watchful, slender man who was drinking a beer and having dinner with his young son. The kid was clearly at home there, which gave the place a casual neighborhood vibe. On one wall was a chalk board labeled "Our Farms" and it included the sources of the fresh produce. On the main wall was a collage of philosophers, artists, cultural and social figures, people who disrupted the status quo. Among them were Serge Gainsbourg, Catherine Millet, Simone de Beauvoir and José Bové, a French farmer and activist who famously took on McDonald's in France. Bové is quoted on the restaurant's website saying, "We don't want to eat anymore of that kind of food. You've got to throw it in the sea."
With our permission, our waiter poured a little of the Heitz into our glasses while each of us began looking through the diverse and reasonably priced wine list, a stack of mimeographed paper, with wines from $19.50 for a red Gassac to a $1,999 Bordeaux, the 1970 Petrus, which Wine-searcher.com lists for $2,813. The Heitz was opaque, one of the darkest wines we'd ever seen. The nose of black fruits, blackberries, black cherries and earth filled the room. The first sip was rich, explosive, with focused concentrated fruit and minerals. There was finesse in addition to power. Built to last. Lavender. Amazing.
It's possible that even with his back to us, the man having dinner with his son could smell the wine. In any event, he turned around and saw our bottle and asked, "What number is that?"
"It's 284," John told him. The winery had sent it for review. Heitz made only 450 cases of it, each bottle numbered, and its suggested retail price is $150. The wine is 100% Cabernet Sauvignon and spent a year in oak tanks and 18 months in French oak. Linda Falls Vineyard, which is certified organic, is named for a nearby waterfall. The tiny seven-acre vineyard was planted in 2002. It is the fourth single-vineyard Cabernet Sauvignon in Heitz's history.
Dottie offered the father a taste. "That's very generous of you," he said, but he declined. Then he came over to join us looking at the list and said, "I'm the owner." None of us exchanged names. We later learned that his is Amadeus Broger.
We enthused about his list and his No Corkage Mondays and the specialty of the night that we had intended to have, Poulet en Vessie, a whole "truffle-laced" chicken that is placed in a pig's bladder and poached in bouillon and served with a sauce that contains melted foie gras confit. (You simply must watch the video of how it is made - below.) We learned that it was too much for two people so we vowed to come back with reinforcements. It's $89.50. The chicken takes about an hour to make so they recommend you order it as soon as you arrive or earlier.
We figured we'd need a second wine to sip while the Heitz opened up, and we wanted something pretty light, so we ordered from the restaurant's list a 2015 André Schere Pinot Noir from Alsace ($35), which was light and fragrant, almost white on the nose, with lots of acidity. Violets. Flowery. Easy. Its fruit and acidity were perfect with Dottie's steak tartare, chunky and real.
John started with soufflé au fromage with a dollop of yogurt sorbet on a tiny side dish. The Heitz was especially wonderful with the airy cheese dish, the soufflé and the wine each coaxing out layers in the other.
The tartare was so rich that Dottie opted for a relatively light entrée of hen-of-the-woods mushrooms that cut like steak and were served in a divine sauce with airy croutons on top. The earthiness of the mushrooms brought out the opulent fruit in the Heitz. Bliss.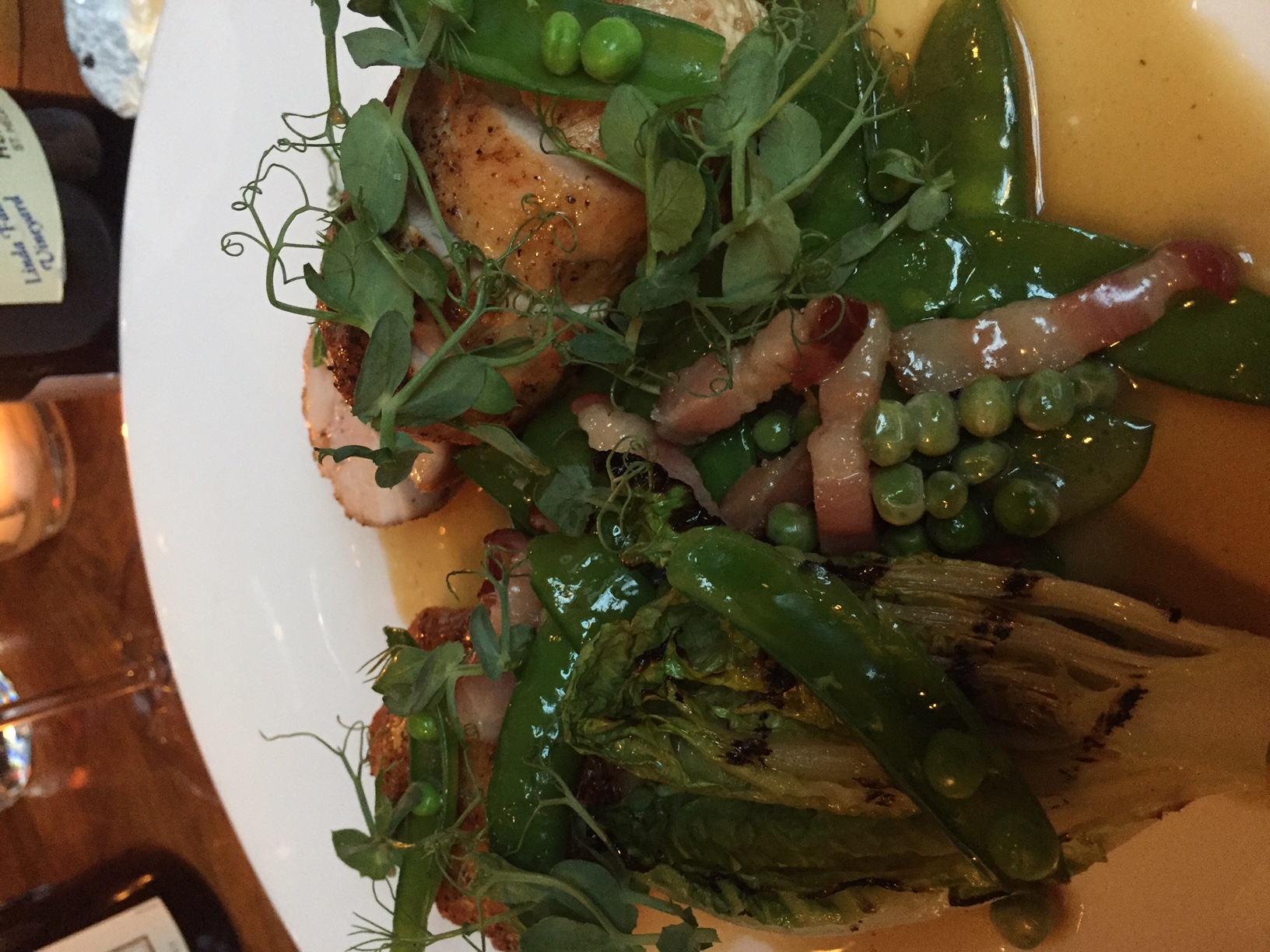 John's entrée was Poulet à L'Aneth, dill-stuffed Lancaster County Chicken Breast (photo right), sautéed green peas and bacon, with crispy young lettuce. As beautiful as it was tasty, this dish danced with the wine, its many different elements hitting different notes in the wine, the moist chicken breast and bacon and green peas excellent with the velvety tannins.
When we arrived at L'Antagoniste at 6:30 there was one man sitting alone at a table for six. Over the two and a half hours, the most magical thing happened. The place filled with people, mostly large groups, but a few two-tops. And every single person who came in – every single one – brought bottles of wine. And when they put their wines on the table, we recognized one after another as being amazing stuff. The man sitting alone was joined by five others who started with a pink bubbly. We swooned when their special chicken was brought out. Also on their table was an ice bucket into which they'd plunked several wines.
The large table across from us, where the Brogers had been—his wife had come in and taken their son home—was filled with a couple celebrating something with their friends. One had brought a Puligny-Montrachet that they started with ahead of the three bottles of Lanson Champagne they had chilling. A table of millennials next to us shared a Garnacha from Spain.
The owner watched us watching the others and pointed to a group sitting near the front and said, "You know [a famous wine shop]? That's them. Wine reps come in all of the time to try new stuff."
We'd heard about places like that, where wine insiders go and we'd finally found one that waived corkage on Mondays and charged a mere $16 corkage every other day of the week. It was true. It exists. When we left, the place was packed and John, who has a special knack for identifying wines from across the room, stood in the middle, eyes wide open, going through every table, agog. Dottie literally – literally – had to pull him out.
A few days after our experience, Dottie wrote Broger, 58, an email, telling him who we were and asking for an interview. Why, we wanted to know, did he have a BYOB policy and what would he say to other restaurateurs to convince them to do it, too.
"Our cheapest wine, a Gassac is $19.50," he told us. It's a red, Moulin de Gassac Guilhem, Syrah-Grenchae-Carignan. "If you order a bottle, I make $10 bucks on it so you see I can make more money if I charge you corkage."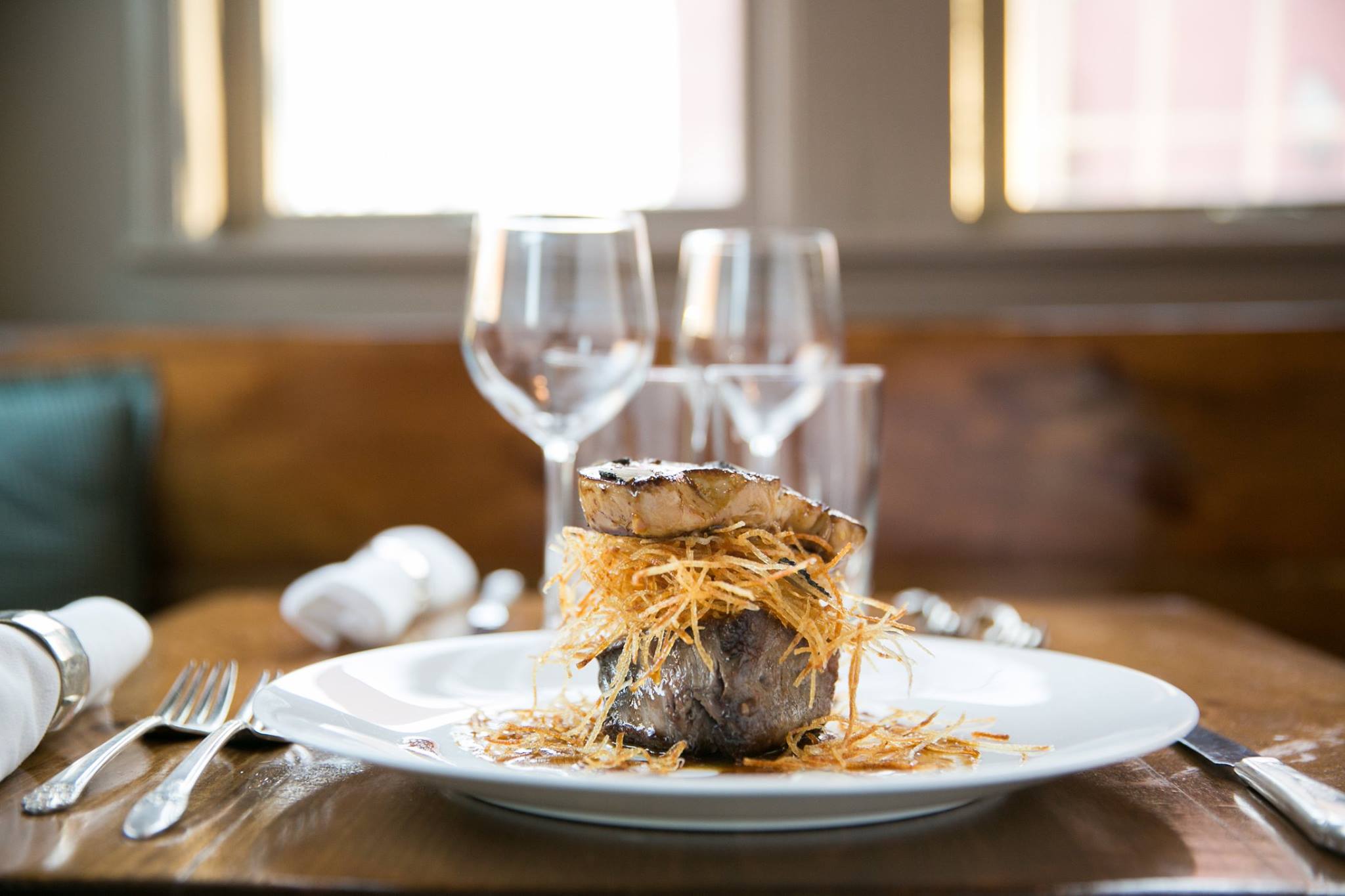 (Tournedos Rossini; foie gras over Filet Mignon)
"I have this wine list starting at $19.50 because it reminds me of when I used to work in the industry and was poor and ordered the cheapest bottle on restaurants' lists. Oh God, let's not be embarrassed. You can have a delicious bottle for $20. That Gassac wine, it's terrific. And the $19.50 Verdejo is delicious." That's the organic and vegan Friend and Farmer/Hand Work Verdejo from La Mancha's famed, natural wine producer Juan Antonio Ponce and three brothers, Francisco, Javier and Luis Parra, who farm organically and biodynamically grown grapes.
"I have to teach my staff, actually, you know how they are. They're thinking it's a cheap table, but I tell them, they'll come tonight and have the $19.50 wine and next week they'll come with their parents and their parents will want some California stuff, some Bordeaux, so you always have to see the big picture," he said.
Broger was born in Tibet and raised in Switzerland by a Swiss couple who adopted him. His father, a surgeon, had hoped that Amadeus would also become a doctor, but the young man's attention deficient disorder, he said, prevented him from being able to sit still and concentrate on the necessary lessons. "It was 40 years ago. They didn't know about ADD," he said.
As it happened, he loved to cook and his mother suggested gastronomy, so they enrolled him in 1980 in a three-year apprenticeship at Le Montreux Palace, a five-star hotel on Lake Geneva, where he worked 16-hour days. From there, he enrolled in École Hôtelière de Lausanne in Switzerland, which many regard as the world's best hospitality management school. It was there that Broger learned about wine and other beverages. He created his excellent wine list.
What's the reasoning behind No Corkage Mondays?
"On Mondays I used to be closed," he explained. "So I thought, what can I do on Monday to make it busy?"
Recalling the busy night we were there, he said, "The table across from you they were all somms and wine reps. After they finished their stuff, they said, "Oh, let's order something from Amadeus's list. There were 10 of them and a wine was listed at $375. Yeah, come on, let's taste that," he said they decided.
When the restaurant was new, some in the neighborhood gave him a hard time. One of his wines cost $1,999, which one newspaper noted was more than many in the neighborhood pay for rent. Some in the community greeted him with ethnic slurs which ended with "go back to where you came from," he said.
"I'm a bad PR person. I love to do good but not talk about it. My wife told me that I have to talk about it now," he said. "I sponsored lunches for public school teachers, the block association meetings with free French wines and oysters and charcuterie platters. I give students gift certificates and t-shirts. I had to learn to talk about it the hard way. So now people say 'Leave him alone. He's really doing stuff for the community.' It slowly changed. Business is good now but it took me two years."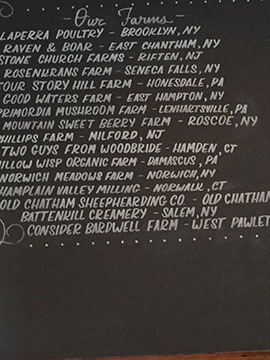 He hired two young people as dishwashers who come from what he called "underprivileged families and now they're amazing cooks. I just talked to them about sponsoring their culinary degrees. It's a good thing to do and it's tax deductible. Nobody loses. It's a win-win. I wish more restaurants would do it."
As the night wore on, the Heitz Linda Falls evened out, became less explosive, more elegant, softer, with more obvious fruit, earth and lots of chocolate. It was delicious.
"I'm super happy," Broger said. "I know it's not cheap, but you know organic food cost 30 percent more than others. We have a great mix of families, artists, philosophers, students and parents. People can't believe what they get here."
We certainly couldn't. We'll be back for that chicken, schlepping something special to drink.
Lawrence, the new owner of Heitz, told the Nashville Business Journal in 2016 that he was "an accumulator." The press releases about his purchase of Heitz said he was looking to buy other wine properties as well. He said he plans to maintain Heitz's high quality and we certainly hope he does. People will be watching.
Dorothy J. Gaiter and John Brecher conceived and wrote The Wall Street Journal's wine column, "Tastings," from 1998 to 2010. They have been tasting and studying wine since 1973. Dottie has had a distinguished career in journalism as a reporter, editor, columnist and editorial writer at The Miami Herald and The New York Times as well as at The Journal. John was City Editor of The Miami Herald, Page One Editor of The Journal and a senior editor at Bloomberg News. They are well-known from their books and many television appearances, especially on Martha Stewart's show, and as the creators of the annual "Open That Bottle Night" celebration of wine and friendship. The first bottle they shared was André Cold Duck. They have two daughters.