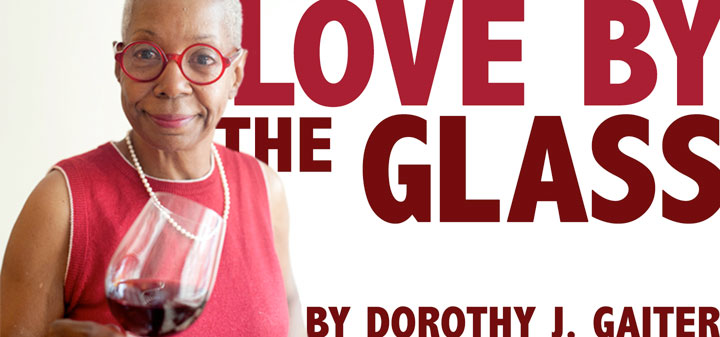 At a time when so many "it" things trend for what feels like a nanosecond, it's gratifying to see a stalwart of America's wine industry continue to glide along decade after decade, true to its founders' principles. That's the story of family-owned Heitz Cellar in St. Helena.
This year, this Napa Valley pioneering winery, established by Alice and the late Joe Heitz, is celebrating its 55th year in business and the 50th anniversary of the creation of its iconic Martha's Vineyard Cabernet Sauvignon, the first vineyard-designated Cabernet Sauvignon in Napa Valley. For half a century, Heitz has had the exclusive use of the grapes from Martha's Vineyard, south of Oakville, an arrangement that cemented the friendship of Joe and Alice and Tom and Martha May -- yes, that Martha -- and their children. (The 1968 was no slouch, either.) In 1982, President Ronald Reagan took the 1974 to Paris for a state dinner at the American Embassy. In 1999, Wine Spectator named it one of the Top 12 wines of the 20th Century. Four years ago, Decanter magazine profiled it in a series called Decanter Wine Legends. Decades ago, the '74 was also the first wine for which we paid more than $100.
"Trends come and go. We chose elegance and balance. We chose lower ph levels that help them age. You have to be true to yourself," Joe and Alice's daughter, Kathleen Heitz Myers, told us at a recent dinner in Manhattan to celebrate those important milestones.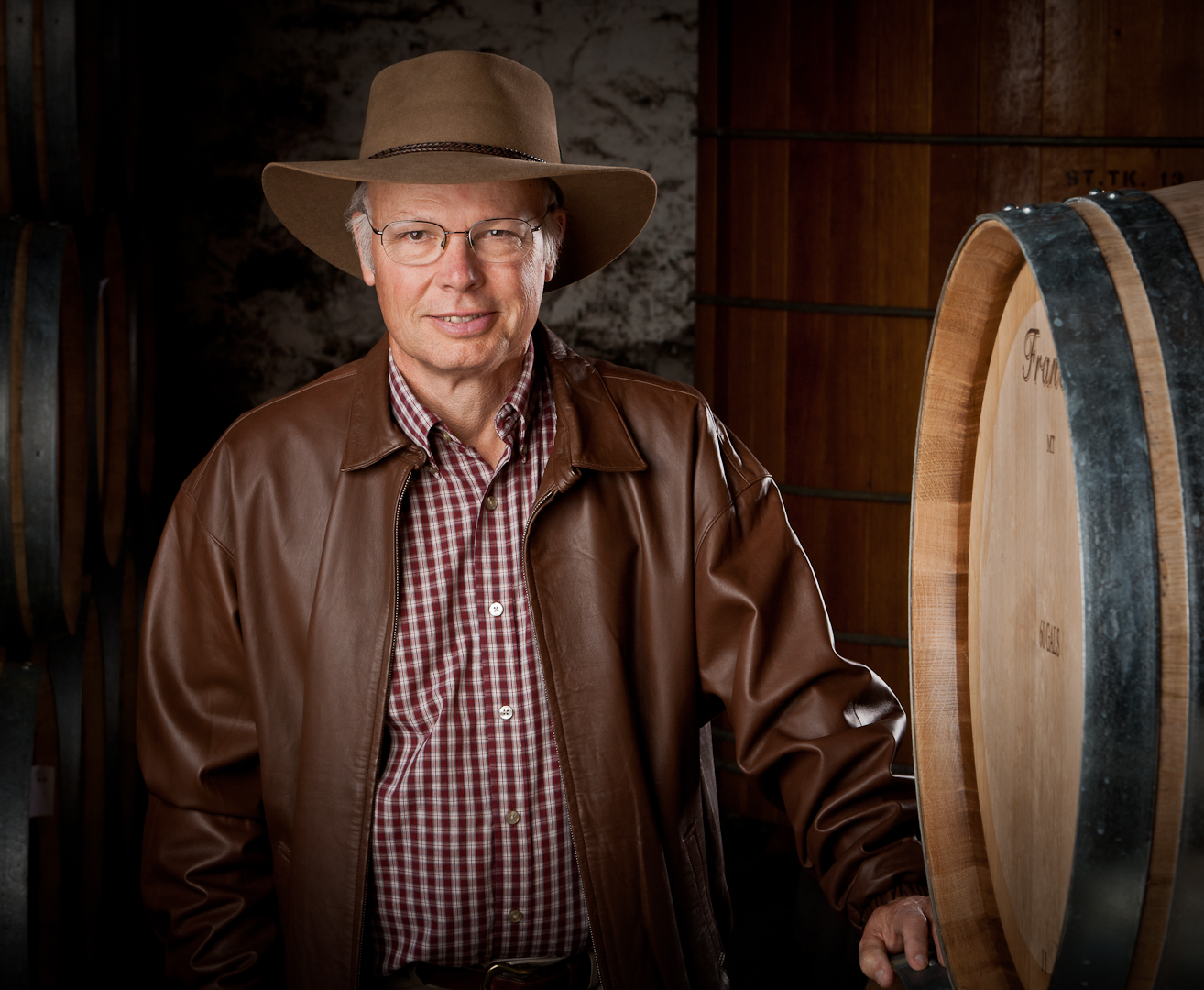 Kathleen is the company's president and CEO and her brother David (Pictured left) is winemaker, having begun by working alongside Joe in the 1970s, after earning a degree in enology from Fresno State. In fact, David made the 1974 when his dad was laid up in the hospital from a back injury. He'd bring tank samples of wine to the hospital, where the two of them would taste and decide on the next step. David formally became winemaker in the 1990s. In 2012, David's son, Harrison, joined the business. Alice and Joe's son Rollie is not involved in the business.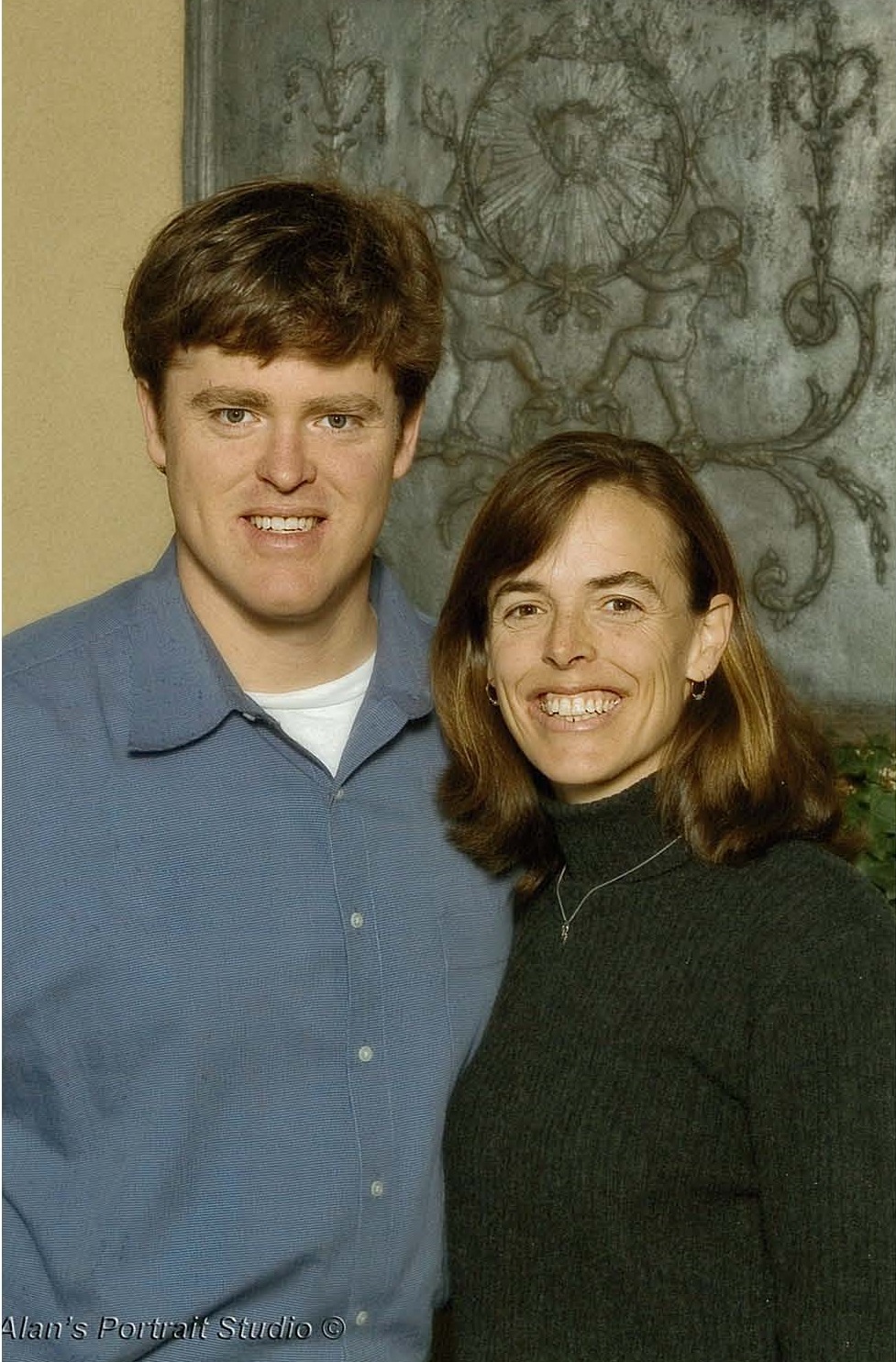 The Mays' children, Richard May and Laura May Everett (Pictured right), co-own with their parents Martha's Vineyard, one of the first organically farmed vineyards in the area. Mark Neal, who as a young boy helped his father, Jack, manage the Heitz vineyards and is like family, now manages all of the Heitz properties and the Mays' Martha's Vineyard. "You really have to listen to your vineyard," he told us at the dinner.
The Heitz family now owns about 1,100 acres in Napa Valley, 425 of them planted to organically and sustainably grown grapes and hundreds of acres preserved for conservation. The 40,000 annual case production Heitz is the largest certified organic winery in Napa, but you won't find "organic" anywhere on its labels. When I asked Kathleen why, she replied, "Because we wanted to be in the fine-wine section, not the organic section."
Fine they are! Nothing has changed about that. At the anniversary dinner at Blue Hill restaurant, with Kathleen, Laura, Harrison and Mark, we tasted, among other Heitz wines, six vintages of Martha's Vineyard: the 2010, 2009, 2007, 1997, 1987 and 1978. Heitz is renowned for making 100% Cabernet Sauvignon wines that are elegant, beautifully structured, complex, and ageable. The wines reflect a near-perfect balance of oak and fruit, and a controversial unmistakable marker, eucalyptus. Joe Heitz absolutely hated it when people said eucalyptus, and they usually did. He insisted that it was mint. (Eucalyptus trees grow along the famous vineyard, and, he never failed to point out, they are abundant near other vineyards as well that don't have that marker.)
Something important has changed over the years, however. The handshake that bound their parents' business relationship for more than 30 years has been replaced by a contract, Laura May Everett told us. When asked how she had raised the subject of a contract which still channels all of Martha's Vineyards' Cabernet Sauvignon grapes to Heitz Cellar, she smiled broadly and said, "very carefully," adding that no one was getting younger, so she felt it was the right thing to do. Her parents are elderly. Joe Heitz suffered a stroke in 1996 and died in 2000, at the age of 81. We met Alice when, at The Wall Street Journal, we hosted a Vintners' Open That Bottle Night in Napa. She is 92 now and laying down Port for the future, said Kathleen, who I'd met a couple of years ago. Kathleen, who has a degree in biology, modernized the business and crafted its export strategy.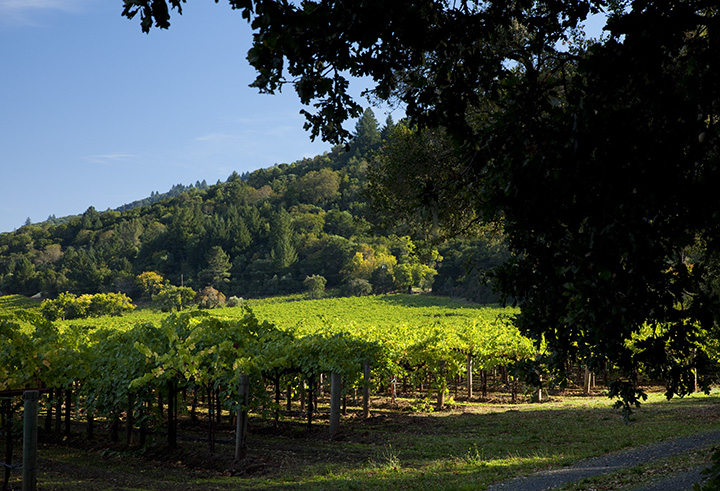 Heitz Martha's Vineyard
Let's start at the beginning. In the 1940s, Joe, a native of Illinois, was working during World War II as an Army Air Corps mechanic at a base near Fresno, California, planning to become a veterinarian after he got out. To pick up some extra money on his days off, he knocked on doors in the area looking for odd jobs. Italian Swiss Colony winery was one of those doors, which he walked through and into a new career trajectory.
At the war's end, he earned bachelor's and master's degrees from UC-Davis. In fact, he was one of seven students in UC-Davis' first graduating class of enologists. Getting experience, he worked for E. & J. Gallo and then, in 1951, he began an almost 10-year stretch as assistant winemaker at Beaulieu Vineyards in Napa, working with the legendary André Tchelistcheff. It's been written that BV had wanted Heitz to succeed Tchelistcheff, but the senior winemaker had no plans to retire anytime soon so Heitz, who had gained a reputation as an extremely talented winemaker, left. As it happens, he'd been tapped to establish Fresno State University's enology department, where he also taught for a few years.
In 1961, five years before Robert Mondavi opened his eponymous winery in Oakville, Alice and Joe moved back to Napa and purchased a small winery with a vineyard planted solely to Grignolino, an Italian variety that makes both a joyous, robust red and a juicy rosé. (The rosé made my list of Springtime wines last month.) In 1963, they bought several barrels of Chardonnay and Pinot Noir wine from Hanzell Vineyards in Sonoma that were being auctioned off by the widow of Hanzell's owner, James Zellerbach. Zellerbach, a former ambassador to Italy, had been smitten with the wines of Burgundy. Both Joe and Alice loved Montrachet, and Joe's earliest note came from his Chardonnays, which sold for more than his Cabernets initially. Heitz was so successful in blending and selling the Zellerbach wines that in 1964, he and Alice were able to buy an historic stone winery on 160 acres in the Spring Valley area of St. Helena, where they began focusing on Cabernet Sauvignon. Although the winery's label reads "Heitz Cellar," it is also known as Heitz Wine Cellars.
As it happened, Tom May, a geology teacher, and his wife Martha, who had grown up on a farm, were looking for an agricultural life as development was encroaching in Santa Barbara, where they'd met a few years earlier. She had thrown a dinner party and when a male guest couldn't make it, a friend suggested she invite Tom, who already had an interest in wine. His policy back then was "have fork, will travel," he said in a 2008 oral history interview for a project called "Preserving Napa County's Agriculture, Jack L. Davies Agricultural Land Preservation."
In 1963, the Mays bought a sweet little home near Oakville that came with a two-year-old, 12-acre vineyard (now 34) that had been owned and planted by Belle and Barney Rhodes, two of the most beloved figures in Napa Valley's winemaking history. The spot, near the Mayacamas foothills, was cold, "almost sleeting in March," Tom recalled in the oral history project. The cool temperature and limited sunlight on the sloping, gravelly land resulted in a longer growing season that produced richly-flavored, tiny berries.
The Mays' vineyard was planted solely to a proprietary clone of Cabernet Sauvignon. "It was the first Cabernet in Napa County planted on AXR-1 rootstock, and we didn't realize that all of the county was watching that vineyard to see whether or not the rootstock was going to be as wonderful as it was supposed to be," Tom told his interviewer.
Generous people, or maybe clairvoyants, the Rhodes had left two bottles of Heitz wines as a house-warming present. There's some confusion about what was exactly in those bottles. May told the interviewer that it was "champagne" made by Hanns Kornell but sported a Heitz label. When the interviewer pressed him, May said, "I think it was just another label, but let's not worry about the details."
In any event, when the Mays finished those bottles, they went to Heitz to purchase more and met Joe and Alice, beginning a wonderful and fruitful friendship.
Joe Heitz, as it happened, was very interested in the Mays' grapes from the vineyard Tom May had dubbed "Martha's Vineyard," and he bought the entire first harvest, which came in 1965, blending those grapes with other Cabernet Sauvignon. But recognizing that the Mays' grapes produced a distinctively impressive wine, the two men agreed that from the 1966 vintage on, they would put the vineyard's name on the bottle. Heitz's blending was seen as a breakthrough development in California winemaking. His use also of French oak for final aging, after the wine was fermented in stainless steel and first aged in large American oak, was also important, as well as his insistence on paying farmers what their fruit was worth and then charging what he felt his wines were worth.
"Joe Heitz was the first one I know of in Napa in modern times who priced his wines according to the origin of the grapes and his presiding over their coming to be," Warren Winiarski, a pioneering winemaker who was one of Joe's friends, told me a few days ago. Winiarski's 1973 Stag's Leap Wine Cellars Cabernet Sauvignon (SLV) beat Bordeaux's best red wines and the 1973 Chateau Montelena Chardonnay that Mike Grgich made triumphed over the white Burgundies French judges had tasted at the Judgment of Paris blind tasting in 1976. That stunning victory 40 years ago will be celebrated this month throughout Napa and at the Smithsonian in Washington, D.C.
"He was an artist who didn't charge according to the cost of the paint and the canvas but for what he created. The price had to do with the cost of what went into it, his input and the place the grapes came from," Winiarski said. "His $9 wine! People said there was a bit of insanity there. But he stuck to it and raised the prices and raised the awareness and people lined up in long lines when he released his latest vintages."
In addition to the Martha's Vineyard Cabernet Sauvignon, Heitz made another vineyard designated Cabernet Sauvignon wine from a vineyard they did not own, Bella Oaks vineyard, which was owned by Bella and Barney Rhodes, who had sold the Mays what became Martha's Vineyard. In 2007, years after both Rhodes had died, Heitz lost its access to the vineyard, its second most popular, when Staglin Family Vineyard bought Bella Oaks. However, Heitz's Trailside Vineyard, in Rutherford, which they purchased outright after purchasing its grapes for several years, has replaced Bella Oaks in the Heitz line-up. The family also owns Ink Grade Vineyard, in which Cabernet Sauvignon, Zinfandel and Sauvignon Blanc are grown. If you see a bottle of Heitz Ink Grade Port, which is made from Portuguese varieties that David planted, grab it. We did on a visit to the winery decades ago.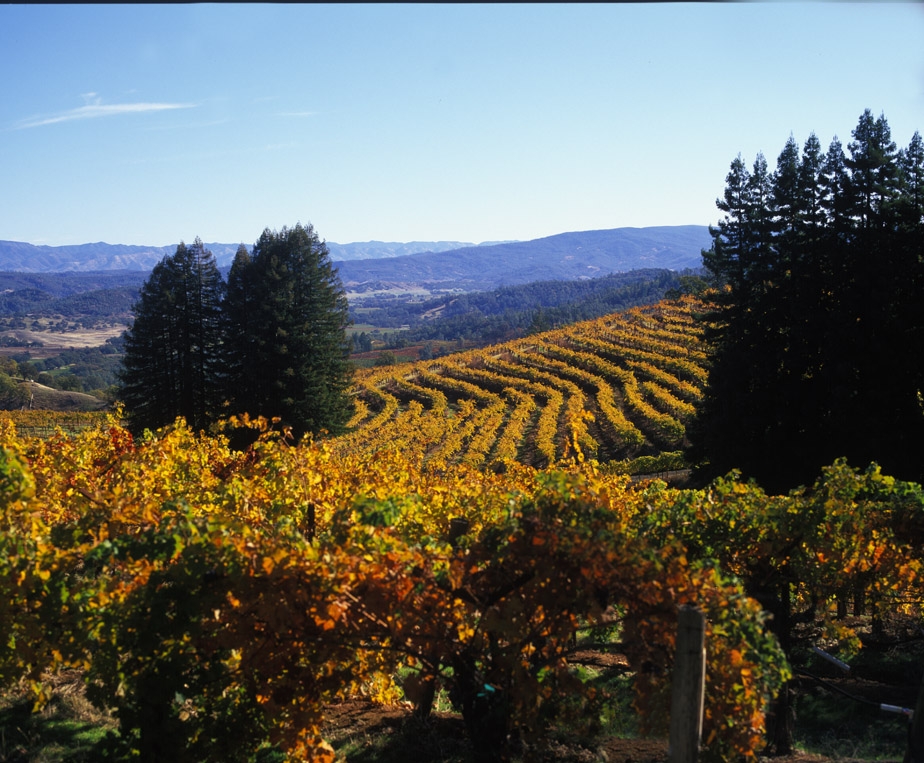 Heitz Ink Grade Vineyard
Kathleen said her father didn't care for Sauvignon Blanc and her brother is "conservative" and worried that it wouldn't sell, but she pushed a less-grassy version of it and the first release, seven years ago, flew out of the winery. "I called all of my distributor friends and told them when and how much to buy," she confided with a wonderfully wicked twinkle in her eye that reminded me of her mother. Alice recently had a knee replaced—at 92! She lives part-time at an assisted living residence in San Francisco, close to her favorite cultural institutions. While touring the residence's dining room for the first time, Kathleen said, her mother asked the managers, "Is there a corkage fee?" There is no corkage fee, so Alice receives a steady stream of wines, Kathleen said.
In the 1990s, Martha's Vineyard, like many others in Napa, was struck by phylloxera and had to be replanted, returning fully to production in 1996. Reports of taint in Heitz's cellars in the late 1980s and early 1990s led to a successful rehabilitation of the cellars. Currently on sale on the company's website are Martha's Vineyard Cabernets from 2004, 2005, 2006, 2009 and 2010, ranging from $175 to $225. No 2011 Martha's was bottled because it didn't live up to that wonderful vineyard's potential, Kathleen said. The 2007 was so stunning that it was dedicated to Tom and Martha May. Martha's Vineyard and Trailside wines are kept for five years before release, including one year in the bottle so that when they are released they are ready to drink, although they should age gracefully for many years.
Before dinner at Blue Hill, wonderfully creative hors-d'oeuvres were served with three wines: The 2014 Sauvignon Blanc ($21) was a zesty, honeydew melon, fancy Sauvignon Blanc. Mouthwatering. Friday is International Sauvignon Blanc Day! Of the 2015 Grignolino Rosé ($23) I wrote in my notes, "just lovely, a grown-up wine, not a bit sweet." The third wine with appetizers was the 2012 Cabernet Sauvignon, Napa Valley, ($52), which was my least favorite wine of the night. It had a nice weight and some herbal notes and came in at 14.5% alcohol, which seemed a bit much.
Now for the dinner wines:
The 2014 Chardonnay ($26). "Fabulous, pure fruit and minerals. Crisp and clean with long finish. Fascinating. More at the end than at the front. Almost tastes unoaked, but aged in French. Bright and fresh. Great balance. Great nose." Served with smoked sablefish, with onion soubise, grilled scallion, Ají dulce sauce. A few days later, we bought some. It wasn't just the occasion talking! Awesome Chardonnay.(National Chardonnay Day is May 26.)
Now for the Martha's Vineyards, which Kathleen said are made from "a very distinct proprietary clone [as Tom May described above] and grown on well-drained alluvial soil with morning sun, but not heat in the late afternoon":
2010. Spicy, earthy, relaxed, with a hint of mint, rich fruit.
2009. Sweet fruit nose, younger tasting than the 2010. Nose is different from the 2010, too, almost like Syrah. Real California Cabernet, true fruit and good earth. Both were served with ricotta gnocchi, with morels and ramps.
2007. I wrote, "The mint is wonderfully present. Rich, ripe. Delicious, lovely old fruit and oak. Just mind-blowing. Silky tannins, such balance." John wrote, "This one actually has eucalyptus that is great, tremendous. Structured, complex, very rich with gorgeous, rich, chewy fruit. Awesome wine, pretty well perfect." We agreed on our highest accolade, Delicious! This vintage honored the Mays, Kathleen said.
1997. Our notes, "Earthy nose, warm-ripe-fruit taste. Stunning, absolutely stunning. Everything in it is balanced. Lots of mint, not a intense as the '07 but chewy and plenty of rich fruit." Both served with grass-fed beef, eight-row flint corn polenta, carrot romesco, charcuterie sauce.
1987. Some raspberries and earth and blackberries. Maybe a touch tired. But old, excellent fruit, well-rounded.
1978. Lovely, so smooth, even a bit floral. Nice mint and chocolate. Soft, a great dowager. These last two were served with an assortment of cheeses.
Speaking to the guests, Kathleen Heitz Myers said the anniversaries were an opportunity to "do something special to honor so many of the relationships that we've had through the years." Nodding toward Laura May Everett, she said, "Laura and I are like sisters. We've known each other through good and bad, growing up together. We know each other's secrets. Our company takes the long view. We stand by each other through tears and happiness."
"It's never a good time to go, but my Dad got to see it in his lifetime," she added. "He saw the region grow and his wines receive international attention. His kids are involved."
Dorothy J. Gaiter conceived and wrote The Wall Street Journal's wine column, "Tastings," from 1998 to 2010 with her husband, John Brecher. She has been tasting and studying wine since 1973. She has had a distinguished career in journalism as a reporter, editor, columnist and editorial writer at The Miami Herald and The New York Times as well as at The Journal.