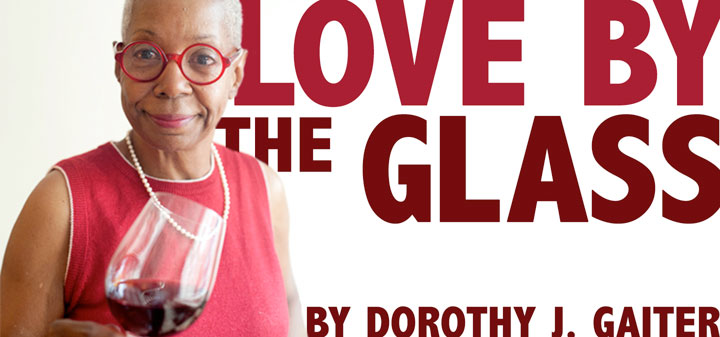 I'm ready to celebrate the arrival of Spring, finally, and although it doesn't feel like Spring consistently, I'm pretending. Crisp whites and rosés, enjoyed at home and out and about, help me do that.
A few weeks ago, John and I were at a V.O.S. Selections portfolio tasting when, after I'd tried a few rosés, still and sparkling, I noticed an older man standing in the middle of the room, just looking around. I've grown more gregarious in my old age. OK, John and the girls tease me that I'm like Marshall from that episode of "How I Met Your Mother" during which he greets everyone he comes across on the sidewalk. I am a bit like that. I own it. Besides, it costs nothing to be friendly.
Anyway, this man in the middle of the floor seemed like he'd be happy if someone spoke to him so I did. "Find any wonderful wine that I need to taste?" I asked him. He brightened and said, in that lovely way that French people speak English, "I am a producer." And that's how I met Michel Dietrich and his amazing -- seriously, folks -- his amazing $11 wonder: 2014 Château Haut-Rian Bordeaux Blanc and his 2015 Rosé, around $10.
Turns out he was standing in front of his wines. After I fetched a fresh glass, he poured his white Bordeaux for me and, as my eyes widened, he said, "Oysters, right?" Yes! This wine had mouth-watering, grapefruit-like acidity, dazzling minerals and smelled of heavenly white flowers, maybe orange blossoms. The nose and lingering finish alone were worth the price of admission! The beautiful rosé reminded me of strawberries, the way a lot of good rosés do, and spice, maybe a hint of rosemary.
What's a girl to do? I put down my glass and started taking notes. Dietrich told me that he and his wife, Isabelle, come from winemaking families, his in Alsace and hers from the Montagne de Reims area of Champagne. He told me he had degrees from the College of Beaune and the University of Bordeaux, and also was head winemaker at Château Remy in Australia. Knowing their backgrounds helped me enjoy their wines even more because I could see how the Dietrichs had developed an affinity for their tastes. The white is a classic white Bordeaux blend, 40% Sauvignon Blanc and 60% Sémillon. The rosé is 50% Merlot, 40% Cabernet Franc and 10% Cabernet Sauvignon, which gave it nice steeliness and structure. Half the grapes were pressed right away and half, using the saignée method, pressed after 18 hours of cold maceration, basically a cold soak during which the grapes give up their flavor, tannin and some of their color to the then-pressed juice. Afterwards the two juices are fermented together. The Dietrichs fermented both the white and the rosé in stainless steel tanks and both are vegan, which means they were not clarified with animal products like gelatin or egg whites.
The couple founded Château Haut-Rian in 1988, and it is in Rions, southwest of the city of Bordeaux. Their 200 acres, mostly on south or southeast facing hillsides of limestone soil, are partly in the Premières Côtes de Bordeaux region and partly in Entre-Deux-Mers.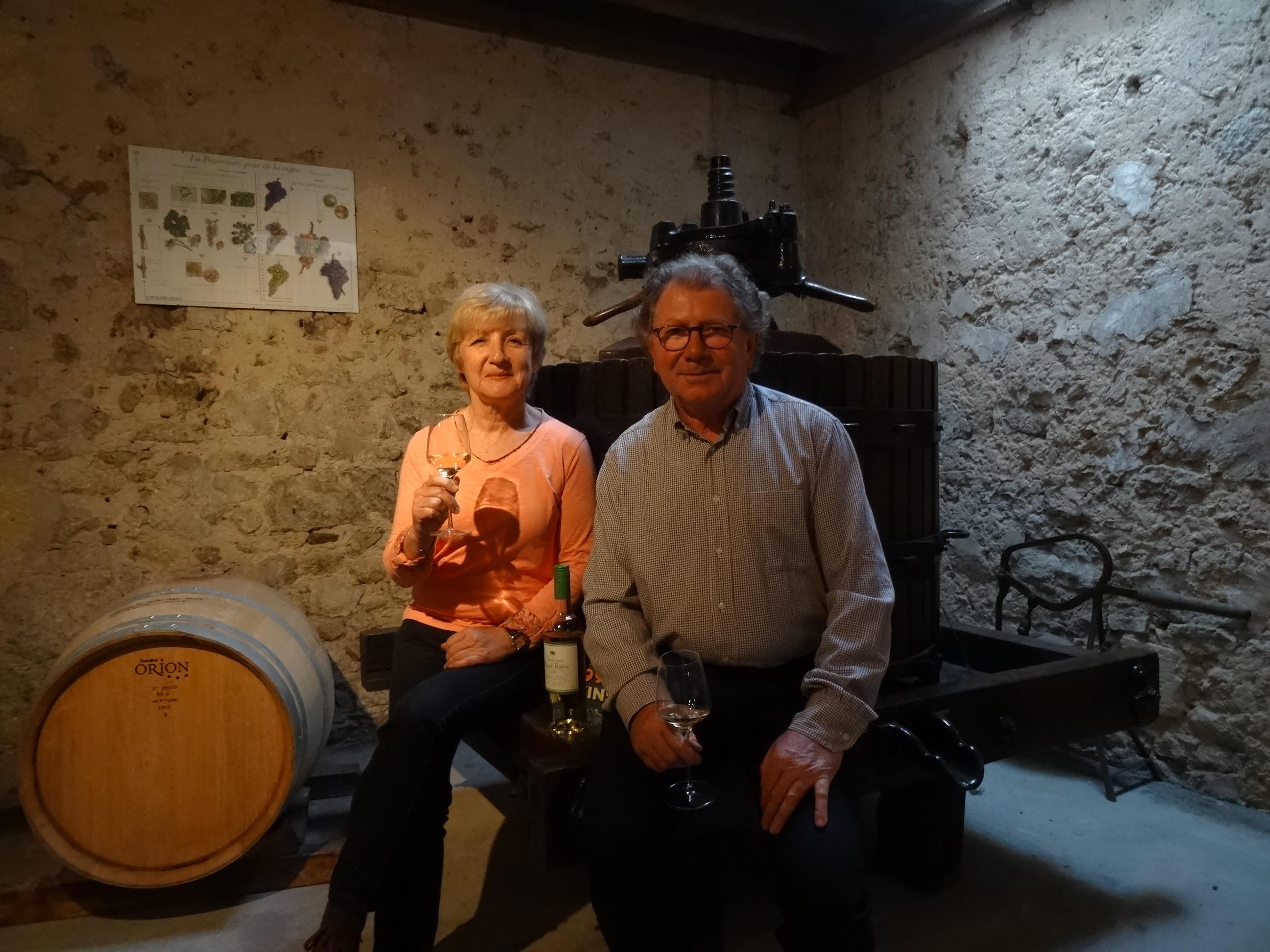 Michel & Isabelle Dietrich, Château Haut-Rian
Among dozen of sparklers, Domaine De La Taille Aux Loups "Triple Zero" Montlouis Pétillant, made by Jacky Blot, was a head-banging natural wine, $22. It's all Chenin Blanc from the Montlouis appellation in the Loire. The three zeros refer to what it doesn't have, sugar. It's made without the addition of sweeteners at the three stages of the production of sparklers made the way Champagne is. This is triple non-dosage and it was delicious. Great yeasty nose with ripe flavors, some toasted almonds, nice weight and impressive acidity.
Sauvignon Blanc makes me think of Spring, although I drink it year 'round. This one was like a soothing balm, making me think of summer, even, and picnics. Domaine de Châtenoy Menetou Salon Blanc, $20, is owned by Pierre Isabelle and Pierre Clément. The Clément family has been making wine in Menetou-Salon, just southwest of its more famous neighbor, Sancerre, since 1560. Daughter Anne has recently joined her parents in their sustainably farmed enterprise. This elegant white had character to spare, with a heady tropical fruit nose and great acidity and minerals that made me immediately think of curried chicken salad on a white tablecloth in Central Park.
Whenever I see wines from Jean-Paul Picard, which isn't often, I smile, because his name reminds me of a high school classmate, Jon Picard. Jon was the hippiest of the hippies at Florida High, generous, kind and brave. Jean-Paul's family, according to V.O.S., has been making Sancerre, white, rosés and red ones, since the 1600s and makes less than 8,500 cases combined. What's more, all of the sustainably farmed grapes are hand-picked. A brave enterprise for sure! I fell hard for the Jean-Paul Picard Sancerre Blanc Cuvee Prestige, $27, which is 100% Sauvignon Blanc and made only in the best years, from what VOS says are " the three best and most renowned terroirs of Bué: Grand Chemarin, Chene Marchand and La Paquerette." Rich, white peaches, lemon zest and minerals, ripe, with luscious mouthfeel, it was classy for days, as was its regular Sancerre Blanc, $24, from younger vines. We're talking 30 years old instead of the 60 for the Prestige.
Moving on from the V.O.S. tasting, here's one that's from a longtime Bordeaux producer, 2015 Le Rosé de Mouton Cadet and at $10.99, it shouts "party!" It has a seductive come-hither nose, and tastes of watermelon, honeydew melon, strawberries and minerals that make for a luscious mouthful. It's 53% Merlot, 27% Cabernet Sauvignon and 20% Cabernet Franc and made by direct pressing and saignée. From May 11 to May 22 it'll be on lips all over the Cannes Film Festival, where Mouton Cadet has been a sponsor for 25 years. Not going? It should hit stores on May 1.
The 2015 Heitz Cellar Grignolino Rosé, $23, was made in small amounts, only 400 cases, so if you see it, grab it. We first discovered it years ago in their tasting room in Napa, and it's a wonder: dry and made 100% from Grignolino, a mouth-watering Italian variety. In 1961, Joe and Alice Heitz purchased a small vineyard planted exclusively to Grignolino, and the red that Heitz makes from it is banging, too. Kathleen Heitz Myers, their daughter, told us earlier this month that the rosé is her mother's favorite, her "Easter rosé." It's got a swoon-worthy nose of strawberries, watermelon, raspberries and minerals and has zesty acidity that makes it great with food and gulpable solo. (heitzcellar.com; and soon through frederickwildman.com.)
Vilarnau Rosé Cava Brut Reserve non-vintage, $10, from Barcelona might just be our next house bubbly. My goodness. According to its importer, Vin Divino in Chicago (vindivino.com), Vilarnau is a "small, prestigious winery" that is "dedicated to a small production of high-end, hand-crafted Cava." There's nothing fancy here, just fun, honest rosé. "Very pleasant and drinkable with strawberries and good acids. Just plain friendly," we wrote in our notes.
The 2015 Vitiano Rosato, an IGP from the volcanic clay and limestone rich soils of hilly Umbria, clocks in at a gulpable $12 and 12.1% alcohol. Yummy. Vitiano was founded by two brothers, Riccardo and Renzo Cotarella, who also own Falesco, which produces more upscale offerings from its vineyards in Umbria and Lazio. The all-stainless steel Rosato is 30% Sangiovese, 30% Merlot, 30% Cabernet Sauvignon and 10% Aleatico, which gives it a little bite at the end. "A crisp sort of old-school rosé, not afraid to be a rosé," we wrote in our notes. "Wonderfully focused, like biting into a rosé apple, if there were such a thing. Good acidity, some sweetness, but not too much. The sort of wine you could drink a lot of on the deck, especially at that price. Strawberries and watermelon and a splash of lemon."
Moving up in price, but only a little, is Juvé y Camps Brut Rosé, non-vintage Cava, at $16. "Raspberries. Darker than we expected, 100% Pinot, and a bit candied in front with a pleasant bitterness at the end, which made it sing with a pork roast."
Still in that sweet-value spot is the non-vintage Zardetto Vino Spumante Rosé Extra Dry from Veneto, $17. Fun bubbles and strawberries. We would have guessed that this barely had alcohol in it—5%, if that were legal—but it had 12! It was that wonderfully balanced. You probably think Prosecco when you see the name Zardetto, and for good reason: This family makes good ones. This spumante is made entirely of Raboso Veronese grapes vineyards planted in 2000, with its first release in 2008.
Years ago, when we visited Bouzy, a grand cru Champagne village in the Montagne de Reims, I had bone marrow for the very first time. It was awesome, so I always look forward to wines from there. This one, Benoit Lahaye Rosé de Maceration, $60, hit all the right notes. It's a lovely rosé Champagne made with the saignée method, in this case from free-run juice from macerated, organically grown Pinot Noir. It was lovely, with elegant acidity and strawberry notes. (Note: Aside from mangoes, strawberries are my very favorite fruit.)
Classics are classics for a reason. Laurent-Perrier Cuvée Rosé (non-vintage), around $76, with its strawberry color, always impresses. Made from Pinot Noir from 12 different crus mostly in Montagne de Reims, including the grand crus of Bouzy, it's a saignée rosé and aged for at least four years before it's released. We sipped it while watching a stunning, pink-orange-and purple sunset. "Really excellent," we wrote in our notes. "Great nose of strawberries and pomegranates. Fresh, fruity and elegant, with good acidity and beautiful bubbles."
Could the sunset have anything to do with our swooning? Maybe, but who cares?
Dorothy J. Gaiter conceived and wrote The Wall Street Journal's wine column, "Tastings," from 1998 to 2010 with her husband, John Brecher. She has been tasting and studying wine since 1973. She has had a distinguished career in journalism as a reporter, editor, columnist and editorial writer at The Miami Herald and The New York Times as well as at The Journal.
Where to get the wines as of publication:
2014 Château Haut-Rian Bordeaux Blanc available at Grape Collective for $10.99.
2014 Heitz Cellar Grignolino Rosé Grape Collective for $27.99 (2015 is released in May)
Domaine De La Taille Aux Loups "Triple Zero" Montlouis Pétillant Grape Collective for $24.99
Jean-Paul Picard Sancerre Blanc Cuvee Prestige Grape Collective for $24.99
Benoit Lahaye Rosé de Maceration at Astor Wines for $74.99
Laurent-Perrier Cuvée Rosé Winelibrary for $60
Zardetto Vino Spumante Rosé Extra Dry Sherry Lehmann for $14.99
Juvé y Camps Brut Rosé Wine Library for $12.03
2015 Vitiano Rosato Saratoga Wine Exchange for $11.94
Vilarnau Rosé Cava Brut Reserve Wine Chateau for $12.97
2015 Le Rosé de Mouton Cadet Rye Brook Wine and Spirits has the 2014 for $9.98
Domaine de Châtenoy Menetou Salon Blanc Wine Library has for $19.99