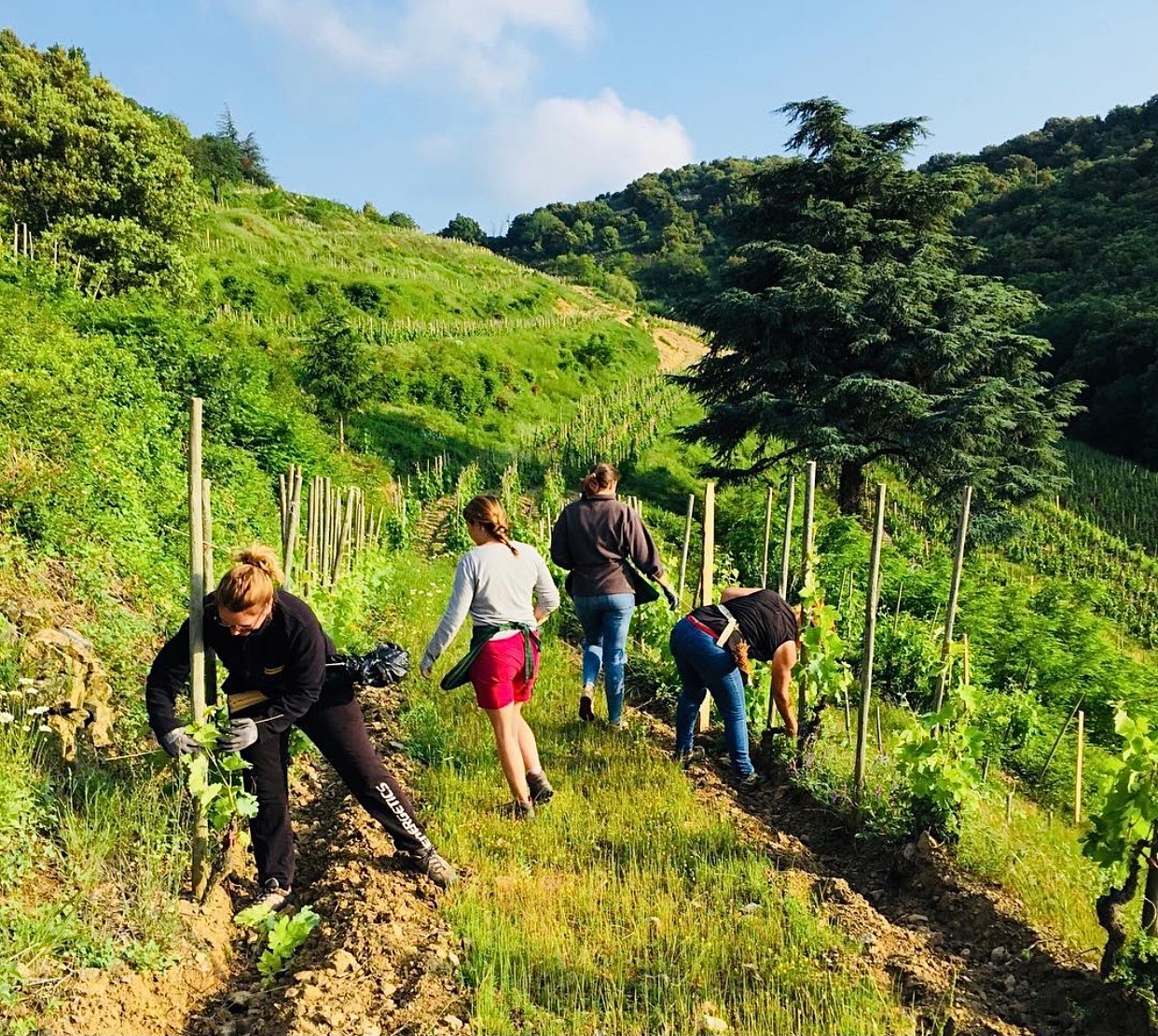 Cornas is a small wine appellation in France's Northern Rhône Valley. Located at the southern end of the region, its steep granitic hillsides are planted with only about 110 hectares of vines, all of which is Syrah. Until recently, Cornas wines were considered rather harsh and rustic; not worthy of the world's attention and frequently passed over in favor of wines from its storied neighbors, like Hermitage and Côte Rôtie. Today, that is no longer the case as Cornas is finally getting its due for offering full-bodied, age-worthy wines with distinctive minerality and freshness. A large part of the appellation's improved reputation can be credited to Jean-Luc Colombo. Since moving to the area in the early 1980s, he has been tirelessly promoting the wines of Cornas, resulting in a tremendous increase in the wines' popularity across the globe.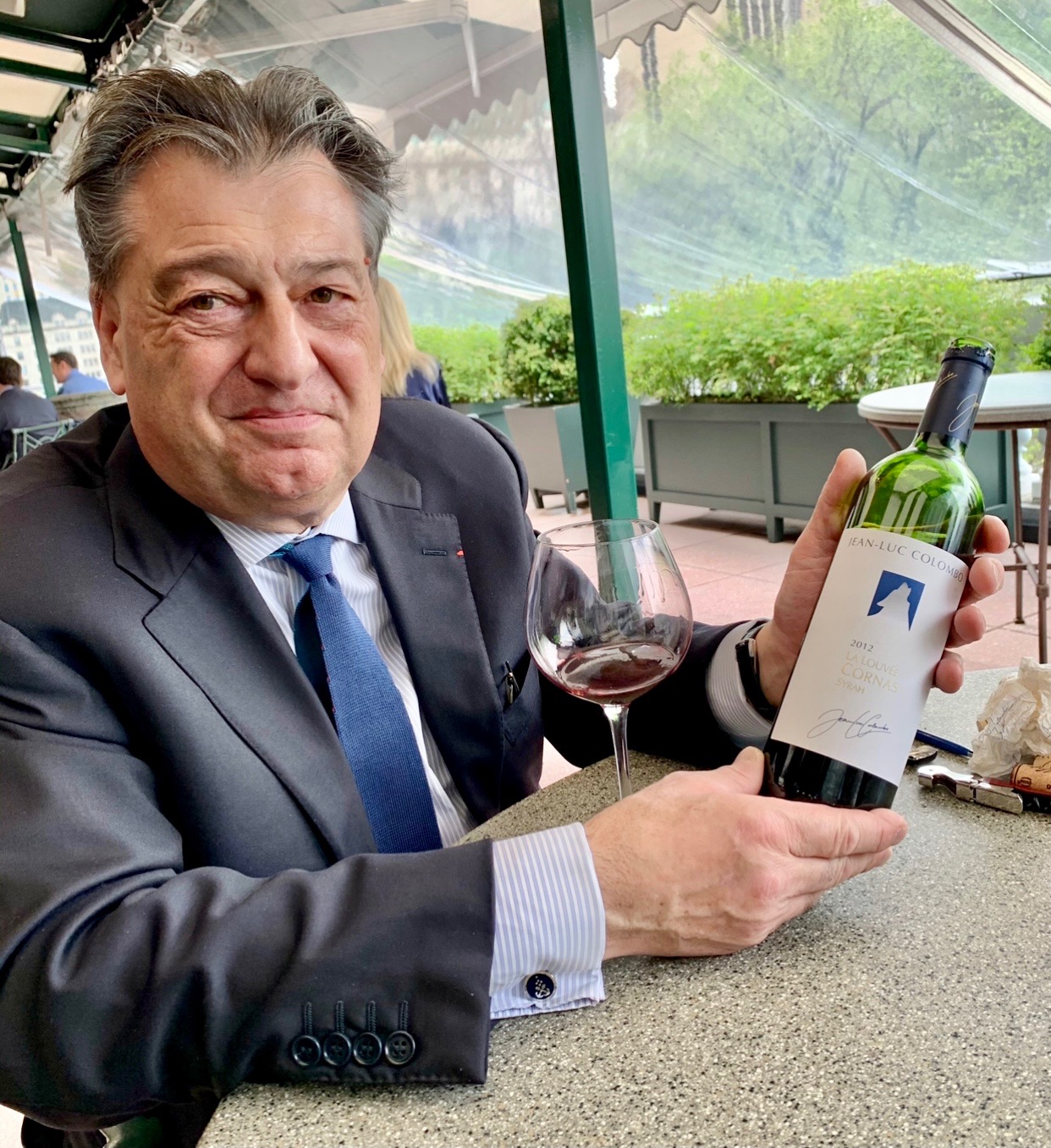 Colombo grew up in Marseille, in the south of France, part of a family who, as he says, "liked to spend time at the table." During his childhood, he was immersed in the world of food and cooking, as both his mother and grandmother were chefs. Despite his love of food, his parents steered him towards a degree in pharmacy, which they believed would be a more rewarding and lucrative profession. But, while studying to become a pharmacist in the 1970s, Colombo was bitten by the wine bug which returned him to his culinary roots and to the world of nature.
"I like the outdoors—the trees, the animals, the birds, the insects; all the biodiversity of nature," says Colombo. "The pharmacy was a dusty and sad place to be."
As he and his wife Anne, also a pharmacist, became more interested and knowledgeable about wine, they decided to move to Cornas, a relatively unknown area at the time. When asked why they chose Cornas, Colombo said that he wanted to make vin de garde, wine for aging. "Outside of Bordeaux and Burgundy, there were not a lot of areas where you could do that," he said. The northern Rhône, and Cornas in particular, appealed to him as an area where he could make food-friendly wines with great aging potential.
"The power of the Syrah in Cornas is because of the granite," says Colombo. "And the vine is surrounded by juniper and you smell mint, eucalyptus, dark chocolate and this nose is wonderful. The wine is great with a t-bone, duck, or pizza."
The Colombos arrived in Cornas in the early 1980s and quickly developed a respectable reputation throughout the Rhône Valley as wine consultants and negociants. Desiring to make their own wine, in 1986 they acquired a small plot of old vines on a steep hillside overlooking the village of Cornas. They named it "Les Ruchets" in honor of the many beehives found on the property and produced their first vintage in 1987.
Much to the dismay of the long-established, traditional vignerons of the area, Colombo began introducing modernist winemaking techniques, such as fully destemming the grapes and aging part of the wine in new oak. Despite the traditionalists' concern that Colombo was tampering with their heritage and changing the style of Cornas wines for the worse, Les Ruchets became an instant hit with consumers and wine media alike. With soft tannins and notes of violets, black currant and spicy licorice, the wine was much more approachable than the typical Cornas wine. Les Ruchets is now universally regarded as Colombo's iconic wine.
Today Vins Jean-Luc Colombo crafts several cuvées of Cornas Syrah reds that are lauded for their terroir-reflective and elegantly robust style. The winery also produces wine from other appellations of the Rhône Valley, as well as from Languedoc and Roussillon in southern France, and a new venture in the Côte Bleue district, near Colombo's hometown of Marseilles.
Anne Colombo is currently the President of the AOC Cornas Syndicate and is a staunch advocate of organic viticulture and the preservation of the land's biodiversity. The second generation, Laure (in photo with Anne) is now the winery's chief winemaker, and, under her guidance, the entire domaine has been certified organic. Before joining the family business, Laure interned at Château Haut-Brion in Bordeaux and also worked for a time in the U.S. in wine-related jobs, including assistant sommelier at Alain Ducasse's renowned Essex House restaurant.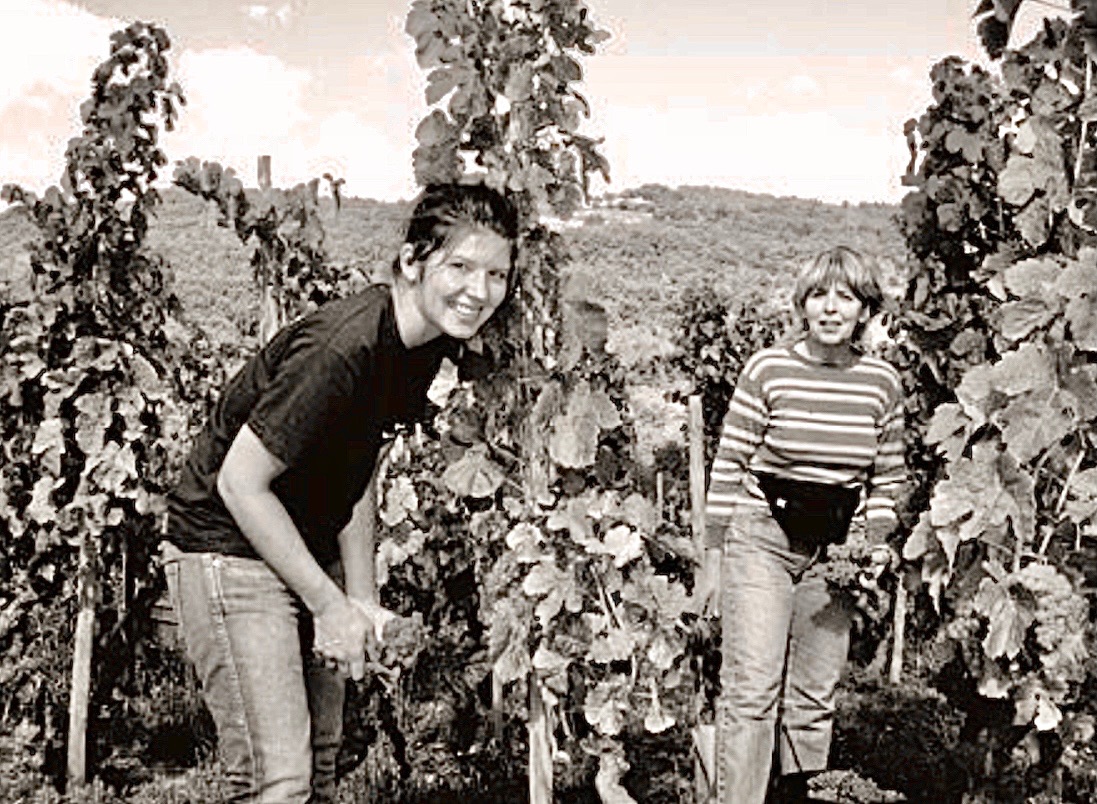 Grape Collective caught up with Laure by email to find out more about Cornas and her family's history there.
Lisa Denning: Can you tell me a brief history of Jean-Luc Colombo Winery? Your parents were pharmacists when they decided to become winemakers. Why did they switch careers, and why go to Cornas?
Laure Colombo: My parents studied pharmacy in Montpellier and they decided to become winegrowers because they preferred to transform rather than sell. The pharmacy business is more about selling. They chose Cornas because they enjoyed freshness in wine and 40 years ago everything had to be built in Cornas compared to other appellations from northern Rhône.
Your parents get a lot of credit for pushing the awareness of Cornas wines outside of France. Can you tell me about Cornas's terroir and what makes it unique from the other appellations of the northern Rhône?
Cornas is special because it is the appellation located the most south from the northern Rhône. It is very wild with lots of animals, there is a biodiversity here: meadows, forests, bushes and not only vines. It is also the birthplace of the Syrah varietal. The Cornas wines are pure Syrah, there is no Viognier, nor Roussanne or Marsanne allowed in the appellation.
Why do you think Cornas is often overlooked in comparison to some of the other, more famous northern Rhône appellations?
Cornas is overlooked because this appellation is a bit more farmer style and probably because it is located farther from big cities, unlike Côte Rôtie that is near Lyon. Cornas is a land of farmers and the terroir here is as qualitative as the other northern Rhône appellations. Cornas was missing a driving force like Colombo. Côte Rôtie had already the Guigal family and Hermitage had Chave and Chapoutier for many generations already.
Your mother is President of the AOC Cornas Syndicate. What are her priorities in this role?
The priority for my mother is to protect the appellation in general and especially its biodiversity. She wants to keep the areas that are not planted with vines or forests. She also wants to promote organic agriculture and help the other winegrowers of the appellation to convert to organic viticulture. She also wants to promote the quality of the wines regarding the aging potential. Cornas is a "vin de garde." This is why the Syndicate of Cornas organizes tastings for the professionals and journalists to show vintages that are 10 years old and above.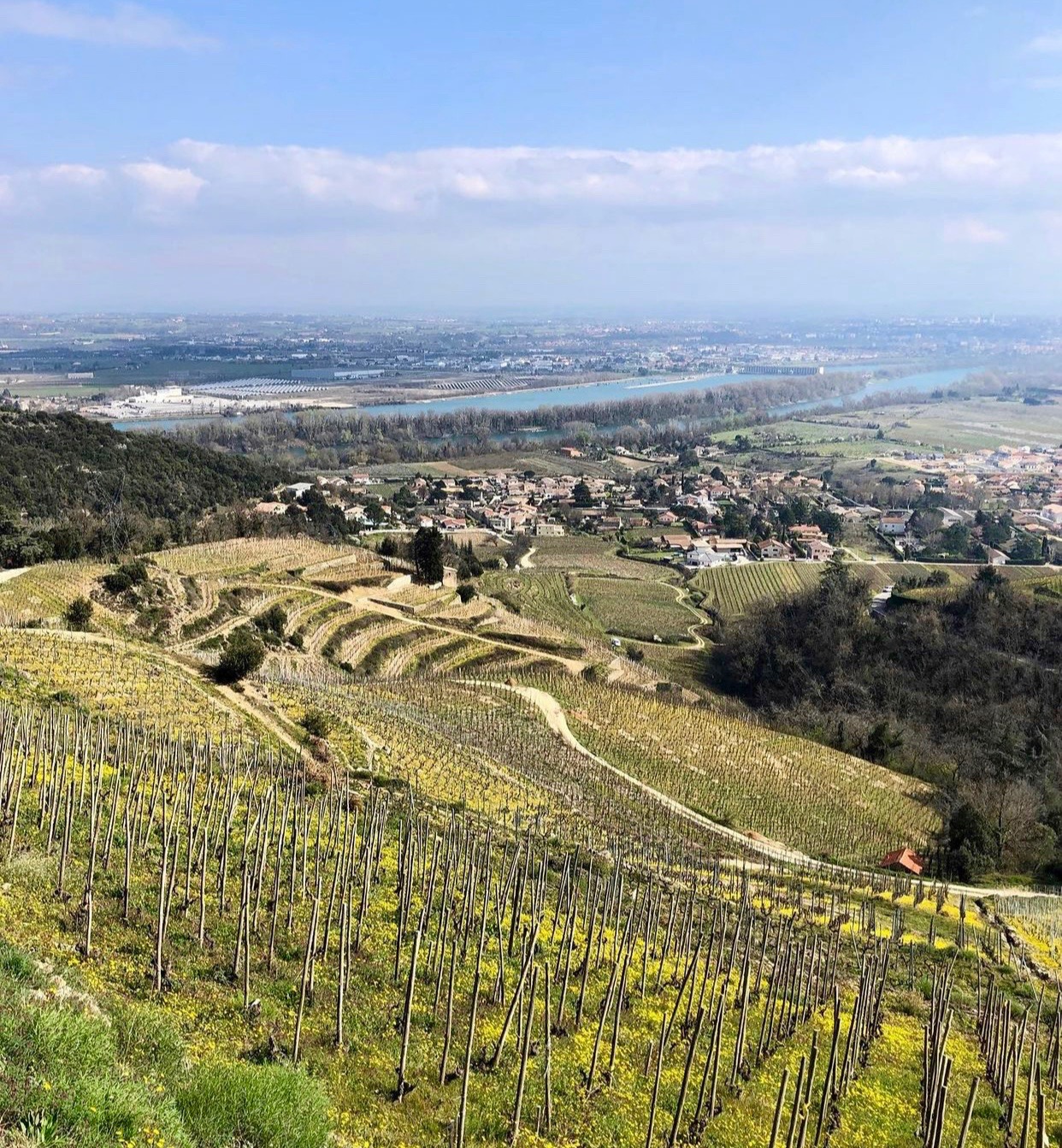 Your winery is one of the few organic wineries in Cornas. Why are there so few? Why is it important to your family to farm organically?
We were one of the first to work organic but today we are not the only one. Step by step other winegrowers became enthusiastic about organic agriculture. It is like the story of the appellation, where catalysts were needed to push this method of culture. My parents have their house in the middle of the vineyard, unlike most winegrowers here who live in the village. This is why they wanted to use organic methods. Plus, they are very receptive to fauna and flora. This change of culture takes time and is happening step by step for all the other winegrowers because it is difficult to work organic on very steep slopes.
One of your father's passions is the topic of irrigation. What are his beliefs on this topic and why is he so passionate about it?
We cultivate vines on an ancestral terroir and we have acquired a form of respect for it. Respect is to leave the vines to grow roots deep down into the soil to get the resources it needs. If we irrigate, the roots remain on top and for this reason it is difficult to talk about terroir. Also, today with global warming, we believe it is better to leave water available for other cultivations because the vines can live without it.
Jean-Luc Colombo wines are often described as being made in a "modernist" style. What does that mean and do you agree with this assessment?
This "modernist" style is from 40 years ago. You have to place yourself in the context of the epoch. My parents believed the wines of Cornas needed some aging because Syrah is a reductant varietal that needs aeration. Aging the wines in oak barrels had the purpose to slowly work on softening the tannins but not to give wood taste. Today oak aging has become a classic in the appellation. When my parents arrived in Cornas, they wanted to respect the fruit, get the optimum maturity from the grapes, they were already looking for quality over quantity. Today everyone is looking for that.
France's vineyards suffered a lot of frost damage this past April. What happened in your vineyards? Were you able to avoid damage?
In Cornas, it is mostly the vineyards located at the foot of the hills that were hit by the frost. However, we had more fear than what we were injured, because the Syrah varietal produces second buds. Regarding our vines, they are mostly located on hillsides so we are lucky. Also, we always prune quite late to push back the growth of the vines to counteract the effect of global warming. We finished pruning around mid-March. Thanks to that, the buds of our vines had not yet budburst, so we did not freeze.
What about climate change in general? Are you noticing weather patterns that are affecting how you cultivate the vines?
We witness climate change every day not only on the vines but also in the surrounding nature. The trees suffer, the Mediterranean vegetation progresses over the continental vegetation. Regarding the way we cultivate our vines, we cover the soil with mulch to protect the earth and the microbial life from the sun. We plant more trees to create a microclimate that regulates the temperature in the vineyards. We leave more leaves to protect the grapes, we no longer thin the leaves, we leave more laterals. For new plantings, we are searching for fresher land that is located higher in altitude.
What is your vision as you take Jean-Luc Colombo winery forward into the future? Do you see yourself doing anything differently?
The future for the winery is to make the best wine possible while protecting the environment.
Can you tell me a little bit about the beautiful labels on your wines?
The painter of our label is Marie-Annick Dutreil. She is a Parisian painter and a friend of my parents. She is really good at translating into paintings all the stories Jean-Luc Colombo tells through his wines.
Can you tell me a little bit about the winery you and your husband started, Le Domaine de Laurient?
Domaine de Lorient is my own little project together with my husband Dimitri. We are based in Saint-Péray where we produce mostly white wines.