I've always been one of those people that everyone asks for advice about "where to eat" and "what to do." Three years ago I decided to put my knowledge to the test and write a book specifically focused on eating and drinking deals in New York City. I wanted it to include the kind of personal advice I would give to close friends and family but share it with the world! My book 365 Guide New York City contains restaurant deals and bar specials in Manhattan plus my tips on pizza, desserts, seasonal savings and more, and runs the spectrum from five star restaurants to the neighborhood dive bar.
[The Tippler Ten: Monica DiNatale's New York City]
The main reason I wrote 365 Guide New York City was to save money on food and drinks while still being able to eat out eight days a week! Yes, Manhattan is expensive but I realized that there are options to make it more affordable. Sometimes I am in the mood for a cold beer for $3 and sometimes I want great food at a great price. I wanted to break the myth that eating out must always expensive.
One of the best ways to save money and enjoy the city is visiting restaurants at lunch time. Sushi Damo is one of my favorite high end sushi restaurants with a lunch special that includes soup, salad, shumai and rice starting at $14 until 3pm. Prefer Italian? Even Mario Batali likes deals! Visit Del Posto for lunch and get three courses for $39 that includes amazing homemade pasta choices and fresh fish. Eating out midday can help you satisfy your cravings and keep your wallet full.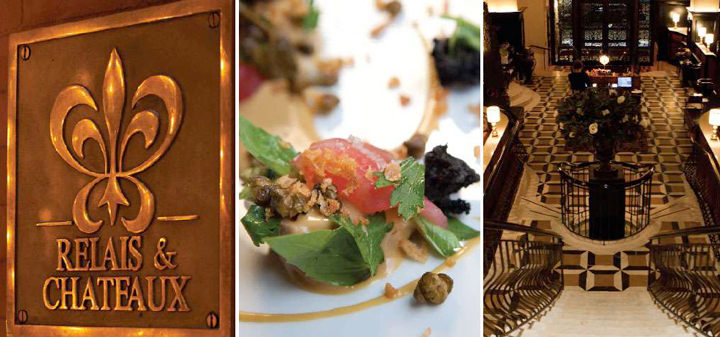 Above: Think these sorts of stylings are evening-wear only? Think again. (Del Posto)
If you're staying in a hotel, ask for suggestions but beware of getting the "typical" answers. Tell them you want a neighborhood restaurant. Do some research and pick a neighborhood you haven't been to before to make it easier and more of an adventure. If you are with a large group ask about "family style" dining options that will save you money like Carmine's. They have a location in Times Square and the lovely Upper West Side spot with the locals. Restaurant servers are a wealth of information as well. They know where the locals go.
Have a loose plan before you go out. Times Square can be overwhelming. I like Langan's and Dalton's for good food with plenty of seating, and both are so close to the lights and action. Langan's even has free live music Friday and Saturday nights. Going to the Empire State Building? Stop by Rattle n Hum and sample one of forty craft beers on tap or swing over to Grand Central and enjoy free appetizers at the bar at the nearby Darbar Indian Grill. If you plan your trip during Restaurant Week in NYC you'll find $38 dinners and $25 lunches throughout the city. Follow me on Twitter to be the first to know when dates are released.
Take advantage of Restaurant.com where you can purchase gift cards to over 18,000 restaurants across the country at extreme discounts. For as little as $2, $5 or $10 you can receive a $25 gift card that can be used in tons of locations near you. Groupon often includes alcoholic beverages and dessert. Be sure to check if it is valid seven days a week and the expiration date, or you could get burnt. That said, there are great deals available.
In general, I love a friendly hostess on the street trying to lure me in. They will often tell you about drink and food specials. If they don't tell you, ask and you'll find a deal. To me, they are running a good business. Beware of unfriendly bartenders. You know the type, they almost look annoyed that you are ordering drinks. Walk next door and find a better place. Don't pay a cover charge unless you are looking for live music. If you've never been there before, ask the doorman if you can take a peek inside to see if it's the vibe you're looking for. With all the options in Manhattan, often one right after the other, remember that you are in the driver's seat, and don't settle.
I love this town! I hope you will too.
Be sure to check out her Monica DiNatale's new book, 365 Guide New York City, for an even more detailed rundown of the Big Apple's restaurant scene!