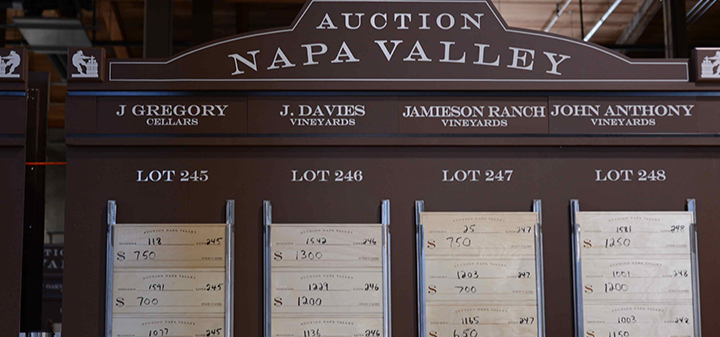 Since 1981, Auction Napa Valley has been raising funds for good causes throughout the valley. This year's auction was held at the Meadowood Resort and brought in a record $18.4 million. What does one drink on a hot June afternoon at the world's pre-eminent wine themed fund raiser? We spoke to a volunteer pouring wine at a kiosk under the lunch tent. "Continuum and Dalla Valle are the most popular", he said. Continuum is a new label created by Tim Mondavi and Marcia Mondavi Borger. It was among the top lots at Friday's barrel auction raising $52,750. BRAND Napa Valley took top honors raising $83,050.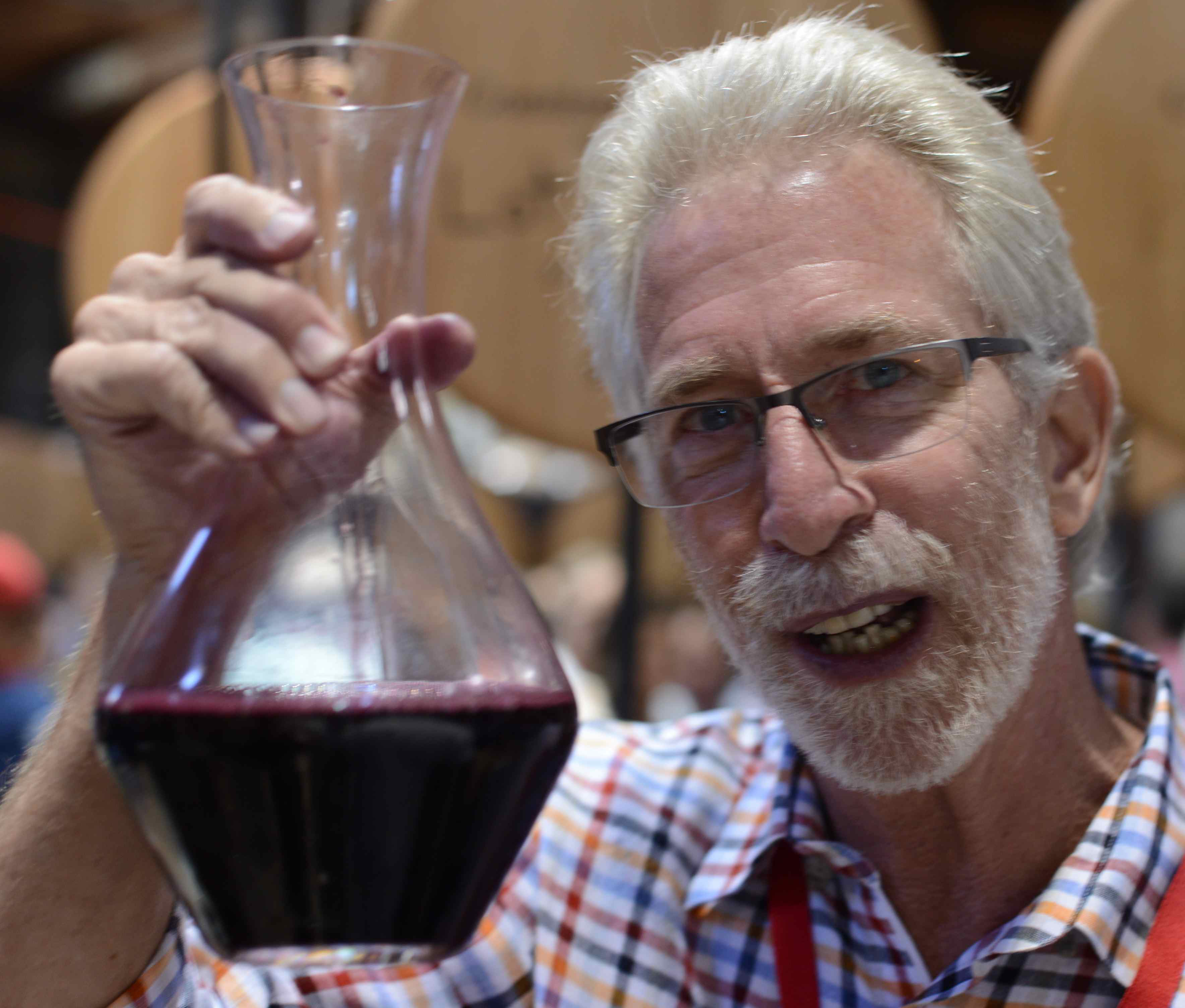 Tim Mondavi pouring Continuum
Auction attendees seemed to have a more difficult time deciding the more basic question of 'red' or 'white' as temperatures climbed to 90 degrees. White wines and sparklers were also well represented and the culinary creations of a dozen or so of the valley's chefs including Thomas Keller and Michael Chiarello.
The auction took place in a large air conditioned tent set up on a fairway of the Meadowood's 9 hole golf course. Raymond Vineyards sponsored lot #5 'A Year of Hollywood Glamour' which included a private jet to the Oscars, a private table at the Weinstein Company after party, dinner for 16 prepared in the winner's home with a screening of a pre-release film, many more items and, of course, a lot of wine. After several minutes the bidding stalled at $420,000 with two paddles refusing to budge. With a quick bit of input, the auctioneer doubled the package and declared both bids winners.
Darioush and Robb Report Magazine sponsored lot #45. The winner paid $440,000 to be a judge at the magazine's 2015 Car of The Year competition and the 2015 Culinary Masters Competition. The lot also came with trips to Hawaii and Bora Bora and dinner for 10 at Darioush.
Below is a list of the wineries who donated the wine that was served at the auction:
Acacia Vineyard
Alpha Omega
Amuse Bouche Winery
Antica Napa Valley - Antinori Family Wine Estate
Araujo Estate Wines
Arkenstone Vineyards
ARNS
Arrow&Branch
B Cellars
Beaulieu Vineyard
Black Stallion Winery
Blackbird Vineyards
BOND
BRAND Napa Valley
Bressler Vineyards
Broman Cellars
BURE Family Wines
CADE Estate Winery
Cakebread Cellars
Caymus Vineyards
Chappellet Vineyard
Charles Krug
Chateau Boswell Winery
Clif Family Winery
Cliff Lede Vineyards
Colgin Cellars
Continuum Estate
Cornerstone Cellars
Coup De Foudre Winery
Crocker & Starr Wines
Dalla Valle Vineyards
Darioush
Davis Estates
Derenoncourt California
Domaine Chandon
Duckhorn Vineyards
Farella Vineyard
Foley Johnson
Franciscan Estate
Frias Family Vineyard
Gemstone
Grand Napa Vineyards
HALL
Harbison Estate Wines
Harlan Estate
Hestan Vineyards
Hewitt Vineyard
Hill Family Estate
Honig Vineyard & Winery
Howell at the Moon
Hudson Vineyards
J Gregory Cellars
Jessup Cellars
Jones Family Vineyards
Judd's Hill
Juslyn Vineyards
Kenzo Estate
Knighton Family Vineyards
Laura Michael Wines/Zahtila Vineyards
Levensohn Vineyards
Levy & McClellan
Lewis Cellars
Lokoya
Mayacamas Vineyards
Mithra Winery
Moone-Tsai Vineyards
Mount Veeder Winery
Mumm Napa
Napa Valley Vintners
Newton Vineyard
Oakville Ranch Vineyards
O'Brien Estate
Odette Estate Winery
Opus One
Ovid Napa Valley
Pahlmeyer
Parallel Napa Valley
Parry Cellars
Pedras Wine Company
PEJU
PlumpJack Winery
Prescott Ashe Estate Winery
Pride Mountain Vineyards
PROMONTORY
Provenance Vineyards
Quintessa
Rarecat Wines
Raymond Vineyards
Red Mare Wines
Redmon
Revana Family Vineyard
Robert Mondavi Winery
Saint Helena Winery
Saintsbury
Schramsberg Vineyards
Seven Stones Winery
Shafer Vineyards
Signorello Estate
Silverado Vineyards
Sleeper Cellars
Somerston Estate
Spoto Wines
Spottswoode Estate Vineyard & Winery
St. Supéry Estate Vineyards & Winery
Staglin Family Vineyard
Stag's Leap Wine Cellars
Sterling Vineyards
Stone The Crows
Sullivan Vineyards
Swanson Vineyards
Tamber Bey
Tayson Pierce Estate Wines
Terra Valentine
THE GRADE Cellars
The Hess Collection Winery
Trefethen Family Vineyards
Trinchero Napa Valley
Trinitas Cellars
Viader Vineyards & Winery
Vineyard 29
Vineyard 7&8
Ziata