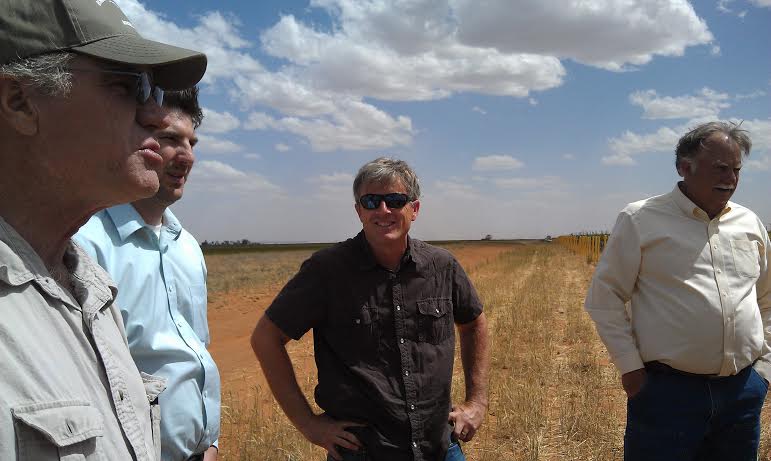 Driving past a badly managed farm returning to sand, Bobby Cox says, "Out here, slow antelopes get eaten." The wind from the west picks up a spume of dust and flings it toward the blinding sun.
Cox likely knows every field and furrow in the High Plains of Texas, from the Caprock Escarpment east of Lubbock to the New Mexico border. A pioneer grape-grower in this unlikely land and consultant to almost every planter who has the vision or misfortune – often the same – to launch a vineyard, Cox helped lay out the boundaries and define the characteristics of the High Plains American Viticultural Area, approved by the federal government in 1993. Though the AVA encompasses almost nine million acres, fewer than 4,000 acres are cultivated in grapes.
The world's wine regions include many forbidding landscapes, the impossibly steep slopes along the Douro River in Portugal, for example, or the arid heights of Mendoza, tucked under the Argentine flank of the Andes. However, for dryness, extreme temperatures, incessant wind and general harshness, the radically underpopulated High Plains seems like the most inhospitable country there could be in terms of agriculture of any sort. Relentlessly, even oppressively flat, the immense plain slopes gradually upward from east to west, with the majority of vineyards occupying elevations from 3,000 to 4,000 feet above sea level. Because of the elevation and the dry climate, diurnal temperature swings can be as steep as 40 to 50 degrees.
And the climate has not been kind to the High Plains recently. Farmers here are struggling through the third year of drought, and three of the most severe freezes in the past 65 years of measurement occurred in the last five years, the worst at the end of April.
"We don't have to go to Vegas to roll the dice," said Cox. "We do that every year in the High Plains."
Growers here did not turn to grapes because of the romance of wine-country living. The term "life-style winery," usually referring to producers in the Texas Hill Country AVA, north of San Antonio and west of Austin, comes from their mouths with disdain. "We're row-crop farmers turned grape-growers," Cox said, "because of the water issues." In fact, unlike the monoculture that prevails in West Coast winemaking regions, the grape-growers of the High Plains also farm cotton, sorghum grain, wheat and sesame. It's also common to see wheat planted between vineyard rows to keep the sand down. That sand came from erosion in the Rocky Mountains, blown by the prevailing winds eons ago.
Without irrigation, the High Plains would revert to scrub-land. All agriculture here depends on the vast Ogallala aquifer, an underground reservoir of fossil water that extends from West Texas to Oklahoma, Kansas and Nebraska and underlies parts of New Mexico, Colorado, South Dakota and Wyoming. According to the U.S. Geological Survey, the depth and breadth of the aquifer decline from north to south as well as revealing the greatest decline in water level. The estimated depletion is 12 billion cubic meters annually, a rate that could dry up the Ogallala by 2028.
"We've had about 9/10s inch of rain in the past six months," Cox said. "There's no way the aquifer can recharge at that rate."
The choice to plant vines in the High Plains AVA instead of cotton and sorghum was logical, since vineyards require less water than cotton fields or especially the water-intensive corn, little seen here nowadays.
Cox, 62, would cut an imposing figure if it were not for his consistent jovial air and friendly nature. The website of the High Plains Wine Growers Association, of which he is president, lists 35 vineyards, and when Cox estimates that he has had a hand in planting or advising for 80 percent of those, it's apparent how extensive his influence is. Understand that these are people who had no experience with planting vineyards or growing grapes. "We didn't even know what a vineyard looked like," said Alan Bayer, owner of eight acres of vines in Terry County – he's running for judge and would appreciate your vote if possible – "We had to read books to see what we were supposed to do."
Grapes and winemaking came to the High Plains in 1976, when Clinton "Doc" McPherson, a chemistry professor at Texas Tech University, and Bob Reed planted vines and founded Llano Estacado winery in Lubbock. In 1983, Cox left his position at Texas A&M University to help Neal Newsom and his mother Laverne plant rows of vines that grew to 115 acres. "We started small," said Cox. "It's really important to do that so the big problems don't kill you." Almost 40 years later, Cox is vineyard manager for the Binghams; Cliff Bingham and his sons – he and wife Betty have 11 children, most of them musical prodigies – farm 170 acres of vines.
These pioneers started by planting chardonnay, merlot and cabernet sauvignon, the money grapes that everyone was familiar with. When those didn't work out – particularly chardonnay – a gradual shift toward grapes that would be more appropriate in the hot arid climate ensued, leading to a transition to Mediterranean grapes, especially roussanne, marsanne and viognier for white, grenache, cinsault, mourvedre, montipulciano and tempranillo for red, with emphasis on the latter. The feeling is that the conditions in the High Plains replicate the climate in parts of Spain where the tempranillo grape flourishes.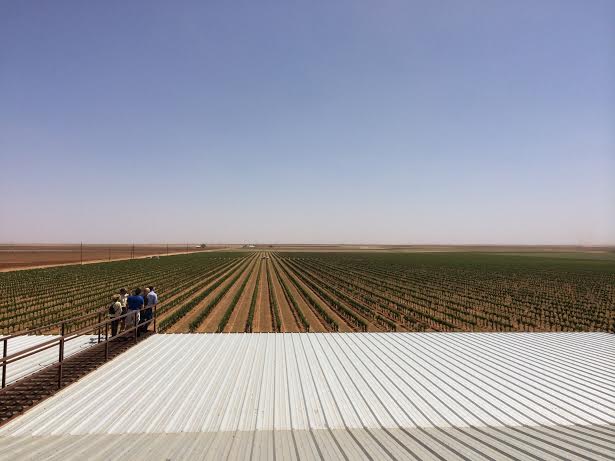 How flat is it? The view from the top of Jeter Wilmuth's barn reveals rows of vines heading straight to the horizon for half a mile. (Photo by Fredric Koeppel)
"The shift really began about 16 years ago," Cox said, "when Dan Gatlin talked Neal Newsom into planting tempranillo. Dan had a feeling about tempranillo, that it was the future for the High Plains." Gatlin is winemaker at Inwood Estate, in Fredericksburg, an outspoken and controversial character. He is not admired for such comments as "Eighty-five percent of the wine made in Texas is made by people who don't know what they're doing." He described his winery, where he uses grapes from High Plains, as "a research and development institution to find the limits and the boundaries no matter what the price."
Ed Hellman, professor of viticulture at Texas Tech, offered a cautionary note, speaking at the annual Newsom Grape Day, started by Neal Newsom as a bunch of growers just standing around their trucks sharing stories and techniques and now a huge wildly anticipated event with lecturers, many wines to taste and a brisket buffet lunch. "It's a big mistake to even try to emulate another wine region in the Old World," he said and pointed out that the best wines made from tempranillo grapes come from Rioja and Ribera del Duero, while the climate of the High Plains shows most similarity to the climate of Castillo-La Mancha, where the widely-grown tempranillo produces more generic wines.
Obviously the High Plains AVA is in a meaningful if not critical state of transition, feeling pressure from the hostile (and expensive) forces of nature, from the need to find the right grape varieties and growing methods, and from the desire to be taken seriously in markets outside the state. As Cox said, "Until we can show that we're consistent producers, no one will accept us as producers at all."
Meanwhile, the High Plains growers exercise the virtue they have come to embody – resilience. Laverne Newsom, Neal's mother, expresses it best:
"Five years ago, I put in some merlot and the frost just killed it. Neal says it'll be two years before it comes back. Well, you know, that's life."
Try Texas wine. Wineries mentioned:
http://www.binghamfamilyvineyards.com/the-bingham/
Others to consider:
http://bendingbranchwinery.com/
http://www.brushycreekvineyards.com/
http://www.beckervineyards.com/